"I am happy, in life right now, but money is my biggest stress.  I don't need a lot, but just want enough for my family so it's not a worry," says Manuel, a recent Airbnb host of mine in Portugal.
His words echo those of so many others I meet around the world – many affected in countries near and far by the current economic climate.  Many of us 'feel' it in the United States, but I tend to think a lot of us never come close to feeling it like others around the globe.
I am often asked how I was able to pay for my trip around the world.   And my simple answer is 'travel is cheaper than you think.' I wrote about the details of how I did afford it here.
Now I am 'back' and living a somewhat more rooted life (read: I have an apartment in Chicago and pay monthly rent and utility bills – something I did NOT do when traveling full time, which is one of the reasons it's cheaper than people realize – I wasn't paying for a vacation, but just my daily living expenses).   But now I am still traveling several times a year and am often gone for a month or so at a time.  So, the new question is, how can I afford this now? How can I afford to travel AND still be paying rent and bills back home?  I don't have some master plan…except just basically this secret: 
I spend less.
Here's how:
Smaller Footprint
In general, I am living a somewhat simpler life.  Although, I was never much of a big spender to begin with, I buy and consume even less now.  I make less, but I also spend less.  Plus in turn, I pay less taxes!
I don't really need new clothes, or 'things' just for the sake of having them.   I've been steadily selling or giving away a lot of my 'stuff.'  For various reasons, I take a moment to think about everything I consume – is it reusable? It is recyclable? Can I sell it? Donate it?  I eat a lot less meat.  I think about packaging and bags.  Just because I grew up putting every item of produce in an unnecessary plastic bag, does not mean I need to continue doing this. I've changed my habits for the better and hope to continue to do so.  In turn it saves me money and helps the environment in which I live. Win-win for all.
In General if I don't need it, I don't buy it. 
Pre-Paid Mobile Phone
Since returning to the US back in 2008, from not having a mobile phone at all, I have only used a pay as you go plan which costs me only about $12 per month. I 'refill' my phone with money/minutes every year for about $150. I love this.  I prefer not to talk on the phone much and am not a fan of texting, so I just use it when I need it and save a ton of money in this way.  Many people I know in the U.S., pay about $100/month or $800/year for their phone.  I pay about 80% less than this.  I also had my first smartphone donated to me, by a lovely reader of this site, on which I use to check email wherever there is free wifi – which is quite ubiquitous nowadays, eliminating the need for a 'data plan.'
Power Down Electronics
I am much more aware of what is sucking power in my home. And I rarely leave things plugged in anymore using 'phantom or vampire power.'  Just because they are turned off does not mean your gadgets are still not drawing power.  Devices on stand-by are said to use 10% of the energy in your home!  When I leave my apartment for most of the day or when I go to sleep each night, I switch off the power strip into which many of my 'electronics' are plugged: my television, cable box (which always seems to be running and warm even when 'powered off'), stereo, phone, etc.  After those items, the only things left plugged-in are a couple lamps, one bed-side clock, and my refrigerator.  I don't leave chargers plugged in once things are charged.  I have a cordless phone with a few extensions.  Since I have a small apartment (and don't talk much on phone as previously mentioned), there is no need to plug in the others and waste electricity keeping them charged just so there is always a phone every 10 feet of where I'm standing.  Of course, when I leave for a trip, everything gets unplugged.
Cable/Phone/Internet Seasonal Hold
Also when I go away for an extended time, I call my cable/phone/internet provider and put it all on a seasonal hold. They have a 1 month minimum and just charge a small fee to keep the account open.  Many companies have this and I highly recommend looking into it instead of paying for services when you are not home even using them!
No Debt or Credit Card Balances
I think thanks in part to the way I was raised, I have always just learned to save.  I made a decent wage working in television for 15 years and saved much of what I earned.  I have never accrued any debt on a credit card because I simply have never 'needed' anything I couldn't pay for outright.  I use the Capital One Venture card because I get travel or cash rewards and its international fees are supposed to be better than most.  I wrote about it here.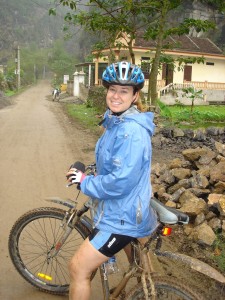 Bike Everywhere
In my entire life, I have only owned one car. I bought it used and I sold it 5 years ago and have no need or desire for another one.  I have a bicycle and now use it for nearly everything I need.  I meet friends for lunch by bike, I grocery shop by bike.  And that costs me nothing.  If I can't ride my bicycle, then I walk or take public transport.  And on the few occasions every few months, when I really need a car, I use the car-sharing goodness of ZipCar.
Airbnb
I have started using this guest hosting service at home to offset my monthly rent (and meet other travelers) and am also using this abroad when I travel to cut down my lodging expenses.  You can host travelers in your spare bedroom or even rent out your entire place.   It works like couchsurfing, only you make a bit of cash.
Food Expenses
Food and travel are two things that I really enjoy and on which I use my money.  I cook and eat most meals at home.  I do of course still like meeting friends out so to keep things in check in a city like Chicago, where dining out can be pricey, I tend to schedule more lunches rather than dinners at restaurants.  And almost always, I take home half my sandwich or meal which gives me lunch or dinner for the next day. Besides cutting down my expenses, I've also tried to cut down my portions.
I am working mostly from home now, freelancing in television, travel writing, photography and video consulting.  I am living month to month and still on some savings I had before I traveled.  Can I do this the rest of my life?  Not sure yet, but I am happy to live more simply, try and give it time…and see how it goes!