[updated December 2019]
When warm temps finally come to Chicago (sometimes April, sometimes May, and unfortunately, sometimes, June), residents come out in droves. We are just so happy to shed our winter layers and feel the sun on our skin. So we embrace summer like a long, lost friend.
Sidewalk cafes open their umbrellas, rooftop bars retract their roofs, and the bike lanes get busy. In this post, I will bring you the best outdoor activities in Chicago – from my favorite outdoor bars and cafes to the river and lakefront activities to the best cycling trails all over the city. As a local of Chicago for more than 20 years now, and someone who's reported on the city for most of that time, I've got all things Chicago covered!
Chicago's Lakefront
When looking for outdoor activities in Chicago, I'd say the Lakefront is probably the best thing about Chicago. If you are visiting, you must go to the lakefront at least once to understand its role in the city and how it is our entire "east coast."
SO many people don't realize that we have a lake let alone just how massive it is! That's why they sometimes call this the third coast. Did you know that on most days you can't see the other side (which is Indiana to the south and Michigan across to the east)? It appears as if we live on the ocean.
Chicago's lakefront path goes uninterrupted for 18 miles all the way south close to the border of Indiana and all the way to the north almost to Evanston. It runs all along the lakefront as well as a green band of parkland full of everything from a bird sanctuary to a golf course to harbors to sandy beaches to an archery range.
This emerald ribbon known as Chicago's "front yard" was all part of the "Chicago Plan," a vision of one of our great city planners, architect Daniel Burnham. He said, "the Lakefront by right belongs to the people. Not a foot of its shores should be appropriated to the exclusion of the people."
Today, nearly all of the city's 29 miles of lakefront are public parkland.
Things to do outdoors in Chicago on the Lakefront
Here are just some of the many outdoor activities you can do on the Lakefront.
Lakefront Trail
Grab a Divvy bike (Chicago's bike share program with thousands bikes and hundreds stations all over the city), run, rollerblade, or simply walk anywhere on the 18 miles of trail. There are access points every mile or so from the south side starting by the south shore cultural center to the north side ending near the start of the Roger's Park neighborhood.
Chicago's Beaches
For some, the fact that we even have beaches in Chicago is a surprise. Since the entire city of Chicago is bordered on the east by massive Lake Michigan, there are several beaches all along the lakefront. In fact, there are 25 free, public beaches in Chicago. Here are some of the most popular beaches:
North Avenue Beach
In Lincoln Park, this is possibly Chicago's most iconic beach. It has a boathouse-style beach house with Castaways, a rooftop restaurant bar on top. Plus this wide swath of sand hosts international volleyball tournaments, the annual Air and Water Show (which I used to co-produce for ABC7), and the newer Shore Club, a swanky-beach lounge complete with VIP cabanas.
Oak Street Beach
Oak Street Beach sits right in front of the Magnificent Mile near downtown. There are chair rentals, bike rentals, volleyball rentals, restrooms and a spectacular view of the city skyline.
Montrose Beach
One of the largest beaches in Chicago, this northside refuge is a bit farther from downtown and gives you more space to spread out. You can rent jet skis and wakeboards and grab lunch at the cute 3,000-square-foot patio deck of Montrose Dock restaurant.
Plus your dog can have fun too. Montrose Beach offers one of of the few Park District-run dog beaches in the city. A fenced off section on the northern end of is open to happy pooches, who are free to run without a leash and splash about in the water once inside the contained area.
Do not miss the wonderfully natural area of the Montrose Point Bird Sanctuary. For years, this has been a migratory stop and haven for migrating birds heading south for the winter. See more below.
South Shore Beach
South Shore Beach has its own nature sanctuary, sand dunes, a small wetland, prairie landscape, woodlands and wildlife habitats. South Shore Beach is part of the South Shore Cultural Center, a historical gem in this vibrant neighborhood. A magnificent country club-like interior offers a solarium, formal dining hall, a theater, the Washburne Culinary Institute, the Parrot Cage Restaurant (run by Washburne students), and a gallery. The site itself, totaling 65-acre park, includes a 9-hole golf course, tennis courts and a circular beach house with restrooms and showers.
Standup Paddleboard
One of the most fun outdoor activities in Chicago in SUP. You can rent a stand up paddle board at several locations up and down the lakefront including: North Avenue Beach, Ohio Street Beach, and Diversey Harbor. Rentals are just $35 per hour. Or if you don't feel quite confident they offer lessons, plus yoga, and other fun SUP tours and experiences. If you haven't tried it yet, it's a pretty unique and quite relaxing way to enjoy the lakefront.
Play Golf on Chicago's Lakefront
Situated right between the lake and the lakefront trail is the Sydney Marovitz Golf Course. It's right in the city but feels like a resort worlds away and has spectacular views of the city skyline, the lake, and Montrose Harbor.
There's also a driving range at Diversey Harbor. Previously a nine-hole golf course until the late 1940's, Diversey Driving Range is a state of the art modern golf experience with a synthetic turf range and two synthetic putting greens. Plus there's also eighteen holes of miniature golf.
Or head to the Southside for a round at Jackson Park's historic 18-hole course or the lovely par 33 course at South Shore, a former private country club.
Archery on Chicago's Lakefront
You can join the Lincoln Park Archery Club or just head to the club on Belmont Harbor Drive for the free clinics they hold once a month during the summer. The Lincoln Park Archery Club is a semi-private club. In order to keep the archery range safe for all archers.
Try Trapeze on the Lakefront
Looking for some outdoor activities in Chicago that are a bit more unique…and/or scary? How about a trapeze class?! All summer the Trapeze School of New York (with this branch being in Chicago of course) holds outdoor classes just south of Foster Avenue Beach at 5200 North Lake Shore Drive. You can experience the joy of flying through the air with the greatest of ease! Their flying trapeze classes let students safely experience (with a safety belt and guided instruction) the exhilaration of this circus art, regardless of fitness level or athletic background. You'll be doing the knee hang in no time!
Montrose Point Bird Sanctuary
This little nature oasis is another place that makes you feel far from the city. The Montrose Point Bird Sanctuary is a 15-acre bird sanctuary and part of the Chicago Park District.
Because of the way Montrose Point thrusts out into Lake Michigan, it is a logical landing place for exhausted songbirds. It attracts tens of thousands of migratory birds of more than 300 different species, which stop here for rest, food and shelter. Within the area is "The Magic Hedge," a 150-yard stretch of shrubs and trees that attracts a curiously high number of migratory birds. In the late 1990s, the Chicago Park District undertook an ambitious project to expand habitat for birds while retaining the historic integrity of the site. Hundreds of trees, shrubs, and native grasses have been planted over the last two decades.
Some of the birds spotted here include Warblers, Thrushes, Sparrows, Purple Martins, Woodpeckers, Catbirds, Red-winged Blackbirds, Mourning Doves, Brown Thrashers and most recently endangered piping plovers. There are paths and info welcoming you to this amazingly wild part of the city.
Boating on Lake Michigan
Since Chicago is perched right on the edge of Lake Michigan, it's a boater's paradise. The Chicago Park District operates a municipal harbor system in Lake Michigan for recreational boaters. With accommodations for 6000 boats, it is the largest system of its kind in the nation. When looking for things to do outdoors in Chicago, actually getting out on the lake is a real treat and will reward you with breathtaking views of the city!
The harbors include (from north to south) Montrose, Belmont, Diversey, Dusable Harbor, Monroe, Burnham, 31st Street, 59th Street, and Jackson Park Inner and Outer Harbors.
Go for a sail from Belmont Harbor with Windy City Sailing. They have charters for fun, romantic, or even educational experiences for up to ten people.
I spent a lovely time on Lake Michigan for a day of Chicago Sailing on a friend's boat. Check out my video from our day of sailing on Lake Michigan.
Outdoor Activities on the Chicago River
The Chicago River is the beating heart of the city. It literally cuts right through the heart of downtown before branching into two separate arteries heading north and south. It's also known as an engineering marvel and one of the only major rivers to which the flow was reversed. Completed in 1900, the civil engineering project reversed the flow of the Main Stem and South Branch of the Chicago River by using a series of canal locks which cause the river to empty into the Chicago Sanitary and Ship Canal  instead of the lake. 
Over the last couple of decades, groups like the Friends of the Chicago River, and the city itself have been cleaning up the river and making it more of a destination rather than just a dank thoroughfare you simple crossed over to get somewhere else. Now the river is chock full of outdoor activities in Chicago.
The Chicago Riverwalk
The Chicago Riverwalk was recently completed and is gorgeous! You can now walk 1.25-miles through the heart of the city from Lake Shore Drive in the east, to Lake Street in the West along the south bank enjoying new vistas of our skyline all along the way.
There are lively outdoor restaurants and bars all along the way offering strollers a fun place to stop, get a cold drink and watch the rest of the world go by (by foot or by boat).
Eating & Drinking on the Chicago River
Now that the Riverwalk has really taken off, there are dozens of places to eat along the river. One of the newer spots is the funky and eclectic Beatnik on the River with a world vibe and Mediterranean cuisine.
Another great spot along the river downtown is City Winery with stunning views, locally-made wine paired with delicious food and live music.
A little secret — even one of Chicago's largest Whole Foods stores sits on the banks of the river in Lincoln Park with seating outside on the river.
If you find yourself on the Northside, a stop at Metropolitan Brewing on Rockwell street will be a delightful surprise. Situated in an old industrial building that has been gutted and refurbished, Metropolitan Brewing sits right on the banks of the Chicago River. Huge floor to ceiling windows overlook a wooded and serene section of the north branch of the river. They are currently building an outdoor patio that will sit right on the river. This is truly one of those 'hidden gems' that will surprise visitors and even many locals.
Boat Tours on the Chicago River
Architecture Center River Cruise
There are many ways to also enjoy the water itself. There are several boat tours including the best: The Chicago Architecture Center's River Cruise. It's THE thing that all us locals recommend to our visiting friends and family when they come to Chicago. And it never ever disappoints (just bring a light sweater because it can get windy).
See how I spent a night on the Chicago River in the Chicago River Bridgehouse Museum.
Chicago Electric Boats
You can also rent out an electric boat with Chicago Electric Boat Company and captain your own boat around the Chicago River. The popular rental company offers a fleet of small electric boats from its Marina City base and is BYO food and drink (captain can't drink of course).
Boat Rentals
Rent your own pontoon boat or yacht for an afternoon from Rent Chicago Boats located at River City on South Wells Street or Chicago Boat Rentals near Goose Island on the north branch of the Chicago River.
Cycle Boats
Try a group cycle on the water with Chicago Cycleboats. The pontoon pedal-boat can hold 10 "riders" plus six more passengers for a 90 minute ride.
Dinner Cruise
For something a bit swankier, book a dinner on the new, glass-topped Odyssey Dinner Cruise. The cruise includes a three-course dinner, a 2 ½ hour cruise, and a DJ and dance floor!
Chicago Water Taxi
Or just take the Chicago Water Taxi which will take you from Michigan Avenue and the River or to the West Loop at the Ogilvie and Union Stations near Madison Avenue for just $6 one-way!

Kayak the Chicago River
If you're looking for more of a workout, there are several places along the Chicago River where you can drop in your kayak and go for a paddle. Urban Kayaks launches you right in the middle of the action from the Chicago Riverwalk east of Michigan Avenue. I got to try Urban Kayaks right from here.
In need of a more bucolic scene? Just head north and rent a kayak from Chicago River Canoe and Kayak. Here on the North Branch of the river you can experience a much more natural and green stretch of the river—complete with wild heron and turtles. You can explore on your own or book a guided tour.
Chicago Parks
The official motto of Chicago has been Urbs in horto, Latin for "City in a garden" for its commitment to parkland. The Chicago Park District owns more than 8800 acres of green space, making it the largest municipal park manager in the nation. Must-sees are of course world renowned Millennium Park (home to the Bean and the Jay Priztker Pavilion bandshell) and Grant Park with the famous Buckingham Fountain, but there are dozens of parks all across the city in each neighborhood. Some special smaller parks include Ping Tom in Chinatown, the Japanese Garden (or Garden of the Phoenix) within Jackson Park, and the Alfred Caldwell Lily Pool within Lincoln Park.
In summertime, parks burst with concerts, movies (check out the park district's movies in the parks), and festivals. Here are just a few notable parks from the dozens of parks in Chicago.
Millennium Park
Millennium Park has become Chicago's centerpiece, a grand place for locals and visitors to congregate and enjoy. It's most known for its public arts most notably the Bean (Cloud Gate) sculpture. Go beyond the Bean and explore the three-acre "secret" Lurie Garden, the snake-like BP Bridge, and the Crown Fountain.
Don't miss the free concerts and movie nights all summer long under the stars at the beautifully Frank designed Jay Pritzker Pavilion. With its state-of-the-art sound system, it is truly one of the most enjoyable outdoor concert venues I've ever been to. And some of Chicago's biggest festivals are also held here like Blues Fest, Jazz Fest, and Chicago Gourmet.
Grant Park
One of Chicago's original parks which started the tradition of a "front yard" to the city, Grant Park is a public park smack in the heart of downtown (literally across the street from the Loop, our main business district). With more than 300 acres, this city centerpiece is home to some of Chicago's most iconic landmarks and attractions.
Grant Park's most notable features include Millennium Park, Maggie Daley Park, Buckingham Fountain, the Art Institute of Chicago and the Museum Campus, the site of world-class museums the Art Institute of Chicago, the Field Museum of Natural History, the Shedd Aquarium and the Adler Planetarium.
Summer Dance in Grant Park
Looking for an evening of sheer fun and non-stop smiles? This will do the trick: Dancing at dusk in Chicago with the beautiful Chicago skyline above. Good music. Good people. And great fun. Plus…it's free. Summer Dance is an annual Chicago program that takes place all summer, 4 days a week in Grant Park providing free dance lessons, live music, and good times.
[Cue big band music]  Whether you're into swing, ballroom, salsa, house, gypsy, step, whatever… Summer Dance has something for everyone.  Got two left feet?  Don't fret because before each night's performance and open dancing, there's a fun hour-long dance lesson.  It's a great place for beginners who want to learn, and also for experienced dancers to slide across the dance floor.
Lincoln Park
Chicago's largest park, visited by over 20 million people each year, is one of the most visited parks in the United States. The 1200-acre park stretches for seven miles along the lake from Grand Avenue Avenue all the way up to Armore Avenue in Roger's Park (nearing Evanston).
Inside the park you can find the Lincoln Park Zoo, The Lincoln Park Conservatory,  Peggy Notebaert Nature Museum, the Theater on the Lake, nature reserves, and nearly every recreational field imaginable: including baseball/softball fields, basketball courts, beach volleyball courts, cricket pitches, football/soccer fields, a golf course, lacrosse fields, rugby pitches, tennis courts, volleyball courts, field houses, a target archery field, a skate park, and a driving range.
Jackson Park
A huge, 500-acre park in the Woodlawn neighborhood on Chicago's south side, Jackson Park is most known as being the site of the World's Columbian Exposition of 1893. Originally designed by Frederick Law Olmsted (same designer to New York's Central Park), the park features the tranquil Japanese Garden (Garden of the Phoenix) with koi pond and the Museum of Science and Industry (the only remaining building from the Columbian Expo). It will also be home to the Obama Presidential Center and library. President Obama's Chicago house is nearby in Kenwood. 
Garfield Park
Garfield Park is home to the Garfield Park Conservatory, one of the largest plant conservatories in the United States. Often referred to as "landscape art under glass", the Garfield Park Conservatory occupies approximately 4.5 acres inside and out and contains a number of permanent plant exhibits incorporating plants from around the world, including some cycads that are over 200 years old.
Humboldt Park
Located in the heart of the Humboldt Park Community, 200-acre Humboldt Park is home to a large, historic fieldhouse with a fitness center, two gyms, as well as an inland beach, historic lagoons and a boat house. Named for Alexander von Humboldt, a German naturalist and botanist, the park opened to the public in 1877 and was added to the National Register of Historic Places in 1992. In 2009, the National Museum of Puerto Rican Arts and Culture opened within the park.
Graceland Cemetery
Not exactly a park per se, but the Graceland Cemetery in the Uptown neighborhood is just as beautiful if not more than most. Don't be scared off by what's underground here because the above ground part is a gorgeous, lush park with 2000 trees, a pond, and some famous inhabitants including Potter Palmer, Marshall Field, Daniel Burnham, and David Adler.
Bicycling in Chicago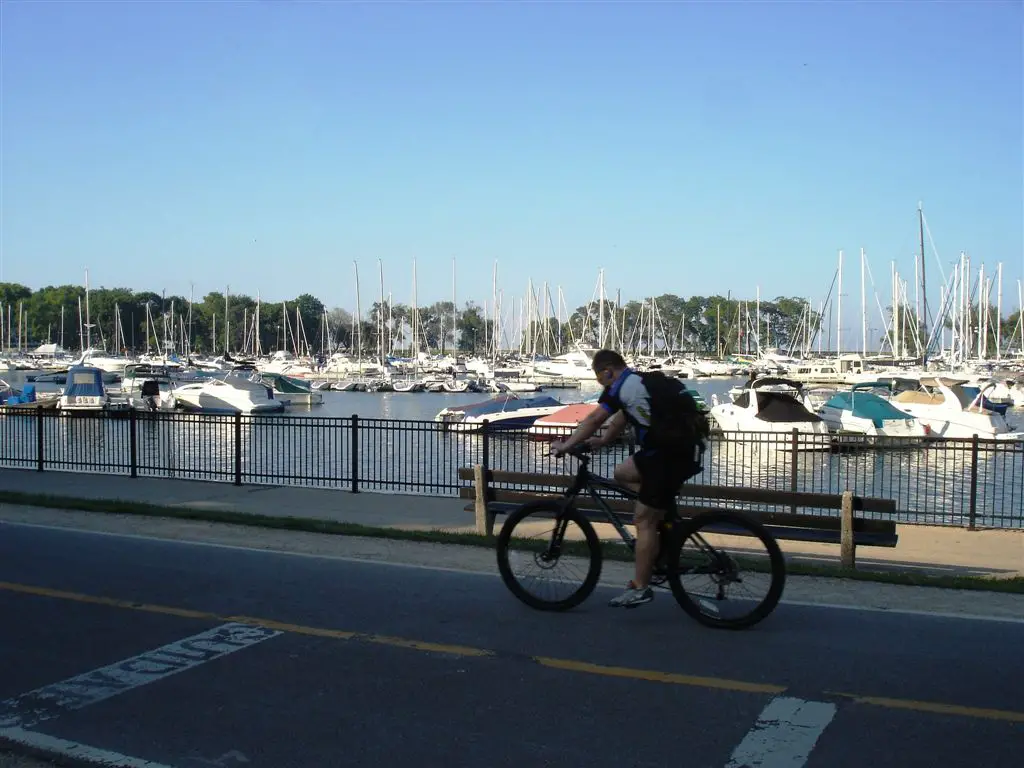 More than 20 years ago, I bought my first adult bike when I first moved to Chicago. Little did I know that all these years later it would be my main 'vehicle' (having sold my car back in 2006) and mode of transport at least in the warmer months.
I've watched Chicago's bicycling landscape change a ton over the last two decades – from the building of now more than 200 miles of bike lanes to the opening of several new bike trails and parks.
Plus now, Chicago has a massive bike share program with more than 5,800 bikes available city-wide. You can rent a Divvy Bike at one of more than 500 stations for $3 for 30 minutes or $15 for a day pass.
Bike lanes in Chicago
When I first moved here, I would pore over the printed "Chicago Cycling Map" looking at bike lanes and where I felt comfortable riding. Today, I don't even have to bother with this as practically every main road has a bike lane (except Lake Shore Drive and Michigan Avenue—please do not attempt to ride on these busy, bus-clogged streets).
The City of Chicago's bike network consists of over 248 miles of bike lanes –protected, buffered, and conventional bike lanes.
The newer "protected" bike lanes are on major arteries like Dearborn (going north/south) and Randolph (going east/west) getting riders to and from downtown safely. Plus main diagonal streets like Clark, Lincoln, Milwaukee and Elston all have buffered bike lanes.
I also really like this guide for a mellow Chicago bike map, which includes low stress routes that are usually more residential, one-way side streets with a lot less traffic.
TIP: When riding with traffic in a lane between moving traffic and parked cars, stay a bit closer to the traffic to avoid being "doored" a common issue when the drivers of parked cars swing open their door into the bike lane without looking first.
And when you are riding around many of Chicago's neighborhoods, you can often ride on residential, one-way side streets that are wide and much less trafficked than main roads.
Chicago's Lakefront Trail
As mentioned above, one of the most beautiful rides in Chicago is all along our wonderful Lakefront trail. You can ride past beaches, harbors, skyscrapers, a theater, miles and miles of park, soccer fields, and even a bird sanctuary.
TIP: If possible ride the Lakefront trail on a weekday to avoid the massive summer weekend crowds.
The 606
Chicago's highline-esque The 606, built on an old, elevated railroad bed connects the neighborhoods of Buck town to Humboldt Park. It's a lovely landscaped ride on what's known as the Bloomingdale Trail, which connects four neighborhood parks at ground level.
North Branch Trail
Another of Chicago's gems is the North Branch Trail, which follows the North Branch of the Chicago River. It's part of the wonderful green ribbon of parks, which form the Cook County Forest Preserves. Formerly just a dirt path used for horseback riding, the path was recently extended so it now starts in Gomper's Park on Foster Avenue in the North Park neighborhood of the city and extends 20 miles all the way up to the north shore suburbs to Glencoe. Here it ends at the beautiful Chicago Botanic Garden, worth a stop for lunch and a stroll around the more than two dozen gardens on 385 acres.
When riding this trail it's hard to believe you are in or near the city at all. You will pass native prairie plants, woods full of deer and other wildlife, parks with picnicking, ball fields, and boating. It's a great way to get out and enjoy nature right here in the city.
TIP: If you ride all the way to the Botanic Garden, you can loop back to the city on the Green Bay Trail, which connects to the McCormick and North Channel Trail (see below). I love doing this because I like variety and don't like to return the same way I came!
North Shore Channel Trail
The North Shore Channel Trail begins right near my home at Lawrence and Francisco. This trail is also being improved with underpasses that go under most major roads that it crosses. It rides along the north shore channel, a drainage and aeration canal built in 1909. The entire trail is inside a series of connected parks starting with River Park (which has a new boat launch for kayaking and more) and ending at the north end of Legion park at Petersen Avenue. To continue north you can either ride over the bridge on Lincoln Avenue to connect to the trail on the west bank or head north in the bike lane on Kedzie Avenue and then turn right on Devon, over the bridge where you will find the trail on your right.
The North Channel Trail then runs up the west side of the North Shore Channel going through Lincolnwood Centennial Park and the Skokie Northshore Sculpture Park eventually ending in Evanston at Green Bay Road.
Sauganash Trail
One of my new favorite trails also on the northside, is the Sauganash (Valley Line Trail) which connects straight to the Skokie Valley Trail. This trail mostly goes through a narrow, wooded ribbon from Bryn Mawr Avenue (just west of Pulaski) to Dempster avenue in Skokie, where the Yellow Line or "Skokie Swift" train ends.
Bike Tours
If you don't want to ride alone, there are several bike tours around the city. Bobby's Bike Hike and Bike and Roll are both popular with visitors. Or you can join more local rides in groups like Biketropolis and Let's Ride. 
Openlands Chicago
Chicago-based environmental nonprofit Openlands recently launched a "Get Outside Map" that serves as an interactive guide to hundreds of outdoor sites in and around the city, including parks, forest preserves, hiking trails, picnic shelters and more.
The free, online tool allows users to explore sites via a map or search by location, activity, amenities and other options. Filters allow users to identify sites for bird-watching, fishing, horseback riding and even geocaching, among other activities. And just outside of the city, there are plenty of great hikes near Chicago.
The Chicago Outerbelt
What is the outerbelt you ask? Good question! It's a new trail (use the wording trail loosely!), that basically connects all the green bits of Chicago in one, continuous 210-mile loop in and around the city!  It weaves together beaches, parks, and existing forest preserves  and hits highlights such as the Lincoln Park Zoo, the Chicago Botanic Garden, and the rare tallgrass savannah, Middlefork Savanna, which is part of the Lake County Forest Preserves about 40 miles north of the city.
➙ Need a place to stay? Use my Airbnb link for $15-25 off your first stay!
➙ Need an easy way to get around Chicago? Sign up for Uber or Lyft and get a free ride on me!
➙ Take a local tour in Chicago with Viator, offering unique city tours all over the world.
Where to Stay in Chicago