In my last post I announced that I was saying goodbye to Chicago. But there was NO way I could leave without reminiscing a little and waxing poetic about my favorite city in the whole wide world.
I realize that living in Chicago for 23 years, is still nothing compared to those who've lived there all their lives, but I spent nearly my entire adult life in my favorite city. It's home.
And my love for Chicago runs deep. Not as deep as loving deep-dish pizza (I'm still a Jersey girl after all), but casserole-like pizza aside, I love so much about the city. And I always say that my love means a little bit more because I wasn't a local. Chicago was my adopted home.
It took me forever to finally publish this post! I'm not sure if it was because I was afraid that it would make my leaving feel more real or if I was just putting off the actual writing.
Either way…here it is! My final goodbye to Chicago—why I love it so much and what I will miss.
What's so great about Chicago anyway?
Never have I lived anywhere where the residents have so much pride—a place that locals poke fun of, but are also so proud to be from and truly like it.
Part of my love, I'm sure, is just the familiarity I have with Chicago. I know the city really well. Not only because part of my job was telling the city's stories, but because of my own never-ending curiosity.
I am biased, but I'm not alone. Ask any one of my Chicago friends (or any Chicagoan for that matter) what is great about our city and you will hear:
The friendly people.
The diverse neighborhoods.
The food from all corners of the globe and all price points.
The Lakefront—every time I went to the Lake it was like my first time as I was always in awe of the beauty of Chicago's front yard.
The bicycle culture (and flat land!) and being able to truly bike all over the city. I've biked up to the northern suburbs of Glencoe and Highland Park and down around the Lake crossing the border into Indiana. And through most neighborhoods from the far northwest edge of the city in Forest Glen to Halsted and 65th in Englewood and down around Hyde Park and South Shore and beyond. No matter how many times I'd head out on my bike to explore I was always excited to discover more and more delightful pockets of charm, unique architecture, and history.
Some of my favorite Chicago neighborhoods:
I could go on and on…
How Far I've Come
I grew up in a suburb in New Jersey. After high school, I moved down south to study broadcast journalism University of South Carolina. After I graduated, I stayed in Columbia for a few years working at my first few jobs in local television as a director and technical director of live newscasts at WIS-TV, an NBC affiliate, and then as a promotions producer and editor at a Fox affiliate, WACH-TV.
I never quite felt at home in the south and was itching to move to a bigger city. Mostly, I had been looking to move to New York City or Los Angeles. Three years after university, I accepted a new job as a producer at ABC7 in Chicago. On January 1, New Year's Day, 1998, I packed everything into my little red Honda Prelude and drove to Chicago with Sneakers, my first cat. I fell in love with the city from day one. I was 25 years-old and was having the time of my life.
My Love Affair with Chicago
Dear reader, please forgive me if this next part is a bit self-indulgent. It helps me to move on by looking back and remembering all that Chicago gave me and all that I did there.
I'm an introvert, but at the same time, I love to be involved in my community—meeting new people and learning new things. Chicago gave me so many opportunities for this.
Working in TV in Chicago
During my nearly 10 years as a specials producer at ABC7 Chicago, I got to experience SO many things especially through producing a weekly lifestyle magazine show. I also proudly won three Emmy awards and received more than 10 nominations.
I produced segments with celebs like Matt Damon, Tina Fey, Jeremy Piven, Pete Townshend, Richard Marx, Jason Alexander, Michael Jordan, Kevin Bacon (yes, I'm just one degree from Kevin which makes you just two degrees!) Jim McMahon, and Wesley Snipes.
I got amazing behind-the-scenes access to events on which I produced segments—big city parades, the Air and Water show, the Chicago Auto Show, Broadway in Chicago musicals, Jeopardy and Wheel of Fortune in Chicago—and concerts—Bon Jovi, Phil Collins, Barenaked Ladies, Melissa Etheridge to name a few. I remember being backstage at a Smashing Pumpkins concert walking alongside Billy Corgan and filming him when the curtain opened and he first walked out on stage. To see the thousands of cheering fans from his perspective on stage was pretty incredible and electrifying.
I interviewed celeb chefs and learned so much more about the restaurant industry and the food we consume. And, of course I was lucky to eat some pretty amazing food alongside them and my crew. My palette and knowledge of the food we ate grew enormously just as the foodie scene was growing all over the city and country.
For more, check out my post on the best restaurants in Chicago.
I was so lucky to combine my journalism skills with my love of travel by producing several travel specials while at ABC—Aspen/Snowmass, Winter Park, Cabo San Lucas, Sonoma, Manchester, England, Quebec City, Montreal, San Antonio, and the Cayman Islands. Oh, and of course several trips down to film at Disney World (ABC and my former station are owned by the Walt Disney Company).
I was able to interview many players and see nearly all Chicago sports teams play: the Cubs, the White Sox, the 1998 Chicago Bulls (with Pippen, Rodman, and Jordan), the Blackhawks, the Chicago Fire, and even the former AFL team, the Chicago Rush. If you're keeping score…I never saw the Bears play!
I wrote and produced countless stories on new entrepreneurs and start-ups which helped them kickstart their business. I'll never forget interviewing Tee, the owner of Cozy Noodles, a cute local Thai place in Wrigleyville with toys and art all over the walls. Every time I went in to eat after the story aired, he continued to tell me how my segment was the reason for his success. I told him I got the word out, but of course it was his quality of food and customer service that continued to deliver. I had to stop going there because they refused to stop giving me free food!
I loved doing unique stories—things that I'd watch and want to read about myself—unique fitness classes, cool towns and Chicago neighborhoods, best hotel suites, the art of body painting, nightclub openings,  burlesque shows, improv, auto racing, behind-the-scenes at a Playboy magazine photo shoot, going 100 mph in a brand new Maybach, and even, the best bathrooms all over town.
Check out my ultimate guide to Chicago!
So Much to See & Do in Chicago
Through work and on my own, I got out and rollerbladed, went sailing on Lake Michigan, went standup paddle-boarding in the Lake, bicycled hundreds of miles on bike lanes, paths, and trails all over the city and beyond.
I tried trapeze. I rode in a helicopter two to three times over the skyline and in a four-seater prop plane across the lake. On the river, I've kayaked, taken countless Chicago Architecture Foundation boat tours, dinner cruises, and even slept overnight in one of the river's bridge houses. I've taken one-off classes in glass blowing, mosaics, rock climbing, sushi-rolling, knife skills, and other random cooking classes.
For more, check out my post on all the outdoor activities in Chicago.
Classes in Chicago
I did longer programs of classes of weekly improv, acting, ballroom dancing, tennis through the Chicago Park District (several years of playing after work at the courts where Maggie Daley Park now sits always gave me a thrill—it was cheap—like $55 for 6 weeks and yet we had this prime location with the lake on one side and the city skyline on the other), and a year of guitar classes at Old Town School of Folk music (I never got that good, but loved jamming to the old classic rock and folk songs the school gravitated towards). And most recently I went through the University of Illinois extension program to become a volunteer Master Gardener and a Treekeeper with Openlands Chicago.
I sat on three of my condo boards and was condo board president of my last condo association.
I volunteered as a Chicago Greeter (giving visitors free tours of the city), as a mentor at 1871, Chicago's technology hub and digital startup incubator, and as a cat foster at Paws Chicago and later at Feline Friends Chicago (which is how I got my best friend, Bug). I sat on a scholarship committee for Hostelling International Chicago. I tutored English as a second language at Literacy Chicago (long before I knew I'd be teaching English in Turkey).
And not only did I take classes, I also taught a weekly journalism class for about five years at Columbia College Chicago. I've been proud to see many of my students go on to have successful careers.
Freelance Life in Chicago
When I returned from traveling, I became a freelance producer at WGN, producing food and restaurant segments for the show, "Chicago's Best."
I started my company, LLmedia, and have been doing video production and consulting since 2010.
Through 1871, I met an amazing guy named Kyle who was starting up a food museum. I ended up becoming the executive producer of all the videos for Foodseum.
I've also continued my other media jobs like travel writer and photographer, blogger, speaker, event coordinator, and Bloghouse Conference director…and of course, cat sitter.
I've done photography shoots for a local university, AmEx, Qantas Airlines, JP Morgan Chase, restaurants, and even some real estate photography.
In 2017, I started volunteering for Crate Free USA. Now, I'm the executive director and work part time for the farm animal welfare non-profit.
Oh, and in the middle of all of that, I ventured to 60 countries and traveled around the world. While I loved seeing the world, I was always waxing poetic about my city and prided myself as an unofficial ambassador to Chicago.
Two Decades of Life in Chicago

What I Will Miss About Chicago
All of the above. Some of my favorite things: the gorgeous lakefront and strand of green parks that run along the entire lake and city. I will miss the FOOD. All the cool, trendy spots I used to love and all the smaller, neighborhood gems that I prefer today.
All the neighborhoods…
The bike trails all over—from the new 312 River Run to the amazing Lakefront trail to the forested North Branch trail.
I will miss all the little independent specialty shops and simply knowing they exist. Need a random lamp part of lamp fixed? Head into the dusty labyrinth of My Lamp Parts off of Addison. Need a custom frame or previously cut mat boards for under $1? Go to Lakeview Art Supply (now on Foster in North Park). Got an old computer lying around? Donate it to FreeGeek Chicago. Or an old bike? Give it to Working Bikes Co-op where they'll fix it up and ship it to Africa for people who really need it. Since 1999, Working Bikes has donated over 70,000 bicycles to international partners. Want some locally-made tofu? Try Jenny's Tofu (formerly Phoenix Bean) where Jenny has been making delicious smoked tofu for 15 years now. And I'll miss all the specialty food stores at which I know I can buy Romanian zacusca (roasted red pepper spread) or samoom, a pillowy Iraqi bread on Kedzie in Albany Park or Kosher cakes up on Devon or the best NY bagels in Chicago up on Touhy. The list goes on and on.
The Collective Knowledge of Chicagoans
Not only will I miss all of that about Chicago, but I'll also miss the collective knowledge that all Chicagoans share. I mean I've always prided myself on how much I knew about the city to share with visitors, but then there's the 'other' stuff.
Like when someone talks about "Blago"…not only do I know that's our ex-governor, and not only did he live just a few blocks from me, I know how funny he looks when he goes jogging. And I even interviewed him as governor in his office in the State of Illinois building long before he went to prison.
If you are a Chicagoan, you've seen CTA Jesus on the train many times. You've walked past the State Street Preacher telling you that you are going to hell through his megaphone. You've smiled while watching a stuffed animal song and dance show from the back of The Puppet Bike. You've had a toast with Ronnie "Woo Woo" Wickers at a Wrigleyville bar. You've tapped your foot and dropped a few coins the bucket while enjoying one of my favorite street bands, Chicago Traffic Jam.
 

View this post on Instagram

 
As I packed up my Chicago condo, I found an old laminated map of the city that I'd bought when I first moved there back in 1998. It still showed Cabrini Green and Meig's Field. It had no Pink Line on it. During my time two decades there, I watched Cabrini Green go down. I was there when former Mayor Daley bulldozed Meig's Field, our old downtown, municipal airport, in the middle of the night.
It's all those little specifics about the city that I love knowing – this neat shared depth of knowledge of the city. And the stuff I'll hope to learn in my new home.
I'm in deep with Chicago. We've been through a lot together.
Nearly ten years after I arrived in Chicago, I resigned from my job at ABC and left to travel around the world. I returned to Chicago three and a half years later and had been freelancing and enjoying the city for another 10 years. I've developed a pattern of shaking my life up about every ten years…so I guess it's that time again.
I'm ready for my next chapter, but Chicago will always be in my heart and it was not easy to leave. At all.  I've done SO much in my city. I lived there for much of my adult life. And I am sure I will be back for a weekend, a week or even a month.
So for now…see you later Chicago.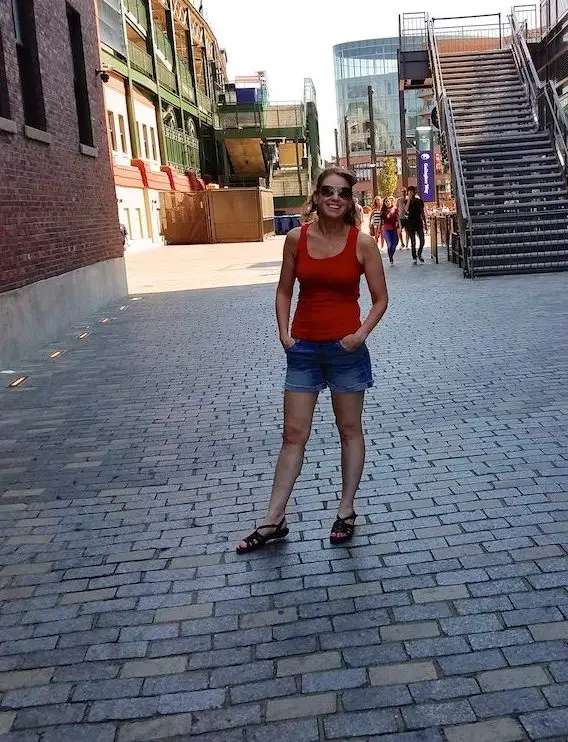 Get MORE Chicago: