Since I moved to the city in 1998, bicycling in Chicago has grown in so many ways. There are tons more bike lanes. There is more bike awareness. There are shared bikes to use on nearly every corner. Chicago is consistently ranked as one of the country's most bike-friendly cities. It's wonderful!
For a "young" country built around the car, America is finally, slowly re-imagining its cities into places that are more user friendly — more geared toward walkers and cyclists. I am a fan.
When I first moved here, I bought my first bike as an adult. I would scour the Chicago bike map, looking for safe routes to where I wanted to go. There were bike lanes, but nothing like there is now. Today, I don't even need the map because nearly every main street has a bike lane and I know all the other residential, one-way streets that are wide and safe to ride on. Biking in Chicago has become quite safe and easy. Plus, it's very worth noting, that Chicago is flat as a pancake. So riding here is very easy. You can ride for miles and not get tired. Unless, of course, you are riding against the wind on the Lakefront!
How to Bike in Chicago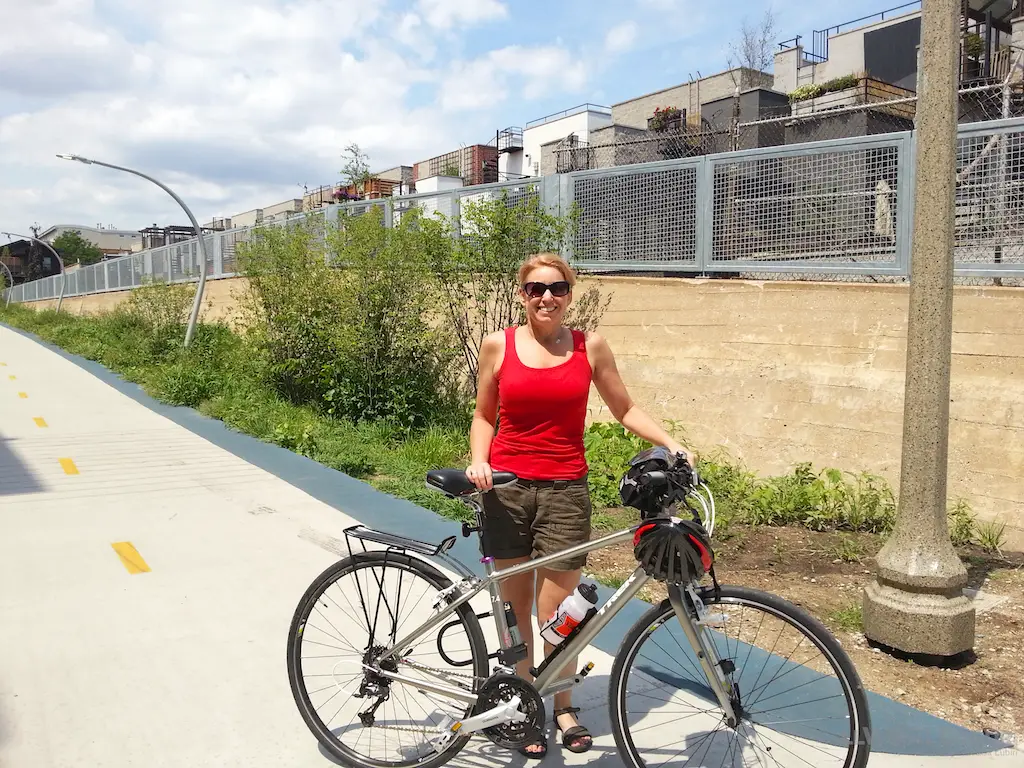 Biking in Chicago is really nothing to be afraid of. Here are  few things to know before you jump on your bike.
Bike Lanes in Chicago
The city now has more than 250 miles of  on-street bike lanes including protected bike lanes, buffered bike lanes, conventional bike lanes, dashed/advisory lanes, marked shared lanes, and neighborhood bike routes.  The Chicago Streets for Cycling Plan, has set a goal to establish "a 645-mile network of on-street bikeways."
In Chicago, bikes are treated as vehicles, therefore you should follow the rules of the road and signal when making turns. I personally use the more modern signals of just sticking out my right arm when turning right and sticking out my left arm and pointing left when turning left.
Currently, there are about 20 miles of "protected" bike lanes in Chicago including on major arteries like Kinzie, Dearborn (going north/south) and Randolph (going east/west) getting riders to and from downtown safely. Plus main diagonal streets like Clark, Lincoln, Milwaukee and Elston all have buffered bike lanes.
When getting around you can easily consult Google Maps which has a "bike directions" feature that I use almost daily.
And when you are riding around many of Chicago's neighborhoods, you can often ride on residential, one-way side streets that are wide and much less trafficked than main roads. I really like this mellow Chicago bike map, which includes low stress routes that are usually more residential, one-way side streets with a lot less traffic.
TIP: When riding with traffic in a lane between moving traffic and parked cars, stay a bit closer to the traffic to avoid being "doored" — a common issue when the drivers of parked cars swing open their door into the bike lane without looking first.
Bike Share in Chicago
Plus now, Chicago has a massive bike share program with more than 6000 bikes available city-wide. You can rent a Divvy Bike at one of more than 600 stations for $3 for 30 minutes or $15 for a day pass.
Bringing Your Bike on Public Transportation
If you want to do a ride that is not close to your home, you are able to bring your bike on the CTA or Metra (suburban) trains. CTA trains allow up to two bikes per train car and you typically stand near a door holding your bike and try to be respectful of others getting on and off. Buses are equipped with a bike rack on the front of every bus, so you signal to the driver and show your bike and they wait while you lift your bike onto the rack. Note: bikes are not allowed on trains during rush hours (7-9 a.m. and 4-6 p.m.). Buses have no time restrictions.
Where to Bike in Chicago
Bike the Lakefront
One of the most beautiful rides in Chicago is all along our wonderful Lakefront trail. You can ride past beaches, harbors, skyscrapers, a theater, miles and miles of park, soccer fields, and even a bird sanctuary.
Grab a Divvy bike (Chicago's bike share program with thousands bikes and hundreds stations all over the city), run, rollerblade, or simply walk anywhere on the 18 miles of trail. There are access points every mile or so from the south side starting by the south shore cultural center to the north side ending near the start of the Rogers Park neighborhood.
TIP: If possible ride the Lakefront trail on a weekday to avoid the massive summer weekend crowds.
Bike The 606 Trail
Chicago's highline-esque The 606, built on an old, elevated railroad bed connects the neighborhoods of Buck town to Humboldt Park. It's a lovely landscaped ride on what's known as the Bloomingdale Trail, which connects four neighborhood parks at ground level.
Bike the 312 River Run
The new 312 River Run trail stretches for two miles along the Chicago River from Belmont Avenue to Montrose Avenue and connects three parks — Clark Park, California Park and Horner Park. The coolest part is the Riverview Bridge which is a unique, 1,000-foot winding section that crosses the Chicago River. While the trail ends at Montrose you can then ride through Horner Park, up Manor Avenue (with a marked bike lane) and across Lawrence Avenue where you then pick up the North Shore Channel Trail.
Bike the North Shore Channel Trail
The North Shore Channel Trail begins right near my home at Lawrence and Francisco. This trail has just been improved with underpasses that go under most major roads that it crosses. It rides along the north shore channel, a drainage and aeration canal built in 1909. The entire trail is inside a series of connected parks starting with River Park (which has a new boat launch for kayaking and more) and ending at the north end of Legion park at Petersen Avenue. Here, you can use the underpass to go under the roads and then go across the new bridge which leads you to the trail on the west bank of the river and to Devon Avenue.  Here, the North Channel Trail becomes the McCormick Trail and runs up the west side of the North Shore Channel going through Lincolnwood Centennial Park and the Skokie Northshore Sculpture Park eventually ending in Evanston at Green Bay Road.
Bike the North Branch Trail
Another of Chicago's gems is the North Branch Trail, which follows the North Branch of the Chicago River. It's part of the wonderful green ribbon of parks, which form the Cook County Forest Preserves. Formerly just a dirt path used for horseback riding, the path was recently extended so it now starts in Gomper's Park on Foster Avenue in the North Park neighborhood of the city and extends 20 miles all the way up to the north shore suburbs to Glencoe. Here it ends at the beautiful Chicago Botanic Garden, worth a stop for lunch and a stroll around the more than two dozen gardens on 385 acres.
When riding this trail it's hard to believe you are in or near the city at all. You will pass native prairie plants, woods full of deer and other wildlife, parks with picnicking, ball fields, and boating. It's a great way to get out and enjoy nature right here in the city.
TIP: If you ride all the way to the Botanic Garden, you can loop back to the city on the Green Bay Trail, which connects to the McCormick and North Channel Trail (see below). I love doing this because I like variety and don't like to return the same way I came!
Bike the Sauganash Trail
One of my favorite newer trails also on the northside, is the Sauganash (Valley Line Trail) which connects straight to the Skokie Valley Trail. This trail mostly goes through a narrow, wooded ribbon from Bryn Mawr Avenue (just west of Pulaski) to Dempster avenue in Skokie, where the Yellow Line or "Skokie Swift" train ends.
Trails Outside the City
Of course, if you want to explore more, there are even more trails just beyond Chicago's borders. Even if you don't have a car, you are allowed to take your bike on Metra trains, which is our commuter train that services all the suburbs. You can bring your bike onto the train during weekday off-peak hours and on weekends. Five bicycles are allowed in the priority seating area of each accessible (ADA) rail car. Here are some popular trails in the suburbs.
The Green Bay Trail – This 9-mile trail is north of the city and starts in the town of Wilmette. It actually started in the 1830s as a stagecoach route between Chicago and Green Bay, before being converted into train track. Today, the path runs parallel to Metra's Union Pacific North line going through wooded areas and wealthy town centers of the North Shore like Wilmette, Kenilworth, Winnetka, and Highland Park. You can actually get to it from Chicago on Metra or ride there by starting on the McCormick Trail.
Cal Sag Trail — 26 miles of trail south of Chicago from Calumet City near the Indiana border all the way to the Des Plaines River near Lemont.
Salt Creek Trail — starts at Brookfield Zoo and connects several paths along the Salt Creek 7.1 miles to Western Springs.
Virgil Gilman Trail — 11 mile trail in the far west suburbs near Aurora. This rails-to-trail is built along the route of two former railroads and passes native prairie and forest preserves.
The Illinois Prairie Path — The Illinois Prairie Path is a network of 61 miles of bicycle trails, mostly in DuPage County. Portions of the trail extend west to Kane County and east to Cook County. Most of the trail is categorized as rail-to-trail (one of the first in America), meaning that the bicycle path is built atop an old railroad right of way. The trail starts at the end of the the Blue Line in Forest Park and first goes 16 miles west to Wheaton. There, it splits in two, with one branch going to Aurora and the other to Elgin.
Des Plaines River Trail — gravel trail spans nearly the entire length of Lake County for 31.4 miles as it winds through 12 forest preserves alongside the Des Plaines River.
Bike Tours
If you don't want to ride alone, there are several bike tours around the city. Bobby's Bike Hike and Bike and Roll are both popular with visitors. Or you can join more local rides in groups like Biketropolis and Let's Ride. 
Some Biking in Chicago links: