This is a guest post from Megan of Forks and Footprints.
You won't find any grapes growing on this vineyard.
That's because I'm talking about Martha's Vineyard. It's a cute little island just south of Cape Cod in Massachusetts. It is well known for its salmon-colored shorts-clad men, its island vibe and the unbeatable New England seafood. Unfortunately, it's also widely known as being rough on the wallet.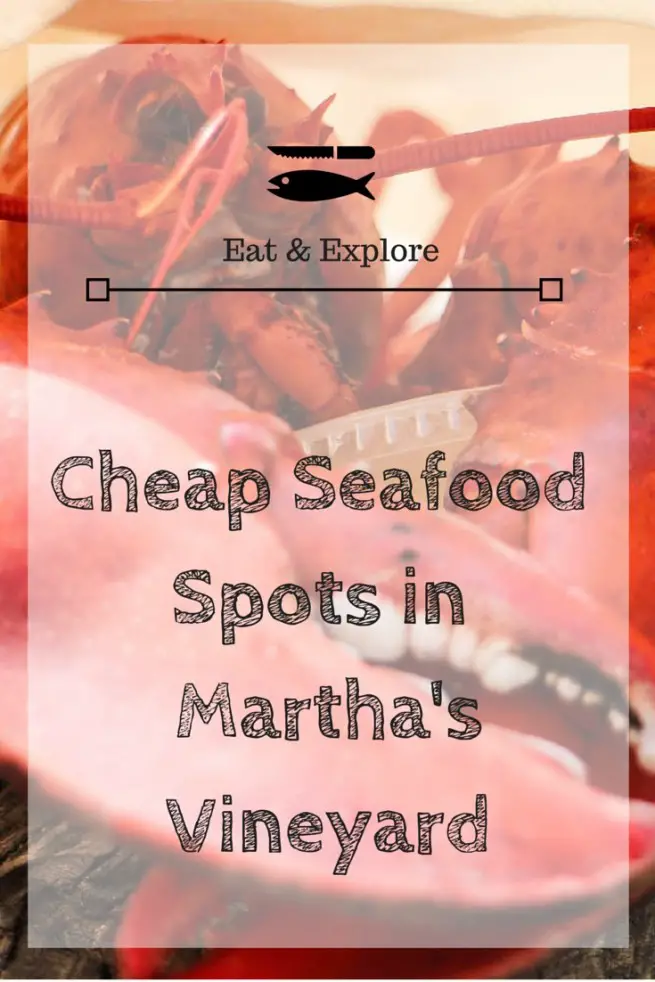 Having lived here for three summers now, and living on a tight budget while doing so, I have found some secret not-so-expensive spots to savor the delicious array of seafood without breaking the bank.
Edgartown: The Seafood Shanty & The Quarterdeck
The Seafood Shanty has a spectacular view of the Edgartown harbor and a huge variety of reasonably priced seafood including raw bar options, grilled shrimp, fish and chips and even sushi.
The Quarterdeck is located underneath the Seafood Shanty. It boasts every shape and size of fried seafood possible at very reasonable prices for on the go eating.
Oak Bluffs: The Shuk Shack at Coop De Ville
Now this is really a hidden gem. If you're a sucker for a lobster roll, steamed lobster, or raw seafood, the Shuk Shack is not to be missed!
It's tricky to find exactly which shack is THE Shuk Shack. It's a small bar under an awning with about 6 stools directly to the left of Coop De Ville and before the entrance to the Dock Street Plaza.
For $15 on Mondays they serve up lobster rolls and on Tuesdays, fresh steamed lobsters. Sure you may end up eating on the dock with your toes dangling over the harbor while the sun dips into the water, but wait, isn't that a good thing? Skip the big name restaurants and head to this little hole in the wall!
Vineyard Haven: Grace Church & The Net Result
Yes, I said church! If you're itching for a lobster roll but not for the $25+ price tag, get your butt to the Grace Church on Friday nights. They serve up $17 lobster rolls which includes chips and a drink every Friday from 4:30pm to 7 pm (or until the rolls run out which is usually before then!) Get there early, the line can get daunting!
This little spot will surely satisfy your seafood cravin' at a reasonable price. These guys bypass the fancy plate flare and serve "fish so fresh it will make you blush". Whether you're looking for fish to take home to grill or a quick prepared meal you can find exactly what you want here.
Aquinnah: The Aquinnah Shop
At the very tip of the island is the town of Aquinnah where you can see the gorgeous clay cliffs that call it home. Nestled at the top of the cliffs with a stunning view is the Aquinnah Shop. It offers up tons of fresh seafood options for under $20!
Chilmark/Menemsha: The Menemsha Fish Market
The Menemsha Fish Market is a fish market in every sense of the word. You can reach into the tanks and scoop out the exact lobster you'd like! They also have lobster rolls, stuffed quahogs, and truly homemade lobster bisque or clam chowder (not gluten free unfortunately…).
My personal favorite offering is the Sunset Special! It includes a 1 lb. lobster, a stuffed clam, a cup of soup and coleslaw for $20. Seating is on crates set up on the dock or on the beach to watch the sun go down into the water.
Have you ever visited Martha's Vineyard? Lobster roll or full steamed lobster?? How do you decide?
Author Bio:
Megan Stetzel is a Celiac and a traveler. She writes about the foods she encounters, her 'gut' reactions, and her trials and tribulations to a life on the road. She hopes to inspire those with food limitations to still go out and experience the world by being open and honest about her own experiences.