I like camping. Really I do. Okay, I like camping for one night, maybe two max.
I mean I love sleeping outside under the stars (when the weather is delightful and the bugs are not bugging me). So I guess I like camping in perfect conditions or basically now what's become known as "glamping." But what is the actual definition of glamping?
What is Glamping?
Yes, another one of those trendy mash-up terms! But it does really define this type of glamorous camping. It's staying somewhere more outdoorsy, but perhaps not sleeping on the ground, pitching your own tent, or digging your own poop pit. Sounds good to me! It can run the gamut from a fancy tent with a cot, to a treehouse, to an amazing lodge in the Serengeti.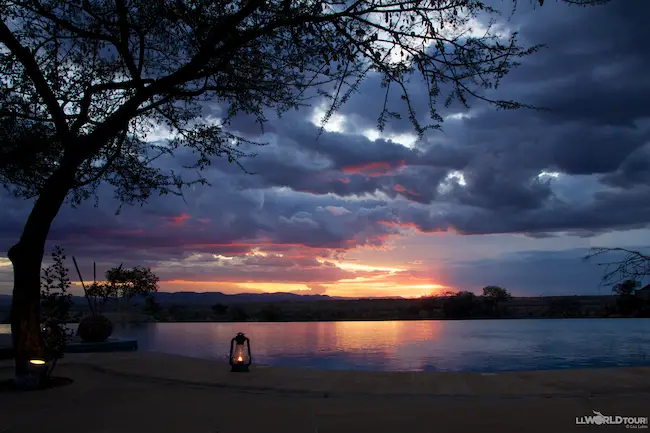 During my stay in Tanzania, I was lucky to try out a few fabulous glamping properties and now I can definitely say I'm a glamping convert.
Sanctuary Swala: Peace in the Tanzania Wilderness
I awake just in time for sunrise, rub my eyes and remind myself where I am: Tanzania. I grab my camera and go out to my wrap-around deck, which sits right in the middle of the savanna. An orange glow is low on the horizon shining through the acacia trees. Monkeys and guinea fowl run around in front of me. I hear only nature – rustling in the bushes and the sounds of birds awakening all around me. I grab the yoga mat that is stocked inside my tent and do 20 minutes of chatarangas and sun salutations. Lovely French press coffee is brought right to me on a tray and I sit in wonder.
Sanctuary Swala is about a four-hour drive from Arusha—the first two hours are paved, while the rest is on a dirt road through Tarangire National Park. It's the first "hotel" at which I've stayed where on the way there, I pass zebras, giraffes, and lions.
Upon arrival, an attendant escorts me to my "permanent tent". One of twelve canvas pavilions, each tent has a bleached hardwood floor, a canvas ceiling with ceiling fan, upholstered chairs in a sitting area, fluffy white duvets on comfy beds, a full en-suite bathroom complete with modern cement slab vanity, double sinks, and an indoor and outdoor shower. There is a wooden deck surrounding the tent and you can sit on your front "porch" and watch zebras and elephants walk right on by. It's surreal. If this is glamping, I am hooked.
To read more about Swala, head over to my post on Glamping.com.
Four Seasons Serengeti
It's like watching a huge panoramic IMAX movie, except this is no film. This is the Serengeti.
The Four Seasons Safari Lodge Serengeti sits right in the heart of the world famous national park with stunning wildlife just off the deck as entertainment. It's truly incredible.
Four Seasons Serengeti puts the "glamour" in glamping. In fact, let's be honest, you're not camping at all. This is pure luxury in the heart of Africa.
Our first night, we sit outside at dinner at the main restaurant and hear a roar from a herd of elephants not far in the distance. Since it's pitch black out (no city light pollution anywhere here), we can't see them, but the sounds are incredible and just add to the magic of this place.
To read more about the Four Seasons Serengeti, head over to my post on Glamping.com. 
Paradise in Zanzibar
Zanzibar. The name alone conjures up a mystical, far-off land with exotic charm. This island off the coast of Tanzania in the Indian Ocean has such a rich history of sultans and slave traders and spices markets. It's all a bit surreal.
I am sweaty and a bit weary after the flight over from the mainland, then a one-hour drive to the northeast coast of Zanzibar, to Matemwe Beach where I will relax and unwind for two days after doing a safari in the Serengeti. Happy as always to be handed a fresh fruit drink and a refreshing cool towel upon arrival, I leave the regular world behind and enter Matemwe Retreat. Once escorted to my secluded "villa" my jaw drops. What I thought was a public outdoor lounge area is actually mine, all mine.
Read More: Diving off the east coast of Zanzibar
My secluded home, "Safina," is one of four on the property, as well as a lodge of 12 stand-alone rooms, and one private beach house. The open-air villa has shuttered doors all around leading out to a gorgeous, wooden veranda complete with thatched roof, hammock, several couches and seating areas, and an outdoor bar made from what looks like the dhow (traditional Swahili wooden boat) that ply the turquoise waters of the Indian Ocean below, which I can see from my deck. Local craftsman built all the villas and most of the furniture was made from locally produced coconut wood.
To learn more about this island take a tour of Stone Town in Zanzibar.
To read the rest of this story, head over to my post on Glamping.com.
Disclosure: My accommodations were provided by the above properties. As always, my writing and opinions are my own.