Contrary to popular belief, New Jersey has large swaths of forest, green spaces, waterways, ocean front and bike lanes meandering through it all. It's called "the Garden State" for good reason!
After moving back to New Jersey from Chicago, where it's completely flat, I was a bit worried about how hilly this area would be since geologically it's known for glacial moraine and the foothills of the Appalachians.
I've been pleasantly surprised by all the bike trails in New Jersey that have been created over the decades – some short, paved, and easy and others that are a bit more challenging.
Here are some of my favorite Central NJ bike trails and rides.
The D&R Trail
The Delaware and Raritan Canal trails are some of the easiest and most scenic bike trails in New Jersey. They both run along old tow paths that were built adjacent to canals that previously were used to haul goods up and down.
I most often ride along the Delaware River. You can ride all the way from charming Frenchtown, NJ passing Bull's Island and D&R Canal State Park, through Stockton and my favorite areas of Lambertville and New Hope, and then through Washington's Crossing (yes that Washington, where he and his troops crossed the Delaware during the Revolutionary War) all the way down towards Trenton. And you can even cross over one of the many old bridges to the Pennsylvania side and ride north all the way to Easton onto another canal trail system – The Delaware and Lehigh (D&L) trail, to Bethlehem (my new home!), and beyond.
I highly recommend biking south from Frenchtown or Stockton and stopping for lunch in Lambertville or New Hope and then looping back up on the Pennsylvania side. The trail is mostly crushed gravel and passes charming, old colonial homes, towns, and inns along the way. I've also seen turtles, deer, egrets and other wildlife along the canal and river.

Columbia Trail
When it comes to bike trails in NJ, The Columbia Trail  is one of the best. It runs for 15 miles from High Bridge in Hunterdon County to the border of Mt. Olive and Washington Township in Morris County (where I grew up). The trail can be divided into three segments for breaks or turn around spots.
The trail mostly runs through some pretty serene woodlands, a river, farms, some old homes and even an old train station museum at Califon which is about halfway or a possible starting or ending spot. Named for the Columbia Gas Line constructed underneath it, the trail was created from an abandoned railroad bed. It's pretty flat and parallels the South Branch of the Raritan River.
I recommend starting in High Bridge — a quaint, small town with shops, restaurants, and many historical buildings, including the Taylor-Wharton Iron and Steel Company (TISCO) complex. The complex was once part of the Union Iron Works founded in 1742 which produced tools and cannon balls for Washington's Army during the Revolutionary War.
Ken Lockwood Gorge Wildlife Management Area has steep slopes, huge boulders,  andimpressive rapids. It's an easy ride to the Borough of Califon — a Victorian-style enclave where the houses are marked with the names of the builders and their dates of establishment rather than with street numbers. The Califon Historical Society has registered 170 structures with the National Register of Historic Places.
Along the way, you will pass Willow Grove Farm, the home to more than 30 Clydesdale horses. Located in Long Valley, it's one of the largest breeding and training facilities of Clydesdales in the East. The farm is host to a variety of events and activities, including guided trail rides.
Toward the northern end of the trail, the Village of Long Valley includes a cluster of businesses, homes and restaurants nestled near the foot of Schooley's Mountain. On previous rides, I've stopped and eaten at Long Valley Pub & Brewery, which resides in a wonderfully restored 200-year-old stone barn built in the 1770s by German immigrants.
Another treat along the way is the Coffee Potter, a perfect spot for a little break. It sits right alongside the trail built inside a former bank building. Sit outside in one of the wooden Adirondack chairs right alongside the trail.
Lansdowne Trail  
A short trail of just about two and a half miles each way, the Landsdowne Trail, starts just alongside Fox Lumber in Clinton. To extend the ride, there are some very low-trafficked roads through this beautiful area of Hunterdon County leading you to Echo Hill Park and back. I recently did this ride with the Hunterdon Social Rides Meet-Up group and loved it! At the end, there are various places to stop and eat in charming Clinton, New Jersey.
For other routes throughout bucolic Hunterdon County check out these trail maps and guides from Bike Hunterdon.
Duke Farms
The former Duke Estate (built by tobacco and hydroelectric power tycoon James Buchanan Duke and later his daughter, Doris, a famous philanthropist, art collector, horticulturalist, and socialite), is a bucolic, 2700-acre property of which 1000 acres are open to the public. Located in Hillsborough in Somerset County, the park is full of gorgeous native plants, great trails, outdoor activities, and events and classes like birdwatching, forest bathing, planting, and bike rides. I love this park and can't believe it's just 15 minutes from our NJ home!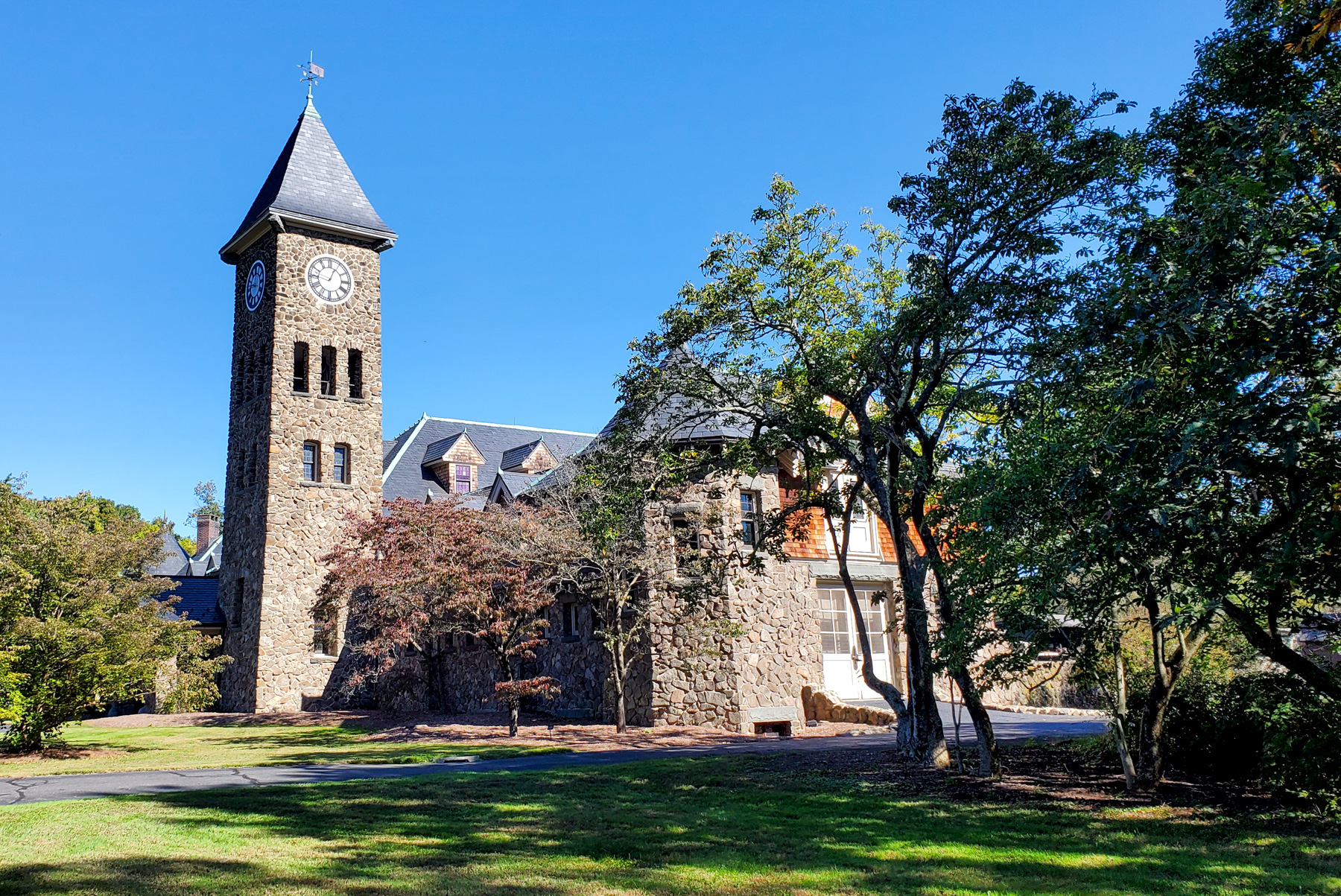 Back at the turn of the 20th century, James Buchanan (J.B.) Duke transformed more than 2,000 acres of farmland and woodlots into this extraordinary landscape. There are nine manmade lakes, over 18 miles of roads, over 45 buildings and a beautiful landscape, that makes for an easy and enjoyable bike ride. You can do various loops around the park, but some narrower trails are only for hiking.
After Duke's death in 1925, his fortune was inherited by his daughter, Doris Duke. She was an environmentalist long before it was fashionable. In her will, she envisioned that Duke Farms should serve to protect wildlife as well as be used for agriculture, horticulture and research. Inspired by Doris Duke's guidance, Duke Farms opened to the public in 2012, with a mission to be a leader in environmental stewardship and to inspire visitors to become informed stewards of the land.
Princeton
Princeton was recently designated the most "bike-friendly" town in the state of New Jersey.
Its recently upgraded Bike Boulevards provide a network of routes that connect schools, the public library, and the downtown area to other parts of the town; with a variety of different routes ranging from a 16-mile fitness loop around the perimeter of town to the 4.5-mile town and gown loop near the center of town.
The "boulevards" are designed to go around the whole town using low stress routes through residential areas, connecting different neighborhoods without having to travel on busy streets.
For more ambitious riders the Bike Boulevards connect with the 22-mile Lawrence Hopewell Trail (LHT), which meanders from just west of Princeton through Lawrenceville, Pennington, and Hopewell.
The 77-mile Delaware & Raritan Canal Trail (the other section of the D&R Trail which I mention above) goes about 15 miles north from Princeton to New Brunswick, about 13 miles south to Trenton, then from Trenton about 32 miles north along the Delaware River to Frenchtown.
As a part of the East Coast Greenway, which extends through 15 states from Maine to Florida, the 70-mile-long D&R Canal State Park contains more than 4,000 acres, and crosses five counties (Middlesex, Mercer, Burlington, Somerset, and Hunterdon) and 22 municipalities. It's a wildlife corridor, with 160 different species of birds, and, with its canal system that remains intact today, it is rich in history.
The D&R Trail meets the LHT just south of Province Line Road southwest of Princeton.
Henry Hudson Trail
All the way over on the "east side" of Central New Jersey are some of the famous Jersey Shore towns. Another fantastic New Jersey bike trail, the Henry Hudson Trail runs 24 miles along the northern edge of the Jersey Shore from Highlands through Aberdeen and all the way to Freehold. This paved, 10-foot wide trail is a former railroad right-of-way that winds its way along the Atlantic ocean with the southern shores of Brooklyn and Staten Island in the distance and then into more woods between the shoreline and Route 9. I did the northern section of the trail and loved it. Now I need to go back and do the southern section. I'm amazed at how far I can ride in New Jersey!
The New Jersey Atlantic Ocean coastline is roughly 130 miles in length with much of it bikeable. South of here along the coast, most of the Jersey shore towns are connected by boardwalks and trails upon which you can bike on some easy and flat paths.