After six weeks, my short-lived career as a sandwich engineer and coffee chemist is over. For the most part, I really enjoyed learning some new things–like the correct way to slice capsicum or dealing with a currency that has six coins–and meeting the real (and hungry) people of Melbourne.
At the Licata's café, I had the unique honor of being the only American they had ever hired. But, coincidentally, about 9 out of 10 customers asked me if I was from Canada. This has been happening to me during my entire trip and isn't surprising because Canadians simply travel the world much more than Americans. And in turn, I've already met more Canadians than Americans in my few months on the road.
When I answered this commonly asked question of 'if I was Canadian', most askers would apologize because, apparently, when it's the other way around most Canadians find it rather insulting to be called an American. Sadly, I can sometimes understand why. Of course, the few Americans I have met are very interesting and not an embarrassment at all to our country. But, of course, I haven't met any Mississippians or West Virginians (there are about ten to fifteen other states I could throw in here) traveling the world just yet. Now, I certainly don't mind being mistaken for a Canadian—I mean seriously, we do sound and look very much alike… well, unless you're from the 'country' of Quebec, oui monsieur.
The best part of working at a café (besides the fun and free sandwiches or yummy salads for lunch everyday—I'm a lunch junkie!) was getting to know my co-workers and meeting all the different people and quirky characters that came in everyday. There was the never-smiling Eastern European guy who ordered his lunch like it was always his last meal on earth. "Give me the Rye Cobb Loaf. No, not sliced! In a bag. Goodbye."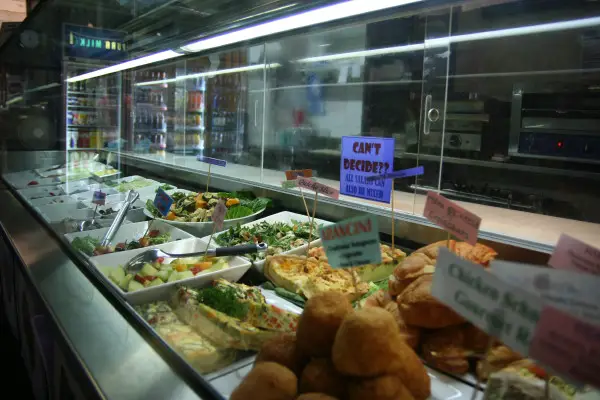 Or Margaret who was a regular—she always ordered the same two sandwiches everyday, and wanted them exactly the same each time. "No, it's to-mah-to, then the cucumber and then capsicum, then pepper and just a dash of salt on top of the pepper."
There was the Australian Football hottie whom all the counter girls drooled over as he ordered his 'manly' tuna sandwich on white bread. Just as I was finally remembering that John came in every day and ordered a 'regular capp., two sugars' or Greg, a tall, dark in the goth way, guy that lived around the corner wanted his latte with 'one and a half sugars,' it was time for me to leave.
But, I was also quite ready to leave because it was at this time that the Italian owner, Charlie, was really starting to get on my nerves. It didn't matter if he was an Italian with a 'funny' Australian accent—he was still Italian through and through and innocently hit on me and all the café girls in his charming yet skeevy way. This fifty-year-old Sicilian also kept things interesting by being the biggest micromanager I've ever had in my entire working career.
"Is that a piece of lettuce in the to-mah-toes??"
"Someone just walked in this second—have you asked them what they want yet???"
"Did you ask this customer if he wanted salt and pepper on his take away sandwich??"
"It doesn't matter that there are tons of customers waiting, you must write take away orders on this color paper."
"You just scratched your ass wrong. Up and down, not left to right." (Okay, he really didn't say that, nor did I scratch my ass at work, but you get the picture)!
He was unquestionably condescending to all his employees and even though they were all much younger than me, no one deserves to be talked to that way. You could have just finished serving a dozen customers, and he would walk in from the kitchen, see dirty dishes on a table and remind you to always check the tables. Or you could be cleaning off the dirty tables when customers would walk in and he would come in and ask you why you aren't behind the counter helping these starving customers.
Believe me, the customer service here was great compared to anywhere else I went in Melbourne–no one here ever waited longer than a minute to be served and they were always told "hello, we'll be right with you" as soon as they walked in the door. In fact, I really appreciated this since one of my pet peeves today is some of the poor customer service out there where cashiers don't look up at you when they ring you up or even utter "hello" or "thank you" (I'm distinctly thinking of Walgreens back in the states). But now being on the other end—the constant barrage of reminders could be maddening. He would tell us ad nauseum how to 'build' a sandwich or how to write up an order ticket (because he just didn't read it correctly when it got to the kitchen) or how to freaking mop the damn floor.
Now, don't get me wrong, I totally respect the amount of work that goes into owning and operating a food establishment. I realize now how non-stop the work really is and learned it first hand (and foot)—especially since we were dealing with perishable and bug-attracting food. A restaurant is inherently susceptible to so many more problems and challenges than, say, a gift shop where at closing time you can literally switch off the lights and lock the door at 5:01pm. At closing time in the café, we knew we'd be around for at least another hour wrapping foods, cleaning out toasters and pizza warmers, cleaning and wrapping up each individual dish in the sandwich bar and every cake tray, washing dishes, taking apart and cleaning the entire espresso machine, sweeping, cleaning tables, mopping, taking out the trash, tossing old breads, and pre-made sandwiches, and on and on.
But, despite all the hard work his employees seem to put in, Charlie would rarely say a simple "good job" or "thanks for the hard work today" or, God forbid, actually notice something someone did well. He continued to find fault with everything and anything and this frustrated me and made me happy I was only working there for a few weeks. He wanted his people to be perfect, but he never got the schedule right (i.e., when I told him the two days I couldn't work one week, those inevitably were the days he put me on and I had to remind him several times to change it. But when I asked for more hours my last two weeks, he actually took me off the schedule).
In the end, after going back and forth with him several pointless times on this issue, I'd had it. So being the typical independent, strong-minded American woman that I am, I let him know how I felt. He expected us to listen to him and be perfect, but I felt he wasn't really listening to us. I mean, I literally spent about $100 to change my next two flights in order to work there for a few more weeks. When I was first hired, I felt very guilty that they were going to put in the time to train me and then I would leave in three weeks.
I didn't care if I was just a casual visa-less worker, I still deserved a sliver of respect. Luckily, it wasn't just me who felt this way and after a run-in with the boss, I happened to bump into Mark, the thirty-two year old chef from Manchester, England who actually lasted less time than me there—he quit after just two weeks. We commiserated about the minutiae-meddling ways of Charlie. Mark recounted some of his frustrating yet hilarious times in the kitchen with Charlie telling him how he had it all wrong.
"Oh no, Mark. It's lettuce, then chicken, then mayonnaise–that's the correct order—not mayo, chicken, lettuce—that's so wrong. My repeat customers want consistency." I wasn't the only bitter and sarcastic one.
Mark jokingly said, "Oh, yes, because I know some of their amazingly loyal customers bit into my Chicken burgers and in mid-mastication stopped and said, 'something is wrong here. It just has the wrong mouth-feel. I must send this back. The lettuce is on top and it should be underneath. It's just not right.'" In laughing about Charlie's crazy ways, I realized why he had such a high turnover rate.
But then my last day came. Charlie and I had mended our fences and he and his wife Rose completely caught me off guard with a lovely goodbye gift. I mean it was truly unexpected and unnecessary. I had only worked there for 6 weeks, after all. They had taken the time to write me a sweet card and gave me a tiny gift wrapped box. Maybe Charlie was going to propose to me? Luckily, no, it was a very cute pair of stud earrings.
All in all, it was a fun and educational experience that has me wondering if I really want to run my own café one day. At least for now, I know I can work in one. So when I return to the states, Starbucks, here I come!