B'more
I've whizzed by Baltimore on Interstate 95 more times than I can remember driving between my home in New Jersey and my university and first job home in South Carolina. But I never really stopped there. It was time to fix that. Last spring, I was heading to Maryland for a friend's wedding, so I had no excuse to arrive a couple days earlier and explore the colorful, diverse city of Baltimore.
Known for its beautiful harbor and distinct neighborhoods, the city has a rich history, possibly most well known for being the site of the historic Battle of Baltimore during the War of 1812. British invaders bombed Fort McHenry with rockets ("bombs bursting in air"), which inspired Francis Scott Key to write what would become the American national anthem, the Star Spangled Banner.
If you've been lurking around here for a while, you may know that when I travel, I don't really like spending time inside cavernous museums or trudging to some of the more touristy sights. Instead, I'd rather be walking about, checking out the different, local neighborhoods of a city and getting to know it through its food and people.
So, since I only was in Baltimore for a short time, I did my best to venture out into some of its 'hoods and…eat, of course.
Inner Harbor
I started my time walking around the Inner Harbor, which is the center point and tourist mecca of Baltimore. Here you will find the big National Aquarium, historic ships, various museums and places like Hooters and the Hard Rock Café. I skipped all of that and headed into Miss Shirley's for some southern-inspired chow. This diner-feeling spot originally opened as a small café and now has two other locations.
Harbor East
After fueling up on a rich eggs Benedict of crab cakes and fried green tomatoes, I ventured on and walked about ten minutes to one of Baltimore's newest 'hoods, Harbor East. Trendy Harbor East is that modern, shiny 'hood full of luxury hotels, swanky restaurants and high-end boutiques.
This area feels a bit sterile, but at the same time fun and also a bit more upscale; case-in-point, the new Four Seasons Baltimore on the waterfront where you can walk around on a path/boardwalk. The hotel sits on the circle with the National Katyn Memorial on what is like several spokes of a wheel at the heart of this district.
Popular area restaurants include Charleston, PAZO and Cinghiale by James Beard nominated Chef Cindy Wolf.
I don't shop much, but if that's your thing there are an array of swanky boutiques like Shopping Curiosity, Handbags in the City, Loafers & Laces, Sassanova, and Su Casa. Plus Under Armour's first ever retail location, the Under Armor Brand House.
Fell's Point
I continued walking east until I hit Historic Fell's Point. This was possibly my favorite 'hood. It's a waterfront community with that great historical, colonial feel with 18th– and 19th– century row homes and cobblestone streets. I loved wandering down the narrow residential lanes and feeling the history and imagining that faint, clip-clopping sound of horses and carriages from days gone by. There are tons of pubs and restaurants to check out like the Waterfront Kitchen, Bond Street Social, Adela, Kali's Court, and Barcocina. Just by first impressions, this would be where I'd want to live if I moved to Baltimore.
For dinner the first night, I headed back to Harbor East and savored some fantastic sushi and sake at chic Azumi, at the bottom on the Four Seasons Hotel.
Historical Sleep
There are lots of choices when it comes to accommodations in and around Baltimore. I was excited to check out the Kimpton's Hotel Monaco Baltimore. This one-of-a-kind upscale boutique hotel in downtown Baltimore is housed in the historic former Baltimore & Ohio Railroad headquarters built in 1906, just after the Great Baltimore Fire. It is the city's first hotel to artfully combine upscale contemporary style and design with original historic architecture to create a pretty unique feel. 
Hampden

A bit further out in North Baltimore, I am glad I got a taste of eccentric Hampden. This 19th-century mill town has evolved into the epicenter of quirky Baltimore kitsch. There are dozens of unique shops and an eccentric array of cafes and restaurants all centered around 36th Street, which locally is known as simply "the Avenue."
I had lunch at cute and local-feeling Alchemy where I savored a fun smoked fish platter. A multitude of other eateries abound including The Food Market, Corner Charcuterie Bar, Le Garage, Café Hon, and Aromes.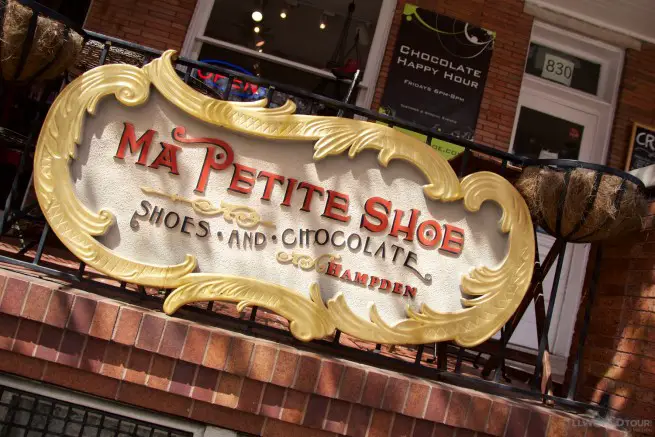 There are a lot of local shops to browse like Ma Petite Shoe (shoes and chocolate!), doubledutch Boutique, Trovh, a fun home store with unique finds, and Atomic Books (John Waters still receives his fan mail from here).

Just before hopping on the bus back downtown, I snuck into Charmery Ice Cream for a little treat.
Federal Hill
My last morning, I headed up to Federal Hill, just south of downtown and around the harbor.
There are great views from here plus a few walkable blocks with charming pre-war row homes and some cute cafes.
Getting Around 
Although I walked most of the time, I also took the light rail from the airport and to Hampden. Another great way to get around town is the FREE Charm City Circular, which has a few routes that run through the center of the city.
Disclosure: During my stay in Baltimore, I was a guest of the Kimpton Monaco Baltimore. As always all writing and opinions are my own.