My tour with Island Expeditions was underway and from hereon out we would be showerless, incommunicado with the outside world, and totally on island time. Our group piled into a motor boat and we zoomed our way to the tiny island of Tobacco Caye (pronounced key). This was the first of many 'paradises' to come.
Tobacco Caye is a relaxed, tiny coral and sand island right off the Belize Barrier Reef – the second largest reef in the world. Some say it is the Belize of a decade ago, before big luxury resorts and modern amenities like electricity and running water and satellite television invaded the larger resort islands like Ambergis Caye. Tobacco Caye is the perfect getaway. It has soft, sandy beaches shaded by coconut palms, warm water, world-class snorkeling, and diving right off the beach. And at the very most, you'll be sharing the island with 100 people.
We bedded down at the cheapest, yet most idyllic place to stay on the island, the Tobacco Caye Paradise – thatched-roofed wooden white bungalows on stilts sit right on the water each with a 'back porch' complete with a swinging hammock just beckoning weary travelers to get in and rock their cares away to the sounds of the crashing waves. A separate dining cabana was just steps away where, through the screen door, the friendly resident chef prepared us a fresh and tasty dinner of shrimp, beans and rice with a tall frosty glass of not-so-nice sugar-laden 'orange drink' to wash it all down with.
Every day forward we hopped in our trusty two-man kayaks and adventured to remote (at least they seemed that way) and amazingly beautiful islands as if we were explorers washing up on deserted beaches. We carried all our gear in our kayaks—fresh fruits, canned goods, other food rations and supplies, gas tanks for stoves, tents, and dry-bagged personal items. Renee and I practically laughed and sang our way back and forth across the turquoise waters of the Caribbean having a ball. To avoid paddling-boredom we talked about 'non-repeatable subjects' (ya know, those funny bathroom or sex stories), played name that tune (to the dismay of any of our fellow kayakers within earshot) and, in a few days time, also managed to lose one mask, one snorkel (recovered), one underwater camera (recovered), one spray skirt, and, yes my friends, even one kayak (recovered). Our time out in the Caribbean sun without any shade was perhaps, the longest I'd withstood on any of my travels – even my hands and fingers were burnt. After a day in the scorching sun and paddling our arms off, we would raise our trusty tents in the sand and then raise a toast to our new paradise home. Every evening our guides, Dave and Damasco, cooked us some of the freshest most amazing meals: pasta, fried jackfish, vegetable curry, cous cous, savory conch soup, fresh lime-marinated ceviche, bulgur wheat salad, chicken, ribs, and tasty desserts like bananas flambé, cheesecake, and even homemade pineapple upside down cake. It was way better grub than I expected, especially considering we were carting most of the ingredients around every day in our kayaks.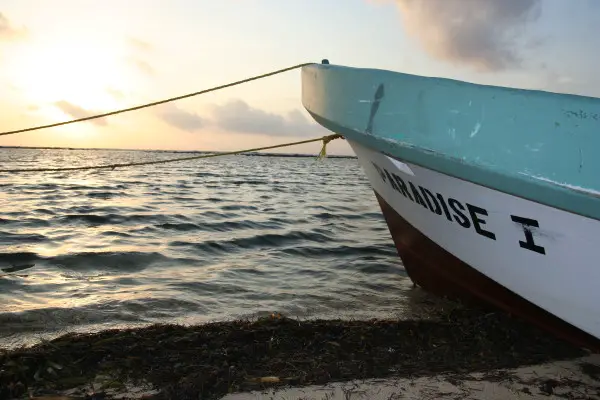 There were no showers, but one day some of the gals and I got out our soap and razors and had a regular spa day in the sea—complete with mud baths and sand exfoliation treatments. The bathroom usually consisted of an open-air potty of sorts – a hole in the ground with a wooden box constructed over it with a comfy toilet seat fastened to the top. It was better than a real bathroom actually – you were out in the open enjoying the fresh open breezes and views and not locked in a small port-a-john with the not-so-fresh smells and other 'issues' that come with it.
Most days we took a break from paddling with a midday snorkel. The turquoise waters were refreshingly clean and crystal clear. We saw barracudas, an arrow crab, a spotted eagle ray, starfish, a reef shark, sea urchins, anemones, and other various sea creatures. We would stop in mid-sea and snorkel in the open waters or through the gnarly thicket of the mangroves growing right into the water on an islands edge. Another lovely day at sea we were given a paddling break by attaching sails to our kayaks which enabled the winds whisk us to our next island. We slept in places with names like Tobacco Range, Thatch Caye and Billy Hawk Caye. I'd never camped this long before and I loved it.   Life was simple. Life was good. We had everything we needed and I was even traveling with less than I normally do. Nothing frees you up like shaking off most of your belongings and living simply. It goes without saying: the more 'stuff' http://www.youtube.com/watch?v=MvgN5gCuLac in your life…the more stress.
We had some fun nights of drinking local Belikin beer or the classily-named local cocktail (say it with your best Caribbean accent please): 'da panty rippa.' We lazily spent time swinging in hammocks, warming up around a blazing bonfire, enjoying some live local Belizean music, drumming and, of course, no island vacation is complete without it, sing it loud and say it proud: Karaoke! 'Woooooooo!' I will survive, hey, hey. The poor locals at the bar we took over on our last night back in Dangriga on mainland never knew what him 'em.