Where is Bucks County? It's a beautiful colonial area just across the Delaware River from New Jersey. A great weekend getaway from NYC or Philly. Here are some things to do in Bucks County, PA!
We drive past car dealers, big box stores and those all-American chain restaurants that show up in nearly every town across the nation. Pretty soon the commercialism fades as we pass cornfields, road-side fruit stands, and family farms. We hit Lambertville, New Jersey and feel like we're heading back in time. Folks are strolling on the mainstreet. Neighbors are smiling and chatting. It has a feeling of community. A feeling I like. Then we roll over the green, steel truss New Hope-Lambertville Bridge into Bucks County, Pennsylvania and..ahhh, it feels right.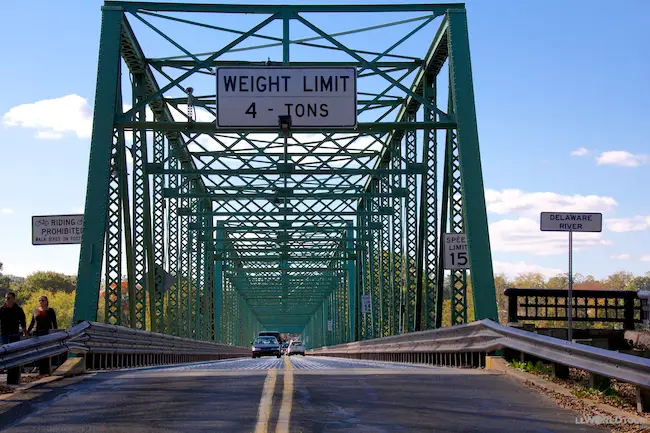 Where is Bucks County, PA?
If you aren't from the northeast, you may have never heard of Bucks County. Heck, you may only know it if you are from New Jersey or Pennsylvania. Just across the Delaware River from Jersey and only 25 miles from Philadelphia (or 75 miles from New York City), this bucolic area of eastern Pennsylvania is like a pocket of colonial charm. Driving past the simple clapboard homes (many built just around Revolutionary War times—late 1700s – early 1800s) with black shutters and gas lamps makes me sort of swoon. I can just picture the days when these were all dirt roads and horse drawn carriages rolled by instead of SUVs.
I grew up just about 45 minutes from here in New Jersey and would sometimes visit this town of New Hope with my mom. As a kid, the antique shops and boutiques bored me to tears. But now, not only have I evolved, but so has the area—into a more sophisticated and contemporary version of its earlier self.
Within Bucks County, the towns of New Hope and Doylestown feel a bit more urbane and cosmopolitan while still retaining their down-to-earth, rural charm. New Hope sits right on the shores of the Delaware and is a great spot for a day trip or weekend getaway.
Things to Do in Bucks County, PA
Originally a grist mill, Bucks County Playhouse is the state theatre of Pennsylvania. It opened as a theatre in the 1930s and became a starting point for many actors and where plays slated for Broadway were tried out. Neil Simon's Barefoot in the Park had its premiere here in 1963, starring Robert Redford and Elizabeth Ashley. Today, you can see shows a mix of musicals, comedy and live performances.
Bike on the Tow Path 
Take a bike ride on the river—on the New Jersey side it's known as the D&R Canal Trail and on the Pennsylvania side it's the towpath in Delaware Canal State Park. The PA canal is a 60-mile national historic landmark and is the only remaining continuously intact canal of the great towpath era of the early 1800s. This canal was used for transporting coal and other resources to New York, Philly, and the eastern seaboard. Once railroads became more efficient, it was less profitable to operate canals. Once used by mules pulling boats down the canal, the towpath is now used by walkers, runners, bicyclists, cross country skiers, and bird watchers. I love it. It's easy, flat, and beautiful. We've brought our bikes here a handful of times to ride different sections. I love the lush green trees (or amber and red in fall) and peaceful, easy ride. And together with the path on the New Jersey side, there are several looping trails connecting NJ and PA with five bridges. So you can park in one spot, but not have to retrace your steps…or wheels.
See the Covered Bridges of Bucks County
Bucks County still has 12 covered bridges from the 19th century. Follow this covered bridge driving tour which links 10 of them.  We followed a bit of it to check them out. And even just the ride through the county is scenic and lovely.
The preserve is 134 acres of nearly 800 species of flowers, trees and shrubs, many of which are rare, threatened or endangered native plants of the Delaware Valley Region. Trails wind through the woodlands and meadows offering a lovely afternoon.
Where to Eat in Bucks County
Of course, my favorite thing to do in the area is just stroll and stop to eat and then stroll some more and stop to drink. There are many bars, restaurants, and shops all along River Road and some of the side streets. 
To me, this place represents the exact current feeling of New Hope. It's set in an old building with lots of different rooms and casual yet charming outdoor patio seating with old brick floors underfoot. The place is old, but the food is modern, fresh and interesting. Lunch dishes like the eggplant with hummus and sriacha, or the terrine of quinoa with cranberries and goat cheese or my softshell crab sandwich all reflect a now, farm-to-fork feel for which the area is becoming known. Oh, and I can't forget to mention their rich panko-crusted mac & cheese. Um, yum.
We headed just up the street after dining at Karla's and indulged in some creamy ice cream at Nina's Waffles & Sweets! A family-owned shop, they make traditional liege waffles and home made ice cream with flavors like Sea Salt Caramel and Key Lime Raspberry. Not sure how we fit it in after our big lunch at Karla's. But somehow we managed.
This place impressed me from the get go – the design, the food, it could have been in New York or Chicago. But Executive chef, Caleb Lenchtner, previously of Marsha Brown in New Hope and before that in New York, keeps a mellow vibe. Chatting with him made me enjoy the food even more.
"The only thing I can't get out here that I got in New York City is better takeout, but besides that, I love it," chef Caleb said.
But what Caleb loves is knowing his local farmers. "I get to see them and talk to them each week," he explains.
In Lahaska, just up the road from New Hope, Caleb's American Kitchen is a BYO New American restaurant, the menu is inspired by all things American, featuring dishes made with local and regional ingredients.
Other Favorites:
New Hope is literally lined with bars and restaurants, many of which have great outdoor patios. In summer it feels great – like a real vacation getaway. Some of my other favorite places to eat include Sprig and Vine, Nektar, Triumph Brewery, and on the New Jersey side, in Lambertville, Liberty Hall Pizza, Marhaba, Lambertville Station, and Hamilton's Grill Room…and of course there are many more I still want to try.
Where to Stay in Bucks County
We were pleasantly surprised with the 1740 House. Neither of us loves a stuffy old, curling wall paper B&B and the 1740 House is not that. Located just six miles north of New Hope in Lumberville, PA, it is charming and old, but restored in a fresh and airy way.
The best part? The back of the inn sits right up against the banks of the Delaware River. You can spend a lazy day riverside on their garden terrace, patio or balconies. We had a deluxe room with a balcony and views of the river. It had that wood and floral b&b motif, but not too syrupy or stuffy.
There was even an exclusive bar just for guests, although I think it would be kind of nice if locals were allowed there to give it more of a local vibe. In the morning, we enjoyed a very tasty breakfast with some fun home made frittatas, fresh fruits, and other goodies.
For some more fun ideas check out a Day in New Hope.
Disclosure: During our short stay, we were guests of Visit Bucks County. As always, all views are my own.