Sometimes we'd like to see animals in the wild when we travel. But what is ethical animal tourism? Here are some tips for looking for responsible animal tourism and where to go.
When planning to travel, you know you have to do research. Where do you want to go? How are you going to get there? And if you are going to hire a tour company you do your due diligence reading reviews and getting recommendations.
The same thing must be done when animals are involved and you are seeking ethical animal tourism. Travel is big business and sometimes animals are used to make money in ways that are quite often not good for the animal's well-being. You can never assume that something is ethical or humane. Sadly, in many cases it is not.
What is Ethical Animal Tourism?
Ethical animal tourism always puts the animal first. The goal should always be the humane and natural treatment of animals. It's a tough balance because the tourism part of it is to raise awareness and often to raise funds for continued conservation, protection, and care of these animals. Yet too much tourism, in and around wild animals is problematic.
I love animals. Many of us do. The desire to get up close and personal with animals is strong, but life is not a Disney movie. As a kid, I used to like going to the circus and the zoo. Now I know better and think that unless it's a sanctuary, nearly all animals should be viewed from a distance in the wild. As I continue to educate myself each year, my perspective has shifted to more responsible animal tourism.
What to look for in Responsible Animal Tourism
Businesses that use animals to make them money don't always have their best interest at heart.
Some basics of ethical animal tourism:
Do not ride elephants anywhere (often cruelly "tamed" and beaten in order to do this).
Do not swim with dolphins.
Do not take photos with captive monkeys, parrots, tigers, bears or any other wildlife that is chained or caged and being forced to do unnatural things, be transported often, and live in unnatural conditions.
Tigers and lions owned by unscrupulous businesses often drug them and/or declaw them so tourists can take photos with them. This is awful. Do not support this.
Most importantly, you must do your research. Most info will be found from other reviews and sites and not the company's own website where of course they will praise themselves. Although some can be taken with a grain of salt, a consensus of Trip Advisor reviews expressing concerns can be a red flag.
Look at photos from other visitors or bloggers. Read about the history and track record of the place. What is their mission and what are funds going towards?
You want to look for places that put the animal's welfare first. Animals should be living as they would naturally, exhibiting their innate behaviors.
You should seek out places that do not allow huge crowds. In fact, animals should really not be near people at all. They should be kept in as close to their natural habitat as possible.
These "five freedoms" for animals were developed in response to a 1965 UK Government report on livestock husbandry, and were formalized in 1979:
Freedom from hunger or thirst by ready access to fresh water and a diet to maintain full health and vigour
Freedom from discomfort by providing an appropriate environment including shelter and a comfortable resting area
Freedom from pain, injury or disease by prevention or rapid diagnosis and treatment
Freedom to express (most) normal behaviour by providing sufficient space, proper facilities and company of the animal's own kind
Freedom from fear and distress by ensuring conditions and treatment which avoid mental suffering
Bottom line: Don't patronize any place that is making animals do things they would not be doing in the wild. Their number one goal should be protecting animals. 
Where to Go for Ethical Animal Tourism
I tapped travel bloggers from all over the world to share their knowledge and experience with responsible animal tourism. All of the places below were visited and vetted personally by these bloggers and come highly reviewed as ethical and humane.
North America
Farm Sanctuary ­— Watkins Glen, NY
By Lauren Yakiwchuk  from Justin Plus Lauren
Farm Sanctuary is the largest farm animal protection group and sanctuary in the United States and it's also a non-profit organization. They have three sanctuaries in the country: two in California and one in New York. I visited the original Farm Sanctuary in Watkins Glen, New York, a peaceful retreat about 15 minutes outside of this quaint town in the Finger Lakes region.
Not only does Farm Sanctuary rescue farmed animals in need, they are also animal advocates who work hard to fight against animal cruelty within industrialized factory farms. Every animal at Farm Sanctuary is an ambassador for the millions of others that are killed every day for food. Farm Sanctuary is committed to promoting a compassionate vegan lifestyle through education, animal rescue, and efforts to change the laws regarding farmed animals.
There are a couple of ways to visit Farm Sanctuary in Watkins Glen. First, you can show up at the farm for a guided tour. In June, July and August, there are tours from Wednesday to Sunday between 11 A.M. and 3 P.M. In May, September, and October, there are guided tours on weekends from 11 A.M. to 3 P.M. Between November and April, the farm is closed to visitors. It costs $10 for adults to tour, $5 for children aged 4-12, and children 3 and under are free to enter.
You can also spend the night at the farm in one of their cottages or tiny houses (they book up fast!). We stayed overnight in one of the cabins and it's such a wonderful, peaceful retreat. A continental, vegan breakfast is included the following morning, and you can also take a semi-private tour around the farm with fellow overnight guests. It's also possible to sign up for a volunteer shift at the farm if you're interested in lending a hand.
Swimming with Manatees — Crystal River, Florida
By Jennifer Coleman of Coleman Concierge
Crystal River Florida is the only place in the world where you can go swimming with manatees in a clear, freshwater spring, but is it considered responsible wildlife tourism?
The Florida Manatee Recovery Plan states, "Manatee viewing opportunities have also been made available to the public. … Such efforts are essential for obtaining public compliance with conservation measures to protect manatees and their habitats." The plan goes on to say, "The most significant problem presently faced by manatees in Florida is death or injury from boat strikes."
Nearly 25% of manatee deaths are from boat strikes. Manatees have one baby every two to three years and live up to 50 years, so every death is critical. Top scientists say that adult survival rates are the most critical factor to long-term survival of the species. Recently the education efforts have increased the population enough so that Florida manatees have been removed from the endangered list. They are the only manatee population in the world to have any population growth in the last 20 years.
The best way to swim with manatees in Crystal River is with a guided tour between late November and early March. Tours start at $60, which includes everything you need including a wetsuit. You begin by watching a video on proper manatee etiquette. The tour operators strictly enforce rules such as not reaching for or holding onto manatees. They also train you on the best way to see manatees, which is to float as still as possible, and maybe they'll come to you. Each tour takes about 3-4 hours, stopping by several manatee hot spots for potential encounters. Be sure to check if the operator is part of META (Manatee Ethical Tourism Association) before booking. We went with Bird's Underwater because they were a founding member of META.
Alaskan Wildlife Conservation Center — Portage, Alaska
By Jennifer Melroy from Smoky Mountains Obsessed
The Alaskan Wildlife Conservation Center (AWCC) is an amazing animal sanctuary and rescue center in Portage, Alaska.  This 200-acre sanctuary gives a home to Alaskan wildlife that are injured or orphaned and are unable to be reintroduced to the wild.  The center provides a safe place for these animals and a center to educate Alaskans and visitors about the native wildlife.
The center offers self-guided walking tours as well as a range for free programs and paid guided tours. Tickets to the AWCC cost $17 per person. The guided tours range from $10 – $100 per person.
The AWCC has played an important roll in the re-introduction of Wood Bison to Alaska.  In the early 1900s, Wood Bison were hunted to extinction in Alaska. In 2003, the AWCC received its first herd of Wood Bison to start an Alaskan breeding program with the goal of returning Wood Bison into the natural habitat.  In 2015, AWCC in conjunction with U.S. Fish and Wildlife released 100 Wood Bison into Innoko Valley.  The project has been successful and the wild herd is growing and in 2017, at least 25 calves were born into the wild herd.
Turpentine Creek Wildlife Refuge — Eureka Springs, Arkansas
By Theresa Goodrich of the Local Tourist
Turpentine Creek Wildlife Refuge is located in the northwest corner of Arkansas. Its beginnings were unusual: in 1978, a friend of Don and Hilda Jackson's ended up with a lion cub in lieu of an auto payment. The friend didn't know what to do with the big cat, so the couple rescued him. Five years later they rescued another lion. Then, in 1991, a black market dealer dumped 42 big cats on the couple. Friends who had a ranch in the Ozarks invited the Jacksons to use their 460 acres as a refuge. It was a good thing they did, because the same dealer unloaded another 28 cats and 30 horses on them. Then people started calling, people who realized they didn't have any idea how to care for a wild animal. The Jacksons bought the ranch and launched a refuge.
This accidental refuge is now one of the most well-respected big cat facilities in the world. In 2017 it received accreditation from the Global Federation of Animal Sanctuaries. The Jacksons' daughter, Tanya, and her husband, Scott Smith, continue the mission to rescue big cats, bears, and other animals who have no place else to go.
Turpentine Creek Wildlife Refuge is open to the public. You can wander the grounds and read the signage to learn about each animal, or you can take a tour and get more in-depth stories. There are also suites, safari lodges, camping, glamping, and a tree house. Tickets to visit the sanctuary are $25 for adults, $20 for teens (13-18), and $15 for kids (4-12), seniors (65+), and military.
Wolfdog Sanctuary — Alberta, Canada
By Cindy Baker of Travel Bliss Now
Meet Zeus.  He's the leader of his pack at the Yamnuska Wolfdog Sanctuary, about a 45-minute drive west of Calgary, Alberta in Canada.
What are wolfdogs, you might be asking?  And why do they need rescuing?
These majestic animals are the product of unscrupulous breeders who sell high-priced "glamour dogs."  The problem is that wolfdogs aren't good pets because their wild instincts are too strong.  But they don't know how to survive in the wild either.  Too often, they're abandoned by their unwitting purchasers… or worse.
Yamnuska is a non-profit organization that takes care of wolfdogs. The animals have plenty of space to roam within one to two-acre enclosures in the foothills of the Rocky Mountains.  A team of five staff members (along with volunteers) provide exceptional care for the wolfdogs and it shows.  All of them sport glossy coats and clear, bright eyes.
A big part of the sanctuary's mission is to teach people about wolfdogs.  Visitors can learn more on an independent interpretive walk around the property, or join an interactive tour where you will meet the "low-content" wolfdogs.  Prices range from $15 (CAD) for the walk to $58 for a fully interactive tour.  The interactive tours must be booked in advance and there are rules to keep everyone safe.  The fees support the ongoing care for these beautiful animals.
Sloth Sanctuary — Costa Rica
By Daria Bachman from The Discovery Nut
Costa Rica is famous for its lush jungles, tall volcanoes, good coffee and sloths, the adorable animals that have become a symbol of this Central American country.
Unfortunately, sloths in Costa Rica face many threats such as deforestation, poaching, electric wires (which is the main source of injury for many sloths), and poor protection laws — the reason why the country has so many sloth sanctuaries.
If you are looking to visit an ethical sloth sanctuary, come to the Sloth Sanctuary of Costa Rica, the first sloth-only rescue and rehabilitation facility in the world for injured and orphaned sloths that opened in 1992.
Aside from rescuing sloths, the Sloth Sanctuary of Costa Rica educates the public about some of the issues that these critters face. After sloths are rescued and rehabilitated, they are typically released into the wild, however, if they can't be set free, the facility takes care of them.
These tree-dwelling animals typically live in Costa Rica's rainforests. Although they are very slow, they camouflage themselves well by blending with the trees, which helps them to survive. The good camouflage is also the reason why it's so tough to spot sloths in the wild.
The Sloth Sanctuary is located on the east coast of Costa Rica near Limon. It takes about three and a half hours to get there from San Jose.
While the facility does not hire staff or volunteers, it offers insider tours that can be booked online ahead of your visit. Tours start at $30 for adults/teen (age 13+) and $15  for Children (age 5–12). In keeping with responsible animal tourism values, touching or holding sloths is not allowed at the facility.
Jaguar Rescue Center — Puerto Viejo, Costa Rica
By Lara Hartog of Both Feet On The Road
The Jaguar Rescue Center near Puerto Viejo (Costa Rica) is the perfect example of a truly ethical animal tourism rescue center. It's a well-established center to which locals, the police, and the fire department bring ill, injured, and orphaned animals.
Despite their name, the Jaguar Rescue Center (JRC) rescues all sorts of animals. From electrified and baby sloths, to monkeys, birds, amphibians, and much more. Over 40% of the rescued animals have been successfully released back into their natural habitat. The animals that, for whatever reason, cannot be released are cared for at the center.
You can visit these animals with a private or public tour. During those tours, you will learn about the animals, their natural habitat and the rescue center from truly passionate staff and volunteers.
The public tour is available twice a day from Monday to Saturday and costs  $22. A bit pricy, however, I guarantee that after the tour you will agree with me that your money is actually used for a great cause.
What makes JRC a truly ethical center is that they only allow their long-term, knowledgeable staff or volunteers to actually work with animals. Tourists are not allowed to touch animals or take photos with them (obviously you can take photos of them).
The JRC does offer voluntourism. As a volunteer, the minimum stay is four weeks, and rather than working with "cute" animals, volunteers actually contribute to JRC by doing work useful but less-glamourous volunteer work, such as cleaning up after the animals.
Diving with Bull Sharks — Costa Rica
By Demi of Around the World with Her
Around the world, there are plenty of places that advertise swimming or diving with sharks. Some offer cage diving with Great Whites, whilst others take you diving and bring along huge buckets of bait. These activities may appeal to some people, who want the adrenaline of getting up close to the often-misunderstood shark. However, these practices are not good for the behavior of the sharks, do more damage than good, and are not a good example of responsible wildlife tourism.
Scuba diving with bull sharks is offered in many places, from Mexico to Fiji. Here, guides entice the sharks with barrels of fish offal. This in turn encourages the sharks to rely on humans for food. This permanently changes their behavior.
However, there is a place in Costa Rica that is slowly gaining more interest among dive enthusiasts. Just off the Pacific coast lies some uninhabited islands. Here, you can dive with Bull Sharks at Bat Islands. The area is set in a Marine Protected reserve, and regularly patrolled by wardens. Anyone diving in the area must have permission from the Marine Reserve. The wardens also do spot checks on the boats, checking for bait and other unethical practices. Only a certain amount of divers are allowed in the water every day.
The Bull Sharks are seen here for about 6 months of the year, and have never been fed or enticed. Therefore, you get to dive with these magnificent sharks in their own natural habitat, without disturbing their behavior.
ARCAS Rescue Center — Peten, Guatemala
Recommended by Jo Williams of Lost Wanders
The ARCAS Rescue Center near Flores, lies in a forested 45 hectare protected area next to Lake Petén Itza. You can work with beautiful and endangered tropical animals like scarlet macaws, mealy parrots, kinkajous, spider and howler monkeys, peccaries, coatamundis, margays and jaguars.
The priority is the welfare, rehabilitation and reintroduction of the wild animals that have often been rescued from the illegal pet trade. Typical volunteer duties may include feeding, cleaning, maintenance and construction of rehabilitation areas, running educational tours and participating in community events.
The lodging is open to up to 38 volunteers year-round, starting from $200 USD per week. It's important to note handling of the animals is only permitted for long-stay volunteers or people with relevant veterinary experience. There are also veterinary and graduate programs available. If you are short on time, you can visit for just a few hours by giving a donation of 25 Quetzals to the rescue centre and also visit the Peténcito Zoo next door. It's the perfect ethical animal tourism experience for visiting nearby Tikal.
South America
Caiman House — Guyana
By Steph Dyson of Worldly Adventurer
Guyana in South America is a country packed full of unusual wildlife, with many species still being discovered and others about which little is still known.
One of these is the black caiman, the largest reptile in the alligator family. While seeing these predators in their natural habitat might not appeal to most, joining the researchers at Caiman House in Guyana's Rupununi region is a thrilling and fascinating experience.
Their caiman research project started as means of better understanding the species and how it can be conserved, as numbers are falling throughout the Amazon Basin. The research now relies entirely upon money from tourists who come to stay in their comfortable if simple lodgings and head out with the research crew at dusk.
You go out onto the river and watch as the team catches a caiman, before joining them on-shore to help take various measurements and the releasing the creature back into the night. It's an enthralling opportunity to get close to the largest predator in the Amazon Basin while supporting essential academic research and sustainable tourism.
Caiman House is deep in the heart of Guyana, so to get here, you'll need to fly ($125 USD pp; 2 hours) or take the bus ($50 USD pp; 12-15 hours) to nearby Lethem and arrange a boat transfer ($250 USD per group; 2 hours) to Caiman House. Cost of accommodation and food per night is $100 USD and $80 USD per person for the caiman experience.
Projeto Tamar — Brazil
Recommended by Coni from Experiencing the Globe
With the objective to protect sea turtles from extinction in the Brazilian coastline Projeto Tamar was born. Its name comes from Tartarugas Marinhas, sea turtles in Portuguese. It's a Brazilian non-profit organization created in 1980 with the goal of identifying the hatching sites and seasons, and the consequences of poaching.
At that time, the local fishermen were hunting the turtles nearly to extinction. The project offered them jobs to help protect the turtles instead. This worked out great. The locals knew the turtles and their patterns more than anyone, giving the project invaluable insight, and the project helped the local communities with better-paid jobs.
The project then expanded to protection of the turtles and later it also included the safeguard of sea wildlife in general, since the environment is essential for the turtles to thrive. Since then, they have managed to protect and release over 8 million turtles to the seas of Brazil!
Nowadays they have presence in nine Brazilian States, covering 1,100 km of beaches, in 25 locations. Eight of them have a visitor center. I visited the one in Praia do Forte, close to Salvador de Bahia, and it was a privilege to witness and learn from their work. It also provided my with the opportunity to take sustainable photographs of these beautiful creatures.
One of the ways they get funds is through entry fees to the visitor centers. The one in Praia do Forte is 28 reais -about 5€. I'd advise you to visit between September and March if you want the opportunity to ethically see the turtles hatching.
Fernando de Noronha Island — Brazil
By Bruna Venturinelli of I Heart Brazil
One of the best places to visit in Brazil to have an ethical tourism experience with wild animals is Fernando de Noronha, a mesmerizing archipelago off the northeast coast.
Authorities charge an entrance fee (about R$222) and a daily environmental preservation fee (R$75/day) to protect and support this fragile ecosystem.
In the same breath, tourists are not allowed to wear sunscreen or shoes on a few beaches as the ICMBIO (responsible preservation institute) wants to protect the rare local fauna and flora.
In the waters surrounding the island, countless species of fishes, dolphins, corals, and even sea turtles happily enjoy their untouched world.
This marine national park is a temple of wildlife.
You can see sea turtles' eggs hatching on the beach, dolphins coming back to the bay after a night feeding in the sea, and much more.
Tourists looking to connect with nature will have a blast at this place! Besides the fantastic wildlife, Fernando de Noronha also has some of the prettiest beaches in Brazil.
If you want to have an ethical animal experience in an island where the main and only goal is to preserve wildlife, Fernando de Noronha is your best bet!
Europe
Pigs in the Woods Pig Sanctuary — Yorkshire, England
By Anna from My Travel Scrapbook
Pigs in the Woods is a vegan pig sanctuary in Yorkshire, England. This animal sanctuary allows pigs to live as they would have hundreds and thousands of years ago. Each pig has half an acre of woodland each meaning they only allow a maximum of 20 pigs at a time.
These pigs have come from a variety of sources. Some may have been bought as micro pigs only for owners to abandon them once they became bigger than they expected.
It's a joy to watch the pigs wandering about in the woods with their noses sniffing the forest floor. You can really see the different personalities of the pigs too from the boisterous to the shy ones. It is heart-breaking to think so many pigs spend their entire life in a tiny pen, not being able to move before being slaughtered for meat.
If you would like to visit Pigs in the Woods, they run tours Thursday to Sunday at 10:30 A.M. where you can feed and walk with them. Of course, if the pigs do not want to walk, for example when it is raining, they are not forced to. If you would like to get down and dirty with the pigs you can help out on one of the many maintenance days too. Just be careful the pig does not mistake your paint bucket for food so that you accidentally end up painting a pig's ear…
El Refugio del Burrito — Fuente de Piedra, Spain
By Linn Haglund of Brainy Backpackers
El Refugio del Burrito is a donkey and mule sanctuary in Fuente de Piedra, only a 40 minutes' drive from Malaga in southern Spain. They rescue donkeys who have been abandoned or mistreated from all over Spain. They mainly try to adopt animals to new, safe homes when possible. However, many donkeys and mules are found in such a bad condition that they stay at the sanctuary for the rest of their lives where they can get the safety, affection, and medical attention that they need. There is no doubt the employees and volunteers care deeply for the animals!
The sanctuary also works closely with animal welfare at several Spanish Fiestas and pilgrimages where especially donkeys, mules, and horses are a big part of the tradition. Their work has improved the animal welfare of these gatherings and made the animal owners more aware of their health and safety. There is still a lot of work to do, but they are really making a difference.
You can visit El Refugio del Burrito for a donation of only 2 Euros. They also have a little shop with things you can buy to support the sanctuary.
Throughout your visit, you will learn more about each of the donkeys and mules and their stories. They also have guided tours where you can get proper donkey hugs. Other ways to support their work is to donate or adopt a donkey.
Migratory Bird Research at Falsterbo Fagelstation — Sweden
By Christa Linn LeGrande-Rolls of Expedition Wildlife
Birdwatchers and bird photographers from all over Europe visit the small, quiet town of Falsterbo, Sweden in Autumn to experience one of the best bird migrations in the world. Hundreds of thousands of birds can be seen along the marshes and coastline at Falsterbo before they make their journey across the Baltic Sea in search of warmer locales for winter.
The Falsterbo Fagelstation, or bird research station and observatory, is just along this peninsula. Here, researchers count and band migrating birds to log species counts and survival over time. Visitors can watch and learn about the techniques used to ensure long-term bird research, including mist-netting and banding using ethical procedures.
From April to May and August to October, visitors can book tours to learn about the station and the area's birds. The cost of taking a tour is 50 SEK, around $5, per person for one hour. Visiting the many top birding sites near the research station is completely free, though it is best to have a car to get around more easily. Book ahead of time for the opportunity to stay in the staff bunk housing at the observatory to connect with other birdwatchers and enthusiasts!
While birding is the top reason to visit the area, the Viking history museum is a fun visit, as is a drive along the southernmost coastal road to the Ales Stenar standing stones.
BearHill Husky — Lapland, Finland
By Bradley of Dream Big, Travel Far
The most incredible ethical animal tourism experience we have had was with BearHill Husky in Lapland. Ever since I was a kid, I have always dreamed of going on a husky ride. But as I got older and the reality of doing one became real, I was suddenly very aware of any possible animal cruelty issues.
Having travelled Asia extensively and seen the endless exploitation of animals over there for tourism, I was very conscious of only doing a husky safari if it was ethical for the animals. Upon researching husky experiences in Lapland, we quickly came across BearHill Husky, a company well known in the area.
They have been operating for eight years now, and have over 100 Alaskan and Siberian huskies who they have bred and care for. One thing that becomes quickly apparent is that the huskies there LOVE to run. They are literally "born to run" as per the company's motto. As soon as they see people coming near, you can sense the incredible excitement in the dogs and absolutely zero coercion is needed to get them to run.
In fact, you have a harder time STOPPING them from running! Prices range from 77 Euros and upwards of a few hundred Euros per person, depending on which program you choose. But as a part of all programs you get to meet the dogs afterwards (including a group of pups!) and find out more about their natural desire to run and their daily life at BearHill.
Libearty Bear Sanctuary — Romania
By Jordan Adkins of Inspired by Maps
The Zărnești LiBEARty Bear Sanctuary in Romania is an heart-warming example of ethical animal tourism in action. A peaceful bear sanctuary cloaked in the famous oak forests of Transylvania, this space provides a home for rescued brown bears of Eastern Europe. One of the best places to visit in Romania, the LiBEARty Bear Sanctuary, also offers a rare opportunity to come face-to-face with these magnanimous bears outside of a zoo.
The Libearty Bear Sanctuary Zarnesti was opened in 1998 by Romanian Cristina Lapis, who had recently observed three bears being kept in a small cage at a roadside restaurant to entice customers. Sadly this was all too common in this part of the world at the time. Cristina has since made it her principal purpose to rescue these bears from fading in these rusting prisons and providing a sanctum for them. With this, Libearty Bear Sanctuary Zarnesti was born.
Today Libearty is the largest animal welfare project in Europe. So far, 126 bears have been liberated from their sadistic nightmare. The sanctuary provides 69 hectares in which bears can climb, swim, eat, and be cared for by veterinarians – fundamental rights denied to them in their previous lives. Guests are encouraged to visit only once a day, where an onsite guide with take the around the sanctuary, discussing individual cases and showcasing how the bears are cared for. Some of the stories are harrowing, to say the least. Still, by visiting and paying 60 RON, you are ensuring that Libearty can continue its mission to save captive bears in Romania and beyond.
Asia
Chengdu Research Base of Giant Panda Breeding — Chendu, China
By Lee from The Travel Scribes
With its distinctive black 'panda eyes' and its oversized frame, the giant panda is one of the world's cutest and most beloved animals. But, it's also one of the planet's most threatened.
Almost on the brink of extinction, there is one particular spot that you must see this cuddly critter in the proverbial flesh, albeit in an entirely ethical way: the Chengdu Research Base of Giant Panda Breeding, located in Chengdu, China.When it comes to wildlife tourism, there's no better place to see the panda than in the country where it's the national symbol. And the Chengdu Research Base really delivers — this non-profit research and breeding facility is the world-leader in the field, offering educational tourism, but also conservation centres and leading research outfits.
What started with just six rescued giant pandas has grown to the globe's foremost authority on the animal, with over 124 panda births in captivity, trying to bolster the numbers of this dying breed. The breeding program is so successful that the Research Base even boasts its own nursery, where you can see baby pandas reared (of course, from afar).
There are about 80 pandas in its growing population, all in vast, sustainable enclosures that allow them to stay away from prying visitors when they feel like privacy, or come close to the crowds when they feel like showing off (or at feeding times of course).
From walking down the fronded walkways to the enclosures, to educational videos and the nursery tour, there's a lot on offer for the avid panda watcher, even if it's just walking away with a soft panda-shaped toy to take back home.
And, at only 55 RMB per person ($7.80 USD/6.30 GBP) to pop in, it's well worth the visit to see this rare member of the bear family.
Wildlife SOS — India
By Mariellen Ward of BreatheDreamGo
When Raju the elephant was rescued from a lifetime of abuse by Wildlife SOS in India, they posted photos of his recovery on their Facebook page. Baby step by baby step, Raju slowly recovered his health and learned to relax and trust his caretakers. It was a long journey — and me and thousands of others were hooked. We followed his story through the staff updates on Facebook and became emotionally engaged with the work of this wonderful animal rescue centre. Protecting Indian elephants became a passion for me, and probably many others, too.
Wildlife SOS runs two animal rescue centers, both near Agra (home of the famous Taj Mahal) in north India. One is for bears, and the other for elephants. They also rescue and rehabilitate many other animal species, as needed.
On separate occasions, I have visited both the bear and elephant centers. They are different, but both equally fascinating. Not only does Wildlife SOS do good work, they are also extremely good at engaging animal lovers, both on social media and in person. You buy a ticket in advance, and arrive at a specific time to join a group. To start, you watch a video or listen to a lecture to learn about Wildlife SOS and the animals they rescue. Then you are escorted through the center, and are carefully monitored so as not to interfere with or provoke the animals.
At the elephant center, we met about a dozen female elephants and watched volunteers bathe them. We learned they each had a name and a very distinct personality. I fell in love with chubby, affectionate Lakshmi — a staff favorite! The male elephants are off-limits as they can be aggressive.
Animal Aid Unlimited — Udaipur, India
By Ellis from Backpack Adventures
When you are in India it is not difficult to see that in the chaos of the overcrowded cities or the poor rural villages, animals can have a hard life. You will see lots of stray dogs and cats as well as thin cows or donkeys living on the edge of survival. You might wonder if anyone cares about them at all.
The answer is that a lot of people in and around Udaipur actually care a lot. They simply didn't know where to go when they found an animal in distress. That was until Animal Aid Unlimited opened its animal hospital where they give medical care to injured and ill street animals.
The founders came from the U.S., but they work closely with people from the community. They are more than just a hospital —they also lead education programs and spray and neuter programs to give street animals a better life.
Although animal tourism is not their main goal, they welcome both visitors and volunteers. Personally it was one of my favorite things to do in Udaipur. Nowadays they get so many visitors that they give four tours a day at set times. It's free, but in kind donations are of course appreciated.
After the tour you can stay longer to play with the animals. I spent some time with the resident dogs that loved every bit of attention they got. It definitely sparked my interest in their volunteer program that looks professional and well run.
Elephant Nature Park — Thailand
By Sam from My Flying Leap
Unfortunately, riding elephants is a big tourist attraction when people visit Laos and Thailand. It's a clear example that just because you can do something doesn't mean you should. When you do your homework, you learn just how horrific and pervasive the abuse is.
The good news is there are ethical animal tourism places where you can visit these amazingly huge and graceful creatures, and one of them is Elephant Nature Park.
This park is a sanctuary for elephants, rescuing them for horrbile situations around the region, providing for their medical care, and rehabilitation. Generally, they are unable to live on their own and have only known captivity so they remain at the sanctuary. They support a number of wild herds in and around northern Thailand, as well as cats, dogs, and other animals. They also work with local groups in Thailand and Cambodia that protect and care for elephants in their area through their "saddles off" program.
When you visit, you can hike through the jungle with some of the tamer herds, volunteer for a week caring for the animals, or visit the sanctuary for a day or half-day. When you visit the sanctuary, you learn all about elephants and those that they care for, feed those that want a snack, and walk around getting to know them. Prices range based on the trip you sign up for. A half-day park visit is $47 USD or a full day is around $80 and it includes transportation from Chiang Mai and a hearty lunch. It's a fun and rewarding day and one I'll never forget.
Visiting Conserve Natural Forests — Pai, Thailand
By Martina Grossi of The Global Curious Travel-Expat
We'd given up on the idea of visiting elephants during our trip around Southeast Asia because so many do not practice responsible animal tourism, when we came across Conserve Natural Forests, a non-profit located in Pai, Northern Thailand.
For starters, the CNF is NOT an elephant camp. The project's main focus is forest restoration and wildlife conservation. There's a rescued female elephant, Kamee, that roams free around Miguel and Anchala's 80,000 square meters of land. This area was granted to them by the government to help regenerate the region's lost jungle.
What makes the CNF ethical is that the interactions with Kamee are very short—visitors can only feed her bananas. She comes to hang out for about half an hour, and then off she goes. No games, constant padding, or riding! Visitors are also not allowed to bathe her—elephants don't need humans to get cleaned up, they do it themselves!
Another great thing is there's only one small group of people visiting just once a day.
People interested in visiting need to book in advance, and pay a donation fee of 1000 Thai Baht (about $30 USD). This covers transport, a tour around the main areas of the project, Anchala's talk about conservation and sustainability, hanging out with Kamee, the chance to plant a small tree, and farewell drinks! Tours go from 1:30 P.M. to 5 P.M.
Those keen to volunteer can apply to their International Internship Program.
Visit the Madalao Elephant Conservation — Luang Prabang, Laos
By Meg Atteberry of Fox in the Forest
Finding an ethical animal experience with elephants is shockingly difficult to do, especially in Laos. Known as the Land of a Thousand Elephants, Laos has a rich history with these gentle giants. At the Mandalao Elephant Conservation the objective is to provide a safe haven for previously working elephants and encourage local economic growth.
Through their program you can hike with the elephants and bathe them. Many of these elephants were bought at logging camps where they were severely mistreated.
Mandalao gives them a new lease on life. There are several different programs including a difficult hike with a bath, time with baby elephants, a mild hike, or just a bath. Either way, you meet the elephants in their natural environment, free of fences or obstacles.
The elephants are free to go at their own pace and enjoy the experience the way they see fit. The mahouts, or elephant minders, were never invasive, and in general, the animals enjoyed spending time with us.
The mahouts don't use sticks or prods, but instead use voice commands with these amazing creatures. Mandalao employs locals from the nearby village in order to create a symbiotic respect for these creatures. The villagers benefit directly from the Mandalao conservation. They are also allowed to farm on the property and sell their fresh produce at fair market prices to Mandalao. After you enjoy your visit with these incredible creatures, you're treated to a home-cooked, all-organic lunch.
Mandalao truly embraces the wholistic approach to responsible animal tourism.
Bee Farm — Phu Quoc, Vietnam
By Ania James of The Travelling Twins
Over the last few years, we have been hearing that bees are important and that we need to save them, but I never knew much about bees. During our family holiday in Phu Quoc , we visited Bee Farm, where we learned all about bees.
Bee Farm in Phu Quoc is a small farm full of native herbs, peppercorn (Phu Quoc is the biggest producer of peppercorn), Asian fruits and beehives. During our visit, we learned about Vietnamese herbs and how they are used by locals.
But the most fascinating was learning about bees, their hierarchy, male bees (drone) and female bees and how they collect pollen and produce honey. It was one of the best world schooling lessons for my girls and me.
Later we tried different types of teas and honey. We bought some honey, cinnamon and reusable bamboo straw.
Bee farm is located in the northern part of Phu Quoc, the best way to get there is on a motorbike. It is free to enter, but survives from donations and selling bee products.
Seeing Wild Orangutans — Sumatra, Indonesia
By Carly Day of We Are Sumatra
Most travellers who arrive in Sumatra, Indonesia, are intent on seeing critically endangered Sumatran orangutans. These incredible apes are found in a few very remote areas of this enormous island. But the only place where tourists have a chance of seeing them in the wild is in the Gunung Leuser Ecosystem, a vast rainforest stretching from North Sumatra to Aceh.
There are several different areas from which tourists can enter the jungle in search of orangutans and other animals, but unfortunately, not all guides or tour operators abide by ethical animal tourism standards. Sometimes, it's hard to know the difference between the responsible operators and the irresponsible ones before it's too late.
However, in the small, idyllic village of Batu Katak, you can head into the jungle with local guides safe in the knowledge that any orangutans you see are 100 percent wild. There are no semi-wild or released animals here, which means they are only spotted high in the treetop canopy where they belong.
Of course, there's never a guarantee of seeing a truly wild orangutan, but in this small village, the chances are pretty good. And even if you miss out, you may get to see the giant rafflesia flowers found in the area, along with gibbons and leaf monkeys.
Batu Katak can be reached by bus or car in around three hours from Medan. One-day guided treks start from approximately 600,000 IDR, depending on your guide. However, overnight treks increase your chances of spotting wildlife exponentially!
Orangutan Rehabilitation Centre — Borneo
By Masha Kleshcheva of Fingertip Travels
Sepilok Orangutan Rehabilitation Centre in Malaysian Borneo is one of the best places in the world to see semi-wild orangutans. Young orangutans are often orphaned from deforestation and the illegal pet trade: they are taken in, provided medical care, and rehabilitated with the goal of self-sufficiency in the wild. Currently 60-80 grown orangutans live free in the 43 square kilometer reserve, along with about 25 young orangutans who reside in the nurseries.
The rehabilitation center provides daily feedings for the orangutans to supplement their diet and help transition them to life in the wild. The food is purposefully boring to encourage foraging. Visitors can observe these daily feedings at 10 A.M. and 3 P.M., which is the best chance of seeing a wild orangutan. Between the feedings, visitors can observe the young orangutans in the nursery playing and learning from each other. A buddy system is in place so that young orangutans can learn skills like climbing and foraging from older peers.
There is strictly no touching the animals or exploring the reserve off the designated paths: visitors can observe and educate themselves without interfering with the rehabilitation. There are no volunteer opportunities at the center, but visitors can help with donations, 'adopting' a young orangutan to receive photos and updates, or just visiting. The entrance fee is 30 RM with an additional 10 RM fee camera charge (total about $10 USD).
Africa
Gorilla Trekking — Rwanda
By Oksana & Max from Drink Tea & Travel
Volcanoes National Park in Rwanda is a haven for endangered mountain gorillas. It is one of only three places in the world where mountain gorillas are found. The other two places to go gorilla tracking are in Uganda and the DRC.
Rwanda is fiercely proud of their mountain gorilla population and have gone to great lengths to protect them. Due to these efforts, after decades of poaching and habitat instability, their numbers are starting to rebound.
Ticket prices for gorilla trekking in Rwanda are steep. In April 2017, prices doubled to $1500 USD per person to curb tourist numbers. Any permit must be arranged 4-6 months in advance.
During gorilla tracking, you'll be paired with a group of no more than eight people. Together you will travel deep within the national park in search of these gentle giants usually hiking for about one to two hours before you reach your assigned group.
During the experience, guides and tour operators advocate for as little interference into the lives of the gorillas as possible. Visitors must keep a distance of seven meters from the gorillas. Plus, any eating, drinking, smoking or flash photography is prohibited, and groups can stay no longer than 60 minutes.
Although the 60 minutes is truly magical! Nothing will prepare you for seeing these human-like creatures up close. It is a one in a lifetime experience, you won't soon forget.
Jukani Wildlife Sanctuary — South Africa
Recommended by Sion and Ben of The Globetrotter Guys
Jukani Wildlife Sanctuary is a sanctuary for big cats including lions, tigers, pumas, leopards and jaguars to name just a few. The reason that these incredible animals are at Jukani is because they have all been rescued in one way or another.
The big cats here have been rescued from the circus where they have been mistreated, zoos that have not looked after them, illegally kept as pets, inhumane wildlife tourism, or any other manner of unnatural situation.
The staff at Jukani work hard to place the animals in the best environment possible by recreating the next best thing to being in the wild. Breeding is prohibited as they do not want to increase the number of animals in captivity.
The guides that take you around have so much knowledge, passion and really do care for the animals – it's a very educational experience. A single entry ticket is  about $16 USD (R280).
There are so many amazing wildlife sanctuaries in South Africa, we can't recommend visiting enough!
Phinda Game Reserve — South Africa
Recommended by Claudia Tavani of My Adventures Across The World
Contrary to what some people would imagine, some safaris in Africa are an ethical animal tourism activity and play a great role in wildlife conservation—needless to say, if done right!
Safaris are indeed a way to discourage poaching. As jeeps roam national parks and game reserves such as Phinda in South Africa or Nabexa in Botswana, poachers are discouraged from acting and can have fewer opportunities to carry out their crimes, as the areas where animals live are closely and regularly patrolled.
Furthermore, when local communities see the benefit of tourism and get their fair cut in the profits, they will also understand the importance of wildlife conservation and of the protection of their natural habitat.
To be considered completely ethical and responsible animal tourism, safaris have to be carried out in ways which don't affect the lives of animals. Workers and tourists must follow a code of behavior that goes from picking up their own refuse (including toilet paper) to never raising their voices, which may cause discomfort to the animals. Another important thing is that speed limits throughout the parks are respected, and that only a limited number of jeeps are allowed at a viewing, which is why communication among rangers driving around a reserve is fundamental.
At all reserves managed by And Beyond, such as Phinda, only three cars are allowed at a sighting at the same time, and all have to keep a safe distance from the animals—obviously keeping in mind that animals may move during the viewing and even get much closer to the car.
Canoe & Walking Safari — Okavango Delta, Botswana
By Wendy Werneth of The Nomadic Vegan
When a couple I met in Africa told me they'd had a vegan guide for their Okavango Delta canoe trip, I didn't believe them. As a vegan travel blogger, I'd been feverishly searching for local vegans in the countries we'd be visiting, and in most places, they were few and far between. But it was true! Mogale, who was born and raised in the delta and became vegetarian at 10 years old. Then as a teenager, he gave up dairy and eggs, and he's now been vegan for more than 20 years.
I've met safari guides who had an obvious admiration for nature and wildlife, but I've never met another one who truly loves animals as individuals as Mogale does. After floating through the narrow water channels of the delta in our canoe, we docked at one of the islands for our walking safari. What struck me immediately was that Mogale was not carrying a gun. He explained that the animals could sense that he meant them no harm, so in return, they would not harm him or anyone with him. And as we came across herds of zebras, wildebeest and other wild animals, I definitely noticed that they did not run away in fear as all the animals had done on my previous walking safaris.
Being able to walk among the animals with a guide who truly respects and understands them is a very special experience. Trips can be booked directly with Mogale through his Facebook page, Bulrush Mokoro Safari. Typical prices for a two-day trip are 5500 Botswana Pula (about $465 USD) per person.
Sheldrick Wildlife Trust — Kenya
By Jennifer Dombrowski of Luxe Adventure Traveler
Founded in 1977, the David Sheldrick Wildlife Trust Elephant and Rhino Orphanage (DSWT) is known as the world's most successful elephant rescue and rehabilitation center. The DSWT rescues orphaned baby elephants, and sometimes even orphaned baby rhinoceros, and rehabilitates them at their center on the outskirts of Nairobi. These are young elephants that lose their mothers and herds due to human-wildlife conflict, poaching, irresponsible wildlife tourism, or other situations that force the herd to abandon the babies. The baby elephants would not have otherwise survived without human intervention, and after being rehabilitated at DSWT, are released back in to the wild.
In order to minimize human contact with the young elephants, the David Sheldrick Wildlife Trust only opens for one hour daily. During this time, visitors are introduced to each baby elephant at the center and learn their personal story while gathered around a large open area bordering the edge of Nairobi National Park. Caretakers feed the elephants milk, which is only one of the multiple feedings of the elephants they care for daily. The milk is essential to their growth and development until around three years of age. The babies also have a bit of playtime while visitors learn about the work DSWT does, including both the rescue and rehabilitation of the elephants as well as community education in order to reduce human-wildlife conflict.
Though it gets crowded since the center is only open for that one hour, the proceeds from visitors and donations from those who choose to adopt a baby elephant are extremely important to the center's success. Each baby elephant requires 24 liters of milk daily, as well as additional food sources. It's one of the best ways to get up close with African elephants other than going on safari, and definitely one of the most enriching experiences you can enjoy when visiting Nairobi.
Kenya Giraffe Centre — Nairobi, Kenya
By Dani Ward from Diapers in Paradise
Have you ever pet a giraffe? At the Kenya Giraffe Centre in Nairobi, you can get up close and personal with these gentle giants. More personal than you might wish—you might just get a fuzzy kiss!
The Centre was founded as a breeding program for the critically endangered Rothschild Giraffe back in 1979. Since then, they have been successfully breeding and reintroducing these giraffes to the wild, and have saved this subspecies from extinction.
At the Giraffe Centre, you will not find cages. The animals have free reign over this 60-acre sanctuary. You will, however, notice that they like to spend a lot of their time hanging out by the visitor center—it is the visitors who feed them their daily pellets of food! Guides are always there to answer questions, give information, and ensure that everyone is behaving respectfully to the animals. They also educate visitors about the work that the Centre does— including the creation of the African Fund for Endangered Wildlife, and the Nature Education Centre, where they educate thousands of Kenyan schoolchildren each year on the importance of conservation.
The Centre is just outside of Nairobi and costs around $15.
If petting and kissing giraffes isn't enough, you can stay next door at Giraffe Manor, a world-famous hotel where giraffes poke their heads in to your breakfast. Giraffe Manor is not operated by the Kenya Giraffe Centre, but follows the same guidelines about allowing the giraffes to come and go as they please, while their habitat remains protected from humans.
Ngulia Rhino Sanctuary — Kenya
By Steph of Book it Let's Go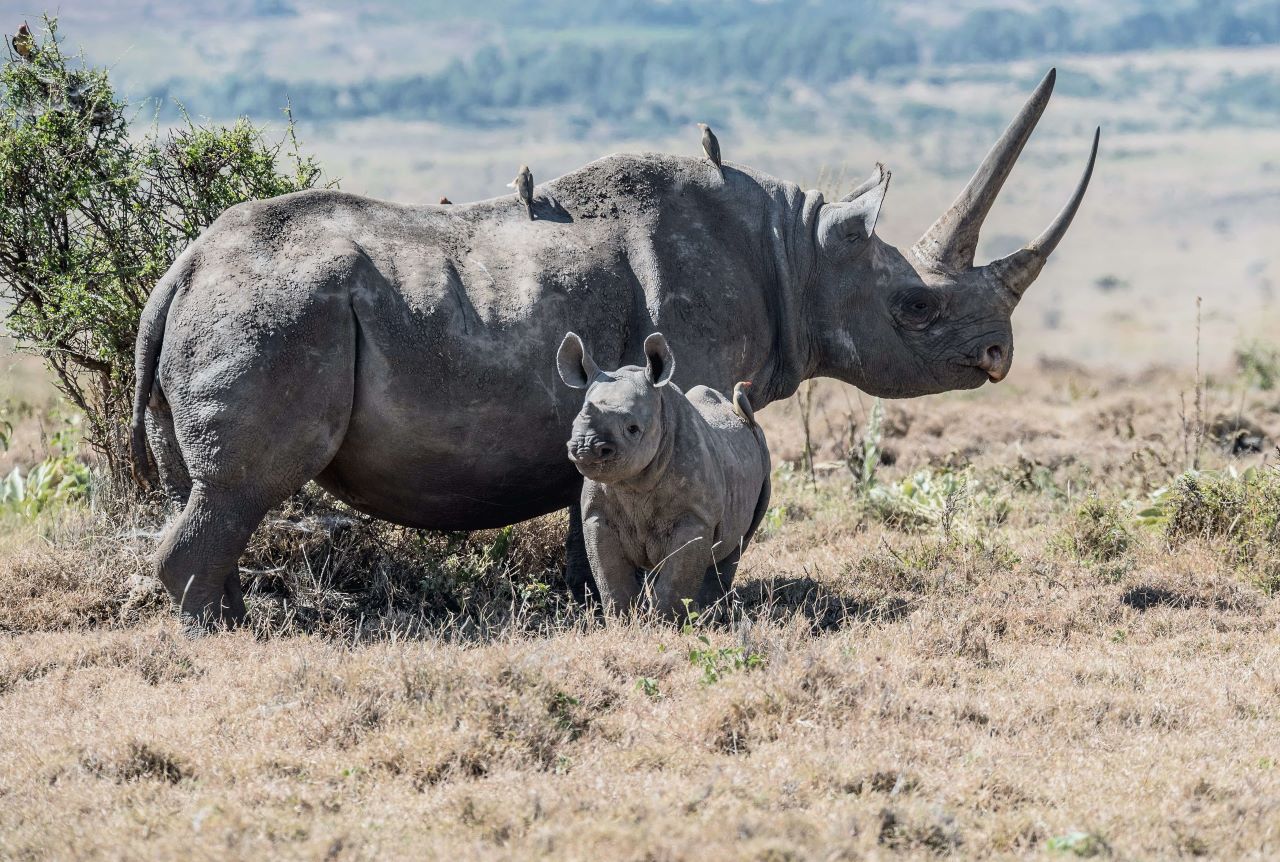 Ngulia Rhino Sanctuary is located at the base of the Ngulia Hills in Tsavo West National Park in Kenya. The 90 square kilometers of land is sectioned off from the main park by a one meter high electric fence and has 24-hour security patrols. The aim of this is to protect the 80 rhinos that call Ngulia their home from poachers.
The Sanctuary was founded with just three rhinos in 1986 after a surge in poaching in the 1970s and 1980s decimated their population in Kenya from 20,000 to just 700.
After a successful breeding program within the sanctuary, 15 black rhinos have now been reintroduced to Tsavo National Park under the watchful eyes of the park rangers who are equipped with GPS trackers to keep tabs on where the rhinos are at all times.
Ngulia Rhino Sanctuary has many dirt tracks through the park to the various watering holes and is open to visitors of the national park as part of a safari game drive. The sanctuary is only open from 4pm to 6.30pm as rhinos are nocturnal, this is when they are more likely to be active. There is no guarantee of spotting them however as they are very shy and elusive and as browsers, not grazers they spend most of their time in the thick undergrowth.
Community-run Lemur Reserves — Madagascar
By Laurel Robbins from Monkeys and Mountains
I'm a huge fan of community-run lemur reserves in Madagascar because the locals play an active part in lemur conservation on their own initiatives. There are several that are well known in Madagascar, including the most famous, the Anja Community Reserve, which I highly recommend visiting.
But the one that had the biggest impact on me—that's a secret (even our local Malagasy guide hadn't been there before)—is the Reserve Villageoise D'Ankazomivady, approximately two hours north of Ranomafana National Park on the side of the road.  For a fee of around $8 USD, they'll guide you on a walk through the reserve to look for Common Brown Lemurs.
All of the lemurs that live there have been rescued and without the reserve, they would have died.
When I was there, I met Brigitte, a brown lemur who, along with her three friends, were going to be dinner for another village, when the forest in which they were living was cut down.
This reserve is not very well known and is very much a grassroots organization. They don't have a website. You just show up. If no one is there your guide will call the phone number posted on the door and then someone from the village will come over to guide you. You'll also need your own guide to translate as no one from the organization speaks English. Despite their anonymity, they're doing great work. By visiting them, you're helping to both save lemurs and to support the local villagers which is why I encourage you to visit on your trip to Madagascar.
Volunteer on a Research Camp — Malawi
By Lora Pope from Explore with Lora
One of the most ethical ways to see wildlife in Africa is to spend some time volunteering at a research camp. In Malawi, you can volunteer with Biosphere Expeditions in Vwaza Marsh Game Reserve which is a wonderful experience and a prime example of ethical wildlife tourism. The goal of the project is to monitor the biodiversity of the area.
As a participant/research assistant, days are spent helping scientists with various projects in the reserve to assess the nature and patterns of biodiversity. Some of the tasks include counting hippos, elephants, and observing the behavior of monkeys reintroduced into the area.  All of the animals on the reserve are wild, and the work of the project directly supports their conservation.
The reserve is home to four out of the big five animals in Africa, including buffalo, leopards, lions, and elephants. There are also monkeys, antelope, birds, bats, and a variety of other wildlife. From base camp, you can often see elephants, monkeys, and antelope roaming around. It was an incredible experience to see these animals every day while drinking my morning coffee.
A two-week volunteer expedition with Biosphere Expeditions cost €2680. The project is run every fall during the dry season. If you are interested in volunteering, you can apply online. It's run in partnership with Lilongwe Wildlife Trust, which you can also volunteer with on longer-term internships.
Mkhaya Game Reserve — Eswatini 
Recommended by Jodie Dewberry from a al jode
Mkhaya Game Reserve is a private reserve in Eswatini (formerly Swaziland) that works to protect the country's most endangered species. While it was originally created to protect Eswatini's Nguni cattle, Mkhaya is today particularly active in rhino conservation. It is even considered the best place to see black rhinos in all of Africa today.
Mkhaya uses high security areas to protect its most endangered species and releases them into larger areas as numbers grow. They also have 24-hour security patrolling the areas to protect animals from poachers—a threat that almost drove rhinos to extinction in Eswatini.
Mkhaya Game Reserve has a small amount of lodging open to tourists, with profits helping to fund conservation efforts. It's far from the cheapest accommodation in Eswatini, but it's an exclusive and intimate experience that will make your trip unforgettable. A dinner, bed and breakfast package, which includes a game drive into the stone camp, a three course meal and breakfast, followed by a game drive out, is available from 2405 ZAR (around $143 USD). You'll spend the night in a stone hut with no electricity and only a half wall, allowing you to fully connect with the nature around you. And you never know who might visit during the night!
Australia & New Zealand
Kangaroo Island Wildlife Park — South Australia
By Pauline Vergnet of Bee Loved City
If you want to discover the native-Australian wildlife, there is no better place to do so than Kangaroo Island Wildlife Park. Located in the center of the island, the park is both entertaining and ethical.
Their mission is to rescue, care and look after the animals from the island while giving the possibility to visitors to discover the most iconic Australian animals in respectful conditions.
During the bush fires in 2019-2020, the team rescued hundreds of injured koalas and wallabies and have been looking after them since.
The park charges a $16 entrance fee. It's open from 9 A.M. to 5 P.M. You can spend the entire day there exploring. You can even go in the kangaroo and wallaby enclosures, accompanied by a park keeper of course!
KI Wildlife Park wants to give visitors a chance to get close to the animals without disturbing them so you can book an up-close encounter with a koala.
Another thing you can do is buy a $2 bag of treats for wallabies and go feed them yourself. They are very friendly and will love you for it! If you'd rather a personalized experience, you can also choose to go on a private tour.
There are 600 animals in the wildlife park including dingoes, wallabies, koalas, kangaroos, wombats and penguins! All animals in Kangaroo Island Wildlife Park are very well looked after. They have plenty of space to run around and live their life in conditions as close as possible to a natural environment.
Swimming with Wild Hector's Dolphins — Akaroa, New Zealand
By Nadine Maffre of Le Long Weekend
Hector's dolphins are much loved by New Zealanders. Their petite size and unique rounded fin set them apart from regular dolphins, as does their intimate pod size and, unfortunately, their endangered status. Unique to New Zealand, there are only around 15,000 Hector's dolphins left in the wild—their numbers in danger largely due to fishing nets and their naturally slow reproduction. Because of this vulnerable status, permits to view and swim with the dolphins are strictly limited to just six operators based in Akaroa. A marine sanctuary lies at the mouth of the Akaroa Harbour and is home to a population of around 2000 Hector's dolphins.
Black Cat Cruises were New Zealand's first eco-tourism provider, and they continue to play an important role in the conservation and education around the unique marine mammals. Their dolphin swim & sighting tours are an excellent way to get acquainted with NZ's dolphins. Throughout the tour, there is no doubt their commitment remains with the dolphins. Behaviors are carefully monitored (to check the dolphins are playful and not feeding), swim times are strictly adhered to, and rules are in place to protect the dolphin's wellbeing (no loud noises or touching). It's truly one of the most remarkable experiences you can have in New Zealand, being able to share the water with such graceful and playful creatures.
A dolphin swim costs $185NZD for adults ($155 for children 8-15 years), and a dolphin watch costs $95/$55NZD – of which a portion goes towards the research and education of Hector's dolphins.
Little Penguin Colony – Granite Island, South Australia
By Steve & Natalie of Curious Campers
As a child I clearly remember visiting Granite Island and seeing hundreds of little penguin burrows with feathers from the moulting penguins everywhere. The penguins would spend their day out at sea fishing and return at dusk to their burrows. As recently as 2001 there was a population of 1500 penguins on the island.
Little Penguins in South Australia are now listed as a protected animal and are likely to be added to the vulnerable species list. This decline has been brought about by a range of factors including loss of habitat, disturbance by people, increased light, noise and an increase in feral predators.
Granite Island is now limiting evening access to the island and to see the penguins you need to join a formal tour group. The volunteer tour guides are there to protect the penguins and also educate the public on the penguin's plight.
The tour guides know exactly where to find the little penguins and use a special red light to spot the penguins as normal flash lights will harm the penguins eyes. We were lucky enough to see a number of chicks waiting for their parents to return with the days catch.
The $25 fee from the volunteer led tours is used to help create safe and suitable burrows, boardwalks to protect the area and a rehabilitation and education centre to help the penguins numbers stabilize and slowly grow again.
Antarctica
Penguins in Antarctica
By Lina Stock from Divergent Travelers
Making the journey to Antarctica is one of the greatest adventures on the planet and one of the reasons people choose to brave this desolate place is the opportunity to view several species of penguins in their natural habitat. Most commonly spotted are Chinstrap, Gentoo and Adelie penguins, that colonize and breed along the Antarctic Peninsula and its sub-Antarctic islands.
The beauty of visiting a place like Antarctica is that the entire continent is protected by the IAATO Code, a pact formed by tour operators to develop sustainable travel and wildlife tourism within the region in 1991. This means that not only do you get a chance to be up close with one of the most pristine environments in the world, rules are in place to protect its natural inhabitants from the effects of tourism.
Seeing large colonies of penguins on land, ice and in the sea is pretty much guaranteed on any trip to the 7th continent. Upon arriving, wildlife viewing is done either by land or by zodiac. In both cases, strict rules are enforced that you are not encroaching on nor disrupting the normal routines of any animals you come across. Penguins are, of course, curious by nature though so it is not uncommon to have them approach you for a closer look.
Visits to Antarctica are ship-based, as there is nowhere to stay on land. A majority of travelers will sail from Ushuaia, Argentina at the southern tip of South America and spend two days crossing the infamous Drake Passage before reaching the South Shetland Islands. For those that fear the rough seas, there are now fly over options, but these are not reliable and highly dependent on weather. Regardless, once you arrive you will be on a ship to explore the peninsula.
Of all the wildlife experiences available across the globe, this is likely to be one of the most expensive simply due to the logistics of reaching Antarctica. You can expect to spend a minimum of $10,000v USD for the shortest itinerary.
Pin it for later!