[updated January 2022]
How I Lost 20 Pounds  
Oh, you are one of those people," a new friend said after I told her I'd just worked out in my hotel room early one morning.

"Um, yes. Yes, I am."
I never even thought I could be one of those people and now I want to keep saying it out loud as much as possible so I continue to live up to it.
I have always been an inconsistent exerciser. At best, I worked out 3-4 times a week, at worst I'd not really do a thing for several weeks in a row. The good thing is that I always came back to it and since college I have been relatively active, doing some of the following on and off: tennis, weight training, running, cycling, yoga, pilates, various fitness classes, and lots of walking during my travels and when home in Chicago. But again, it was inconsistent and never every day.
And now…I am excited to say out loud (well, you can read it aloud):
I have worked out nearly every single day for the last five and a half years!
Back in March of 2015, I started doing the 21-Day Fix videos and I haven't stopped! Believe me, I continue to be shocked by my commitment to this. But it's sticking and making me feel really, really good.
I feel happy. And I'm loving feeling fit and firm.  
In just the first five months I lost 12 pounds and went down a size. Within a year, I'd lost 20 pounds and was down two sizes!
How did I do it?? Keep reading!
It's the first time in my life, I'm making exercising every single day (not just 2-4 times a week like before) a priority and a permanent habit. I didn't really talk about it openly the first few months…because I don't like saying things unless they are really true. Now I feel ready to talk about it (and write a post about it!) because I truly hope to be doing this for life.  Possibly part of being a Virgo (or just a journalist) is that I don't like to say anything unless I really mean it.
I Am Happier
Besides the obvious benefits of dropping more than a stone (British for 14 pounds!) and two dress sizes, I feel physically and mentally stronger. I can say for certain, that I am generally happier. They always say that exercising regularly helps you mentally and I believe this 100% to be true.
When I wasn't exercising regularly, there were times I would wake up in the morning quite depressed. I had no motivation to get out of bed. I have ups and downs like all of us, so I know it's okay and I just ride out the lows, but I can see now how much exercise helps me. I even had times when I just convinced myself of this narrative:
"Oh well, I will always be curvy and 10 or so pounds overweight. I just like eating too much and I don't love exercising."
But now I don't feel this way.
Many of you might be used to seeing the highlight reel of my life on Facebook and even on this blog. Well, we must remember most of us are not posting crying fits or photos of us feeling "down in the dumps." That just would be weird, but we all have down days and I have my share of just feeling "blah." But exercising has helped my general outlook a lot. I'm not sure I can say that I spring out of bed everyday ready to workout, but it has finally just become part of my day.
And here's how I did it!!
Exercise: 21-Day Fix
A few years ago, I tried the infamous P90X. My boyfriend and I were both doing it. It was hard, but we also had fun and I saw results and liked that. The problem? It was a pretty grueling, hour-long workout everyday and that eventually became something I couldn't sustain. Knowing the time and energy I needed to devote to it became a big deterrent.
About a year ago, I got the videos for 21-Day Fix (also by BeachBody, the same company that produces P90X), but it wasn't until spring 2015 that I finally pushed myself to start it. And I haven't stopped since. I think there have been 10 days the entire time that I missed because I was sick or was traveling and had no way of working out that day. Otherwise, I've worked out every single morning. I've worked out in hotels. I've asked to "borrow weights" and bring them to my room. I've worked out in friend's homes. I just make sure I work out.
The key for me is three things:
1.  Time: It's just 30 minutes.
Knowing that I just need to make a half-hour for this is huge for me. I KNOW I can always make time for that in my day no matter where I am or what I have to do. During conferences or trips, I even find myself not staying out too late because I know I have to get up early to workout. I feel like I am really accomplishing something and meeting this new goal I've set. Plus within each video, each exercise is 60 seconds or less. So even when I want to give up, I know I can do anything for 1 minute (okay, sometimes 50 seconds)! Plus on top of the videos, I am throwing in more exercise. I go running on days that aren't cardio days and I cycle and walk a lot in Chicago.
2.  I workout in the morning.
I get up and put on my exercise clothes right away. This has become a habit. No excuses! So, there's no thinking about it or deciding on whether to do it or not. It's a part of my day everyday. I drink my juice and check my email and then get to working out. If I'm working from home, I try to workout everyday sometime between 8:00-9:00am. Working out in the morning ensures there are no excuses. If you wait until the end of the day, you might be too tired or too stressed or just simply don't make the time for it. I KNOW when I workout in the morning, there is NO excuse. I have the whole day in front of me. And I am NOT a morning person, but I am just making myself one.
If you want something, you have to make it happen!
3.  Variety: It's a different workout everyday of the week.
I need variety or I get bored very fast. Every day is a different workout. Each week varies a little, but there are 7-9 different workouts including a full body workout, upper body, lower body, Pilates, a cardio day, a plyometrics day (that kicks my ass, but again, I keep telling myself it's just 30 minutes!) another full body workout, and then, finally, a yoga day. There is also a 10-minute abs workout that I throw in on days that I haven't worked my abs.
The thing is, it's become a bit of a game and challenge for me and I like that. It's become important to me to fit it in. I am now one of those people bringing her sneakers with her on travels (no matter if it's just for a couple days or a week) and going on runs and working out in my hotel room.
Food: I Count My Calories…Everyday
I've written in the past about how I've cut out a lot of meat and I continue to. While some are doing meatless Mondays, I'm doing meatless weeks and sometimes meatless months.
I also continue to think about nearly everything I put in my body and make conscious choices. What helps with this is that I also have been using a calorie counting app, called Lose It. It keeps me honest and keeps me very aware of what I am eating. No more mindless snacking for me. And I look at menus differently. I have to record every piece of chocolate, every grape and the number of almonds I toss in my salad. I have used a food scale and also measuring spoons to get a sense of what 1 tablespoon of oil looks like. But it's super easy as the app remembers your past meals and foods, so adding them each day is a snap. And the database is full of thousands of foods from the supermarket and restaurants that other folks have already entered in. It is hard to estimate the calories when I eat out as I have really no idea how much oil they used in cooking or all the ingredients, but I can look up similar food and then often over-estimate so I stay below my limit.
The app allows you to enter you weight and goal and then tells you the calories you have to consume each day in order to say lose 1 pound per week. And that's what I did. I had done this before several years ago and it worked then, but I wasn't exercising as much so I wasn't as toned as I am now.
In order to continue to lose a pound a week I basically need to stay under roughly 1200 calories a day.
This is very hard to do. But counting also makes me so aware that each slice of bread can have 100-120 calories or a bowl of pasta can have 400-500.
Lots of people swear by their Fit Bit, but my process has been working for me.
I Simply Eat Less
As you might know, I love food and I love eating!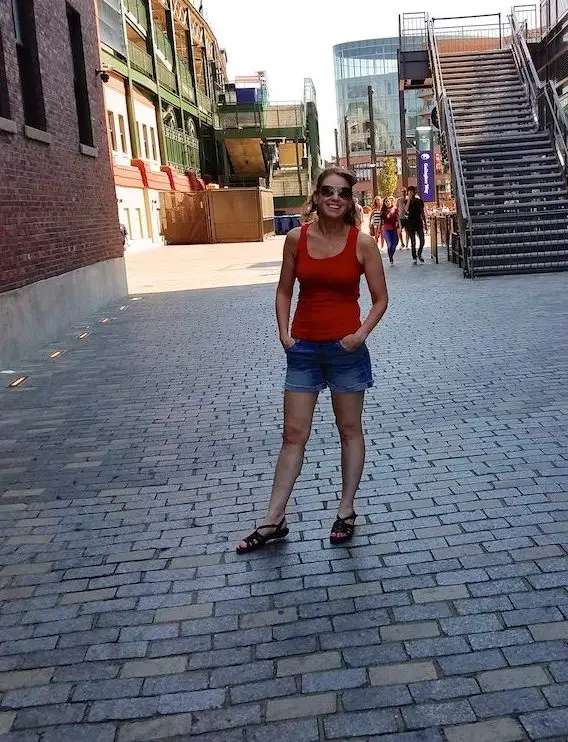 But I've taught myself a lot of moderation in the last few years. On a normal day (when I don't eat out), I can really control what I eat at home.
On days I do eat out (which I love to do!), I try to only eat one meal out and just have to try to be good at not eating everything on my plate and taking home leftovers instead). And even when I'm this good, my calories are close to the limit. That's why adding the exercise (on good days I have my 30 minute workout, plus a long bike ride, plus walking somewhere or even yard work) really helps keep me under.
Am I always good? Of course not! Sometimes I just want to eat ALL the chocolate or ALL the macaroni and cheese.  I have literally polished off a whole box by myself (most likely on one of those 'down days'). But luckily, I was awfully stuffed after and I don't like that feeling. It's hard when your boyfriend goes back for seconds and you want more too, but have to be strong. I know I don't need more and luckily, I have to remember than I am fortunate and know I can have this food again another time. Plus it takes 20 minutes to feel that you are actually full.
I have changed my habits and in turn changed what my body craves. I love cheese, but rarely buy it anymore and crave it much less. A slice of cheese used to be a quick snack for me. That's 100 calories in a second! I honestly look forward to my fresh salads and love kale and quinoa. I also know that through my travels and writing about food, that I will surely eat out a lot and get to indulge too, so I'm certainly far from deprived.
And like I mentioned above, this is all a challenge for me, so the longer I do it, the more aware I am of every bite. And it honestly feels great!
How to Travel AND Lose Weight
By the way, it wasn't traveling that made me gain weight (except for the press trips packed with food), it was being back home in a more sedentary lifestyle. I still think long-term travel is great for losing weight. When I was living out of a bag for a few years, I felt thin and trim and was active every single day versus sitting at a desk in a cubicle back home everyday.
Here are tips to help you lose weight while traveling:
Walk Everywhere
When you travel, it seems that everyday you are active…at least walking all around. I was amazed at the miles I covered. It's still one of the best things you can do. So skip the taxi or bus tour and get out and walk.
Be Active Everyday
Unlike when you are working in an office, traveling allows for time to be more active. Walking, biking, going on hikes, swimming and more — traveling allows you the time and space to be active and try new things.
Eat like a Local
American portions and processed food makes us FAT and unhealthy.
It wasn't until I traveled to other countries that I could really see this. We have the most processed food with dozens more ingredients than anywhere else. For convenience and 'fast' eating, the food-makers in the US found all kinds of ways to add additives, preservatives and chemicals to make our foods last longer, seem bigger, and make us addicted to sugar (it's in EVERYTHING). When traveling you tend to eat fresh local food (if you avoid fast food chains) especially when in more developing countries where there is little to no industrial, factory farming. The chicken you just ate in Vietnam? It was certainly free range and they killed it an hour ago right behind the shop.
Ideally we should mostly be eating "real" food with one ingredient (spinach contains 100% spinach!) or just a few ingredients. As I heard awhile ago: avoid the center of grocery stores and just hug the perimeter where all the produce usually is. I buy much less in the middle nowadays. It's all boxed and canned processed junk!
Don't eat every meal out
When traveling on a budget, try to have a kitchen to prepare some of your own meals. You can't eat out all the time or you'll go broke and get fat!
Watch the Beverages
Drinking juices, sodas, and alcohol is a killer on the calorie scale and the waist line. For me it's one of the easiest things to cut out as I just don't care that much. I basically just drink water. Thankfully, I never drank soda or other random beverages. I have a nice glass of beer or wine time to time, but it's simply less important to me than say…chocolate!
Change Your Perspective
We read it all the time, the average American is overweight. But we are so used to it, some of us don't even consider ourselves overweight. We grew up with our grandparents saying we were 'skin and bones" and dieting is like "starving ourselves." But go overseas to an underdeveloped country and see people that are literally starving. They look nothing like us. And then even in European cities, I just notice men and women are just leaner in general. Generally, they don't have this extra layer of padding or muffin top that many of us seem to have from sugar and carbs. It shouldn't be accepted as normal for us.
So, now that this is out there…I really need to stick to it! I am now accountable to all of you!
How about you? Any tips for staying healthy and fit when you travel or are at home?
Get a free 14-Day Trial to Beach Body Fitness HERE!