[updated October 2019]
Into beauty? Like the mountains? Looking for a real, old western town? From skiing and hiking to four-wheeling and riding the Durango Silverton train, there are a ton of things to do in Silverton, Colorado. 
Silverton, Colorado.  Population 650.  No stoplights. No dry cleaners. And no McDonald's.
For a slice of pure Americana garnished with a spectacular landscape, one-of-a-kind Silverton in Southwest Colorado may be the answer for an affordable yet spectacular getaway.
This small, mountain town exudes real old-west 'movie-set' charm with shops, restaurants, and a Victorian feel of days gone by.  Silverton, where the mayor is also the milkman, is nestled high in the amazingly picturesque, San Juan Mountains. Only about five hundred residents live here year round (in summer it swells to about 2000).
Local Lyn Simon, who runs a coffee shop in town, says, "the heritage, culture, history here is untouched.  It is a simple town, based on a simple quality of life, simple ways, simple needs of the people. "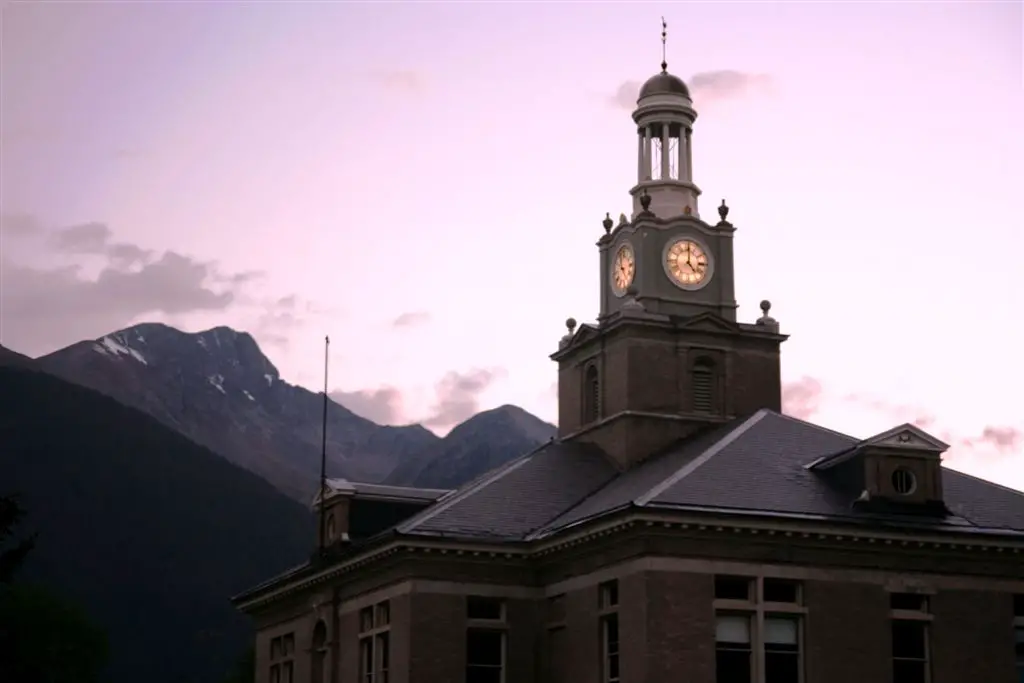 Things to do in Silverton, Colorado
This old mining town's official beginning came in 1874 with the discovery of gold and silver (hence the name). There are still some active mines, although today it has turned into a small tourist stop at the end of the Durango & Silverton Narrow Gauge Train Route.
Durango Silverton Train
The historic Durango Silverton train has been in continuous operation since 1881, carrying passengers through the stunning vistas of mountain passes and valleys behind a vintage steam locomotive.  The train runs from late Spring through the end of October.
During the summer season, when the train reaches Silverton, at an elevation of 9,300 feet, tourists get off the train for a couple of hours to shop at the tiny Western motif shops and traipse around the charming, yet dusty streets that mostly look the same as they did in the early 1900s.
Old Hundred Mine Tour
The Old Hundred Gold Mine was started in the spring of 1872 by some German immigrants who staked their claim here and spent thirty years prospecting and developing the veins on Galena Mountain.
Today you can don a fashionable, bright yellow rain jacket and take a tram straight into the mountain (at 10,000 feet!) to get a small taste of what it was like to be a miner and work in the dark all day long. We learned how rock mining was done and saw (and heard!) the different kinds of loud machinery they used back in the day. This is a large part of what the history of Silverton is all about — working in these remote areas, under very treacherous and harsh conditions, made it a very tough life.
Two-thousand feet above the mine you can also see the original 1904 miner's bunkhouse perched on the rocky cliffs of the mountain. Forty men and a cook once lived in the three story structure, cabled to the rock wall so it wouldn't fall off. Eek.
After the tour you can pan for real silver, gold and semi-precious gemstones in the sluice boxes outside the mine. D&D even found their very own silver. Score!
A Real Ghost Town – Animas Forks
Head out the backside of town into the mountains and you can either go to Silverton Mountain, the famous, extreme, backcountry ski area (we will likely never ski that in our lifetime!) or you can head to the ghost towns of Eureka and Animas Forks on the Alpine Loop. The loop is a 65-mile (105 km) system of unpaved roads which connects the small mountain towns of Lake City, Ouray, and Silverton.
In 1883, 450 people lived in Animas Forks, a very hard-to-reach town at 11,200 feet with its own general store, saloon, post office, and newspaper. Formerly a bustling mining community, this town is now eerily empty, but many structures still stand.
After four-wheeling it out here on the very twisty, narrow road that hugs the mountainside, you'll wonder how these folks did it back then.
Silverton Durango Train
Possibly the biggest reason people come to Silverton in the summer is to ride this old-fashioned steam-engine, narrow gauge Durango Silverton train. The Durango & Silverton Narrow Gauge Railroad cuts through the valley in between Silverton and the larger city of Durango to the south, hugging cliffs, and offering up some spectacular views.
You can choose indoor or outdoor cars. We sat outside as the weather was great and it's good for getting good snaps. But don't forget, it's much colder up here closer to 10,000 feet, so it may get colder than you think!
Avalanche Country
It's a great place to visit, but can be a pretty tough place to live. The winters here are long and the landscape can be unforgiving.
A four-wheel-drive truck is pretty compulsory if you want to get around. And sometimes you still can't leave. The town sits in between two mountain passes on Highway 550 knows for its white-knuckle, switchbacks and s-curves. Even during my four-day visit, one of the passes was closed due to avalanches so you simply could not go north even if you wanted to.
And between the tiny downtown and my mom's house there are several avalanche chutes.  In fact, one evening we said goodnight (I was sleeping at their motel and she was returning home) and about twenty minutes later, she returned with a big smile on her face.  An avalanche had run right across the only road leading to her house coincidentally stranding her in town for the first time since she moved here more than 10 years ago.  Two good things came out of this: 1. my mom and I hugged and jumped up and down like little girls excited about our 'unexpected' girl's night in and, 2.  she was lucky to arrive at the path of the avalanche just after it ran…not during! Eek.
This is backcountry. This is the land of avalanches.  It's man against nature…and nature is always the victor. Tragedies around these parts are not uncommon.  In the last few years a local coffee shop owner starved to death while attempting a hike across the state.  Another local woman shot herself inside her home.  And every year several people are killed by avalanches or simply from driving right off the edge of the road and plunging hundreds of feet to their death.   In many spots there are no guardrails, so when snow is plowed it can be pushed right over the cliffs. Often people skid or misjudge the treacherous hairpin turns…or they just decided they can't deal with this podunk isolation anymore.  Welcome to town!
Silverton is so 'backcountry' and hardcore, that Olympic gold medal winner, Shaun White, spent several months here last year practicing his snowboard moves in an amazing, specially-built, top-secret half-pipe.  Red Bull built the half pipe completely out of natural snow on the backside of Silverton Mountain.  He rented a house in town and had a Red Bull sponsored helicopter at his disposal to drop him in the wilderness to practice his crazy boarding tricks.
List  and Links of Things to Do in Silverton
In the Summer:
In the Winter:
During the winter, Silverton is famous for its anti-ski 'resort,' Silverton Mountain.  It opened just a few years ago and is totally one-of-a-kind.  While the word unique is often overused, it applies to the Silverton concept:  One lift, one big mountain, no grooming, limited reservation-only skiing (for guided season), no apres-ski lodge – a real no-frills operation.  You can pay almost $100 a day for a lift ticket to ski at Vail with 6,000 other skiers, or ski Silverton for as low as $39 a day with around 80 skiers or less most days. The alpine terrain is entirely for advanced and expert skiers and offers amazing, pristine backcountry conditions.
Since Silverton Mountain is a tad too hardcore for me (read: way out of my league), I enjoyed a laid-back and easy day skiing at the town's Kendall Mountain Ski Area.  Also equipped with just one lift…it was perfect.  There are just a few runs so if you are looking for an easy day of carefree skiing, this is it.  And also perfect is the price.  Lift tickets are only $15 and rentals are just $20. I enjoyed a few hours of no-pressure, no-crowds skiing for under $40.  And when I got bored (as I often do) I stopped in a couple hours and still got my money's worth.
Where to Eat in Silverton
There are a few good choices in town for your standard all-American fare like the Brown Bear Cafe — think all-American classics like chicken fried steak (is there actually any chicken in this mystery meat dish?) and stick-to-your-ribs meatloaf with gravy. Another local favorite is Handlebars Saloon, which is a great place to eat with kids, as there is a lot to look at. Basically every square inch of wall space is taken up by memorabilia, bric-a-brac, and yes, dead animals. Into taxidermy? This is your place. Real stuffed animals of every kind adorn the place. For pizza and beer check out Golden Block Brewery. For other standard American choices you can try the Bent Elbow, the Teller House, Natalia's, and the Pickle Barrel. Silverton has no big chains, but also not much as far as unique ethnic eateries. 
Where to Drink in Silverton
For coffee and some baked goods try the Coffee Bear  – a big, airy, loft-like brick and timber café with great coffee, free wifi and a well-worn leather couch where you can take a load off and chat with some locals. Another funky favorite is Avalanche Brewing Company for coffee and breakfast and lunch treats.
Where to Shop in Silverton
Of course, there are the requisite western motif local souvenir shops…but for something different and locally made try:
Where to Stay in Silverton
My mom and step-dad moved here 10 years ago and built a ten- room motel — The Canyon View Motel, that they also run themselves; they are the owners, the desk clerks, the maids, and the maintenance staff.
They also built a log cabin home about 6 miles outside of town 20 minutes down an unpaved road farther into the wilderness. Technically, they don't even live within the city limits of Silverton. They actually are the only year-round residents of Middleton, another mostly abandoned mining town and consider themselves the mayor and the mayor's wife.
Major airline carriers fly into Montrose Airport, one hour north and Durango Airport, one hour south of Silverton.  Of course, if the passes are closed, then you will be staying in those cities anyway.