Want a free trip?! Well, if you are in the market for a new car, and that car happens to be a Volvo, you can get a free trip to Sweden with the Volvo Overseas Delivery Program. Seriously. What's the catch? Ahem, none.  Buy a new car, get a free vacation.
Boom. Too bad I'm not in the market for a new car (and hope not to be for awhile as I love being car-free!). But if you are, here's the deal: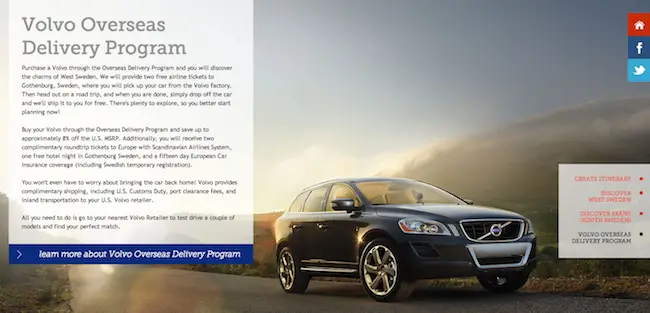 Volvo Overseas Delivery Program
The Volvo Overseas Delivery Program gives U.S. car-buyers two complimentary tickets on Scandinavian Airlines (SAS) to Gothenburg, Sweden  — home of Volvo since the 1920s (although it has since been owned by Ford and now Geely of China) -— where you can pick up your new wheels right off the factory floor.
Then take your Volvo for a spin 'round Sweden (or all of Europe really) by taking a road trip in your new car. The first night hotel and 15-days of car insurance is covered. The rest is up to you!
You are free to roam around wherever you can drive or at least until your tourist Visa runs out. If you return it to the factory, your new ride will be shipped back for free to you in the States. And through this program you even save about 8% off the price plus don't have to deal with certain taxes, import duties and such.
Free Trip to Sweden with Volvo
If you follow my Facebook Page for daily updates, photos, and other goodness, you may recall I was very fortunate to be invited over to Sweden. The good folks at Volvo and the Car + Vacation promotion, welcomed me in order to tool around the countryside with my boyfriend by my side in a Volvo and see some more of this beautiful country.  The funny thing was, I had actually tried to do this story about a decade ago for the ABC television show that I produced, but it never worked out.  Nice how it came back around.
Gothenburg Sweden
Before we even hit the road in our Volvo, we had to check out Gothenburg, Sweden's second city. We toured the city while a cloud of jet lag hung over us, putting us in a bit of a zombie state.  A break was in order, so we stopped for a fika in the Haga, Gothenburg's oldest (dating back to the 1600s) and most charming cobblestone area full of outdoor cafes, bistros, and the largest cinnamon bun you will ever had.
Where to Eat in Gothenburg
We had a lovely dinner at Marcus Samuelsen's (Gothenburg's hometown boy that has hit it big in the U.S. with NYC's Red Rooster in Harlem amongst others) new restaurant, Norda Bar and Grill.
Where to Stay in Gotheburg
Then we crashed in our modern, comfy hotel inside the city's former post office – now the Clarion Post.  This neo-classical building was built in the 1920s and now has 500 contemporary rooms plus a rooftop pool and wood-decked sun terrace.
Our free trip to Sweden with Volvo was off to a stellar start!
Road Trip Sweden Day One 
Feeling much more refreshed, the next morning we were ready for a road trip. After fortifying ourselves with what would be many huge Swedish breakfast buffets to come complete with smoked fish, herring, breads, cheeses, fruits, and other goodies, we were given a behind-the-scenes tour of the Volvo headquarters. They shared a bit of the company's history and demoed some of their famous safety and security engineering concepts. We learned more about this amazing Volvo overseas delivery program… and of course stuffed our bellies with…Swedish meatballs.
First Stop: Kladesholmen — Salt & Sill
Once we were safely strapped in our new vehicle, we hit the open road (making sure to watch for Moose – or at least 'Moose crossing' signs).  Considering I never drive when traveling, let alone have a car back home, traveling by car in Sweden was a breeze. The roads were all like new and signs were abundant and easy to follow.  We drove up West Sweden's coast passing its many islands and fishing villages. Our first stop? The island of Kladesholmen (Herring Island) with a stay at the delightful Salt and Sill, Sweden's first floating hotel.
This area was once all about herring production. There are still a handful of processors…so make sure you try the strong and savory herring board at the Salt & Sill restaurant and get a taste of six different delectable herring preparations.  It may not be for everyone as it is "fishy," but I loved it!
The accommodations here were, hands down, my favorite in a long time. The 23-room hotel consists of six cubic two-story structures built on pontoons that float on the water. It is a mix of clean, fresh and bright, with woody cabin feel; think white-washed Pottery Barn style.
Have more time for a longer road trip? Check out the charming area of Småland on  your holidays in Sweden.
After a hike around the mostly residential, charming island which reminded me a bit of New England fishing villages, we enjoyed dinner at the restaurant, and dessert on the terrace while watching the late Sweden sun sink into the sea. Then we drifted off to sleep rocked like babies from the gentle waves of the sea.
Read the next posts from our Swedish Road Trip:
Part  II: Fjällbacka & Weather Islands
Part III: Skåne – Båstad & Malmö
Part IV: Video of West Sweden & Skåne


Disclosure: I was a hosted by Visit Sweden and Volvo. As always, my writing and views are my own.