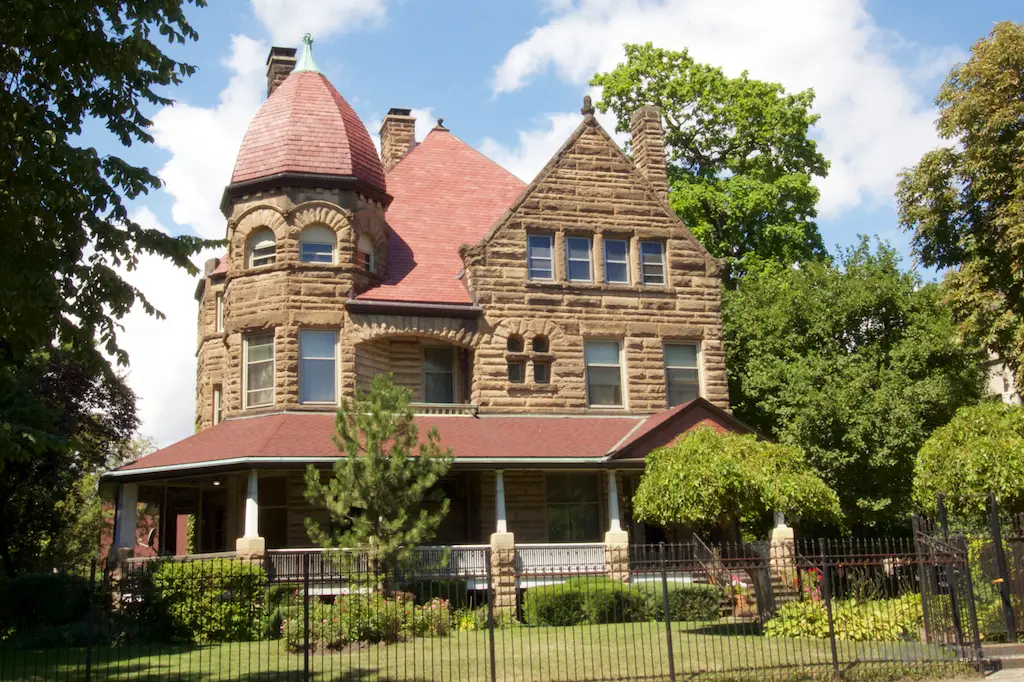 Barack Obama House Chicago
I recently had the opportunity to tour Kenwood, a beautiful neighborhood on the south side of Chicago that also happens to be the site of the Obama's Chicago home. Scroll down to see all the photos and how you can see it too!
Obama Farewell Chicago
I am also so fortunate to have attended the Obama farewell speech in Chicago. It was bittersweet for sure, feeling so much passion and love from one man from the entire room, and knowing it's all changed so very much over the last couple of years.
Our president sets the tone for the nation and President Obama led us all by his example of class, grace, and integrity.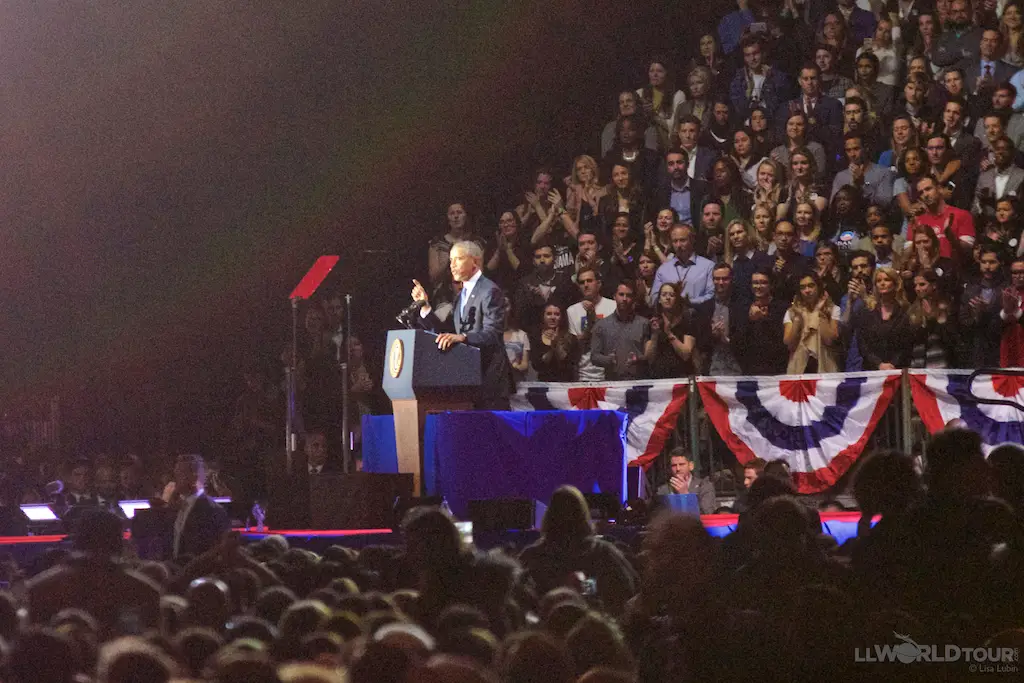 The day we got the Obama Farewell tickets was one of the most exciting days I can remember. It felt like when I was on line to get rock concert tickets back in high school! We literally got up at 3 a.m. to head downtown to McCormick Place, where they were handing out tickets and where his speech would be held. It felt like mission impossible! We parked in the parking garage and scoped out the area and strategized our plan of attack! Plus it was January in Chicago, so it was freezing out!
We ended up being able to wait in the Hyatt lobby with a bunch of other cool people. We huddled near the doors that were closest to where it appeared the line would start outside. The police were there and they weren't letting people queue yet.
Finally, everyone rushed outside…just so we could wait in line some more! It cold, but really fun. There was a joyous camaraderie in the crowd. We were taking photos, singing and just being silly.
When we finally got inside, we were so lucky to literally be at the front of the line and in the front row of the holding room where they were to give out the tickets. Plus we got to be warm longer.
After we'd received our tickets, we tried to give encouragement to the people still waiting in line outside…and I gave some my leftover hand warmers.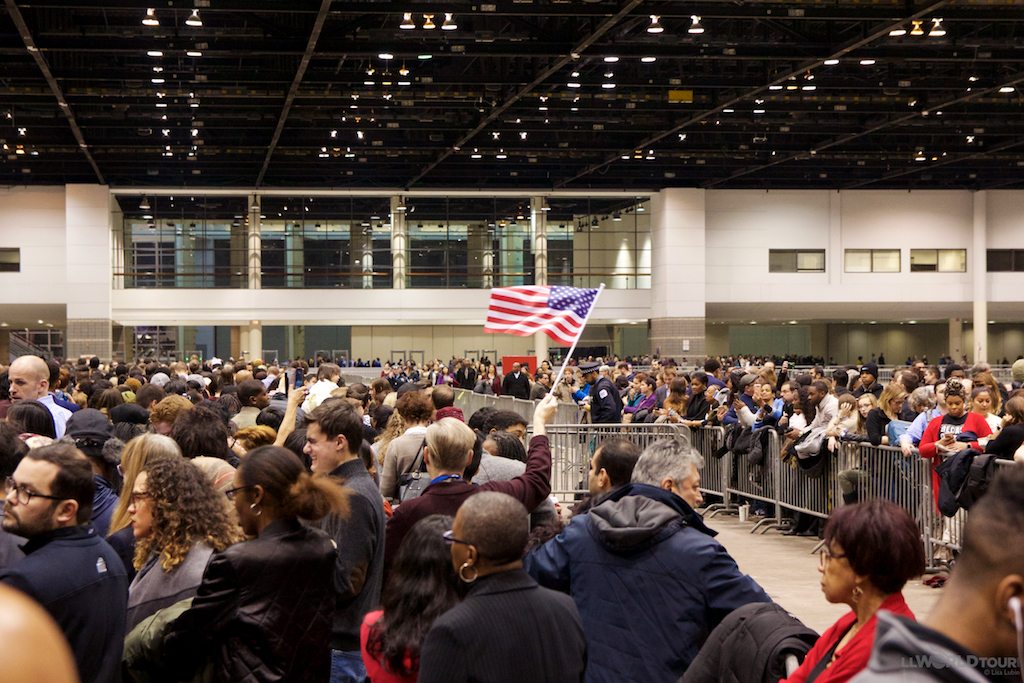 Kenwood – Barack Obama House Chicago
Kenwood was once one of Chicago's most affluent neighborhoods, and it still has some of the largest single-family homes in the city. This area was settled in the 1850s by wealthy Chicagoans seeking respite from the increasing congestion of the city.
A large part of the southern half of the community area is in the Hyde Park-Kenwood Historic District.
Some other notable residents besides the 44th president of the United States have included Muhammad Ali, Muddy Waters, Louis Farrakhan, and Mandy Patinkin.
If you want to see the Obama's House in Chicago
Obama House Chicago
5046 S. Greenwood Ave. (at East Hyde Park Boulevard)
*Note: you cannot actually walk, bike, or drive on his street as it's blocked off on both ends by the secret service. The house is on the southwest corner of this block of Greenwood.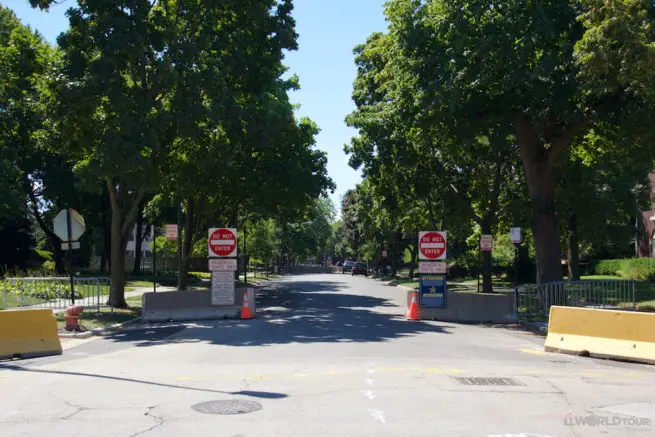 The closest you can get is by walking on East Hyde Park Boulevard by Greenwood. You can see the back and side of the house through the trees and fencing.
The Obamas were able to buy this renovated mansion in 2005 for $1.65 million after then Senator-Elect Obama signed book contracts with Crown Publishers and Alfred A. Knopf at the end of 2004. Prior to buying this house, the Obamas lived in a vintage condo at 5450 S. East View Ave.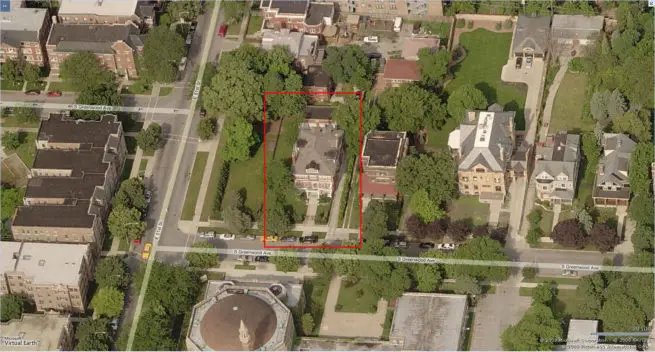 Here's how Obama himself told the story of meeting Michelle, who is originally from Chicago's south side, on Oprah Winfrey's website:
"I met Michelle in 1988, after my first year of law school, when I took a summer job at Sidley & Austin, a law firm in Chicago. A year earlier I had been working as a community organizer in some of Chicago's poorest neighborhoods, and I struggled with the decision to go to a large firm. But with student loans mounting, the three months of salary they offered wasn't something I could pass up. 
"Michelle worked at Sidley, too, and, in the luckiest break of my life, was assigned to be my adviser, charged with helping me learn the ropes. I remember being struck by how tall and beautiful she was. She, I have since learned, was pleasantly surprised to see that my nose and ears weren't quite as enormous as they looked in the photo I'd submitted for the firm directory. 
"Over the next several weeks, we saw a lot of each other at work. She was kind enough to take me to a few parties, and never once commented on my mismatched and decidedly unstylish wardrobe.
"I asked her out. She refused. I kept asking. She kept refusing.
" 'I'm your adviser,' she said. 'It's not appropriate.' Finally, I offered to quit my job, and at last she relented. On our first date, I treated her to the finest ice cream Baskin-Robbins had to offer, our dinner table doubling as the curb. I kissed her, and it tasted like chocolate.
"I had known those student loans were going to get me a great education, but I had no idea they'd get me my first date with the love of my life."