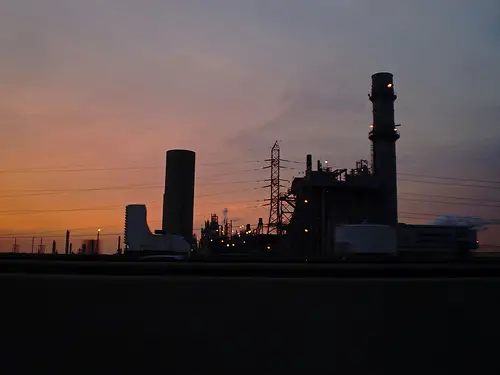 Recently my step sister, Beth, and I were doing what a lot of people in New Jersey spend a lot of time doing: driving. It was late one night and we were returning from dinner and heading north on the infamous New Jersey Turnpike and passed New Jersey's Linden Cogeneration Plant.
We were near Newark — New Jersey's largest city and a bastion for industry. You'd think growing up in New Jersey as I did, I would have visited here, but nope. It really wasn't a destination for several reasons. It wasn't known to be very safe. I didn't really have my driver's license until my last year in New Jersey (before I left the state for university). And New York City is just 8 miles east… so why mess around in Newark? Actually, today, Newark has changed a lot and has some great restaurants and beautiful parks.
Industry of New Jersey
As we sped passed a large power plant of some kind, all lit up against the night sky, I began to wonder what was really going on there. I caught the name and in modern technology fashion, Beth proceeded to punch it in to Google on her mobile. And away we went into the world of interesting facts and knowledge (well, for us at least) about combined heat and energy.
The Linden Cogeneration Plant
According to Wikipedia and various other websites, the gas-fired (natural gas and butane), 940-megawatt Linden Cogeneration Plant was built in 1992. It is owned by El Paso Energy (the nation's largest natural gas pipeline operator, with more than 43,000 miles of pipe in service) and operated by G.E. Energy Services.
The way in which the facility generates power is intriguing. It burns natural gas, which while not entirely clean is certainly better than a few other sources. But it takes the process one step further.
It uses the heat generated by its five gas turbine generators to pressurize heat recovery steam generators—hence "cogeneration." The plant is making sure to harness every drop of energy it creates, even heat.
Apparently a percentage of the power produced by the facility is sold into the New York City market in the form of steam.
New York City Runs on Steam
From a small dry cleaner on Manhattan's East Side to Rockefeller Center to the Metropolitan Museum of Art and the United Nations, along with some 2,000 other customers and 100,000 buildings, from residential low-rises to commercial skyscrapers, the City of New York is one of the largest consumers of steam.
The Roman Catholic Church of St. Peter in lower Manhattan began using steam to warm its sanctuary in 1882, the year the first steam generation plant went into operation in New York. The church has used steam ever since.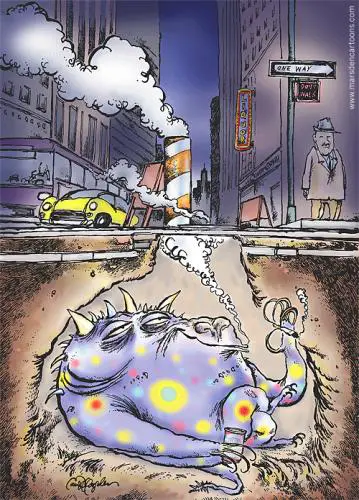 Some 30 billion pounds of steam every year flow beneath the streets of Manhattan from the Battery to 96th Street. While it is unknown to most New Yorkers (even though years ago David Letterman talked of the 'radioactive steam' wafting up from the city streets), Con Edison's subterranean steam system is the biggest steam district in the world boasting an annual steam production more than double that of Paris, Europe's largest system.
The New York City steam system carries steam from central power stations under the streets of Manhattan to heat, cool, or supply power to high rise buildings and businesses.  Cogeneration significantly increases the efficiency of fuel usage and thereby reduces the emission of pollutants and particulate matter and reduces the city's carbon footprint.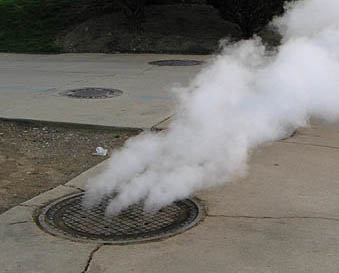 So now I know this super steam system is the reason for the steaming manholes we see all over Manhattan. We did learn this is usually caused by external water being boiled because it came in contact with the freakin' hot steam pipes, rather than leaks in the steam system itself.
A Bit of Energy History
By the early 1900s, regulations emerged across the U.S. to promote rural electrification through the construction of centralized plants managed by regional utilities. These regulations not only promoted electrification throughout the countryside, but they also discouraged decentralized power generation, such as cogeneration.
By 1978, Congress recognized that efficiency at central power plants had stagnated and sought to encourage improved efficiency with the Public Utility Regulatory Policies Act (PURPA), which encouraged utilities to buy power from other energy producers.
Cogeneration plants proliferated, soon producing about 8 percent of all energy in the U.S. However, the bill left implementation and enforcement up to individual states, resulting in little or nothing being done in many parts of the country.
In 2008, Tom Casten, chairman of Recycled Energy Development, said, "We think we could make about 19 to 20 percent of U.S. electricity with heat that is currently thrown away by industry."
Why is Cogeneration Clean Energy?
Cogeneration, also called combined heat and power (CHP), is, according to the U.S. Environmental Protection Agency, "an efficient, clean, and reliable approach to generating electricity and heat energy from a single fuel source."
Combined heat and power can greatly increase a facility's operational efficiency and decrease energy costs. And it is said that CHP reduces the emission of greenhouse gases, which contribute to global climate change.
Outside the U.S., energy recycling is more common. Denmark is probably the most active energy recycler, obtaining about 55% of its energy from cogeneration and waste heat recovery. Other large countries, including Germany, Russia, and India, also obtain a much higher share of their energy from decentralized sources.