Visit Bergen, Norway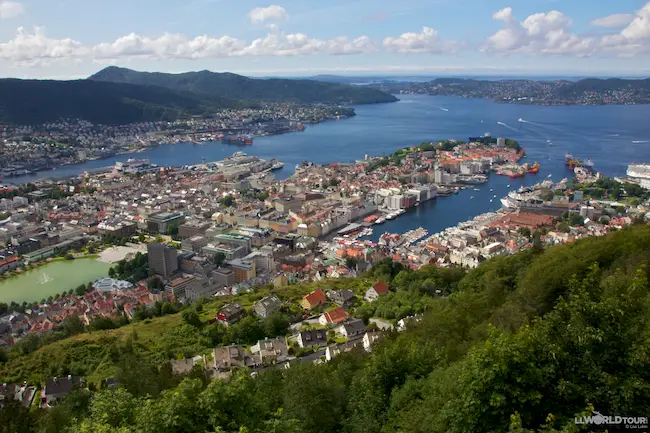 "Born in the U.S.A." blares out of the speakers of the local Egon Restaurant right on Bergen's Harbor.  Tonight Bruce Springsteen (of my home state of New Jersey) is playing a big outdoor concert here and the city is abuzz with not only summer tourist masses, but Norwegian "Boss" fans as well.  The sounds wafting through the city kind of give me a neat 'at-home' feeling and a deeper, albeit fleeting, connection with the country.
Bergen – the First Norwegian Capitol
"Bergen is the second largest city in Norway, yet it has retained its charm and character. I feel privileged to live here," says Sue Lindelid, my tour guide and a British transplant who's lived in Bergen most of her adult life.
The city of just more than 250,000 people was the first Norwegian capital in the early Middle Ages when this was a popular trading port.
Bergen's first buildings were erected along the old Hanseatic wharf, Bryggen, which has been a very important part of the city through the centuries. This UNESCO World Heritage site is made up of the restored colorful, old, wooden harbor buildings and is one of the best-known medieval city settlements in Norway.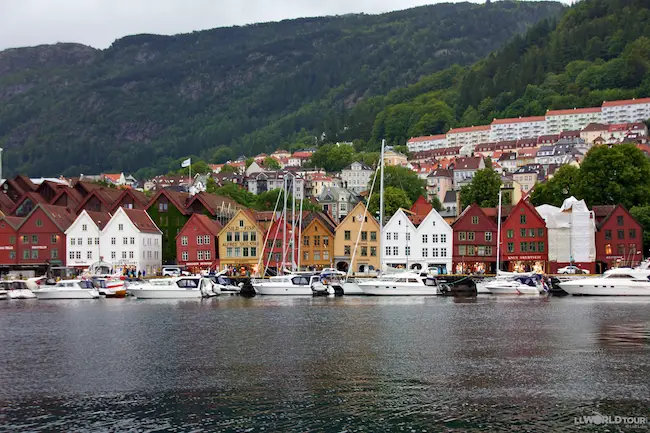 For a time, I am told this was a male only society, as "women were expensive, they cost too much, and complained too much." Sounds a bit how I feel about kids today.
Much of Bergen has been built and rebuilt due to dozens of fires that broke out here from the 1200s all the way up to 1955.
Something Fishy Going on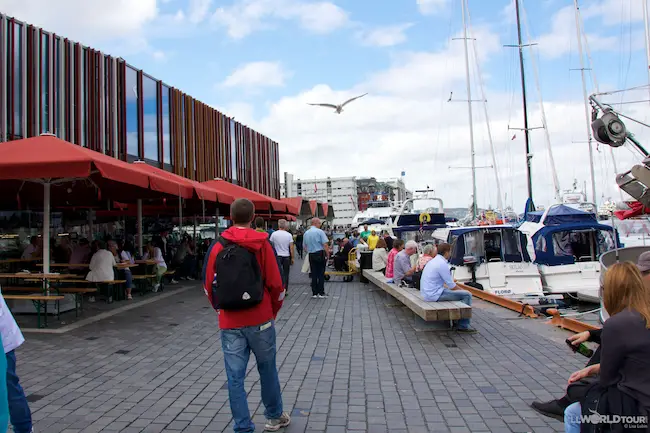 We take a walk through the new indoor fish market.  "These fish are rock hard," Sue says about the popular dried codfish. "You could beat a man to death with it."  A very peaceful country, I am guessing this is probably just a figure of speech. Maybe Sue keeps a dried codfish under her bed for protection. I'd think the smell would be prohibitive though.
I enjoy some wonderfully fresh and exorbitantly expensive salmon at the more lively outdoor fish market full of mongers selling tasty morsels of smoked mackerel, herring, salmon, caviar, and the ever-popular reindeer sausage.
Bergen is Norway's Wettest City
I spend the first few days traipsing around town toting my umbrella and donning my rain jacket. Not surprising for Norway's wettest city – one with about 235 days of rainfall each year.  On my third day, the sun finally spills its rays onto Bergen's Harbor and seven mountains. While the sun peaks out, so do the people – not only all the tourists from the big cruise ships – about 260 ships dock here each year – but also the locals who relish a sunny day since they are few and far in between.
I ride the popular funicular up the mountainside and am rewarded with a spectacular view of the harbor lined with wood-clad houses, hills, and islands all around.  The smell of pine needles from the forest fills my nostrils and of course, to cap it all off, Springsteen's sound check is well under way for his second concert here – reverberating off the hillsides with rock anthem sounds making me feel once again, like home.
Just outside of Bergen there are lots of trails including the Vidden Trail from Mount Ulriken to Mount Floyen.
Disclosure:  I was a guest of Visit Norway and Bergen, but as always my writing and views are my own.