[updated September 2019]
With more than 330 days of beaming sunshine a year, its no wonder Scottsdale is such a popular destination. When you think Scottsdale, you might think spas, resorts and golf. But there's so much more to this desert getaway in Arizona.
When it comes to where to eat in Scottsdale, this town has made a name for itself as a top culinary destination in the country. With more than 800 restaurants, there's definitely something for everyone. Keep reading for my foodie's guide to Scottsdale.
I hadn't truly ever spent much time in Scottsdale. I was here once visiting a friend in college and barely remember that. I was here again with an ex-boyfriend more than 15 years ago. We stayed north of Scottsdale at a little tennis resort in Carefree and mostly played tennis and went biking.
This time I was here to run Bloghouse an annual travel blogging retreat. But besides that, I was here to get a feel for Scottsdale more…and to eat some of their amazing food!
Where to Eat in Scottsdale
In the last decade or so, Scottsdale has come into its own food-wise. Not only with its recent James Beard awards and other accolades, but also thanks to a new breed of risk-taking, independent chefs, there's no doubt that Scottsdale is on the list of some of America's best food towns. There's something for everyone. From fancy resort dining to authentic Mexican food to Western pub grub, check out my Scottsdale food guide.
FnB
I was thrilled to get a table at FnB. The chef and co-owner, Charleen Badman, was just awarded the prestigious James Beard Award for best chef in the southwest, cementing this town's culinary prowess and proving again that Scottsdale is for foodies.
Often called the 'veggie whisperer', chef Badman is known for her knack of coaxing the most flavor out of locally-grown vegetables. Her menu changes on the regular with the seasons and she sources nearly everything locally. The unique and enticing menu only has a couple meat dishes, otherwise it is all vegetable based. I love that.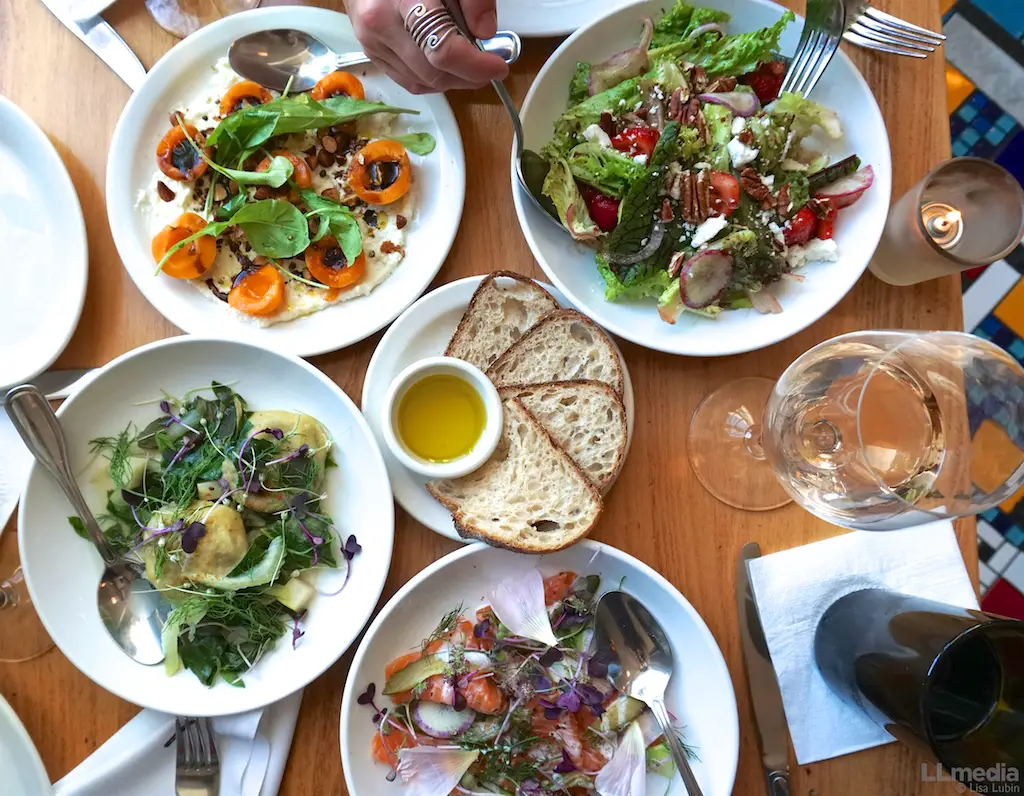 Since it's perfect for sharing, we tried an array of dishes. The local apricots on a bed of ricotta, almonds, and balsamic-honey, was fresh and bright and just so pretty to look at! I couldn't get enough of the citrus cured salmon with cucumber, buttermilk and edible flowers. I learned about a new-to-me Iraqi dumpling soup dish called kubbeh (not to be confused with Israeli kibbeh, which is a similar bulgur dumpling filled with meat). FnB's dish focused on the dumplings (made with semolina and filled with mushrooms) plus fennel, collards, kohlrabi, and Ras el Hanout , the north African spice blend.
Virtu Honest Craft
When figuring out where to eat in Scottsdale, make sure Virtu is on your list. Nominated for a James Beard Award for best new restaurant in 2014, Virtu Honest Craft puts out fabulous food in a cozy space and an even more charming outdoor patio with trees and twinkling lights above set on old brick pavers. Virtù shares the intimate courtyard with the Bespoke Inn in Old Town Scottsdale.
Self-described as "wandering Mediterranean," the chef focuses on his Italian heritage. We sampled flavorful Mediterranean dishes of pasta, fish and meat. I especially enjoyed the charred octopus and the asparagus with an egg on top.
Olive and Ivy
Olive and Ivy is a lively, vaulted space with a large bar, booths, and a great outdoor patio. It has an old-world Italian meets men's club vibe to it.
Situated in Old Town Scottsdale, right on the canal, the Mediterranean-inspired menu features a great wine selection and shareable bruschetta, pastas, and pizza. Signature items include bacon-wrapped dates, Mediterranean flatbread, sweet potato cannelloni and spicy shrimp risotto.
I  chose three different variations from their special bruschetta section of the menu one with smoked salmon and whipped cream cheese, another with roasted mushrooms and garlic and the third with manchego cheese, chorizo and quince. Olive & Ivy offers more than 45 wines by the glass, featuring a selection of Old World wines from Spain, Portugal, Italy, Greece and France, plus California and the Pacific Northwest.
Hula's Modern Tiki
Hula's Modern Tiki is a fun, modern take on the classic tiki bars and restaurants of the '50s & '60s. Think mid-century modern décor plus Polynesian-inspired drinks many of which were created by the original "Trader Vic" Bergeron. Locally owned, Hula's offers a huge menu of tacos, a plethora of tasty fish dishes, jerk chicken plates, and large entree salads like the Cajun ahi tuna.
The Mission Old Town
The Mission Old Town cooks up modern Latin cuisine blending influences from Spain, Mexico, Central America and South America in a very dark, candlelit setting. Put your sunglasses on before you leave as the contrast from Scottsdale's bright sun will be a shocker! Homemade tortillas and salsas are made fresh daily. Enjoy a rich, table-side prepped guacamole, unique tacos made with duck, mahi, or even Brussels sprouts plus meats prepared on a plancha or a grill using pecan and mesquite wood.
Maple & Ash
Maple & Ash, led by two-Michelin-star chef Danny Grant of Chicago (and a former Scottsdale resident), has recently opened at the Scottsdale Waterfront. It has a bold and playful menu highlighted by their famed Fire-Roasted Seafood Tower, as well as a top selection of wood-fired steaks and seafood, a raw bar selection, plus a global-spanning wine cellar.
Old Town Farmer's Market
Open Saturdays October through May (closed for the summer), the Old Town Farmer's Market features local growers and specialty food producers. You can find everything from fresh-picked produce to prickly pear jam to freshly baked artisan breads.
Wine Bars & Wine Tasting Rooms
No Scottsdale food guide would be complete without a mention of all the great Arizona wineries that have opened up tasting rooms in town.  Arizona wine production is booming. In just 10 years, the state has gone from just 10 wineries to over 100.
Merkin
Merkin Vineyards Tasting Room recently opened making it the sixth wine tasking room in Old Town Scottsdale. Rock fan? Here's a twist: this place is owned by Maynard James Keenan, the lead singer of Tool.
LDV
Located in downtown Scottsdale, this cozy tasting room comes from award-winning Arizona winery LDV Winery. Enjoy hand-crafted, estate-grown Rhone-varietal wines by the glass or bottle at the tasting counter or on one of the beautiful outdoor patios. They also serve some "little bites" to pair with the wine, and sell some unique gifts and Arizona food products.
Carlson Creek Vineyard Tasting Room
Carlson Creek Vineyard, based in the wine region of Willcox, Arizona, opened a tasting room in downtown Scottsdale in July 2016. We tried some of the winery favorites, such as the Sweet Adeline Riesling and its only blend, and my favorite, Rule of Three (made up of 40% Grenache, 30% Syrah, and 30% Mourvedre.
The 2,300-square-foot former art gallery includes a bar, bistro tables and couches and is still used as a local artist gallery.
Sweets of Scottsdale
Super Chunk
Super Chunk Sweets & Treats is the brainchild of husband/wife team, Sergio and Country Velador. They describe it as "small-batch, handcrafted confections with a slant toward traditional American flavors using unique ingredients and creative techniques." Everything is created in-house, from scratch, with the best possible ingredients.
You can find the shop in Old Town Scottsdale, where they sell a signature selection of treats, including chocolate bacon caramel corn, duck fat toffee, their award-winning mesquite chocolate chip cookies (a shortbread cookie made with a "mesquite flour," which adds a unique smoky flavor), and an tasty assortment of other cookies, cakes and brownies.
Just next door is their sister spot, New Wave Market. The cafe/shop sells handmade breads, baked goods, ice cream and locally roasted coffee. Stop by for a quick and thoughtfully-crafted lunch of fresh-baked bagels, sandwiches or salads. Bagels and brownies? It's my perfect lunch spot!
Sweet Dee's
This cute, French-inspired bakeshop was just opened a year ago by 24 year-old Danielle O'Day and her mother.
Sweet Dee's incorporates healthier ingredients with no preservatives, many cakes are gluten-free (made with almond flour) and some olive oil cakes are vegan. Her most popular treat? Dee's nuts – her homemade mini donuts.
Sugar Bowl
The Sugar Bowl is Scottsdale's original ice cream parlor. Since 1958, it has served yummy ice cream sundaes, milkshakes and malts. The famous comic strip the Family Circus, featured the Sugar Bowl many times.
Where else to Eat in Scottsdale
There are so many great places to try that I couldn't fit them all in. Here are some on my list for next time!
Popular Citizen Public House serves up upscale American fare in a relaxed, casual space.
Craft 64, an artisan wood-fired pizza spot, sources much of its produce and meat locally and has 36 local Arizona craft beers on tap.
Farm & Craft focuses on healthy and sustainable food in a community-style atmosphere.
SumoMaya, a fun and flashy Mexican-Asian fusion
Fat Ox is known for its modern takes on the hearty recipes of rural Italy including meat and seafood that are slow-roasted over local mesquite inside a custom wood-burning grill & rotisserie.
What else to do in Scottsdale…when not eating!
The Arizona Canal
Part of the Arizona Canal cuts right through downtown Scottsdale. Constructed in the late 1880s and nearly 50 miles long, it runs through parts of Phoenix and its suburbs. It's popular with joggers (I ran on it one morning!) and bicyclists.
Every fall, Scottsdale celebrates what's called Canal Convergence, an amazing display of public art, workshops, and love music all along the canal.
Scottsdale Museum of Modern Art
Located in Scottsdale's popular Old Town district, the Scottsdale Museum of Contemporary Art (SMoCA) is a captivating and interactive museum. SMoCA highlights some pretty neat contemporary art, architecture and design locally and from around the globe. Designed by award-winning architect Will Bruder, SMoCA's minimalist building is a nifty renovation of a former movie theater. There are a handful of rotating exhibitions each year, plus related events and educational programs.
Desert Botanical Garden
The Desert Botanical Garden offers the world's finest collection of arid-land plants from deserts around the world in a unique outdoor setting. The garden has more than 50,000 accessioned plants throughout its five thematic trails, which illustrate topics such as conservation, desert living, plants and people of the Sonoran Desert and desert wildflowers. Don't miss the cool flashlight tours in the summer where you can explore under the cover of darkness and go on a nocturnal adventure.
Taliesin West
Taliesin West is a National Historic Landmark nestled in the desert foothills of the McDowell Mountains in Scottsdale.  It was considered one of Frank Lloyd Wright's greatest masterpieces, and was designed to serve as his personal home, studio and architectural laboratory.
It was built by Frank Lloyd Wright and his apprentices in the 1930s. Wright continuously expanded and modified it until his death in 1959. The home was literally created out of the landscape by gathering rocks from the desert floor and sand from the washes to keep the design in balance with the surrounding environment.
The McDowell Sonoran Preserve
The McDowell Sonoran Preserve, a protected area of land consisting of Scottsdale's McDowell Mountains and Sonoran Desert, provides a place for visitors to connect with the city's unique desert attractions like Saguaro cacti and roadrunners (meep! meep!). When fully complete, the preserve will have more than 36,000 acres of permanently protected land, making it larger than the cities of Tempe and Paradise Valley combined and totaling one third of the size of the City of Scottsdale itself.
Nearby Scottsdale
There is also a lot to do just outside of Scottsdale. If you're looking for a more laid-back, family-friendly getaway, check out my post on Gilbert, Arizona.  Also, see what things to do in Mesa, which is also just down the road from Scottsdale.
Where to Stay in Scottsdale 
I don't have to tell you that Scottsdale is known for its lux resorts and spas. There are more than 70 hotels and resorts in the area. So the only hard part is choosing which one! I was lucky enough to stay in two and visit a third.
Andaz Scottsdale Resort and Bungalows
The Andaz Scottsdale Resort & Bungalows is so much more than a hotel. It is an experience. From my initial very casual and easy-going check in (there's no real 'check-in' desk, they just come up to you with a tablet) to my "ride" to my room in the property's Tesla to the amazing grounds, I loved the vibe here. I would describe the style as sort of rat pack mod meets desert chic.
The Andaz is in Paradise Valley in Scottsdale, just a couple miles up the road from Old Town Scottsdale. In fact, they will drive you there in that very Tesla (or anywhere else you want to go within five miles of the property) gratis.
The secluded 23 acres of peaceful grounds overlook iconic Camelback Mountain. It's landscaped with desert flora like cactus and succulents and dotted with 185 bungalows and suites so it feels like you have your own little villa during your stay.
The rooms have a desert-modern vibe with wood-beamed ceilings, huge modern bathrooms with a shower larger than my entire bathroom (double shower heads, double the fun!), front and back patios, and unique local artwork on the walls thanks to an exclusive partnership with the nearby Cattle Track Arts Compound.
The Andaz Scottsdale has a huge pool flanked with tall palms and complete with bar and cabanas giving it that real resort vibe.
On-site dining includes Weft & Warp Art Bar and Kitchen, which is in the main guesthouse building between the lobby area and the pool. You can dine indoors or out surrounded by fire pits overlooking the pool.
There's a pretty large fitness center with modern equipment, a spa, and a private spa pool.
Even the meeting rooms were cool. I happened to be here for work. I was running the annual Bloghouse conference and the events team was fantastic. Plus our meeting room was cute and modern with large windows. I very much appreciated the white-tiled coffee bar with fun syrups, non-dairy milk choices and use of real glass wear vs single-use disposables.
Read TripAdvisor Reviews on the Andaz
Book at stay at the Andaz Scottsdale
Bespoke Inn
This little inn, with less than 10 rooms, is literally tucked away in the arts district in the heart of downtown Scottsdale. The Bespoke Inn centers around a charming, Mediterranean-feeling courtyard complete with fountains and flower beds bursting with blooms.
The rooftop garden is a relaxing place to chill after a refreshing swim in the small, stainless steel infinity pool that overlooks the courtyard.
My room felt more like a small, modern apartment rather than a hotel room. The suite came with a kitchen, dining, area and even a small private patio. I literally liked the décor so much that I snapped the coffee table because I've been wanting one just like it (too bad it's a discontinued Pottery Barn model..gonna have to DIY it!).
Read TripAdvisor Reviews on the Bespoke Inn
Book at stay at the Bespoke Inn 
The Phoenician
This famed five-star, 250-acre resort at the base of Camelback Mountain, just completed a massive renovation on the entire property from the rooms and public spaces to the spa and golf course.
A stay at The Phoenician is a true resort getaway. There are 577 guest rooms, 64 suites, and 4 presidential suites (approx. 4,000 square-foot each!)
There are multiple restaurants at the Phoenician. The newer Mowry and Cotton serves modern American cuisine mostly made in a central hearth oven. J&G Steakhouse is your classic steakhouse offering meat and fish. Enjoy dining inside or on the spacious outdoor patio. Plus several cafes and poolside bars are sprinkled around the property for all day dining and imbibing.
The entirely new Phoenician spa is a complex unto itself. The three-story facility includes a stunning rooftop pool (complete with cabanas, sectional sofas around a firepit, and perfect views of Camelback Mountain), massage rooms, a VIP Suite, a drybar, a full-service nail salon, and a full fitness center for personal training and movement studio.
Read TripAdvisor Reviews on the Phoenician
Book at stay at the Phoenician
How to Get Around Scottsdale
Ride Share in Scottsdale
Nowadays, when visiting a city destination it's so rare to need a rental car thanks to the proliferation of car sharing service like Uber and Lyft.
Scottsdale's Golf Carts
Here's a fun way to get around downtown Scottsdale: just flag down a golf cart taxi! There are a few different companies and you can just jump on when you see it. Or schedule a guided tour.
Scottsdale Trolley
Explore the downtown on the free Old Town Trolley. It runs daily starting at 1am with stops all throughout old town.
Bike and Scooter Share in Scottsdale
Bike or scoot your way around town. Bike share is a fun, easy and convenient option for getting around town. Not only does it promote sustainable transportation, but it also fills in the gaps that mass transit is not able to serve. Dockless bikes and scooters can be found all around Old Town with Lime for the community to use. Just download the app and You can rent a bike for $1 for every 30-minutes.
Summer in Scottsdale!
Yes, Scottsdale can get hot. The highs were close to 100ºF when I visited in June. But like everyone says, it's a "dry heat." And it really is. My hair loved it! The heat definitely was bearable thanks to the low humidity, it is literally the sun's rays you have to be careful of.
Don't be afraid to visit Scottsdale in the heat of an Arizona summer.
TIP: Summer is when you can find the best deals at Scottsdale resorts!
When the temperature soars, prices plummet and guests can find up to 60% off many resorts. Then you can still enjoy the area and cool off in your resort pool as you sip frozen drinks and save money! There are also plenty of activities that can be done in the early mornings such as hiking in the McDowell Sonoran Preserve, biking along the canal, and kayaking in the Salt River.
Check out It's That Hot! for your one-stop-shop on some great deals when visiting Scottsdale in the summer.
Pin It:
Disclosure:
During part of my time in Scottsdale, I was a guest of Experience Scottsdale and I was hosted by the Andaz. As always all writing and opinions are my own.