Cinque Terre, Italy is famous thanks to the viral images of its colorful houses clinging to the cliffs of the Italian Riviera. It's a magical place. I was thrilled to return nearly 20 years after my first visit here.
With two days in Cinque Terre you're able to see quite a bit and just slow down and soak up the incredible views. Read on to see what to do, what to eat, and where to stay in Cinque Terre.
We got off the train and wheeled our suitcases through a long, somewhat ugly concrete tunnel, which burrowed through the mountain. It in now way foreshadowed the beauty of Cinque Terre just on the other side.
Just outside was Marcella who met us with a huge grin and a kiss per cheek. She had a poof of curly grayish-blond hair and a welcoming smile. Just beside her was Salvatore who also greeted us with a friendly smile and was quick to grab my bag. It felt like we were reuniting with grandparents from the old country.
Marcella and Salvatore were just our Airbnb hosts for our two days in Cinque Terre, but they made us feel so welcome, they might as well have been family. Airbnb can be seen as just a business deal or transaction, but it can also be used as a way to meet locals if you take the time.
They slowly led us uphill on narrow stone paths up from the train station toward their home and the apartment above them which they rent out on Airbnb. All along the way they pointed out various landmarks, bank machines and shops none of which I would remember until we retraced our steps later.
Marcella communicated with her smile, gestures and eyes, while Salvatore, who is probably in his 70s, used a translator app on his phone. They were the cutest.
What is Cinque Terre
We were staying in Manarola, the second town from the southern end of a string of historical, cliff-dangling towns known as Cinque Terre ("five lands"). The entire region is a UNESCO World Heritage Site.
The five main colorful fishing villages that make up this region are Riomaggiore, Manarola, Corniglia, Vernazza, and Monterosso. Cinque Terre is part of the Liguria region in the north west of Italy. It's special place with some of the most dramatic coastline in Italy.
Cars were banned more than a decade ago in most central parts of the villages and the lovely sounds of couples laughing and friends clinking glasses adds to the picture-perfect atmosphere.
Most of the year now it does have a vibe of more "tourist village" than fishing village, but if you stay in town rather than day-trip it, you can enjoy some of the real-town feel once all the tourists have left for the day.
Things to do with Two Days in Cinque Terre
The best things to do here are to hike, swim, eat and simply stroll around. You can go between the towns by train, bus, boat or hiking trail. I suggest a mix of train, boat and hiking. See below for more info on how to get around.
The Villages of Cinque Terre
Riomaggiore
Riomaggiore is the first town when coming from the south. Its just north of Pisa and La Spezia. It's a very colorful town where it appears that all the houses seem to converge at the bottom at the small harbor. There's a rocky beach, a church, and a few restaurants. I stayed here way back in 2000 and loved it. I think no matter where you stay, you won't be disappointed.
Manarola
I'm probably biased because we stayed here this visit, but I think Manarola is the prettiest and most picturesque of the five towns. It's made up of one main road. But it can feel larger because there also quite a few pedestrian paths winding up and around the town and into the vineyards on the hillside above town. The most famous path, wraps around the natural harbor and has the best views of Manarola from the other side.
You must stop for a drink at Nessun Dorma Manarola on the other side and soak in the views.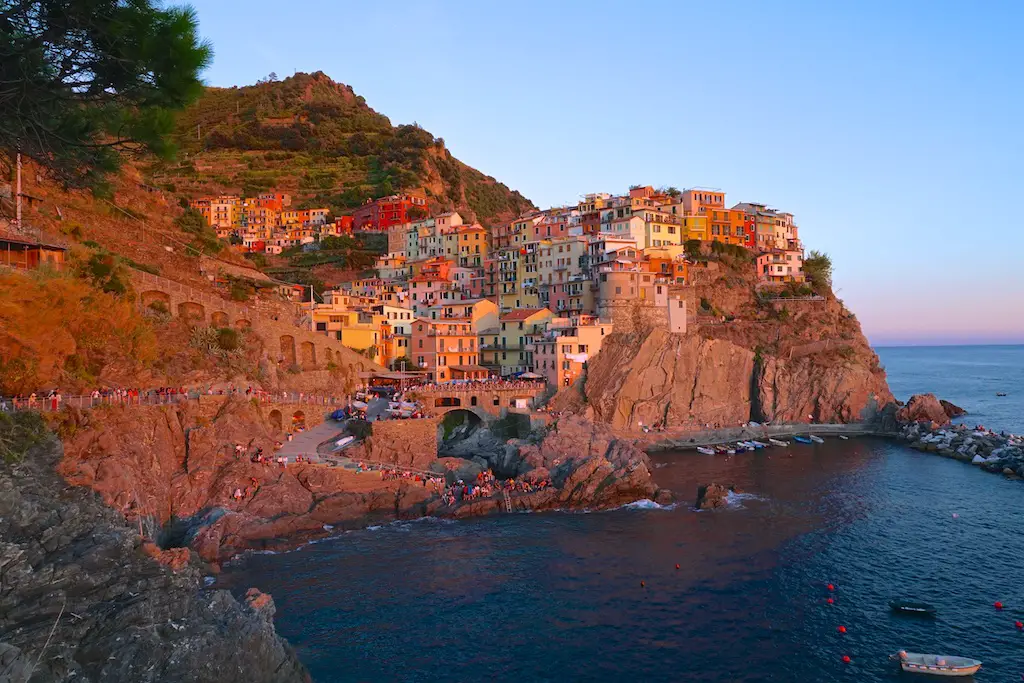 Corniglia
The oddball of the towns, Corniglia is the only one that's perched high on top of the mountain rather than at the water's edge. Be warned that to get to the center of town from the train station, you have to slog up 350+ steps! So if you have a lot of luggage this might not be the choice for you. But if you want to be far from most tourists, it's just right!
Vernazza
Vernazza is probably the most popular town. Just as colorful and nearly as photogenic as Manarola, this town is bustling with visitors. The whole harbor is ringed with restaurants, cafes, and gelato shops. There's an old castle overlooking the water and the main street is chock a block with souvenir shops selling lemon soaps, lemon air fresheners, and lemon cookies.
Be sure to try the cone of fried fish (fritto misto di mare) which I had for dessert after our pizza lunch instead of gelato. I know! But the fun, salty snack hit the spot!
Also, don't miss the path leading under the mountain to the back side of town where there's a rocky beach and a neat place to take selfies!
Monterosso al Mare
Monterosso is the northernmost village and the only one with a true sand beach! It's the biggest town of the five and has a few streets plus some larger hotels. To be honest, we didn't make it here. Although I hear it has more offerings and can be good for families.
For even more details on each town, check out the best places to stay in Cinque Terre.
Cinque Terre Trails
One of the highlights of staying in Cinque Terre for two days is it gives you time to hike the trails that link all the towns together. There are two main trails that connect the towns of Cinque Terre:
Trail #1 – Red Trail (Sentiero Rosso)
Trail # 2 – Blue Trail (Sentiero Azzurro – closed)
All trails are free and open year round except the Blue Trail.
The Blue Trail
The Blue Trail is part of the National Park system and therefore you have to pay for a pass.
NOTE: For the last few years several sections of the Blue Trail have been closed due to rockslides. This can change day-to-day, so best to just check upon arrival.
It was a bummer for us because the trail was closed when we visited, but it was still great just to be there.
You can walk the well-marked trail from town to town in about five to six hours (not counting stopping in the towns for food and wandering).
You can go in either direction and start anywhere you like. Plus you can always decide you are done and take the train, boat, or bus back to where you are staying.
TIP:  Start from Riomaggiore, where the paths are easier and paved, and work your way up to the more challenging trails.
The section of the trail from Riomaggiore to Manarola is known as the Via dell'Amore, or Lover's Lane. If you are wary of doing the entire thing…just do this section. It's paved and flat and is the easiest one and just 1.2 miles.
The Red Trail
The Red Trail #1 is the harder trail. It's 40km long and is high atop the coastal mountain range. It begins in Portovenere and ends in Levanto, It's not a one-day trek and is recommended for more experienced hikers.
For more detailed information on each section of the trail and other trails, head to Walks of Italy.
For official closings, check out the official Cinque Terre National Park site and trail map.
We returned home to find Salvatore outside watering his plants. We invited them in for a drink, but Marcella wasn't feeling well. But then a few minutes later there was a knock on our door and we still all ended up chatting with them on our front steps for about 20 minutes getting to know them a little. And remember she speaks no English and he speaks "google translate" but as always with travel, you can still communicate a lot through body language, expressions, and some translation.
Where to Eat in Manarola
There are several little cafes and restaurants on the main street in Manarola. I don't think you can go wrong at any of them.
Our first evening we had drinks and nibbles (they serve panini, charcuterie boards and salads) at the aforementioned Nessun Dorma. This place is a must! It can get crowded in the high season, so try to go at off times. We were here at the end of September and came right before sunset and only had to wait about 10 minutes for a table. But even if its longer, the wait is worth it! The tables are all outside along a ledge, which overlooks the entire town and the sea below.
They also offer some cooking classes which I've heard are fun.
For two different dinners we ate in town along the main road. Both Aristide and Il Porticciolo served up typical dishes of the region. We both enjoyed seafood and pasta dishes and local wine.
Where to Stay in Cinque Terre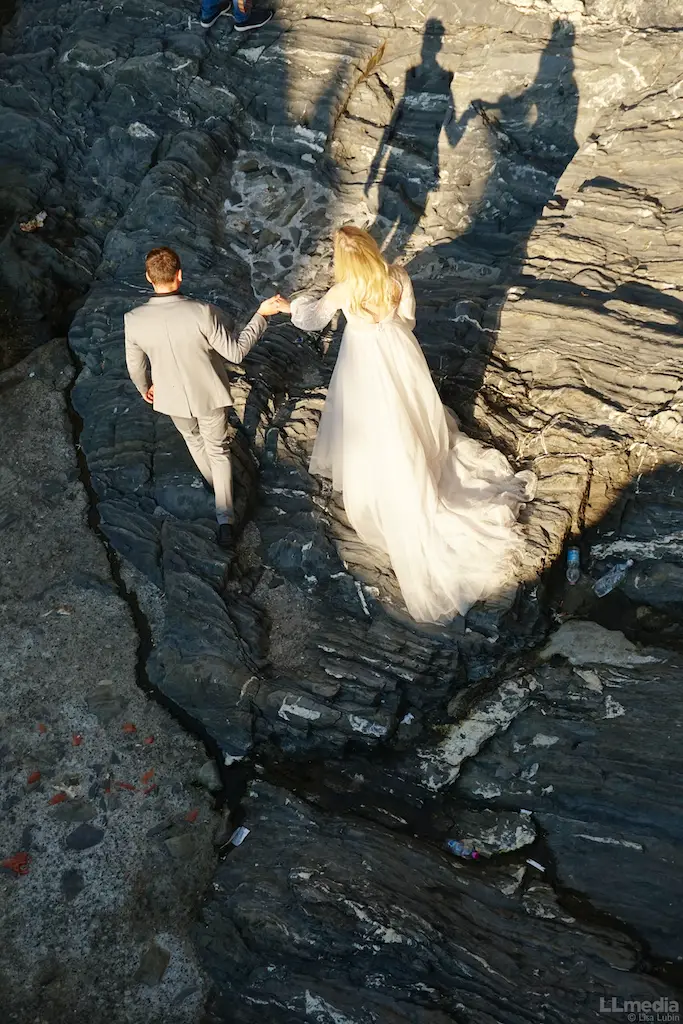 Long before airbnb, Cinque Terre was brimming with apartment rentals and B&Bs. In fact, when I stayed here in 2000, we just rolled into town, asked a local bartender in Riomaggiore about a place to stay and he connected us with a woman who let out her apartment. We shared a place with David, a traveler from San Francisco. I guess it was my first couchsurfing or airbnb experience before those even existed! 
So this time, we opted to stay in an airbnb.
Have you signed up for airbnb yet? If you use my link, you will get 15% off your first booking, up to $400 off. Plus you will get $15 to use toward an "airbnb experience" worth $50 or more.
I searched around looking for the best place to stay in Cinque Terre and saw a few cute places. But it was the profile and reviews of Marcella's place that won me over. It's wonderfully located in Manarola with great views.
Marcella and Salvatore's apartment was homey and clean, plus it had a pretty fantastic view from the window to the harbor and Mediterranean Sea.
After like fifteen minutes of pointing, and showing and translating we were all up to speed on how to turn on various lights, use the cooking gas, and where to find pots and pans to make our own home cooked meals. They were so cute! 
Here are some other apartments that look great that I also considered:
Located in Riomaggiore, I just loved the stellar views from this place. It looks simple and modern, but oh that romantic balcony!
Also, located in Riomaggiore, Casa Lorenza has two rooms with balconies (for under $100), or an entire apartment with a little garden.
This cute place was totally renovated just a few years ago. It has three different modern rooms with stone walls overlooking the harbor in Riomaggiore.
If you'd prefer to stay in a hotel. Here are two that come highly rated.
Ca'D'Andrean
This modern hotel is located in central Manarola. It has free Wi-Fi throughout, grounds with tables and chairs, and a bar. The rooms have flat-screen TVs, wood furnishings, and private bathrooms. They also have a simple Italian breakfast available with croissants, cappuccinos and fruit juices.
For rates and to book on Trip Advisor
Hotel Marina Piccola
Guests love the views and breakfast at this hotel. It has a great location within the village and is a cute mix of very modern décor with old stone walls.
Find the best deal and compare prices at TripAdvisor
How to Get Around Cinque Terre
TIP: Don't forget, Cinque Terre is made up of five separate towns. You can't just search "Cinque Terre" when looking at train schedules or looking for accommodations. There is no actual town called Cinque Terre!
There are many ways to get around the region and you will likely try a few. I like a combination of arriving by train, taking the ferry, and also walking between towns.
Train
By train, it takes about three hours to get to Cinque Terre from either Milan in the north, or Florence in the south. We took the train from Rome and it took us about five hours with two train changes.
Cinque Terre Express which is Trenitalia's local route runs between these five villages hourly.  Don't forget to validate your ticket before boarding the train (this is true in most stations in Italy).
TIP: The train rides between each of the five towns is no more than five minutes, so pay attention to the stop you want. Some trains stop inside the mountain tunnels.
Boat
The Ferry boat is another easy way to get between the towns when not taking the train or walking. Plus, it gives you another lovely view from the water. The boats serve Monterosso, Vernazza, Manarola, and Riomaggiore plus nearby La Spezia, Lerici, Portovenere, and Levanto. Tickets between Cinque Terre towns are €6 to €13 one-way and there are 5 to 10 boats daily depending on the season. There's a little ferry booth in the harbor of each village where you can look at the schedule and buy tickets.
Hiking
All of these five villages are connected by beautiful hiking trails which is a big attraction in this region. 
TIP: Being a National Park, you will need to purchase the Cinque Terre Card in order to hike on these trails.
You can find more information about purchasing Cinque Terre card here. Keep in mind that not all the trails are open at all times of the year, do a little research before you visit.
Cinque Terre Card
The Cinque Terre Card gives you access to the bus and the trails. The Cinque Terre Train Card combines that with unlimited trains rides between the villages (but not ferries) and a hiking day-pass. It's €16 in high season and €13 in low season.
Train tickets between any of the towns in the Cinque Terre (plus to La Spezia and Levanto) now cost €4.00 per trip (as of 2019), so even if you don't plan to hike at all but are going to be taking the train more than twice in a day, buying the Cinque Terre Card makes sense. Buy your Cinque Terre card online.
Bus
Cinque Terre has started an electric bus service. You can use these buses free with the Cinque Terre Card, otherwise one ticket costs €2.50 if you buy it on the bus and €1.50 if you get it at the tourist information centers of the National Park.
You can find out more information about buses between Cinque Terre villages here.
There is also a new bus service called "Explora 5 Terre" connecting the villages and some hamlets of the Cinque Terre. This small bus can be a very nice alternative to the crowded trains, especially that the views from the road are stunning.
Ciao Cinque Terre
We went to knock on Marcella's door but she was already aware of us locking up and lugging our suitcases up the stairs. She was opening her door before we even got a chance to.
With more hugs and kisses we bid arrivederci and felt a wonderful connection to these loving people we'd just met 48 hours ago….the meaning of travel revealing itself yet again, proving time after time that it's all about the local people you meet.
We arrived early to the train station and rounded the corner to our platform for our train from Manarola to La Spezia. And right there, we bump into a familiar face. Salvatore was just returning from La Spezia. And of course he grabbed our heaviest bag and carried it up the stairs for use despite Chris's repeated efforts to say no. It was like leaving old friends.
Pin It!