[updated February 2022]
Take a South West England road trip! Just 90 minutes west of London, the region has some of the UK's most stunning coastline, quaint villages, & finest food. From Bath to Bristol to the Jurassic Coast, South West England destinations have something for everyone.
I finally watched the Great British Bakeoff (Great British Baking Show in the U.S.) and am smitten. There is something so sweet, caring and non-dramatic about this show. I love it. And I have zero interest in baking.
It also reminds me of how much I like England. But truth be told, I've only been outside of London a few times. But recently, I was fortunate enough to spend about a week traipsing around the countryside on a south west England road trip going through parts of the counties of Dorset, Devon, and Somerset and the cities of Bristol, Bath, and Salisbury.
I recently wrote a piece on the journey for Sheridan Road Magazine, where this first appeared:
Road Trip South West England
Just 90 minutes west of London by train, South West England has some of the country's most stunning coastline and quaint villages. The area has developed a taste for luxury over the centuries with huge castles turned into hotels, some of the finest food and drink, and a rich, historic culture. Here's a look at some of the best places to visit in South West England.
Bath, UK
Sophisticated Bath is a designated UNESCO World Heritage Site and spans a history of 2,000 years beginning with the Romans who took to the healing waters. Home to some of the finest architectural sights in Europe, Bath is most famous for its Georgian architecture—graceful streets and sweeping terraces such as the Royal Crescent, Palladian-style villas on elegant squares, and classical facades in warm, golden-hued stone.
The architecture stems from the 18th century boom, when Bath became a fashionable spa resort.
Thanks to its natural thermal springs, the city has become a major spa destination with the opening of the luxurious Thermae Bath Spa.
Right across the street, the newer Gainsborough Bath Spa is the United Kingdom's first hotel to feature its own thermal water spa. The luxurious hotel and spa has tapped into the city's subterranean springs reimagining traditional bathhouses with a contemporary twist. It has a modern yet traditional feel with classic pieces, marble columns, and muted tones.
Upon my arrival down in the "spa village," I met with the aromatherapy "mixologist" who offered me a special, cleansing juice. Then, after filling out a questionnaire about my current state (Jet lagged? Yes. Stressed? Sure.), he whipped up a customized pouch of smelling salts for me to bring to the sauna. In a luxurious setting complete with columns and mosaic tiles, you can relax in the three soaking pools, an infrared sauna, and a cold room. And perhaps the best part? An offering of decadent spiced drinking chocolate.
Driving Tour South West England
After a couple days exploring Bath (including a tour through the original Roman Baths and traditional English tea at the elegant Pump Room), hit the road to explore more south west England destinations.
If you are wary of driving on the left and would rather just sit back, you can always hire a driver. Chirton Grange specializes in first class, bespoke chauffeur service across the U.K. Our driver, Kevin, was fantastic. He was funny and kind and basically became part of our crew.
If you'd rather go at your own pace, you might want to look into renting a motor home or RV. Goboony offers the largest fleet in the UK because they are actually made up of a network of local owners across the UK and Europe. Goboony has built up a large community of cheerful, friendly and adventurous campervan owners who are eager to share their motorhome with those looking to experience a holiday in one.
Salisbury
Just an hour's drive southeast is Salisbury, most famous for its stunning, gothic cathedral. Take a wander through the holy halls, a place of worship for more than 750 years. It has the tallest spire in Britain and is home to the best-preserved copy of the Magna Carta.
Woodhouse Brewery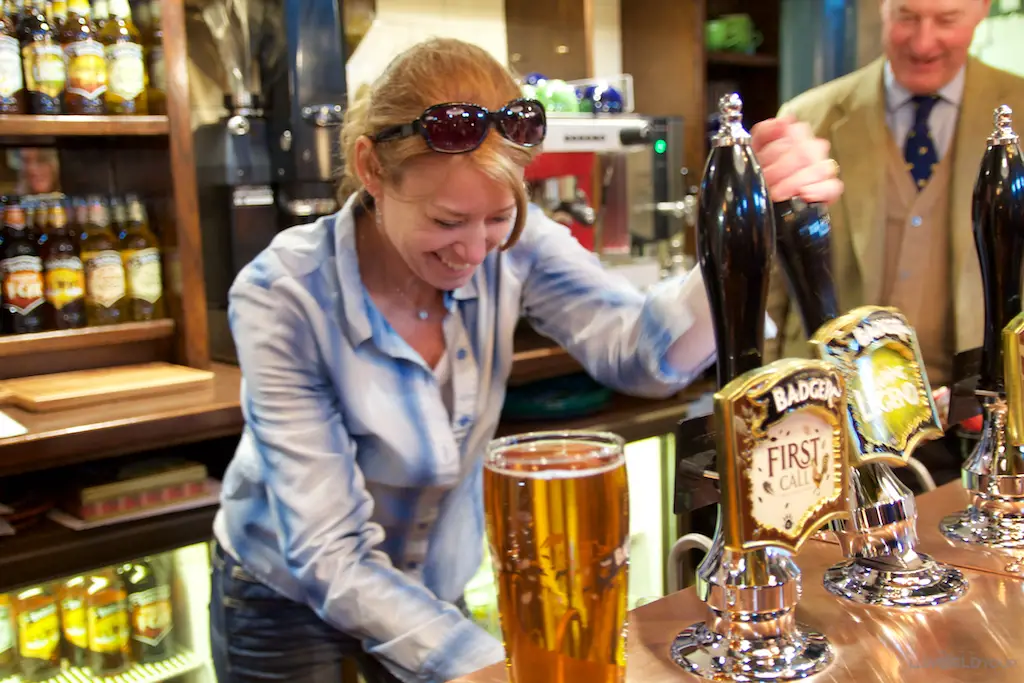 Another half hour down the road is the Hall and Woodhouse Brewery, which has been brewing since 1777. They operate 250 public houses (pubs) all throughout the south of England and brew beers under the label "Badger Beer." Take a fun hour-long tour, which ends up in their pub of course to taste a sampling and learn the proper way to "pull a pint."
Corfe, England
During your road trip, be sure to stop for a break along the way at the atmospheric Greyhound Inn in Corfe for the area's popular English Cream Tea (complete with crumbly scones, sticky jam, and finger sandwiches). And don't be mistaken; this is not simply a drink break, but an afternoon meal of tea with a combination of scones, clotted cream, and jam.
Dorset England
When you reach the coast, check into the Pig on the Beach hotel, exuding homey charm with a touch of luxury. The 23-room country house is perfectly situated along rural Studland Bay with uninterrupted views of long stretches of sandy coastline. Definitely make a reservation for dinner here and you will know why they bill themselves as 'a restaurant with a hotel attached.' The one-of-a-kind, greenhouse restaurant takes enormous pride in its fresh, British garden food.
Committed to their "25-mile" menu, what can't be grown in their garden, is sourced locally, as you will see from the menu with dishes like the Houghton Spring arctic char and smoked beetroot to the Whole Lyme Bay flounder and Hampshire chorizo.
Jurassic Coast
The next morning, bundle up and stretch your legs on the Jurassic Coast. Walk one of England's most scenic routes, with natural features like the breathtaking limestone arch of Durdle Door.
Read more about the Durdle Door and other UNESCO World Heritage Sites in England.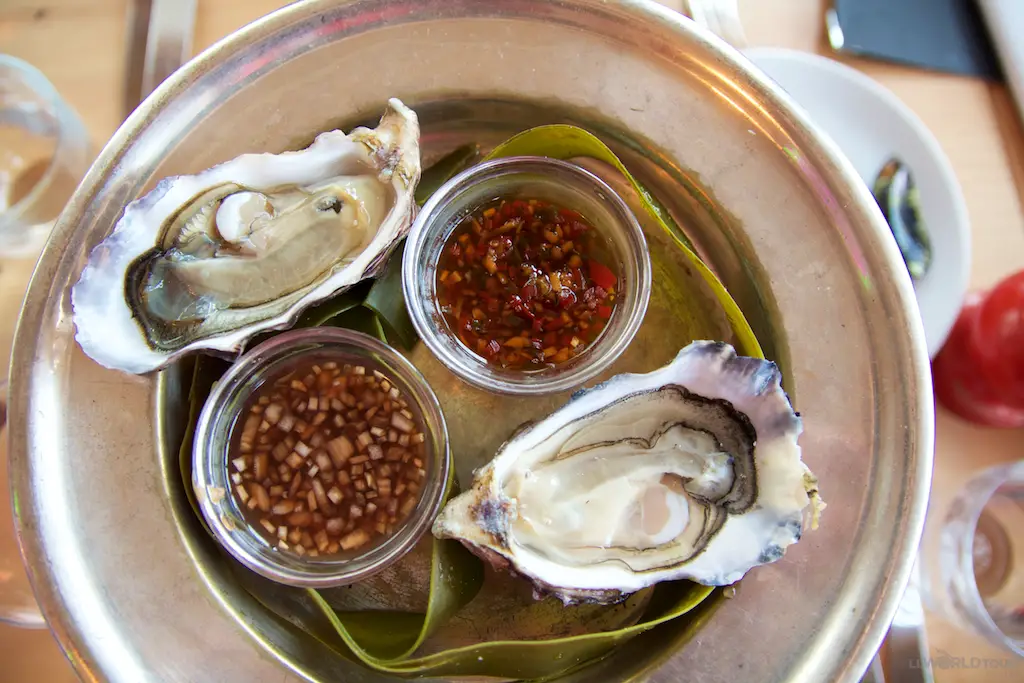 Afterwards, you will need sustenance and a hot tea. Hix Oyster & Fish House (from local celebrity chef Mark Hix) overlooks the harbor in Lyme Regis and has stunning panoramic views across the coast. A daily changing menu serves up fresh, sustainable seafood and locally foraged produce.
Devon County England
That evening, enjoy true English luxury in the sprawling Bovey Castle (boveycastle.com), which lies at the heart of Dartmoor National Park in Devon County. Complete with championship golf, horseback riding, and an Elan spa, this glamorous retreat transforms into a festive hideaway for December.
The 5-star castle recently underwent a massive renovation accentuating its oak-paneled rooms, tremendous fireplaces, and ornate plaster ceilings. Stay in a traditional room or indulge in your own three-story country lodge. The castle sits on 275 acres of beautiful countryside and rolling valleys. If you time it right, arrive in time for their Christmas fair on December 13th with local arts and crafts gifts.
To get a real feel and a customized tour the Devon area — the home of Sir Arthur Conan Doyle and Agatha Christie — hire a local expert from Unique Devon Tours (uniquedevontours.com). From wine and foodie tours to history and genealogy, there's a tour for every traveler. The more popular tours include "Ghosts, Myths and Legends of Devon", "The Agatha Christie Tour," and "The Hound of the Baskervilles Tour."
Bristol, England
Carry on to culture-rich Bristol, the largest city in Southwest England. This arty city is home to Banksy (take a street art tour showing many influential artists all around the city).
They say, 'if it can be done, you can do it in Bristol', and this young, can-do attitude is apparent as you walk around the edgy city. Bristol has a progressive energy and is a great place for strolling. Check out the M Shed Museum and the premier attraction, the world's first luxury liner, Brunel's SS Great Britain.
For more, check out this list of the top 10 things to do in Bristol.
At the foot of the Cotswolds, stay in the stately, 16th-century Ellenborough Park (ellenboroughpark.com), a former country house of the Lord and Lady Ellenborough (tales describe her as a 'scandalous society beauty'). This meticulously restored estate set on 90 acres, sits just adjacent to Cheltenham Racecourse (if you visit in December, make plans to see The International, a jump racing event).
Award-winning head chef, David Kelman, who has cooked for royal family, makes ample use of the bounty of produce from the surrounding region. His dishes are beautiful and complementary to the sophisticated Beaufort Dining room with stained glass windows and stone Tudor fireplaces.
Forest of Dean
If you can break away from your new posh home, head over to mystical Puzzlewood (puzzlewood.net) in the Forest of Dean. This enchanting place was a film location for the latest Star Wars, plus it's also said to be the inspiration behind J.R.R. Tolkien's Middle-earth in the Lord of the Rings. Take an easy walk through some of the meandering paths flanked by gnarly, ancient trees, mesmerizing rock formations, and branches covered in velvety moss.
Nearby to the forest is the lovely Tudor Farmhouse Hotel where you can stop for a lovely lunch or tea in a 13th-century converted farmhouse serving seasonal dishes made with homegrown ingredients.
Linger in the Cotswolds for a few days if you can, before wrapping up your driving tour of south west England and heading back to reality in London.
Don't feel like driving but want your own guided tour? Check out Viator Tours.
To see the original article in print, click below:
PIN IT!
Disclosure: During my visit, I was a guest of Southwest England. As always, all opinions are my own.