What if I told you that I just had a whole week's vacation in a four-star hotel villa in a small rustic beautiful village near Salamanca, Spain with three full meals a day and wine and it came with about forty new friends… all for free? Well, I did. And, I know what you're thinking—"what's the catch?" Well, there was one–all I had to do was speak English. And considering it is my native language… how hard could that be?
Pueblo Inglés is not exactly a school for English—it's more like an intense English 'experience.' It's a unique opportunity for native English speakers to immerse themselves in Spain's culture and people firsthand in exchange for just chatting in English with Spaniards. And for the Spanish people, it's like an intensive week-long camp or retreat entirely in English which gives them the opportunity to improve and practice their English the best way—by force, of course. They are forbidden to speak in their native tongue all week and must converse in and listen to English at all hours of the day. Easy for me, not so much for them.
I was trawling the web one day looking for a job in Spain when the website for Pueblo Inglés popped up. The idea scared and intrigued me at the same time—not only would I be able to travel one more week without spending a dime (that's 15 cents in Euro!), it would enable me to meet and connect with real Spaniards who mostly come from the professional business world (I found out later how 'professional' they really were)—something I find hard to do since the majority of locals I meet in many countries are folks who work in the tourism or service industries. It was another way for me to 'break away' from just being a tourist… as I've tried to do during my travels by working, volunteering, or just staying with friends and 'hanging out' instead of feeling pressure to sightsee and visit every old church in every old town I'm in.
I applied on a whim not knowing if I truly wanted to commit to this week of constant jibber-jabbing, but, figured they probably wouldn't accept me on such short notice or I could always say 'no.' Just one day later I received an email informing me that I had been accepted into the program and it was starting in two days! Okay… well… I guess I'm doing it! As I was still in Valencia, I had to quickly make some arrangements for transport and book a hotel in Madrid. And the very next day I high-tailed it to the capital city for the orientation.
The first day of the eight-day program we all gathered in a plaza in Madrid and were herded onto a bus. We rode for three hours west of Madrid to a tiny rural town called La Alberca full of winding cobblestone lanes and green hills dotted with clusters of trees all in their autumn best dropping acorns and chestnuts all over the countryside. Our hotel was in a bucolic setting with shady paths and ponds and was more like a group of several chalets. There were about 20 English speakers from Canada, the US, England, Australia, and Ireland and 20 Spaniards from all over Spain with ages ranging from early twenties to sixty plus.
Our program directors, Pablo and Akemi, laid down the law at the get-go: The most important rule of Pueblo Inglés–NO Spanish allowed. They really wanted this to be a true and hardcore immersion experience for the Spaniards—basically forcing them to drink, eat, sleep, and possibly dream in English.
Each morning after a buffet breakfast we paired off into 'couples' for 'one to one' conversations that would last about 50 minutes. After a 10-minute break, we would then swap and grab another Spaniard for the next hour and so on.
Everyone was unique and friendly and fun and never once did we run out of things to talk about. But, it was an odd and funny sight to see all these coupled pairs of people wandering around the grounds, sitting in chairs, and strolling down the street. If someone didn't know better, it probably looked like some kind of psychiatric institution or rehab center where we were all getting over our drug, alcohol, or other addictions. Of course, if they saw our parties every night, they would probably think it wasn't a very good program.
Every time I walked around it made me laugh to see everyone chatting and 'recovering.' We would usually have a break sometime in the morning and also other activities like games, conference calls, and presentations—where lucky Spaniards got to tell us all about their jobs or Anglos entertained us with some kind of unique skill they have (singing, dancing, and other random embarrassing behavior). A three-course lunch with plenty of vino (nothing gets conversations going like some cheap wine can) was at two o'clock, followed by the very crucial Spanish siesta (nap time) until five o'clock. Then we continued with more talking, group discussions about anything and everything and hilarious skits. The skits and presentations were my favorite part. It reminded me of some university days doing role playing and brainstorming to come up with the most entertaining performance.
It was fun to just be silly and what I really remember most is laughing almost all the time… something I strive to do anyway and it was quite easy to do here. A three-course dinner with more wine, of course, was at nine (a little late for the Anglos, too early for the Spaniards!)… and then their Inglés would really get tested as many of us hung out at the bar until the wee hours of the morning. Not only was it great getting to know the Spanish folks, it was even more fun dancing with them. We did some salsa, we learned (not really) the Sevillanas (a traditional dance from the Andalucía region of Spain), had a girls vs. guys dance-fever style 'dance-off' (the chicas were robbed!), we even 'Macarana-ed' and did the 'Electric Slide'—scary, but fun.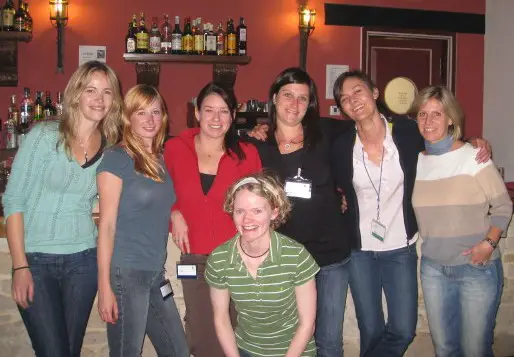 One night we were treated to the Spanish tradition of the Queimada. Queimada is said to originate from Pagan festivals of Galicia, the northwest region of Spain. It is a punch made from Orujo – a Spanish liquor containing 50% alcohol and flavored with coffee beans, plus sugar, lemon peel, and cinnamon. Traditionally while preparing the punch, it is set on fire (thanks to the large amounts of alcohol) and a 'witches' spell is recited, so that special powers are conferred to the queimada and those drinking it.
Maybe the queimada gave us special powers to not need sleep because, needless to say, some of us danced and partied nearly every single night 'til 4 or 5 in the morning. Some nights, Peter, the guy who worked the hotel bar (and served the food, and drove the van, and maybe cut the grass…) actually wanted to go to sleep so he would close the hotel bar and a bunch of us who still had the energy (mostly Spaniards) would go to 'David's Private After-Party' in his cottage.
Staying up this late, this frequently, is something I rarely am able do anymore—especially back home when I'm working. I particularly noticed how amazing it is to feel this free and not have to worry about really anything. Even back in my university days I always had some worries in the back of my mind about exams, papers, boyfriends, etc. But here, my whole schedule was laid out for me.
I had my own small 'villa' that I shared with Potola a sweet and hilarious flight attendant who can dance a mean Sevillanas. Our 'casa' was just steps from the lobby and bar so it was so easy to stumble to bed before sunrise, and get up the next morning (even if it was only a few hours later) and just walk over to my next session of speaking English. There was no commute, no metro, no taxi. You just walked home in two minutes. Life was good. Really all you had to remember to do was brush your teeth and shower. And speak English, of course.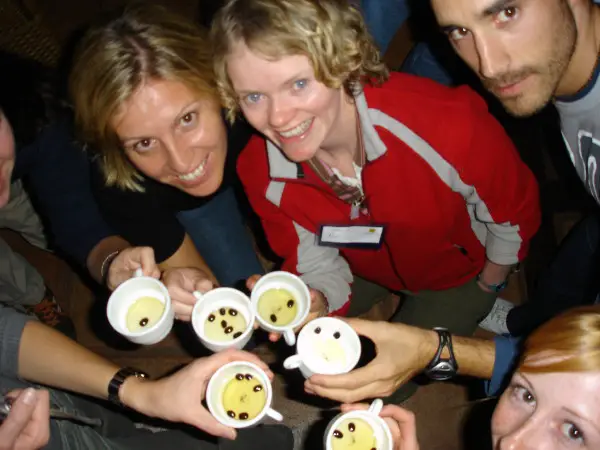 It was easy for me, but much harder and more tiring for the Spaniards who had to do everything in their second language. Imagine being constantly forced to speak Spanish all day. Your brain would be so tired. And even when they were 'enjoying the fruits of the vine' (okay, drunk) and dancing they were still speaking English. They even got a kick out of telling dirty jokes in English… although, some, I'm sure were much funnier in Spanish as the translations didn't do them justice. But, still I was very impressed.
Mid-week we took a break and got a tour of the town that even included, of course, some tasty local wine, ham, and cheese. Oh, and then there was the Bota (a 'bag' of wine typically made from goat skin) drinking contest. And, yes, this was the day right after our latest party. I was already running on basically two hours of sleep, was hung-over, and not sure how these guys could manage this—but they basically squirted as much wine as they could into their gullets while everyone counted along. The winner drank for something like 70 counts. Okay, I was already hiding around the corner with a couple other 'girls'. I just couldn't do it.
Like with other tours and classes I've done around the world—there was an interesting variety of people to get to know and of course, a few characters. With such an intense environment of talking, we quickly got to know each other and all became friends. They were a fun, great group of people that I will never forget: from Jesus, a true professional, and one of the funniest guys there to Antonio—the ringer. He was an older, big family guy and at first glance you didn't expect him to be funny, but this man was hilarious. He was in several groups I was in and was always coming up with witty ideas of how to make things funnier. And not only were we learning English–we also learned some Basque, some Catalonian, a bit of Gaelic, and even sign language, and, of course, how to do an Eskimo dance.
After a week of fun… we all 'graduated' and received our certificates for completing not only a week long English 'course' but one of the most fun weeks I've had in a long time. All in all, the week spent at Pueblo Inglés was like an intense microcosm of life—a condensed, easy version of life and having to say goodbye after our amazing week together was hard for me. Hopefully the Spaniards improved their English (they can definitely order more drinks and tell jokes in English now—usually good for the business world, right?) and I know I have made some amazing new friends here in Spain that will remain in my heart and I hope in my life always.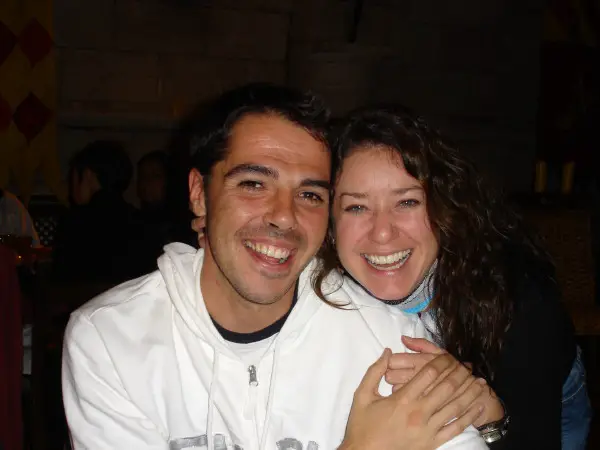 (sorry, here are some inside jokes):
Psssssssh! Pssssshhhh!
Under the weather??
Enjoy It!
Ball that's Yellow (Yellow ball!)
Leave your hat on—Jesus, David, Luis, Vicente, Brian, Jose Angel & Alberto Garcia!
One to Ones
Incredible Professional!
Now THIS is the most wonderful moment!
Groovin' to Sergio's mobile: 'it's your birthday…'
Lies and truths
Everyone: Alive, alive oh!, alive, alive oh! Crying cockles and mussels alive, alive oh!
Say: All those who are wearing…
Here is a video on the program done by a BBC Morning Program: