[updated August 2019]
Oh my god. Where do I begin? With so many choices, how do you narrow down where to eat in Rome?
For my latest visit to Rome, I did more food and restaurant research than I'd done on previous trips. There is so much good, fresh food and so many choices, that it's almost too much to bear! At some point, I knew we couldn't do it all (or even get to all the places on my list).
You have to pick a few must-eats (find out below about local specialties and what to eat in Rome), make reservations if you can (it's getting increasingly busy thanks to more tourists and locals alike), and then just let the rest fall into place.
What to Eat in Rome 
First, a quick primer on some of Rome's local specialties. Many of us grew up eating Italian food in the U.S., but like many foods, its often been changed to suit American palates, plus the ingredients are typically fresher and less-processed in Italy. Some people with gluten sensitivities have said they can tolerate eating pizza and pasta here in Italy made with what's known as "00" flour (also called doppio zero).
So, even though lasagna may be your fave back home, first make sure you indulge in these Roman originals.
Pasta Cacio e Pepe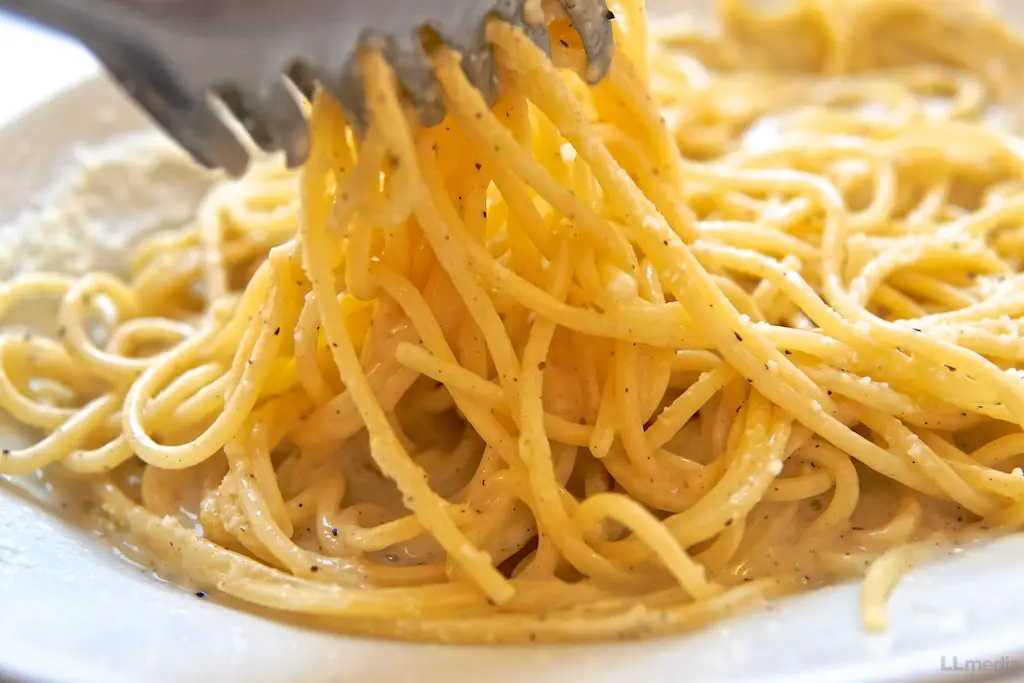 There are four main pasta dishes that are native to Rome and are often the main players of primi choices on the menus at every trattoria in Rome.
My favorite has to be pasta cacio e pepe, which translates to pasta with cheese and pepper. It's basically an adult mac n cheese, made with spaghetti, a lot of fresh, cracked black pepper, olive oil and loads of Pecorino Romano cheese. Tasty!
Pasta Carbonara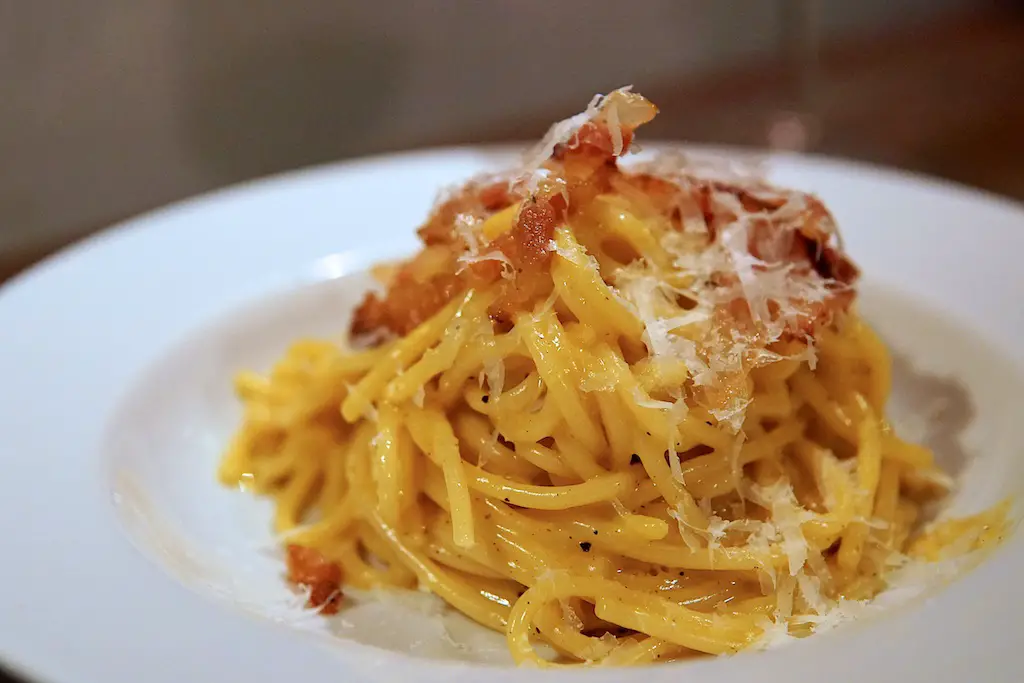 Pasta Carbonara is popular worldwide. This decadent dish is typically made with bucatini or spaghetti, an egg, guanciale (or pancentta), Pecorino Romano, and freshly cracked black pepper. It's rich and delicious.
Pasta all'amatriciana
Named for Amatrice, a town northeast of Rome, all'amatriciana is also typically made with bucatini or spaghetti. It also has guanciale, but this one adds San Marzano tomatoes, some onion and a little olive oil.
Pasta alla Gricia
The least-known (at least at tourist establishments) of these four pasta dishes, but still incorporates the main ingredients just guanciale, Pecorino Romano, and pasta!
You might be noticing that all of these dishes are slight variations of the other. Add an egg, and you've got carbonara; take away the guanciale, add more cheese, black pepper and pasta water for cacio e pepe; incorporate sliced onion and tomato for a fine amatriciana. Simple, local ingredients that you don't need to mess with!
Carciofi alla Giudia (Jewish Artichokes)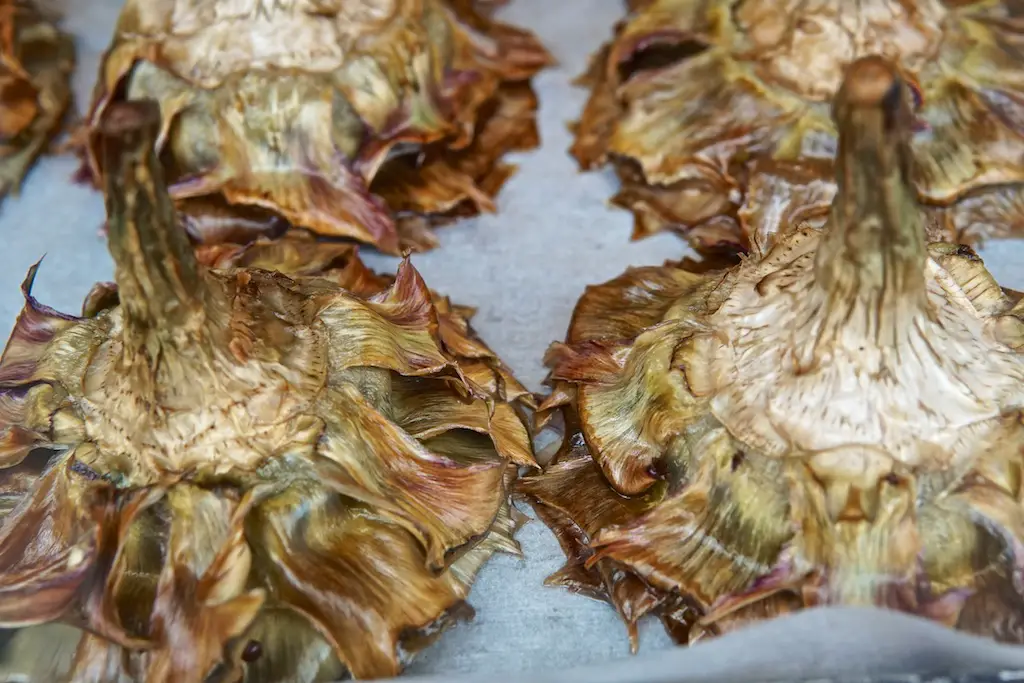 Carciofi Giudia or Jewish Artichokes are essentially deep fried artichokes, which originated in the Jewish community of Rome. These fried artichokes come out super crisp outside, tender within, and as pop-able as potato chips. It's a fun, salty snack.
Food Tour Rome
For me, traveling has increasingly become about eating my way into the culture.
Taking a food tour is a wonderful way to not only try lots of yummy local food, but also learn more about the culture, the neighborhoods and the people behind the businesses that call Rome home.
I highly recommend Eating Europe Food Tours in Rome. I'd taken their Eating London SoHo food tour a few years ago and knew it would be a great way to learn more about Roman food.
Eating Europe offers a few different Roman food tours. I loved the idea of getting out of the center a bit and getting the feel for a less touristy neighborhood of Rome. Because of this, I chose their 4-hour walking food tour of Testacchio. They say that Testaccio is the city's original foodie neighborhood where cucina Romana (Roman cuisine) was born. It's an authentic neighborhood where people live, eat and shop.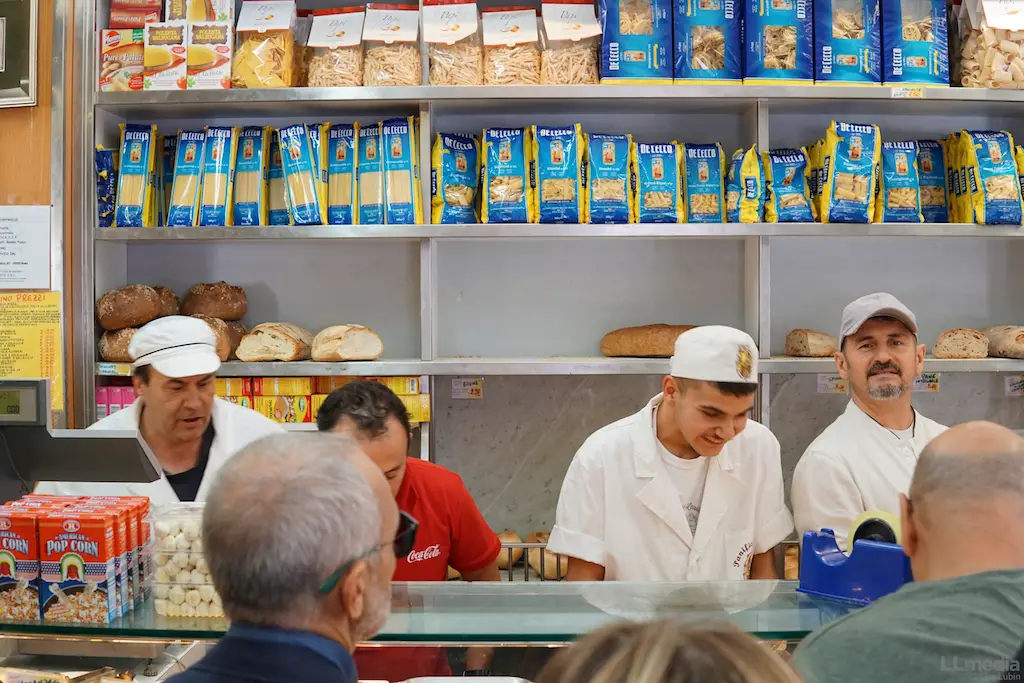 Even though Testaccio is just a few metro stops south of the center of Rome, it was vastly different – less crowds of tourists and more locals just going about their day – reading the local paper in the main square, hitting the bakery for their bread, and market vendors chatting with each other about their favorite football team, Roma.
Our guide, Domenico, was actually originally from near Philly, but had been living and working in Rome for years. He was funny and knowledgeable and our group had a great time. He was a bit of an eccentric throw-back and looked like he grew up in my era of "hairband" days, but was still ensconced in it! In fact, he plays in a band in Rome called Tram Tracks! And yes, they perform on a tram.
First, we visited a busy, family-run bakery for some bread and pizza. We sampled some fried street food like suppli and even a fried apple.
At an independent wine and cheese shop named Masto, we drank wine and tasted different cured meats like prosciutto di Parma and mortadella while getting a lesson on the traditions and production of these famous Italian products.
A highlight was going into the new Testaccio market, meeting several friendly vendors who've worked here for generations.
We sampled some of the best tomato bruschetta (once and for all, it's pronounced: broo-skeh-ta) I've had. I'm sure you've heard this before, but the tomatoes in Italy are just better. I think ours in America used to be good, but not since everything has become so mass-produced and the soil has lost so many nutrients.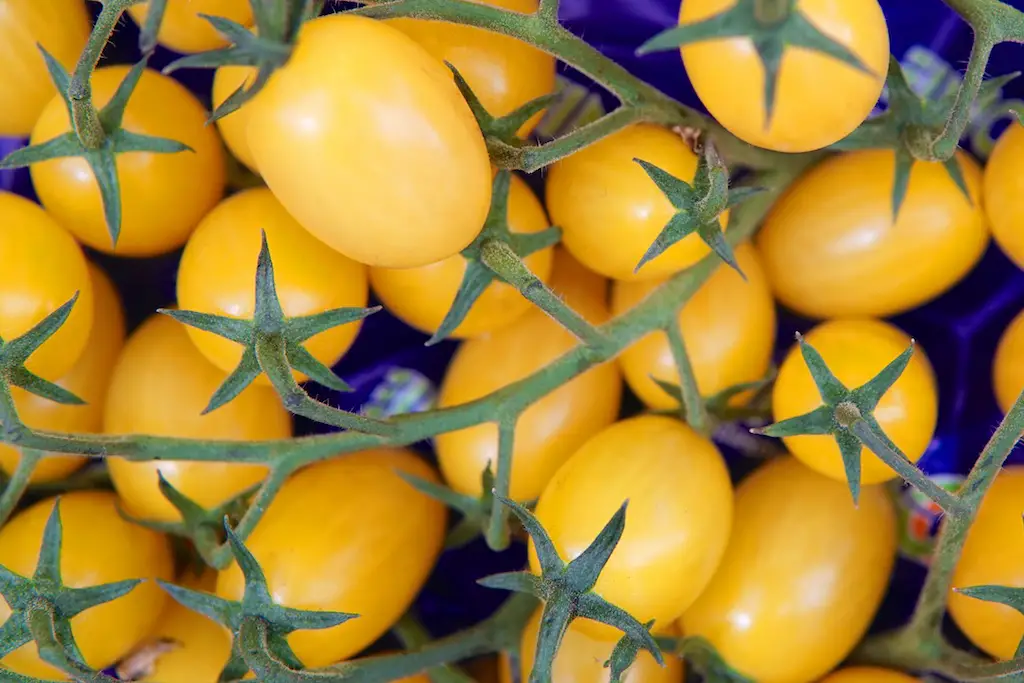 We also had a great sit-down at a nicer restaurant called Flavio Al Velavevodetto that was built into the side of Monte Testaccio, a sort of ancient garbage heap. The artificial "mountain" is almost entirely made from of testae, fragments of broken ancient Roman pottery, discarded from the time of the Roman Empire.
Here, we had wine and were able to sample three of Rome's native pasta dishes which I described above: cacio e pepe, pasta carbonara and pasta all'amatriciana.
And of course, to cap it all off, we went to Giolitti, a local gelateria. Opened in 1914, this place knows what its doing. It's not surprising that is was some of the best gelato we'd tasted on our entire trip.
Need to know:
The Eating Europe Testaccio Food Tour is currently 79€ for adults, 65€ for teens and 48€ for kids under 12.
**Use my code "LLWORLDTOUR" and get 10% off your own food tour!
Tours run Monday through Saturday. There are no tours on Sundays, Italian National Holidays and 2-3 weeks in August. Check their website for more info and available dates.
Where to Eat in Rome
This is a mix of restaurants at which we ate (and had researched from other great lists including the New York Times, Eater, Conde Nast Traveler and others).
I created this Google map for our trip and it's chock full of all the restaurants at which we wanted to eat and many we didn't get to, but were highly recommended.
Urbana 47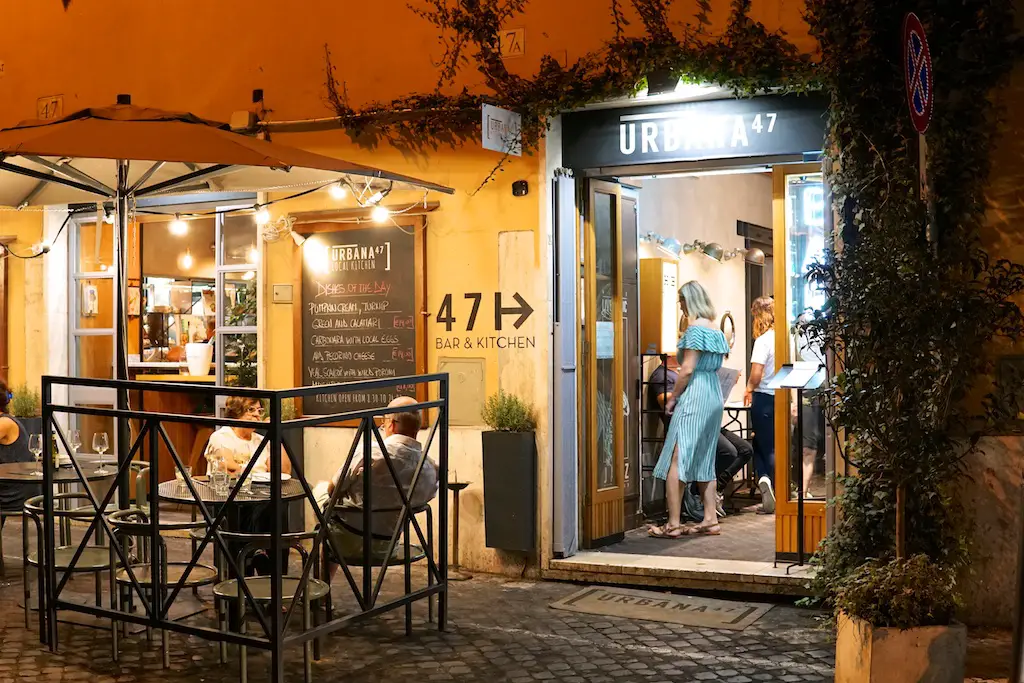 Our first evening in Rome, we went out in our neighborhood of Monti to Urbana 47. Also recommended by the NY Times, Urbana 47 is a nice little neighborhood joint known for its local, season ingredients. It exudes a slightly industrial vibe with brick walls, metal accents and concrete walls. I couldn't resist starting the trip with some pasta carbonara and the house wine.
Emma Pizzeria
Recommended to us by a local chef, Emma Pizzeria didn't disappoint. Located in near the busy Jewish Quarter, it has a seemingly never-ending menu of wood-fired pizza, panini, and pasta making it very hard to make a decision. We sat on the large, covered sidewalk patio and indoor seating. We settled on bruschetta, pizza and a stacked eggplant dish.
Salumeria Roscioli
Salumeria Roscioli is a VERY popular deli and restaurant was jam-packed when we tried to go. Without a reservation we were out of luck. It's highly recommended so plan ahead and reserve. Note that it has different seating choices including unique tables directly in front of the deli case.
Bonci Pizzararium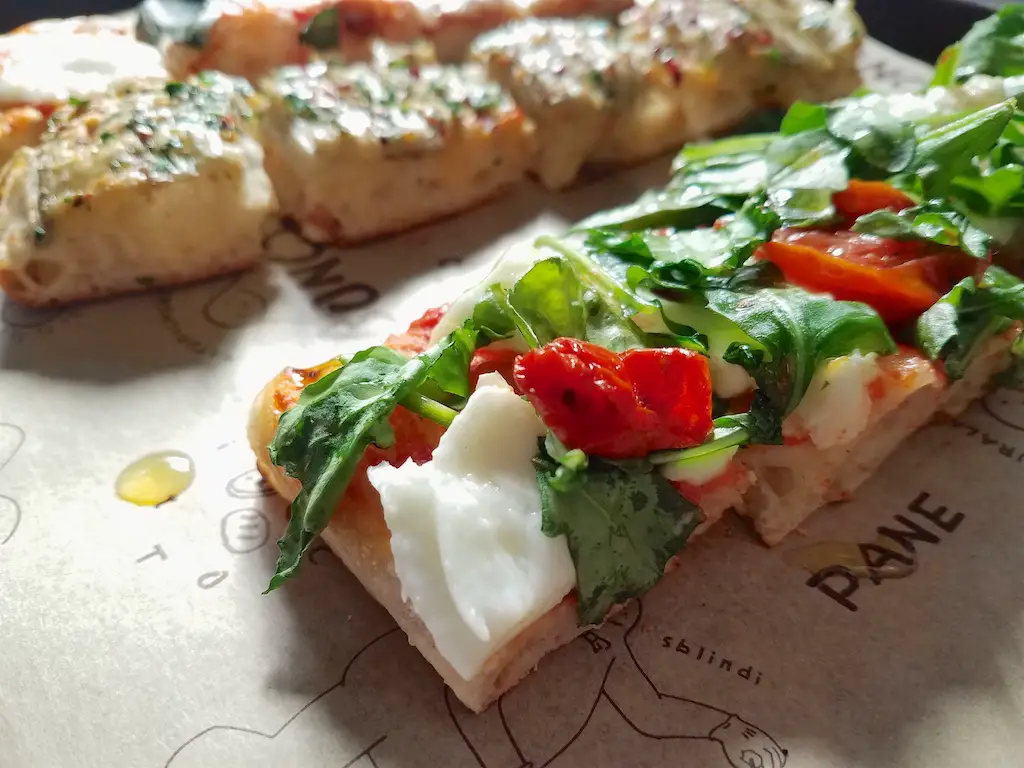 Bonci Pizzarium has become quite well known thanks to its chef/owner Gabriele Bonci, known for his fantastic dough and quality ingredients. In fact, he opened the first Bonci in the US in my hometown of Chicago, so I'd already sort of eaten there! There's more to Chicago pizza than just deep dish.
The original is just a few blocks from the Vatican. Besides pizza you can find everything here from pastries and pork to salumi and truffle dishes. We ate at the outpost at Mercato Centrale in the Termini train station.
Osteria Birra Borgo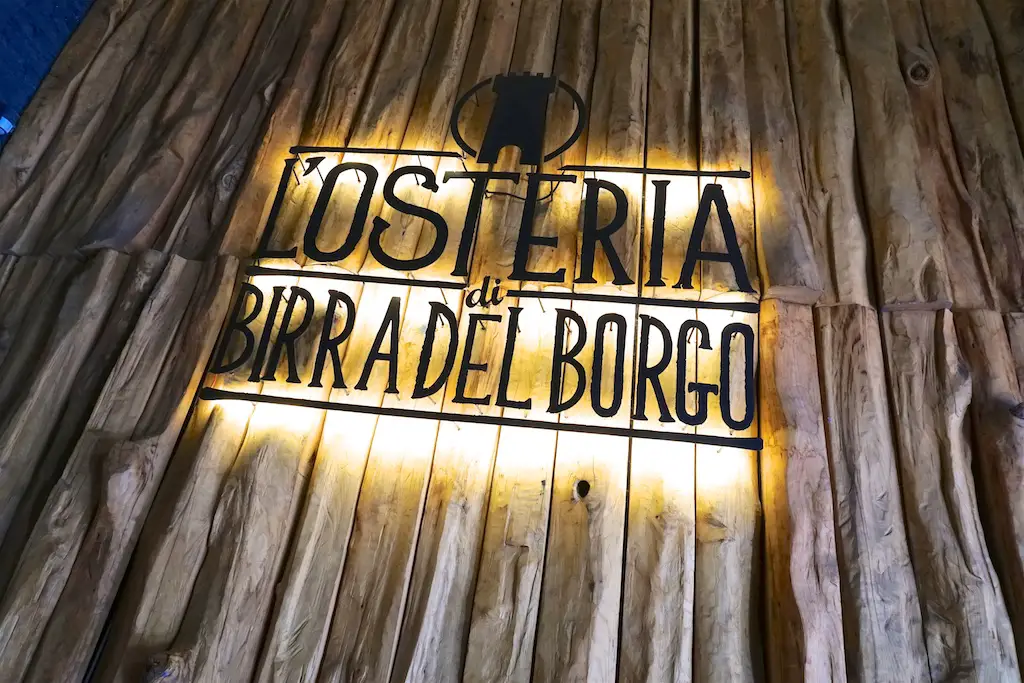 While we didn't eat at the original Bonci Pizzararium, we did try his newer brewery, Osteria Birra Borgo. Just a short walk north of the Vatican in the posh Prati neighborhood, this brewery/restaurant has a very large bar and various seating areas. It felt comfy and easy-going, yet still quite nice. It was SO hard to decide from their large menu of various pizzas, calzones and pastas.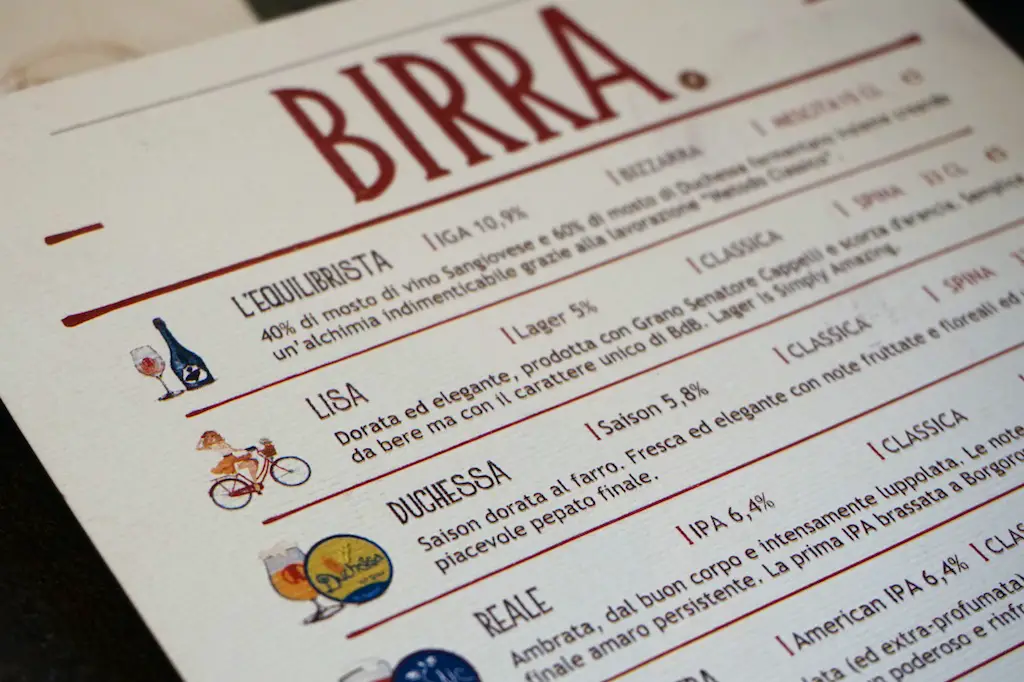 Sora Margherita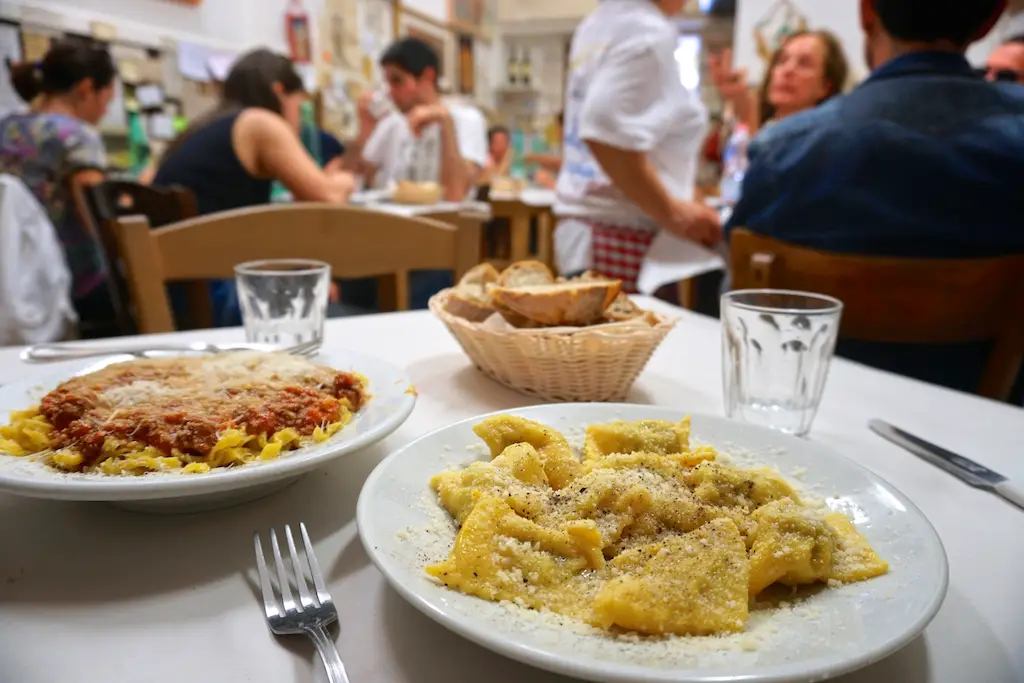 In the heart of the Jewish Ghetto area, this narrow place is as old-school as it gets with the curmudgeonly waitress and all. Affordable Sora Margherita serves up roman classics in a brightly lit, no-frills space. Tables squeezed in, photos on the walls, it felt just like grandma's.
Necci dal 1924
Located in now trendy Pignetto, this lush space is popular for its large charming outdoor patio set under big trees with twinkling lights. Necci dal 1924 is a very pretty spot for evening appertivi (a drink and some snacks). And that's exactly what we did. It felt very local – like a place I'd hang out in Chicago.
Grazie and Graciella
After strolling through Trastevere, we settled on cute Grazie and Graciella for a drink and a snack. It was here I finally tasted the carciofi Giudia and only wished it was more available at places stateside.
I asked a good friend who's lived in Rome and who's husband is from Italy for her recommendations. I can't wait to try these places next time.
Da Francesco
Piazza del Fico, 29, 00186 Roma
Very good for both Roman classics and dishes with a little seasonal innovation (carbonara with artichokes or wild asparagus). In a very pretty little piazza in the historic center that it shares with a hip bar. One of my current favorites.
L'infernotto
Via del Pigneto 31/33
Very good, creative food in Pignetto that is surprisingly affordable. There is no sign so you have to look for the street numbers.
Tanto pe' Magna'
Via Giustino de Jacobis 9, Tel: 06 5160 7422
Traditional Roman trattoria, not touristy or fancy but good, with generous portions. The main reason to go here is to stroll around Garbatella, a neighborhood in the outskirts of Rome that I love. It was designed as a place for public housing during Mussolini years and the architect who won the competition created its beautiful, unique houses that remind me of a De Chirico painting. There are quiet piazzas and duplexes that have apricot trees in their yards.
La Gourmandise
Via F. Cavallotti, 36/b. In Monteverde neighborhood.
The owner of this small place makes creatively flavors from the finest fresh ingredients. He's a gelato artist. This is my favorite but it's in a residential neighborhood that's not that interesting.
Eat WITH in Rome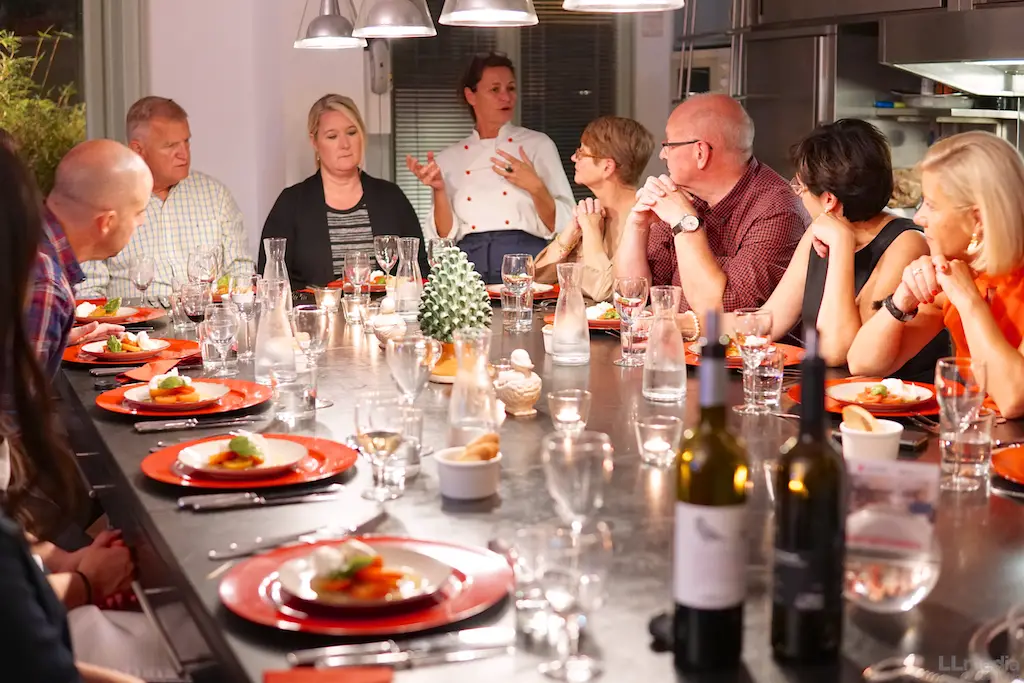 For a true home-cooked meal and unique experience, we had a meal at a local's home thanks to meal sharing site, Eat With. It's like Airbnb, but instead of sleeping over, you are just coming over for dinner. The host is a local who also likes to cook and anytime when traveling that you get to go to a local's home, it adds another layer of understanding of the place you're visiting. It's a nice way peek under the outer layer of being a tourist and get a more real feel mostly through conversation.
Our host, Debora, also known as the cuochincasa warmly welcomed us into our home. We were also joined by some other travelers from Belgium and Australia. She prepared a four – course meal of caprese, risotto, fish with eggplant, and homemade ice cream plus wine. 
**Have you tried Eatwith yet? Get €10 off your first experience (€90 minimum) with my code E2A7EBCA and discover a world of unique culinary experiences. 
Want to do more than just eat your meal? Choose one of these great cooking classes in Rome.
Food Markets in Rome
Mercato Centrale
This new gourmet food hall is conveniently located inside Termini Station. Therefore it was our first stop when we arrived into Rome from the airport and our flight. No better way to start off a visit to Rome that with some pizza al taglio (by the slice) at Bonci, an outpost of the original Bonci Pizzarium.
Eataly Rome
While I've been to the original Eataly in Turino and now in New York and Chicago, I didn't make it to the Roman Eataly. Near Testaccio, like the others, it's an emporium of delights with four floors of every Italian food imaginable. Be prepared for your visit with this thorough Eataly Rome Guide.
Nuovo Mercato di Testaccio
I mentioned this place earlier as we went through here on our food tour. It's a bright, modern open-air market with rows of produce and meats, plus places for fresh pasta, panini, and other street food snacks.  I highly recommend heading to Testaccio to walk around and then coming to the market for lunch.
Coffee in Rome
I never used to drink coffee. Rome was the first place I really had good coffee and could order an espresso (which is simply called un caffe here as it's the default coffee) and really enjoy it. Coffee is like religion here and there are some basic coffee rules you should follow. The coffee here is just about perfect…rich, creamy and not acidic or burnt. I recommend a simple caffe (do like the Romans do) or caffe macchiato (which is just an espresso with a tiny dollop of foamed milk on top to add a bit of creaminess).
**TIP: Italians don't drink milk-heavy coffees like lattes or cappuccinos after midday. Of course you can, but know this may definitely give you away as a tourist.
Panella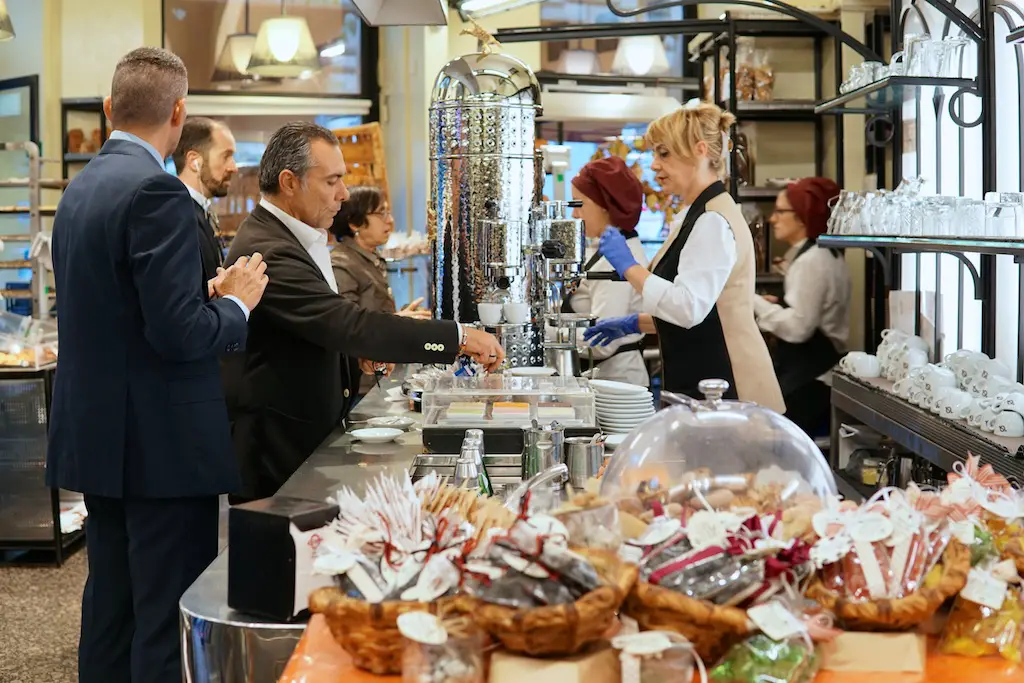 This big, Sicilian bakery in Monti is visually-pleasing with all the pastries and delicious coffee you could ask for. Pay first, then get your caffe at the bar from the huge, fancy old-school espresso machine. Grab a seat at the long communal table, or pay a bit more and get table service at the big and beautiful outdoor patio.
Caffe Sant Eustachio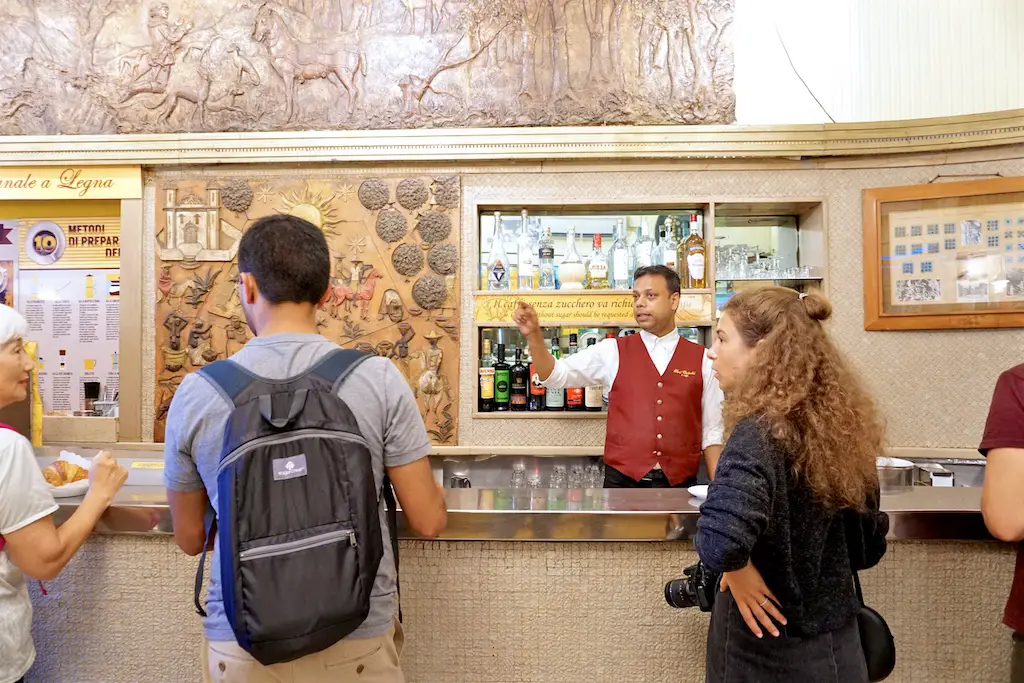 Small, old school café will have a line out the door. Note that you pay first on one side (order the gran caffe — a double espresso), and cross the room, and belly up to the coffee bar with your receipt to get your coffee.
Note: the standard espresso will have sugar (azucar) already mixed in to give it their creamy, rich signature taste. If you don't want sugar, make sure to say 'no azucar per favore'). It's delicious.
Where to Eat Gelato in Rome
Like coffee, it's hard to go wrong in Rome when it comes to gelato. Gelatarias are as ubiquitous as pizzerias or Starbucks in the States.
They say to avoid most of the over-the-top places with mounds and mounds of gelato and toppings, as these are not typically fresh ingredients. But they sure do look fun. So, try it all. I don't judge.
Fatamorgana
Known for all natural gluten-free gelato, this popular artisanal spot is good for traditional and nuovo flavors.
Neve di Latte
Said to be one of the best in Rome, this gelateria sticks to the classic flavors made from high-quality seasonal ingredients.
Gar Giolitti
Some of the best traditional gelato in Rome. Giolitti sticks to traditional flavors made with fresh ingredients.
Il Gelato di San Crispino
Near the Trevi Fountain, some say this is the best "new-school" gelato in town. They use fancy, expensive ingredients from all over the world. Trendy, gourmet and delicious!
Pin It!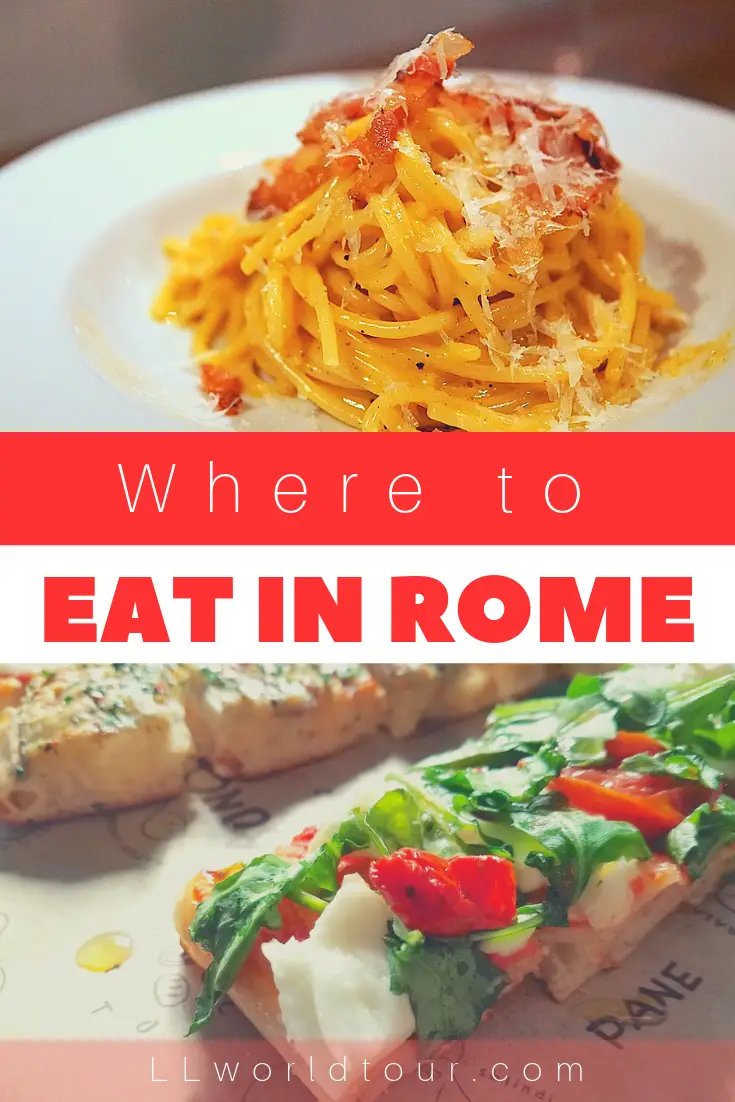 Disclosure:
During our food explorations of Rome we were hosted by Eat With as well as one ticket for the Eating Europe food tour. As always, all writing and opinions are my own.