[updated January 2022]
There are a lot of things to do in Buffalo. Here are 5 reasons to visit Buffalo — from the food and breweries to the architecture & charming neighborhoods.
I Fell in Love with Buffalo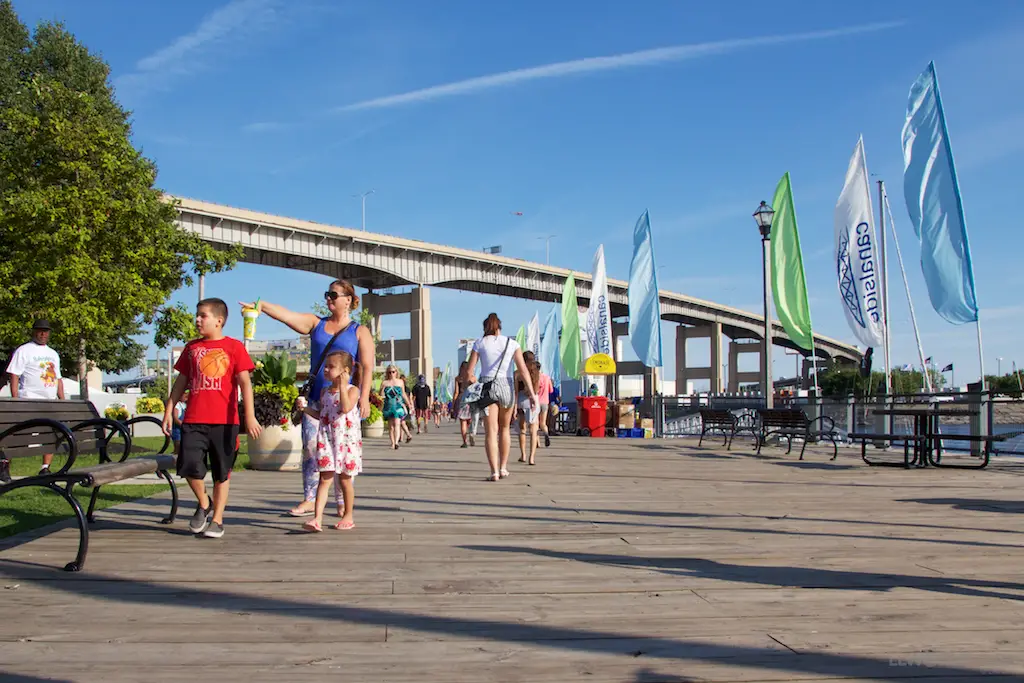 It was a Friday afternoon and folks were out strolling, smiling, and laughing. The waterfront was buzzing with life – couples walking hand in hand, families having a picnic in the grass and kids in the water in boats. The positive energy was palpable.
I was impressed, if not a bit smitten.
Welcome to Buffalo, New York!
This city in Western New York has overcome the odds of its rust belt past and is on the other side of a great tipping point. It's alive. It's thriving. And it's growing. In just three days in Buffalo, I was easily caught up in the energy I felt from the locals here. They were excited and happy to be a part of their city's rebirth.
Maybe, the friendly Midwestern vibe reminded me of Chicago (being in far western New York, they say they actually share more Midwestern values, and it shows). Maybe it was the gorgeous stock of bungalow homes with those carefully maintained craftsman touches that made me melt. Or maybe the thriving local food and beer scene hooked me (and my stomach) in.
Either way…
I fell for Buffalo.
Overall, there is a tangible feeling of pride and positivity here about the city and what's next.
So, let me break it down for you. Here's what's to love about the new Buffalo and some reasons to visit Buffalo:
Buffalo's Canalside
"Other cities are redoing their waterfronts," said Brian Hayden, the Visit Buffalo Communications Manager. "But we are redoing it AND telling our story at the same time."
The waterfront has undergone a complete transformation. For me, it felt like a great place to visit. For the folks that live here and were used to a forgotten industrial wasteland, it is wondrous!
Buffalo sits right on the east coast of Lake Erie and was the western terminus of the marvel that was the Erie Canal. This was a center of industry and commerce…until, like many other rust belt cities, trains and trucking made it irrelevant.
Today, government funding (a.k.a., the "Buffalo billion") and sheer entrepreneurial spirit and passion are changing this city. The new Canalside is a place you want to go – to meet your friends, to have a picnic after work, to get out on the water in numerous ways by water bike, by kayak, by boat. Live concerts, free yoga classes and more are offered here all year round.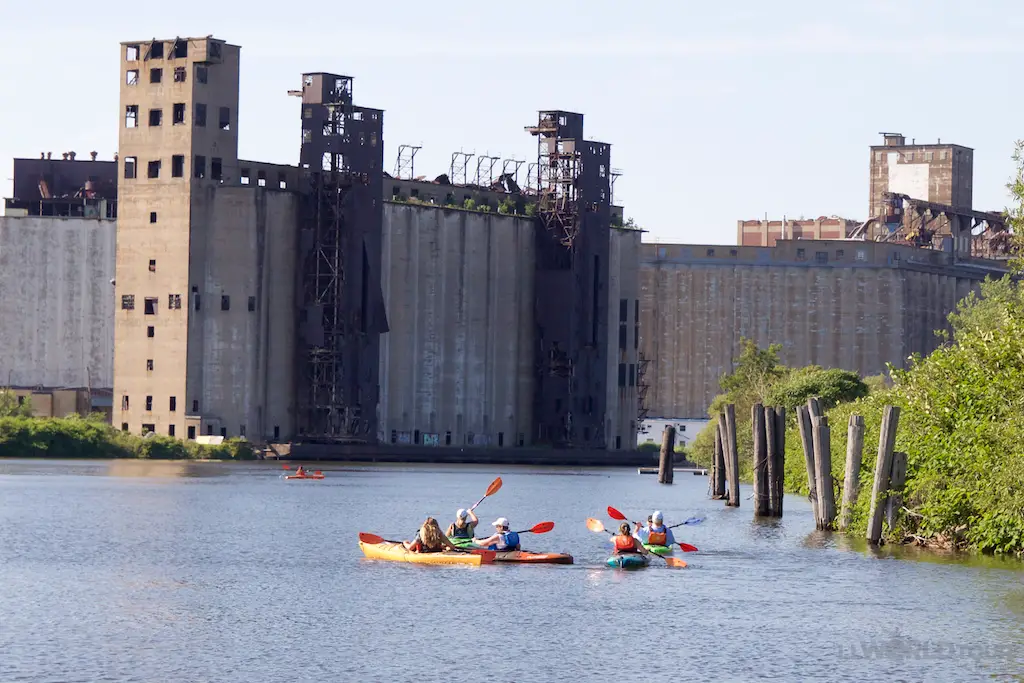 And it is Buffalo after all, so winter doesn't stop this hearty stock. When the water freezes over, there's ice-skating, rad ice bikes, and a multi-day winter festival. It almost makes me want to come back in winter. Almost.
I took an informative and fun river boat tour to learn all about the water's past, as the terminus of the Erie Canal — dug by HAND in 1825 — and a huge center for industry and commerce, and its future – former, abandoned grain silos known as Silo City (Buffalo has the largest collection in the U.S.) are being turned into breweries and event spaces. Don't forget to breathe deep if you take a ride down the river – the smell of toasty Cheerios fills the air, as it is still the home to a General Mills plant. It reminds me of the Blommer Chocolate factory in Chicago and how our city smells like chocolate – why don't our tourism boards promote these great-smelling features more?
Neighborhoods of Buffalo
I took a bike ride through some of Buffalo's lovely and livable neighborhoods just a couple miles north of downtown. The leafy enclaves are perfect for a day of cycling. One of my favorites was Elmwood Village with its parks, tree-lined streets, and that sweet small-town America vibe. I happened to be there during their famous Garden Walk weekend. This is a big deal. Buffalo has the largest garden walk in America with over 400 homes participating. It was a treat to get a glimpse into folk's peaceful and lush backyards and great outdoor spaces. And, it's free. Elmwood Village is also home to the splendid Albright-Knox Art Gallery and Shakespeare in Delaware Park.
"If you went back 15 years and told me all this would be happening in Buffalo, I'd have said 'you're crazy," said my bike partner, Ed Healy, Buffalo native and VP of Marketing for Visit Buffalo Niagara.
His feelings mirror so many others with whom I spoke. From what I was told, in the past there was an overall negativity here, almost a feeling of apathy and resignation. When young people became adults, it was a given that they would leave the city to find opportunities elsewhere.
So the fact that things have done such a 180-degree turn around is even more extraordinary to those who have lived here for decades. And a big reason so many entrepreneurs have returned as "re-pats" to launch scrappy start-ups and contribute to Buffalo's on-going rebirth.
Next, we took a spin through bohemian Allentown, full of urban murals, live music clubs and a funky, indie vibe.
"Collaboration is the new spirit here," local Seamus Gallivan told me over a beer at Hydraulic Hearth in Larkin Square.
Seamus is a community promoter and the founder of Slow Roll Buffalo.
Larkinville is a living testament to the warp-speed changes happening in New York State's 'other' big city. In just the last few years, it's gone from a wasteland of dilapidated, vacant lots and abandoned warehouses to a thriving community with new breweries, bars, and, of course, hipsters. The former Larkin Soap Company has been turned into new offices with an amazing plaza out front with a bar, stages, and lots of seating areas. Every day of the week, there's something on offer, like the very popular Food Truck Tuesdays. 
Buffalo Breweries
Not only are local craft breweries springing up like dandelions, they have even coined the term "beer oriented development" to explain how these new establishments are helping revitalize many rundown areas. I loved the sprawling beer garden at the aptly named Resurgence Brewery that, with the opening first of its neighbor, Community Beer Works, has helped spur growth in a rundown area. In the last few years, 20 breweries and distilleries have opened in Buffalo creating social "anchors" for their neighborhoods.
Food of Buffalo
Let's get this out of the way. There is SO much more to Buffalo than its eponymous chicken wings. Even the local 'fast food' was better than I expected.
Ever hear of a "beef on weck?" Neither had I until I arrived here and it became a necessary first stop. It's basically a warm roast beef sandwich on a special roll. We pulled into a place called Charlie the Butcher and not only did I meet Charlie himself, I also met one of Buffalo's top news anchors, ABC's (my former employer) Keith Radford. Well, that had to be a ringing endorsement! And it was.
I don't really eat much meat in general, but this was damn tasty. It was fresh and bright, not greasy and drenched like the Chicago "Italian Beef" sandwich. What made it great for me, was the important dash of sharp horseradish and the amazing 'weck' roll (short for German: kümmelweck) with its smattering of caraway seeds and salt on top.
Okay, now, on to the rest! Buffalo has a thriving scene of farm to table food, especially thanks to its location in upstate New York with its heaps of farms and local produce. One of the best places I ate was Buffalo Proper with a great turn-of-the-century saloon vibe, amazing cocktails, and tasty vittles. Sadly, Buffalo proper shut its doors a few years ago.
Buffalo has also caught onto the 'toast' trend and why not – they are the grain silo capital. 'Artisanal' toast spots have sprung up across the country. Seems sort of obvious or downright silly, doesn't it? But don't deny it, Americans love their toast! Buffalo's Toast Cafe and Five Points Bakery, is bringing fresh baked bread back in a sexy way with lots of great toppings and combos like the Extra Sharp Cheddar with bleu cheese, hot sauce, sour cream and a garlic pickle or you can't go wrong with homemade sourdough Ciabatta and nutella. Mmm, nutella.
If you like donuts, the local place to try is Paula's Donuts. I'm not even a big fan of donuts and damn you Paula, you reminded me that a GOOD donut is good!
Also, getting rave reviews are spots like Toutant, serving up fancy, southern-inspired food.
Buffalo's Architecture
Did you know Buffalo was the epicenter of the arts and crafts movement when it first came to America from Europe? On my next visit, I must check out the Roycroft Campus, a national historic landmark, and former artist's community that employed as many as 500 artisans focused on a philosophical approach to craftsmanship.
Another interesting fact: seven Frank Lloyd Wright masterworks were built in Buffalo.
I toured the magnificent Darwin Martin House, a unique residential complex of six buildings, built by Wright in 1903 and considered by leading Wright scholars as one of his finest achievements of the Prairie period. It's undergoing a stunning and meticulous renovation and is really a must-see.
And finally, re-opening soon will be the massive hotel formerly known as Hotel Henry. A National Historic Landmark and former "insane asylum" designed by architect Henry Hobson Richardson with grounds designed by Frederick Law Olmstead (of Central Park fame), the 140-year old complex was turned into an urban resort and conference center.
Plus go here to read about my weekend in Buffalo. 
For more of my coverage on Buffalo, check out my stories in the Chicago Tribune on the Buffalo craft beer scene and a piece focusing on Canalisde.
Have you been to Buffalo recently? What do you like about it?
Disclosure: During my visit to Buffalo I was a guest of Visit Buffalo Niagara. As always, my opinions and content are entirely my own.