I've never met another traveler who didn't love Istanbul. The city is such a blend of cultures and so rich and history, you know that the food has to be something special. Where to eat in Istanbul? From street food vendors hawking freshly caught fish, endless shops selling rotating meet on a spit, and endless tea spots, you could never try all the foods! But I certainly tried.
Check out my guide below offering advice on what to eat in Istanbul and where to find it.
What to Eat in Istanbul
Döner Kebab
When discovering what to eat in Istanbul, you there's no missing kebabs. Possibly the most common food place in Turkey is the kebab shop. Döner kebab is basically seasoned meat that's been formed into a conical shaped and cooked on a rotating vertical spit. It is pretty similar to the Greek gyro or Middle Eastern shawarma. The meat is typically lamb, but can also be beef or chicken. In Turkey, it won't be pork. It's sliced into thin shavings and is often served in a pita or a thinner tortilla-like wrap called a dürüm. It's a pretty fatty dish and not something you want to eat on the regular. But it's cheap and found on nearly every street corner in Istanbul.
Iskender Kebab
This is said to be the originator of the Turkish Kebab. İskender Efendi claims to have been the first to turn the horizontal lamb-roasting spit to a vertical position. Today, you can try their signature dish which consists of the meat served on a bed of flat bread with some tomato sauce and topped with melted butter (as if you needed more saturated fat in this meaty dish!). You can try the original at the restaurant Kebapçi Iskender, which is still owned today by family members of this kebab's creator.
Adana Kebab
This is a long cylindrical kebab made from ground lamb and spices typically cooked over wood coals. It's named after Adana, the fifth largest city in Turkey. The lamb its made from is supposed to be raised in its natural environment and fed local vegetation.
Köfte Kebab
Similar to the Adana kebab, these are sort of dense Turkish meatballs or maybe more the consistency of little sliders. Köfte can be made with minced lamb, mutton, veal or beef, or a mixture of some of those with herbs, often including parsley and mint and cooked pretty well done.
Fish Sandwich
Walk anywhere near the Bosporus and you can't miss all the street stalls selling balık ekmek, basically a grilled fish sandwich. It's made with whitefish, some raw onion, and possibly lettuce on a white bun. For the freshest, head to the Karaköy fish market and avoid all the fish places on and around Galata Bridge. Just watch out for the little bones!
Check out my video for what to eat in Istanbul!
Turkish Mezze
Mezze is the overall term for Turkish starters or small dishes to share. They can be appetizers or just end up being the whole meal. There are hot ones and cold ones. Some examples of mezze dishes: feta, eggplant salad, cajik (chopped cucumbers with yogurt, garlic and herbs), mussels with herbs and rice, dolma (stuffed grapes leaves), purslane salad, marinated sweet peppers, sardines in oil, and octopus.
Çay /Tea
Turkey is one of the highest per capita tea consumers in the world. It's near impossible to be in Turkey and not be offered some çay (chai). It's a very important part of Turkish culture and is nearly always served in a small glass on a saucer with a cube of sugar on the side.
From rug stores in Sultanahmet to the spice bazaar in Eminönü to your hotel, you will be offered a small glass of tea multiple times a day. It's a chance to sit down and possibly get to chat with some locals. Take it.
Read More: Explore the Neighborhoods of Istanbul
Ayran
This Turkish yogurt drink is simply made with yogurt, water, and salt. It can be refreshing on a warm day or with a spicy meal. There are similar yogurt drinks throughout the middle east and beyond.
Turkish Breakfast
The traditional Turkish breakfast is a heap of small dishes with lots of yummy treats like olives, tomatoes, cheese, honey, homemade jams, Nutella or findik a more natural Turkish hazelnut spread, some sliced meats, fresh squeezed juice and Turkish coffee or tea of course.
Simit
In most areas, you may here a guy with a cart calling out "Simit!" It's one of my memories from living here back in 2007. It's basically like a Turkish sesame seed bagel, except it's thinner and more like the size of a German pretzel. It's a cheap and easy snack to eat on the go.
Mussels
There are street food carts or little storefronts selling these all over town. You will typically find mussels with lemon, but also stuffed with chili and herbs.
Kokoreç
If you are feeling adventurous, try this street food snack. You'll be able to identify it by a rotating spit of meat that seems to be wrapped with another rope-like meat. This is lamb or goat intestines typically wrapped around sweetbreads (thymus gland) grilled over a charcoal fire. The meat is then chopped up, mixed with oregano and other spices, and served on crusty bread. Although more seasonal, you'll see these street carts much of the year.
Lahmacun
Lahmacun is a round thin crust dough topped with minced meat, diced vegetables and herbs. It's sometimes referred to as a Turkish pizza although there is no cheese and it's wafer thin. You typically take a slice and roll in up in your hands to eat.
Pide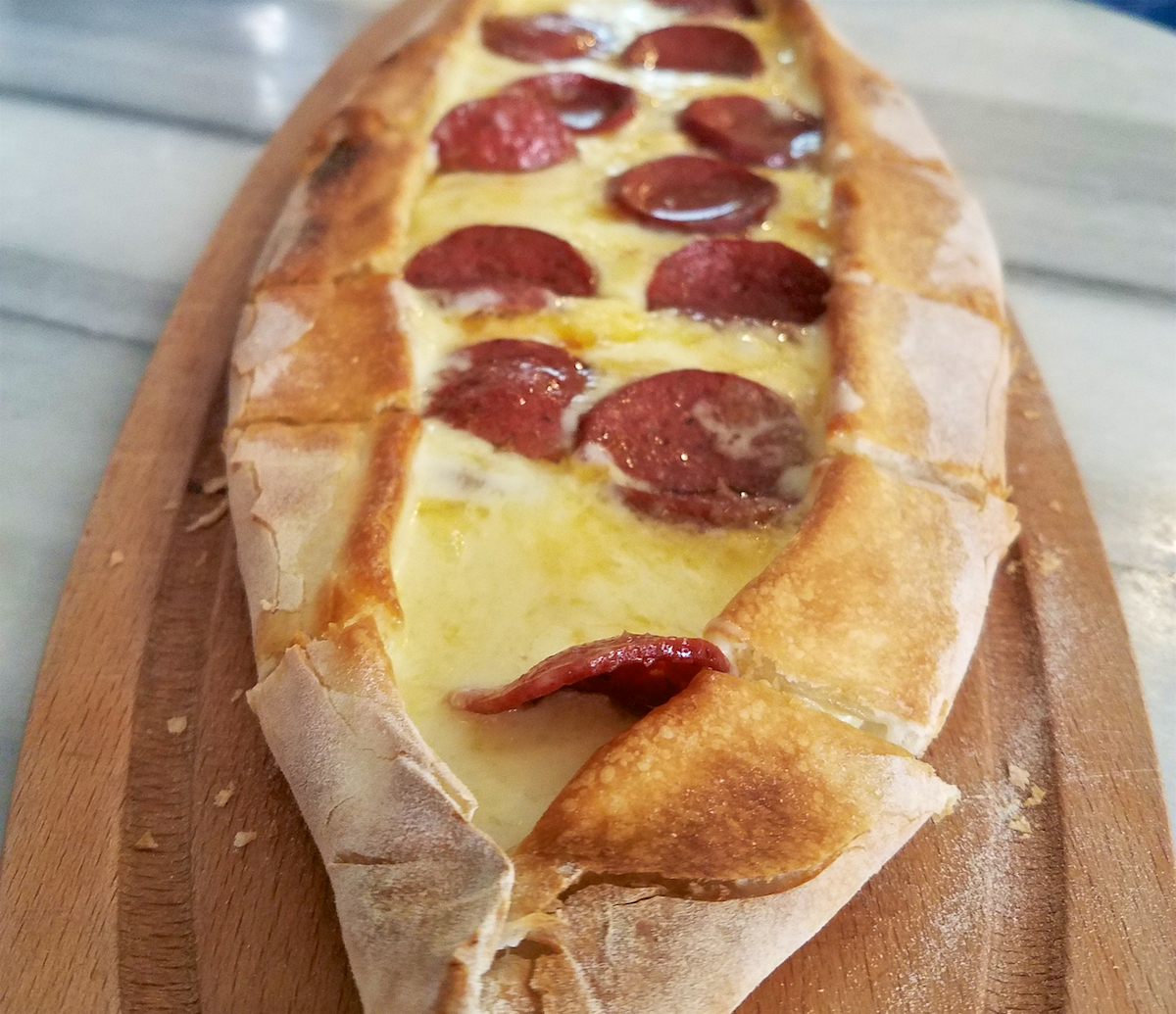 Also sometimes called Turkish pizza, this is a flat bread topped with cheese and often some beef or veggies. Unlike lahmacun, the dough is more pizza-like but it is more boat shaped vs. round.
Börek
Börek is a savory baked pastry made with phyllo dough. Similar varieties are found all over the Balkans, the South Caucasus Middle East, and other countries in Eastern Europe. Most commonly it's filled with feta cheese.
Manti
This is the Turkish pasta. Many call it Turkish ravioli, but I believe it's a bit more the size of tortellini. The little pillows of dough are filled with ground beef or lamp and it typically comes dressed in a yogurt sauce.
Roasted Chestnuts
The Kestane kebab or roasted chestnut carts can be found all over but a majority in the areas of Taksim and Sultanahmet. You can smell the smoked nuts around the corner. It's a great little snack on a chilly day.
Take an Istanbul Food Tour
One of the best ways to learn about what to eat in Istanbul is to take a food tour. I was able to try many of the foods above on my tour with Istanbul on Food. Their Istanbul on Two Continents Food Tour, runs about seven hours! But with a leisurely pace and lots of good info in between bites, it didn't feel too long or rushed. Not only do you get to try all the yummy food, it's a great way to get to know some of the best neighborhoods of Istanbul.
We met our tour leader, Ayse at a coffee bar in Eminonu and started on the European side. We started with a walk through the spice market (nice and uncrowded this early) and then a traditional Turkish breakfast with various fresh foods that Ayse picked up at the market and along the way. We dipped simit into hazelnut spread, nibbled on delicious fresh cheeses, and sampled some wonderful different olives. I loved the flavor of some lightly grilled olives – a brand new taste for me!
After we already were quite full, we hopped the ferry to Kadiköy on the Asian side and continued strolling the lanes in and around Moda sampling everything from the Kokoreç and lamacan to manti and baklava.
Our guide taught us all about the culture and the neighborhoods all along the way, while taking us to some of the best places to eat in Istanbul, some of which are mentioned below.
Where to Eat in Istanbul
Here are my picks on where to eat in Istanbul. I researched reviews and articles before my trip, got recommendations from some fellow travel bloggers (below), and also ate at many of these myself during my food tour or other time in Istanbul. So without further ado, check out some of the best places to eat in Istanbul.
Çiya Sofrası
Address: Caferağa Mahallesi, Güneşli Bahçe Sk. No:43 34710 Kadıköy, İstanbul
Take the ferry to the Asian side of Istanbul for a true taste of Anatolia. The restaurant acts as a memorial kitchen, serving the forgotten dishes of what celebrated chef-owner Musa Dağdeviren calls "peasant food." The food at Çiya is bold and vibrant, They offer salads and mezzes, plus seasonal stews, and rich lamb kebabs cooked on charcoal.
Limonlu Bahçe
Address: Yeni carsi caddesi No:98

,

Taksim

, 

Istanbul
When deciding where to eat in Istanbul, I'm so glad I found this place. I loved the peaceful setting here! Step into the front door and down a flight of stairs into the magical hidden garden of  Limonlu Bahçe. The outside area is lush with trees and greenery. It's a beautiful respite from the busy city. Plus their food is delicious. You can order traditional Turkish mezze, manti, kofte kebab and pide. Plus salads and other veggie dishes.
Kafe Ara
Address: Tomtom Mah. Tosbaga Sok. No: 2,

Galatasaray, Beyoglu

, 

Istanbul
At the age of 90, Ara Guler recently passed away. He was known as THE photographer of Istanbul. For decades he captured the life and spirit of the city. Kafe Ara is named after him and houses a gallery of his work near Galatasaray High School.
It's a cozy space down a narrow lane just a few steps away from Istiklal Caddesi. It has a big outdoor patio and charming inside dining room. The menu offers Turkish cuisine with a fresh twist. From a salad of zucchini and black eyed peas and fish to steak and fries to "Balkan" style meatballs, the food is tasty and satisfying. Locals and expats knows this play well but tourists usually miss it.
Forno Balat
Address: Fener Kireçhane Sk. No:13/A, 34087 Fatih, İstanbul
Since I stayed in Fener-Balat, I was able to eat at a couple restaurants located right near my room. Forno Balat is well known for its oven-fired pide, Italian pizzas and lahmacan. I enjoyed the traditional pide in a very cute, fresh atmosphere. The place is pretty small, so be prepared to wait or try to come at off times.
Balatkapı Cafe ve Restaurant
Address: Balat, Yıldırım Cd. 61/A, 34087 Fatih, İstanbul
This is the first place I came to in Balat. The owner, a former journalist, is welcoming and warm.  This little, modern coffee shop does much more than coffee though. Enjoy Balatkapi's Turkish breakfast, kofte kebabs, manti or even just a burger.
Mesopotamiam Terrace Restaurant
Address: Akbiyik Cd, Kutlugun Sk. No.23, Sultanahmet, Istanbul 
When you're down in Sultanahmet touring around the Hagia Sofia and the Blue Mosque, don't miss the smaller lanes behind (east of) that area. Some tiny streets have old wooden Ottoman homes. Walk down and around the Four Seasons Hotel (housed inside a former prison) to find a touristy yet charming district of little shops and restaurants. I stayed down here on my first trip to Istanbul. It's where I met Murat Bor who owns Artemis Rug Store. He recently opened the newer Mesopotamiam Terrace Restaurant (yep, he spells it with an M). Be sure to go for the traditional Turkish breakfast (or lunch or dinner) and take in some of the best views around for his rooftop terrace, one of the highest in the area.
The staff are incredibly friendly and his brother is the chef. If you stop by, ask for Murat and be sure to tell him that Lisa from Chicago sent you. 🙂
Dem Moda
Address: Caferağa, Şair Nefi Sk. 9/A, 34710 Kadıköy, İstanbul
Need a cute place to get off your feet and sip a tea or coffee? Dem Moda is located on a side street in Moda on the Asian side. It has a menu of dozens of varieties of teas. And some pretty decadent cakes. Plus it has a cute, leafy outdoor patio where you can watch the world go by.
Since there was no way I could eat at every restaurant on my list in one week, I reached out to some of my well-traveled travel blogger colleagues to get their picks for their favorite restaurants in Istanbul.
Hamdi
Address: Rüstem Paşa Mah Tahmis Caddesi, Kalçin Sk. No:11 ·
by Talek Nantes of travelswithtalek.com
Hamdi Restaurant sits right near the shores of the Bosporus Strait separating Europe from Asia. It's near many of Istanbul's main sights like the spice market and all the ferry boats.  The restaurant has been at that location from its beginnings in the 1960s as a kebab stand to the internationally acclaimed fine dining establishment it is today.
The food at Hamdi is, as they say, to die for; ample mezze groaning with hummus, babaganoush and steaming breads to start followed by mouth-watering kebabs. As good as the main dishes are, it is the desserts that steal the show featuring flaky baklavas dripping with honey. You would think that tasty dishes like these would be expensive. Not so! Hamdi is very reasonably priced for what it offers.
But there is more!  Hamdi's real claim to fame is its view. Sit at its highest level so you can see Galata Tower in the distance and the docks right in front of you. To the right of the restaurant is one of the most beautiful mosques on earth.  To see this at dusk with the dark blue sky as a background to the mosque's minarets is truly a memorable sight.
Blue House Istanbul Hotel
by Margarita Steinhardt of The Wildlife Diaries
Address: Cankurtaran, Dalbastı Sk. No: 14
If you would like to have a meal with a view, and in a city as magnificent as Istanbul it would be a shame not to, then head to the rooftop terrace at the Blue House Istanbul Hotel. I discovered the Blue House while looking for the best vantage point to see both: Hagia Sophia and the Blue Mosque. And as soon as I stepped onto the terrace I knew I came to the right place.
Situated in the heart of ancient Constantinople and the modern day district of Sultanahmet, the Blue House Hotel's Terrace Restaurant enjoys almost 360-degree views of the old city and the Bosporus. For complete cultural immersion, time you dinner to coincide with Muezzin call to prayer and order a traditional Ottoman meal – like a whole grilled fish. The waiter will skillfully de-bone the fish in front of you.
If you don't fancy the fish, there are many other gourmet options on the menu, including steak, seafood and international pasta. The restaurant is open for both: lunch and dinner, however, dinnertime offers a more picturesque setting. As the sun begins to set behind the Blue Mosque, it casts a warm golden light on Hagia Sophia and paints the sky red behind the pencil-sharp minarets of the mosque, creating one of the most romantic scenes in Istanbul.
Hayvore
Address: Kuloğlu, Turnacıbaşı Sok. No:4, 34433 Beyoğlu, İstanbul
Recommended by Aaron Chin of Aaron Gone Travel
It's not all about kebabs and baklavas in Turkey. Turkey is a huge country and regional cuisines are elaborate. The cuisine from the west (Istanbul) is completely different from the east (Gaziantep).
The regional cuisine that I love the most is from the Black Sea region of Turkey. Fortunate enough, there is a scrumptious restaurant called Hayvore that is centrally located in Taksim. It features authentic dishes from the Black Sea region – well-loved by my Turkish friend who is originally from there.
The restaurant lays out all the dishes at the bar, so you can just point to everything that looks appetizing – which can much be everything. Some of the dishes below require more preparation so it won't be displayed. I'll tell you which ones they are so you can just tell the staff to get you a portion.
Fish and cheese are both heavily represented in such cuisine. Get a hamsili pilaf (not shown at the bar) a starter with top-notch anchovies covering fluffy pilaf, and a kaygana, which is a zucchini fritter/omelette with small chunks of anchovies. Unlike western cultures, the kale here is not oven-baked to crispiness. Instead, it is a soupy dish topped with chickpeas.
If you love cheese (I mean who doesn't), get muhlama, which is the Turkish version of cheese fondue! Muhlama is not displayed at the bar so you have to order it separately. Mixed with just enough cornmeal, the texture becomes incredibly soft without being too sticky – it will be the highlight of your meal!
Finally, order a laz böreği! It's a filo pastry with semolina custard. Being super crispy on the outside and melty in the inside, it won't be enough to have just one!
Van Kahvalti Evi
Address: Kılıçali Paşa, Defterdar Ykş. 52/A, 34425 Beyoğlu, İstanbul
Recommended by Kate Storm from Our Escape Clause
With its enormous spread of breads, jams, honeys, eggs, cheeses, olives, and more, there's no doubt that a Turkish breakfast is an absolutely unmissable part of exploring what to eat in Istanbul–and there's nowhere we prefer to devour one than Van Kahvalti Evi.
Tucked into Istanbul's trendy Cihangir neighborhood, Van Kahvalti Evi never fails to deliver delicious breakfasts at extremely competitive prices — and they do it all day long! While most restaurants in Istanbul stop serving breakfast after the morning passes, Van Kahvalti Evi specializes in Turkish breakfast and serves every day from 8:00 AM until 5:00 PM.
The food is delicious and always served incredibly quickly and with impeccable presentation. Customer service is consistently excellent, as well, with a staff that is always attentive, helpful, and incredibly prompt with fresh deliveries of their unlimited Turkish tea.
The combination of tasty food, great service, and competitive prices keeps us coming back again and again — we've lost track of how much we've eaten at Van Kahvalti Evi, but it's definitely well over a dozen times.
Van Kahvalti is also in a fabulous location for people exploring the best things to do in Istanbul: located less than a 15-minute walk from Taksim Square, you can walk most of the way there from Taksim along the famous shopping street of Istiklal Caddesi.
Cafe Privato
Address: Şahkulu, Tımarcı Sk. No: 3, 34421 Beyoğlu/İstanbul, Turkey
Recommended by Allison Green from Sofia Adventures
What's better than eating with a view of the Galata Tower, one of our favorite Istanbul neighborhoods? Turkish breakfast with Galata views, of course!
While it's practically impossible to have a bad meal in Istanbul, Cafe Privato is the kind of place I find myself returning to again and again. I love being able to bring friends here during their first trips to the city, so they can taste just how special the village breakfast truly is!
Complete with all the traditional Turkish breakfast accoutrements, one thing I appreciate about breakfast here is the cozy atmosphere and the emphasis on rural Turkish traditions. Plus the homemade jams are to die for (and they're also for sale if you're looking for a gift for someone back home).
Another highlight for me is the ajvar, a dish you can find all over the Balkans. If you've never tried it before, you're in for a real delight! The cost of the breakfast is around 70 lira, around $12 USD.
For dinner, their menu features a mix of Turkish and Georgian cuisine, perfect for anyone who's over-indulged in hummus or kebab and needs to mix it up a bit.
While here, take the opportunity to brush up on your Galata history, since the story of the historic tower is written right up on their menu! I also love the historic photos of the neighborhood. It's hard to believe this bustling section of Istanbul could ever have been so provincial!
➙ Need a place to stay? Use my airbnb link for $15-25 off your first stay!
⇊ Pin it for Later! ⇊
Disclosure: I was a guest of the Istanbul on Food tour. As always all writing and opinions are my own. This post contains some affiliate links. I make a small commission if your purchase through those links at no additional cost to you.