When it comes to must-dos on a trip to Switzerland, there are so many things to put on your list. Sure, you can throw yourself off a perfectly good cliff in Interlaken, or even take an insanely steep train to the top of a mountain. But there is one thing you should never forget to do in this land of stunning views, and that is over-indulge in some sweet chocolatey chocolates in Switzerland!
Chocolates in Switzerland
There are so many tasty ways to experience Swiss chocolates, and in this post I am going to give you some of the best, and most convenient options.
From tasty treats or rich hot chocolate, to a little luxury to end your unforgettable trip. So, without further ado, let's get your Swiss chocolate fix sorted!
Try The Big Brands
There are a few brands of Switzerland chocolates that you can find in almost any city. And no, I am not just talking about the supermarket, these brands have opened their own stores where you can indulge in your lust for cacao for hours on end.
Lindt
Perhaps one of the most famous chocolate makers of all, Lindt has done a wonderful job of marketing and selling their chocolates all over the world. You may know them for their delectable, melt in your mouth Lindt balls, or even their chocolate rabbits that take over supermarkets at Easter. So, why not indulge in a little more Lindt while you are Switzerland. You know you want to!
Although they are primarily a manufacturer, and are more easily found on the shelves of Swiss supermarkets, they also have a few small shops around Switzerland where you can grab your fix of Lindt. There are even some in the airport, where you can create your own mix of Lindt balls or grab some of their homemade specialities.
Sprüngli
With a history going as far back as 1836, you know Sprüngli are not going to disappoint. Although they originally started as a chocolatier, and certainly still do produce stunning pralines and truffles, Sprüngli are now more famous for their macaroons – known locally as Luxemburgerli. They are a definite must try if you stop by while in Switzerland, even if you buy just a few.
Of course, don't let me stop you from trying their chocolates or even their cakes once you step inside their doors, because no matter what you eat here, you will leave with a smile on your face.
Läderach
Not a name you probably know outside of Switzerland, Läderach are slowly but surely taking over the country. They actually hail from a small town outside of Zurich, but have been on a mission of late to open stores absolutely everywhere.
And if you happen to pop by one of their stores, which are by now all over Switzerland you will be spoiled for choice. They have huge blocks you can take a chunk off, or boxes of pralines you can try not to eat in one go. And, if you are in Zurich, they also have workshops, which I recommend you book in advance.
Niche Producers of Swiss Chocolates
There are also a whole swathe of niche chocolatiers in Switzerland. Too many to list here in fact. However, below are a few of the best you might have a chance to visit while in one of the bigger cities in Switzerland.
Cafe Schober, Zurich
Starting with something a little different, Cafe Schober in Zurich is renowned for their homemade hot chocolate. It might seem like a travesty to pay so much for a mug of simple hot chocolate, but this place has earned itself a reputation for a reason. And when you combine that with some old-world, majestic decor, you almost can't go wrong.
Du Rhône Chocolatier, Geneva
One of the oldest chocolatiers in Switzerland, having opened their doors way back in 1875, Du Rhone is worth visiting if you find yourself in Geneva. They produce everything from pralines to truffles, of course, but their are most well known for their Mendiants Taler with nuts and dried fruits, and their almond brittle.
Max Chocolatier, Lucerne
A more recent entrant in the race for chocolate dominance in Switzerland, Max Chocolatier in Lucerne is definitely giving the rest a run for their money. Only having started in 2009, they are focused on top-quality, specifically sourced cacao and  seasonal produce. Perhaps it is a sign of the times, but they have definitely embraced all things modern in chocolate production.
Visit The Best Swiss Chocolate Factories
Some people prefer to go straight to the source when it comes to chocolate, so perhaps a factory tour is more your cup of cacao.
It's possible to pop by the Lindt factory in the suburbs of Zurich (Kilchberg to be exact) but don't expect a tour. They have not been allowing people inside the factory for a while now, maybe to protect their trade secrets? Instead, you can fill a spare suitcase full of Lindt goodness at their factory outlet on site, or, take part in one of their chocolate workshops nearby.
If a true factory tour is what you are after, there are a few other options:
Läderach has chocolate tours at their factory in Bilten, which is a one hour train ride from Zurich's main station.
Visit the Cailler Chocolate Factory in Broc, which makes a great day trip if combined with Gruyere.
On the way to Basel is the Frey chocolate factory in Buchs, which is also an option.
Indulge In A Chocolate Massage
By now, you will have ingested more chocolate that is healthy, seen how it is made, and perhaps, even made some yourself in a workshop. Which brings us to your final stop on this Swiss chocolate tour – the chocolate massage.
You may have already heard of the benefits of high quality cacao — the anti-oxidants and so forth. But have you considered applying those benefits to your body externally?
Many a spa in Switzerland will be more than happy to indulge in this somewhat mad way of using chocolate. But when in Rome….right?
Here are a few places that offer chocolate massages you can try if you are in the neighborhood:
After The Rain – Geneva
Kids Chocolate massage – Grand Resort in Bad Ragaz
Signina Hotel – Flims Laax
Les Bains de Saillon – Saillon
Or, if a chocolate-rich massage is not up your alley, you should at the very least get yourself a massage with a view at one of Switzerland's top spas or wellness hotels. There was never a better way to end a trip to Switzerland than with your feet up!
Pin it for later!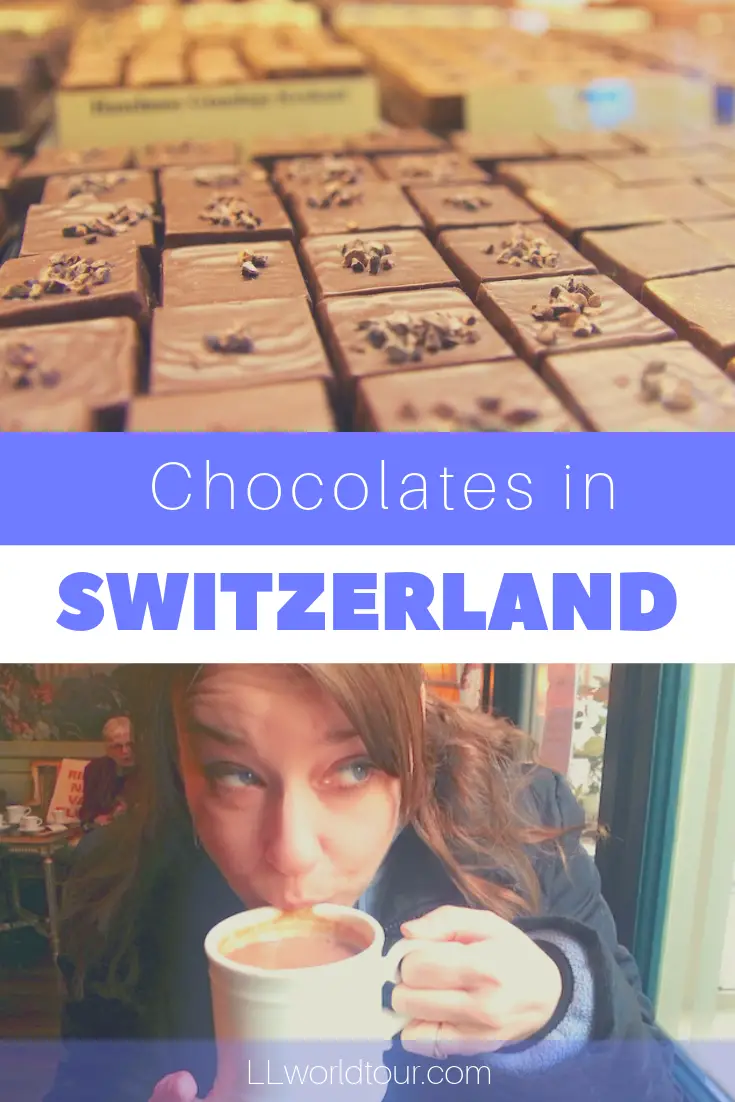 Author bio:
Anna was born to travel the world having studied languages all her life. Although she has traveled the world, she now calls Switzerland home and spends her time writing about her experiences on her travel blog with her husband.