Have you tried Chowder, Fricot, Rappie Pie, Dulse, Quahogs, or Solomon Gundy? Learn more here about unique Nova Scotia food!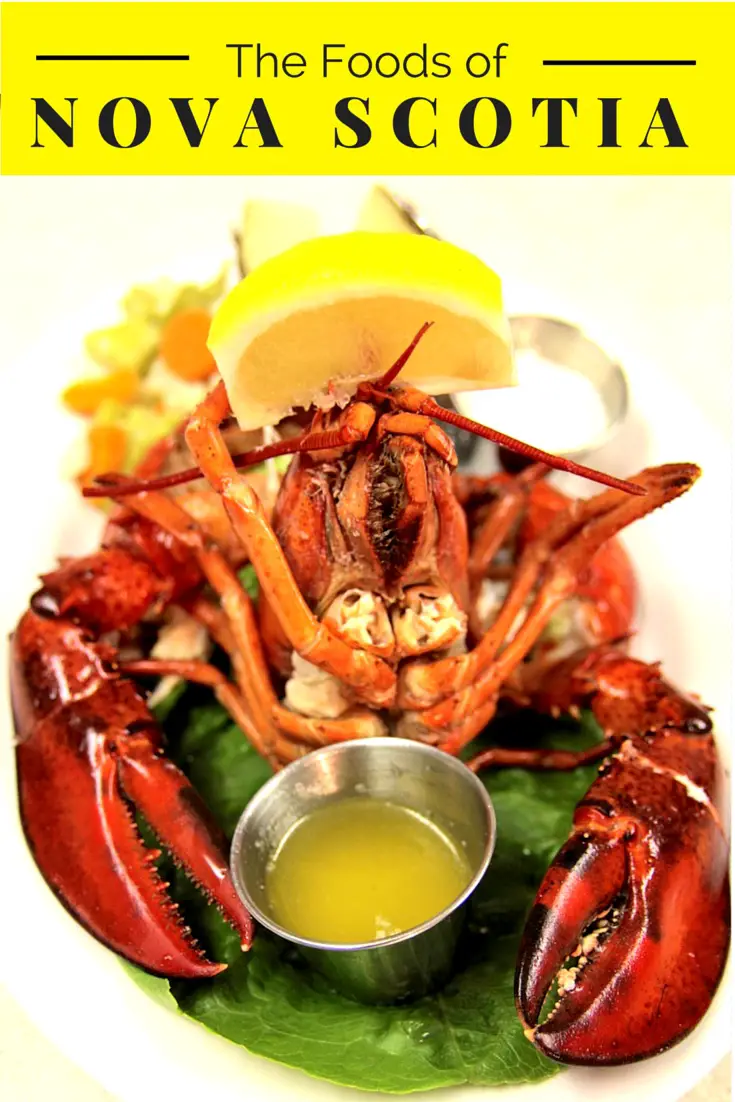 Like all places, Nova Scotia, Canada has its indigenous or local foods, many I'd never even heard of before, let alone was able to spell. As I often tend to do, I found myself eating my way through this tiny province with no shortage of tasty morsels and fresh foods at every turn. Here are some of the local dishes I discovered beyond lobster and oysters.
Nova Scotia Food
Rappie Pie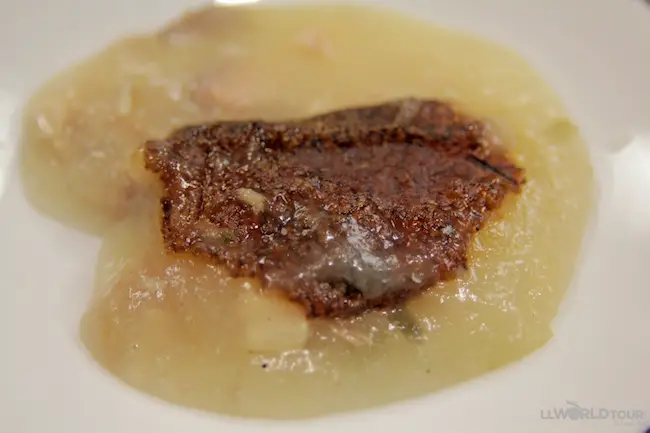 This traditional Acadian dish is not really pie at all. Nova Scotia's Rappie pie, or Rapûre, was described to me by a local (I repeat: described TO me) as a "glue-like" casserole made from potatoes and chicken broth. Suffice it to say, the descriptor is quite accurate, leaving not much more to say than that. Potatoes and glue – dropping into my stomach like an adobe brick – not the most flavorful, and not really an attractive dish, but most likely filling on a cold, wet winter day.  It's often topped with molasses or butter. Are you familiar with rappie pie? Please share what might be a tastier recipe!
Fricot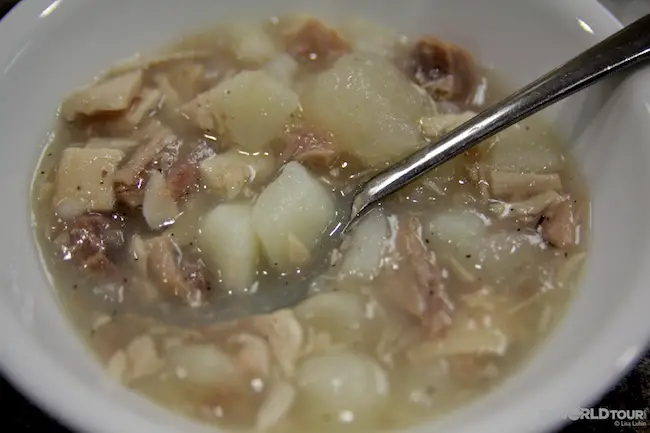 Now I was seeing some shared traits to Nova Scotia cuisine. Here we have basically the same ingredients as rappie pie, but this is not allowed to gel or congeal into its cousin's gluey state. Rather, it remains more of a thick chicken stew. The flavor reminds me of something grandma would give you if you were sick, but with the consistency of gumbo.
Quahogs
Quahogs, or hard-shell clams, are shellfish that live in mud flats along the eastern seaboard from Canada to Florida. The name comes from the Indian name "poquauhock," meaning horse fish. In fish markets, there are specialty names for different sizes of this species of clam like littlenecks, topnecks, cherrystones, and the largest being called quahogs or chowder clams. We even tried a quahog burger from Nova Scotia's Roadside Grill. That was pretty good!
Solomon Gundy
We couldn't find the exact origins of the name Solomon Gundy – whether it is Jamaican or from an old British term or both. But I actually ate Solomon Gundy growing up in the northeast of the U.S., but we simply called it pickled herring. I couldn't find much of a difference in the pickling juice, onions, and smoked herring as it is found here in Nova Scotia compared to how it would be at a deli on Manhattan's lower east side.  It has a strong taste and, as a kid, I didn't like it at all. Of course, like most things, it's grown on me and now I find herring, I mean Solomon Gundy, quite tasty!
Chowder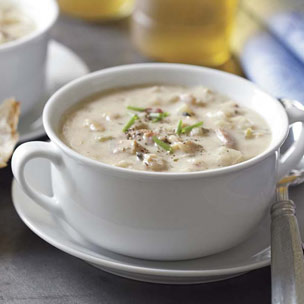 Anyone from New England – the Boston-area and north of there – claims the 'best' chowder or "chow-dah."
The word chowder has its roots in the Latin word calderia,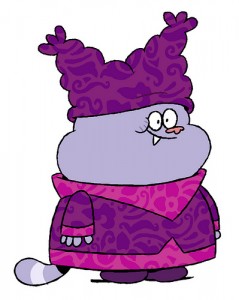 which came to mean cooking pot. In French, the term became chaudiere which is starting to sound much more like 'chowder'.  It also could from the old English word jowter (a fish peddler).
Like many dishes from the past, it originated as a sort of 'poor man's stew with bits of whatever was at hand thrown in. Whatever the term's origins, here in Atlantic Canada, good chowder is a given.
Fleshy bits of seafood in a creamy broth of milk, potatoes,  onions is the typical make-up of this popular dish. And if you just can't get enough, you can see Nova Scotia by following the Chowder Trail and filling your stomach with hearty bowls of this specialty from all around the province.
Without even realizing it, I had hit quite a few of these spots during my visit like Charlotte Lane, Churchill's at Digby Pines, and La Vista at the Atlantica Resort.
In writing this article, I've also learned that Chowder is also the main character of a cartoon in which all the main characters have food names like Schnitzel, Paninin, and Gazpacho. Might have to check that out.
Lunenburg Pudding 
Just like Rappie 'Pie', this is no dessert. Back in 'Ye Olde British times', the word pudding actually meant sausage. Sadly I never got to try Lunenburg Pudding, a spicy encased meat of cooked beef, pork, and other animal innards. The "pudding" resembles a cross between a firm paté and liverwurst.
Dulse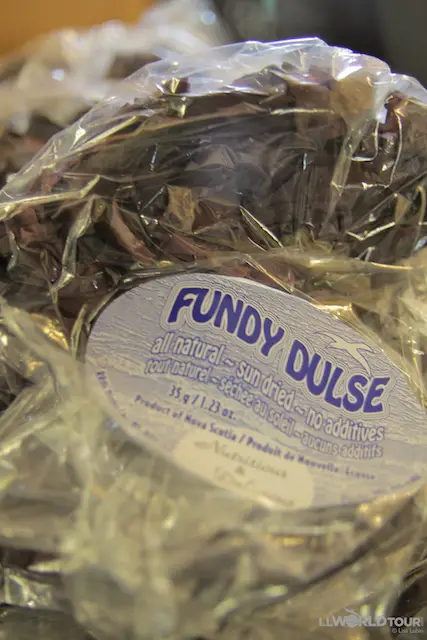 Probably the most intense food I tried in Nova Scotia is dulse. Dulse is basically a healthy snack food of dried red algae. It's popular in Northern Ireland, Iceland, and the Eastern parts of Canada.
Being a sushi lover and having had many a seaweed-wrapped maki, I though I was prepared for the ocean-like flavor.  Wow. This was much more intense than I ever expected. Eating dulse is like eating a dried, concentrated fruit roll-up of the sea. It's definitely an acquired taste and not surprisingly a lot of it is exported to Japan.
Dulse is a good source of minerals and vitamins compared with other vegetables, contains all trace elements needed by humans, and has a high protein content.
Irish Moss
Also known as carrageenan moss, Irish moss is commonly used as a thickener. You may have seen it on your ice cream or lunch meat ingredients.  We saw it on the beach, but didn't actually take a bite out of it.
Shellfish, of course
And of course all types of shellfish like oysters, scallops, and lobster are quite common and plentiful in these parts. In fact, the hot debate of the "right" way to cook lobster rages on.  In fact, here is a video showing the 'right way' to cook and eat lobster according to one Nova Scotian.
Have you ever had any of these dishes? What did I miss?
Pin It for Later!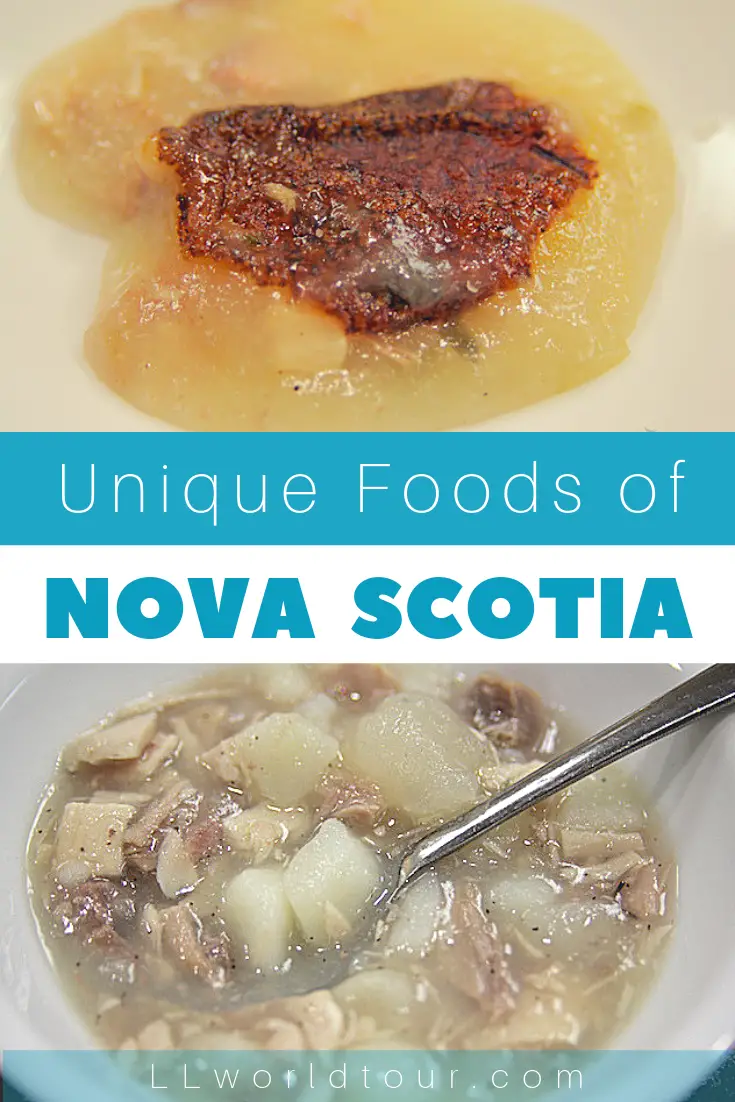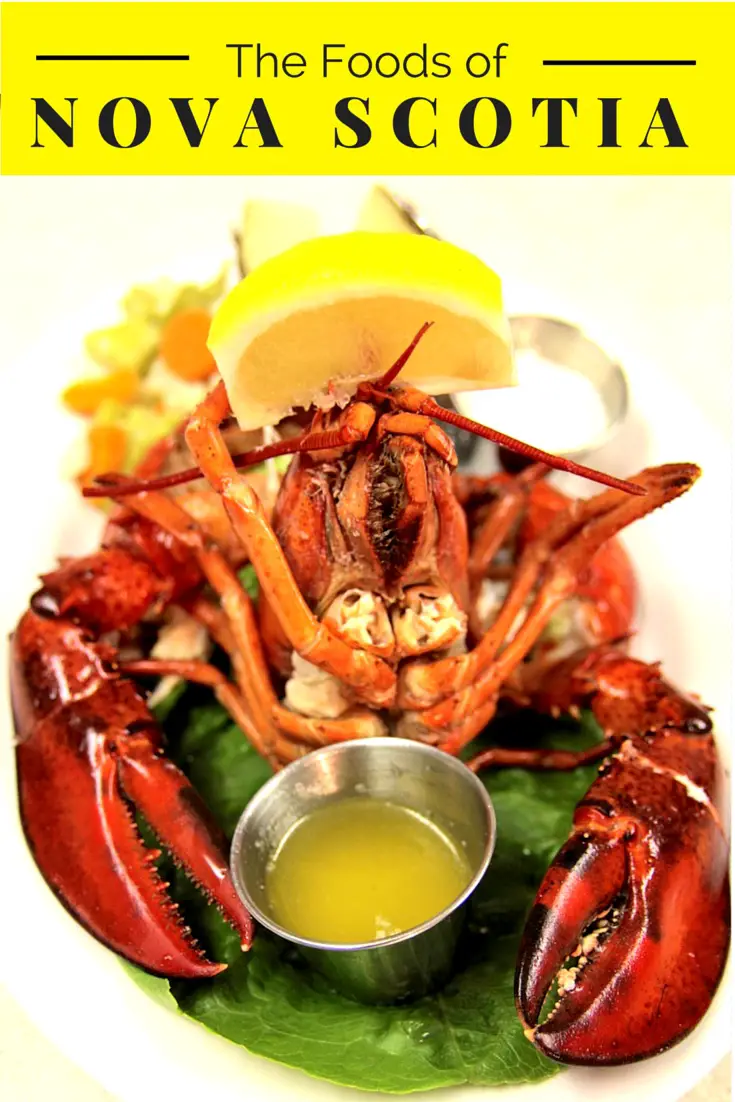 Disclosure:  I was a guest of Southwest Nova Scotia, the Nova Scotia Tourism, & the White Point Beach Resort, as always, my writing and views are my own.