I love my city life. But one of the things I love best about cities is finding the neighborhoods–each with it's own character and 'main street.' Essentially it's like I like to find the 'small towns' inside cities.
So I love finding actual small towns that still have their own town center feel with local shops and restaurants and a certain charm. Towns with a sense of community, a center gathering spot and lots of independent shops and restaurants.
I tapped travel writers and bloggers to write about the best small towns in America–the ones that offer character and a place to visit, stroll, and live.
Looking to visit or even possibly move–check out this list of the best small towns in America!
Best Small Towns on the East Coast
Cold Spring, New York
By Stella Jane of Around the World in 24 Hours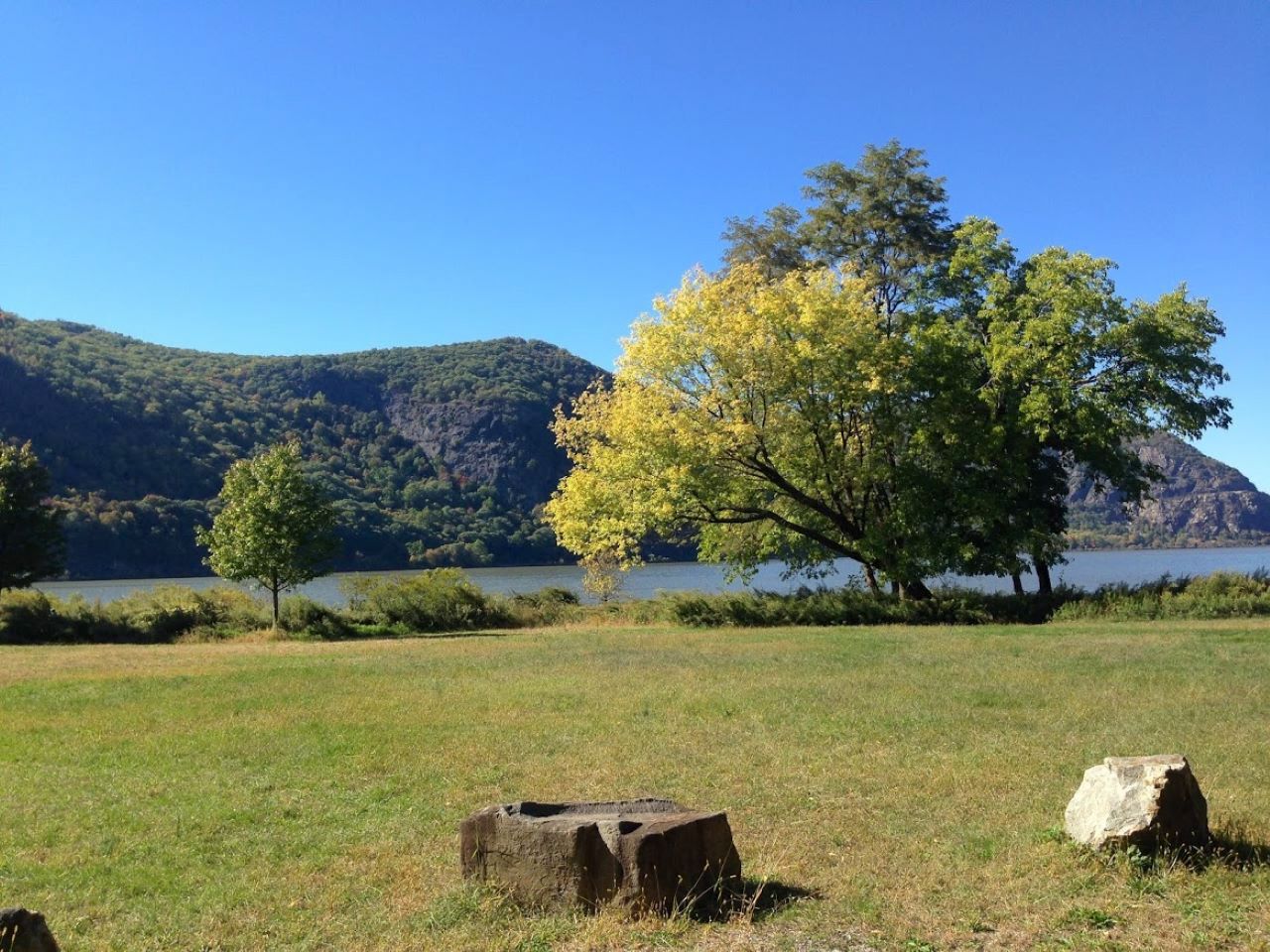 Cold Spring, New York is truly one of New York State's hidden gems and one of the best small towns in America. It's less than a two-hour train ride from New York City, but it feels like more than a world away from the bustling Big Apple.
Cold Spring has an adorable Main Street full of antique shops, ice cream parlors, and bed and breakfasts like the Pig Hill Inn. It's also the perfect base for a day of hiking in the Hudson Highlands State Park. But you don't even have to leave the town for amazing views of the Hudson River!
For a small town, Cold Spring has plenty of fascinating cultural attractions. Take the Cold Spring Trolley over to Boscobel House and Gardens, a historic home that dates all the way back to the American Revolution. Then return to Cold Spring's Main Street, which is just a short walk away from the Putnam County History Museum and the Cold Spring Cemetery Gatehouse, which is on the National Register of Historic Places. And don't miss Cold Spring's famously adorable gazebo! It's the perfect place to sit with some handmade ice cream from Moo Moo Creamery and enjoy the beautiful views of the Hudson River. In the evening, dine at one of the local favorite restaurants like Riverview and Brasserie Le Bouchon. Cold Spring is proof that a small town can be just as fascinating as a big city.
Woodstock, Vermont
by Amy Hartle of New England With Love
Looking for a charming town? Woodstock, Vermont is beyond charming.
When you picture that perfect Currier & Ives Christmas painting, with horse-drawn sleighs gliding down snow-laden village streets…that is Woodstock. A picturesque small town in central Vermont, Woodstock is regularly listed among the top small towns in the USA.
There are many great places to stay in and around Woodstock, from cozy B&Bs to luxury inns, rustic cabins, and more. But I have to recommend the Woodstock Inn as the number one option, as it boasts the best location in town. Walk right out your door from this elegant resort and you'll find yourself right in the midst of the quaint downtown. That is, if you want to leave the inn at all!
Strolling the streets downtown is truly one of the best things to do in Woodstock. Along these streets you'll find many unique shops and businesses. Don't miss the quality items at FH Gillingham & Sons, one of the oldest general stores in Vermont.
When you want to get out and explore the outdoors, Woodstock has a lot to offer as well. Within a short drive you can go hiking, paddle in the river, visit a working farm, and so much more. After a busy day, you can enjoy farm-to-table goodness at one of many local restaurants and sip on Vermont craft beers as well. Bliss.
Vermont is lovely year round, but fall and winter are especially amazing, and are the seasons Vermont is known for. 
Edgartown, Massachusetts
By Keri Baugh of Bon Voyage With Kids
One of the most beautiful small towns in America is Edgartown, Massachusetts, on Martha's Vineyard Island.  It's a quintessential, charming New England seaside town and a perfect vacation spot for any traveling family.
A former whaling village, this picturesque location includes gorgeous cottage homes surrounded by white picket fences, a lighthouse, pedestrian-friendly streets where shops are plentiful, and seafront restaurants with fresh, local catch on the menu.  It is one of our family's favorite destinations.
Getting there requires about a one-hour ferry ride from Woods Hole, MA, about  75 miles south of Boston.  You can come over on the ferry by foot, with a bike, or with your car (advanced reservations are necessary.)  There are many charming places to stay in Edgartown. Our favorite is the historic Harborview Hotel, with views of the Edgartown harbor and Chappaquiddick. In fact, you can take a short ferry over to Chappaquiddick for a beach day. Harborview Hotel is family-friendly, with delicious restaurants on site. You can also try the Seafood Shanty for great seafood, Sharky's Cantina for a great family-friendly Mexican restaurant, and for breakfast, Among The Flowers café is a lovely spot right in Edgartown.
In addition to the shopping and dining in Edgartown, our family loves to visit the Edgartown lighthouse, spend a beach day at South Beach, or visit nearby Oak Bluffs to see the "gingerbread houses" and visit game rooms, shops, and restaurants.  Don't forget to ride the historic Flying Horses Carousel to catch the rings! It is a time-honored, Martha's Vineyard tradition.  Edgartown is one of the most charming American towns to put on your bucket list!

Northampton, Massachusetts
By Vicky of Buddy The Traveling Monkey
A charming small town in America that we love is Northampton. Northampton is in Western Massachusetts, about a two-hour drive from Boston. It's a college town, so there are museums and great restaurants as well as a historic downtown. We love the mixture of old architecture and modern culture, living together seamlessly in Northampton.
One of our favorite things to do in Northampton is to visit the Smith College Museum of Art. The exhibits are always changing, so each time we've visited we've seen different pieces. Another really nice place to visit is the Lyman Plant House and Conservatory. It's especially nice to visit during the winter because it's so warm in there! The greenhouse dates back to 1895, and there are over 3,000 species of plants.
Walking along Northampton's Main Street is a lot of fun too. There are unique shops and some fun murals. There are also plenty of restaurants. One of our favorites is The Dirty Truth. It's a beer hall with a really delicious food menu. We highly recommend the Mac & Cheese, which is made with cavatappi pasta and comes with a cheddar-brie sauce mixed with panko bread crumbs.
To really get to know this charming town, consider staying at The Hotel Northampton. This beautiful hotel is right in the center of town and has great amenities and two restaurants.
New Hope & Bucks County, Pennsylvania
By…me!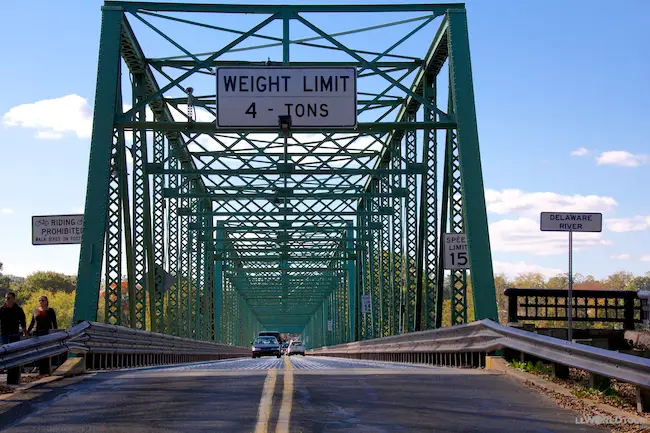 Just about an hour southwest of New York City, sits the charming little hamlet of New Hope, Pennsylvania. New Hope is situated right on the banks of the Delaware river across from New Jersey. It's rich with colonial history and architecture and I think it's one of the most charming small towns in America.
A visit to New Hope is an easy day trip or weekend trip from New York or Philadelphia. I love the cute main street full of funky shops, restaurants and even a popular theater, the Bucks County Playhouse. You can also take a bike ride north or south along the banks of the river on the Delaware Canal Path, part of an old canal towpath.
There's not shortage of spots when you get hungry. Some of my faves include Karla's (inside a very old house), Nektar wine war, Sprig and Vine for vegetarian, and Triumph Brewery. You can also easily walk across the bridge to sister city, Lambertville, NJ which is a little bit smaller, but just as cute. Here, I recommend the patio at Lambertville Station, Marhaba for middle eastern cuisine, Liberty Hall for brick oven, Neapolitan pizza, and Ow Wow Cow for ice cream.
Some great places to stay include the brand new Ghost Light Inn right on the river, the newly rehabbed Logan Inn, or the charming 1740 House up the road a bit.
Gettysburg, Pennsylvania
By Derek and Mike from Robe Trotting
Gettysburg is one of the most famous small towns in the country, but it's never lost its charm. The historic significance of Gettysburg can't dilute the enchanting downtown including picturesque Lincoln Square. In fact, the battlefields and landmarks are all located on the outskirts of Gettysburg about 3 miles from the center.
That means there's always things to do nearby like visiting Gettysburg National Military Park or Gettysburg National Cemetery. Best of all, their location outside of the main town has preserved the small town nature of Gettysburg. While the town sees around 2 million tourists per year, there are less than 8,000 residents.
One of the nicest things about visiting Gettysburg is that you can find a hotel downtown and enjoy the quaint lifestyle with plenty to do nearby. You can even stay in The Gettysburg Hotel located across the street from the David Wills House, where Abraham Lincoln resided in before delivering the Gettysburg Address. Today it's a small museum preserving the days leading up to Lincoln's famous speech. When you visit, don't forget to shop at the boutiques along Lincoln Square.
Visitors also love the Jenny Wade House, an offbeat museum on the civilian casualties of the Civil War and Battle of Gettysburg. Other nearby attractions include the Eisenhower Farm, it's where President Dwight Eisenhower and his wife, Mamie, retired. In downtown Gettysburg you can also find several wine cellars and arrange a tasting. There are several wine makers in Adams County in the hills around Gettysburg. One of the best for a visit is Halbrendt Vineyard & Winery.
Whether you're touring the battlefields, vineyards or walking the streets around Lincoln Square, Gettysburg is an idyllic small town. It's the perfect destination for a weekend getaway or even a day trip from Philadelphia or Washington DC.
Dunedin, Florida
By Destiny Snyder of Appetite for Adventure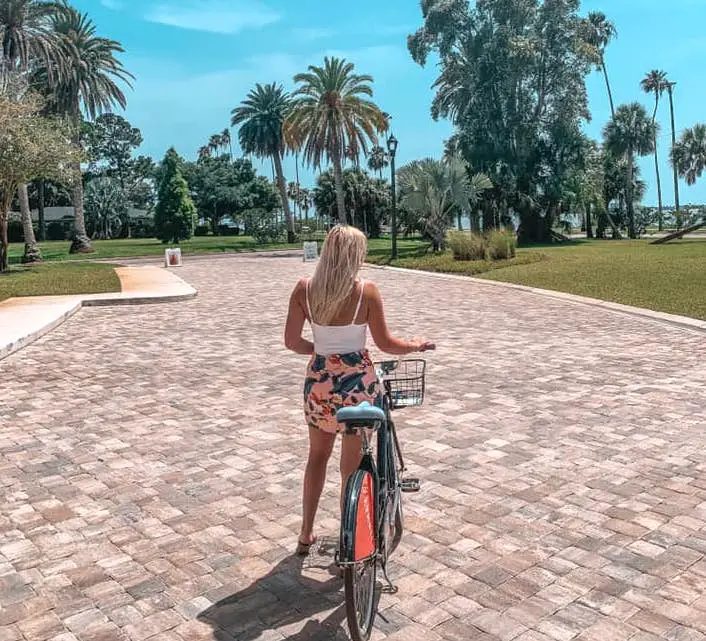 You know, the everybody knows each other, charming, quaint, one stoplight town vibe you kind of only expect to find in the Midwest? Well Dunedin, Florida is all that.  Potentially overshadowed by its extremely popular neighbor— Clearwater Beach, Dunedin doesn't seem to be talked about too much, but it should be!
Dunedin is full of amazing, unique foodie experiences, awesome breweries, and eclectic shops.  The town is extremely pup and pedestrian friendly! It's located along the Pinellas Trail as well, for those who enjoy cycling!  Every place you visit has the kindest staff who go above and beyond to enhance your experience, and get to know you.
If you want a change of scenery from the downtown area, no worries! There is plenty of nature to explore! The Dunedin Causeway has kayaks and paddleboards for rent, or you can head to Honeymoon Island for the sunset, or Caladesi Island for a nature trail.
Curious where to stay? The Fenway hotel is in an amazing location— walking distance to downtown, and right on the water! The hotel also has a lovely pool area, rooftop bar, and free bike rentals.
The food scene here is BEYOND! It doesn't matter what you're craving, sushi, BBQ, Hawaiian, Mexican— I'm telling you they not only have a restaurant for that, but it will blow your mind.  My suggestion is pop into as many places as you can and get a little nibble from each so you can experience as much as possible!  Want more details on one of Florida's most charming towns? I have you covered!
Matlacha, Florida
By Lori Sorrentino of Travlinmad
Off the coast of southwest Florida lies the tropical town of Matlacha, Florida, a village so small you might miss it if you blink on your way to Pine Island. It's as hidden a gem as you can find in the Sunshine State, and a must-visit for travelers seeking a more authentic and salty slice of paradise.
Matlacha Island (mat-la-SHAY) is a colorful artsy community, filled with funky art galleries, tackle shops, ice cream parlors and waterside bars with steel drum musicians playing live. You won't find chain stores or restaurants here, and that's part of its charm.
Surrounded by the quiet saltwater inlets and back bays near Ft. Myers and Cape Coral, visitors come here to chill out on the water. It's an angler's and kayaker's paradise with some of the best fishing, boating, and paddling in the state. But it's the colorful galleries and buildings you'll notice when you arrive. Even the telephone poles are painted bright neon colors.
Grab lunch or dinner in one of several local joints. Bert's and The Blue Dog Cafe are two favorites known for the freshest seafood around including Gulf Coast shrimp and mouthwatering fish tacos.
For an unforgettable overnight stay (and sunset dinner), the Tarpon Lodge is an Old Florida-style gem worth traveling for. If you're looking for an undiscovered part of Florida paradise, spend a day or two in colorful Matlacha.
South Walton, Florida
by Priya Vin from Outside Suburbia
Imagine a town with whitewashed houses where you can sit in a swing in the patio outside, surrounded by lush greens to cool off from an afternoon of playing in the emerald waters – that is Rosemary Beach. One of the beach towns in
South Walton, Florida
.
Located in the Northwest Florida panhandle South Walton is known for its 26 miles of beautiful beaches.  Also called Emerald Coast (the water truly is a jewel green color like the photo), South Walton stretches from Miramar Beach to Panama City Beach.  Walton County has been around since 1824, but it has become popular with families once the perfectly planned coastal villages along Scenic 30A started popping up.
South Walton is home to many beach communities like Santa Rosa Beach, Seaside, Alys Beach, and Rosemary Beach. Vacation rentals are your best bet here, you won't find many hotels here. Each community has its own main street with shops and cafes, green spaces for kids and pets to wander, shallow turquoise waters to swim and swathes of powder-white beaches.  You can spend the afternoon riding bikes to the different beach towns, go swimming, surfing, or paddleboarding in the Gulf or the dune lakes. Make your way back to the beach in the evenings to watch the sun sink into the ocean as the sky explodes in shades of purples and pinks, it's almost a tradition!
South Walton has all the Caribbean feels and is one of the best small towns in USA.
Best Small Towns in the South
Goldsboro, North Carolina
By Mikkel Woodruff of Sometimes Home
We'd never have guessed one of the most charming towns in America would be Goldsboro, North Carolina. Especially because it's just an hour away from our home in central NC. Yet we've been back a couple times within the year since our first visit.
This charming city is filled with independently owned businesses, a main street, and public art throughout the town center. It's a very easy one-hour drive southeast on Route 70 from Raleigh, the capital of North Carolina.
It's perhaps best known for Seymour Johnson Air Force Base. Which is why there are a few veteran-owned businesses in town, like Goldsboro Brew Works. What better way to support local than to support a veteran? Another thing it's known for is its BBQ and great restaurants, whether quick service or a nice sit down location for dinner, like a restaurant just off their main street, called Barrique.
One of the coolest things to do in Goldsboro is take a free tour of the Air Force base. This complimentary tour is available to the public the last Thursday of each month. It's really cool to see how the base operates and things like their jets up close and personal.
Their main-street is a must visit. The name of the beautifully designed avenue is N. Center Street. Be sure to check for upcoming live performances at the Paramount Theater there, and notice the attractive original sculptures created by artists that line the street; they are rotated out every few months for new pieces of art.
Eureka Springs, Arkansas
By Apryl Chapman Thomas of Southern Hospitality Traveler Magazine
Charmingly eclectic is perhaps the best phrase to describe Eureka Springs, Arkansas. Charming for its Victorian architecture and setting in Northwest Arkansas' Ozark Mountains, and eclectic for the various oddities that even enchanted Robert Ripley of "Ripley's Believe It or Not."
Known for its numerous natural cold springs, many of which are accessible today, Eureka Springs offers travelers a balance of outdoor adventures, cultural activities and local experiences. Only in Eureka Springs can you explore Lake Leatherwood's 20-plus miles of trails, view Thorncrown Chapel (recognized as the "fourth most inspiring chapel in the world"), and visit with the big cats at Turpentine Creek Wildlife Refuge, all within a weekend.
However, the city's essence can be found in its downtown, which is listed on the National Register of Historic Places. Filled with local shops and galleries, eateries, spas and more, the best way to learn the lay of the land is through the Eureka Springs Tram Tours, led by locals. For a unique perspective, take the Underground Eureka Walking Tour.
When you are ready to eat, there are plenty of local options to choose from; however, if it's something sweet you're craving, consider stopping in Mud Street Cafe for their homemade desserts. Take a break at Basin Springs Park or spoil yourself with a spa treatment at the Basin Park Hotel's Spa 1905.
For the full Eureka Springs effect, book a room at the 1886 Crescent Hotel and Spa, recognized as America's most haunted hotel. Learn about the spirits that still reside at the hotel with the Crescent Hotel Ghost Tour.
Fredericksburg, Texas 
By Jordan at The Homebody Tourist
Calling all wine-lovers, hikers, and shoppers! Fredericksburg is a true gem hidden in central Texas. Located just over one hour from Austin and San Antonio, it is the PERFECT spot to escape the hustle and bustle of the big city.
While in Fredericksburg, you will find over 100 wineries and vineyards, unique hiking trails, delicious restaurants, and quaint shops along Main Street.
Start your getaway by booking a wine shuttle to take you to Wine Road 290. Most tours will stop at 3-5 wineries for you to tour, taste, and explore. Although you do not have to book a guided tour, it is nice to leave the planning (and driving) to the experts.
In case wine tasting isn't your thing (or you are looking to add more adventure), there are several unique trails to explore. Cross Mountain is a quick hike up a limestone hill to a large cross and an overlook of the city. If you are looking for more of a challenge, head over to Enchanted Rock State Park and hike to the summit! You will be left with 360-degree views of Texas Hill Country.
After hiking and wine tasting, be sure to leave time to stroll along Fredericksburg's charming Main Street. You can window shop in the boutiques, grab a bite to eat or catch live music at an outdoor patio. By the end of your weekend getaway, you will most definitely feel refreshed and refueled.
Marfa, Texas
By Jeanine Romo of Le Wild Explorer
Marfa is a small town located in the western part of Texas about three hours from El Paso. The town is mostly known for the mysterious Marfa Lights and its art. It has a charming downtown area with a pink firehouse, water tower, and beautiful courthouse that's open to the public. Although the downtown area is very walkable and the city is small your best bet is to rent a car to explore some of the city's highlights.
The Marfa Lights is a phenomenon that draws in many and is a must-see when visiting. The lights are something that no one can really explain and are often referred to as ghost lights. They appear from no source and then they're gone. There's a view area a quick drive away from the main downtown area although you can also venture down further on one of the nearby roads off the main highway.
Another great reason to visit is to take in all the art. The city is filled with artists of different mediums, galleries, curated boutiques, and more. One of the most famous art installations is the Marfa Prada store that's located just outside the town.
Marfa makes for a fun road trip stop and there many unique places to stay. If you have 24 hours in Marfa opt to stay at El Cosmico. It's the perfect home away from home. You can choose to stay in a teepee tent or a fully loaded RV. It makes for a unique experience. And be sure to eat at Al Campo for lunch or dinner and grab a breakfast burrito at Marfa Burrito. 
Best Small Towns in the Midwest
Galena, Illinois
By Theresa L. Goodrich of The Local Tourist
The town of Galena in the northwest corner of Illinois is a picturesque getaway with historic buildings, scenic views, wineries and bed and breakfasts, and plenty of outdoor activities. Just a three-hour drive from Chicago, it's located in the Driftless Area, a rugged landscape skipped by the glaciers that flattened much of the Midwest. Downtown is a living postcard, from its open floodgates to the steepled church overlooking the historic Main Street. Eighty-five percent of downtown's brick buildings are part of the Galena Historic District and Dowling House, the oldest, dates back to 1826.
Inside those buildings are more than a hundred local shops and restaurants. There are unique boutiques offering everything from hand-crafted jewelry to antiques to items imported from around the world. Shoppers can take a break at wine tasting rooms and Galena Brewing Company or head down U.S. 20 for spirits at Blaum Bros. Distilling Company.
The dining scene is also destination-worthy. Despite Galena's small size, foodies can find Italian, German, Japanese, Greek, and French cuisines, in addition to many others. History buffs will have a blast exploring the Ulysses S. Grant Home, Elihu B. Washburne, and Old Market House State Historic Sites; touring the 1857 Italianate Belvedere Mansion; and seeing how tools were made at the Old Blacksmith Shop.
A quick drive through rolling hills can take you east to the sprawling Eagle Ridge Resort and Spa, or west to Chestnut Mountain Resort overlooking the Mississippi River. There's golf, ziplining, hiking, horseback riding, skiing, fishing, and more. One visit to Galena and you'll agree that it's one of the most charming towns in the country.
Chagrin Falls, Ohio
by Amanda Williams of Cleveland Traveler
When it comes to charming small towns in America, the state of Ohio could conceivably claim several spots on any list. With warm and friendly local people and an abundance of Midwestern values, you'll find charm in a lot of Ohio's small towns. But when it comes to one I can personally recommend, the village of Chagrin Falls immediately comes to mind.
With a population of just over 4000 people, Chagrin Falls is a small but memorable spot in northeast Ohio. The village dates back to the mid-1800s, when it was built next to the Chagrin River with the namesake Chagrin Falls waterfall running under one of its main streets. It was originally settled as part of Connecticut's Western Reserve, and many of the village's original homes still stand; several are now listed on the National Register of Historic Places.
The top things to do here include visiting the Chagrin Falls waterfall, relaxing in one of the village's charming green spaces (there are half a dozen outdoor parks in just 2 square miles!), and shopping/dining at local businesses.
The most famous business in Chagrin Falls is the Chagrin Falls Popcorn Shop. It's been serving up gourmet popcorn and candy since 1949 in a riverside building that dates back to 1875. You can also pop into shops along Main, E Orange, Bell, and Franklin streets, including several antique stores and small art galleries. I also never skip a visit to Heartwood Coffee Roasters or the Fireside Book Shop.
If you're looking for a small town in Ohio that will make you feel like you're on the set of Stars Hollow from Gilmore Girls, Chagrin Falls is definitely it.
Lake Geneva, Wisconsin
By Paulina from Pauline on the road
The resort city, Lake Geneva, lies on the north-eastern coast of Lake Geneva at its outlet- the White River, which is about 45 miles southwest of Milwaukee. The quaint town is mainly known for its elegant magnificence, deluxe resorts/retreats, and historic villas. The charming city offers a laid-back ambiance that lets you slowly unwind while being near the enchanting sea-beaches. Wear the swimsuits and head for one of a few sea-sides on seven-mile-long Geneva Lake, which likewise offers plenty of water sports.
There are multiple things to do in Lake Geneva any time of the year, including exploring different activities/adventures, like-horseback riding/sleigh rides/hayrides, skating, or iceboating. Alongside this, enjoy at Riviera Beach, go for a short drive, and shop various unique masterpieces as well. You can further tour the nearby attraction sites of Geneva Lake, like Geneva Lake Shore Path, Black Point Estate, Geneva Lake Museum of History, Ice Castles, Tristan Crist Magic Theatre, etc.
Apart from that, you can relish the local drinks/recipes at restaurants, like Oakfire, Ristorante Brissago, The Next Door Pub, etc. Otherwise, you can even taste the Mexican, Italian or American dishes.
Coming to accommodation, The Abbey Resort, located only 10-minutes away from the Geneva Lake & Downtown, is one of the best hotels in Lake Geneva. It's a unique place to stay as it offers multiple facilities, including an outdoor heated-pool, barbecue grills, and plenty of picnic area. Lake Geneva will eternally charm you regardless of whenever you visit the city, though it's best to travel there during the summertime.
Fish Creek, Wisconsin
By Lindsey Puls of Have Clothes, Will Travel
Fish Creek is a quaint little town located in Door County, Wisconsin. It has a wonderful selection of family-owned shops, fantastic restaurants and lovely bed & breakfasts that are all within walking distance of each other on the town's main street. It's also home to many outdoor activities, from hiking to biking to kayaking and more.
One of the best things to do in Door County, as a whole, is to try a fish boil! They're not only delicious, but it's also a fun process to watch. Your boil master will add the ingredients to a large metal kettle and boil it over an open fire. Every fish boil is made slightly differently, but it will always be with white fish, potatoes and other various vegetables and seasonings. One of the best places to go for a fish boil is right in Fish Creek at the White Gull Inn.
Another fun thing to do in Fish Creek is to take a sunset boat tour. Fish Creek Scenic Boat Tours has daily-narrated tours to the many islands, bluffs and beaches surrounding Door County. Their daily sunset cruise also has free live music.
For a unique stay in Fish Creek, The Whistling Swan Inn is a wonderful option. It's Door County's oldest operating inn (it's listed on both the state and national historic register). The Whistling Swan Inn also has a top-notch restaurant and bar that's a must-visit when in Fish Creek!
Marquette, Michigan
By Emily Hines of Em's on the Road
Tucked away on the southern shore of Lake Superior, is Marquette, Michigan. This quaint college town is a haven for outdoor adventure seekers and travelers looking for a lakeside getaway. The town of Marquette exists because of the discovery of iron in the Upper Peninsula. As the industry thrived so did Marquette and most of downtown is still full of beautiful historic buildings.
Start your mornings at one of the popular bakeries like Babycakes (known for monster-sized muffins) or 231 W Patisserie for delicious French pastries. Eating fresh whitefish is a must in Marquette and it doesn't get any more classic than fish n chips at the Vierling overlooking the lake. Another Marquette institution is The Portside Inn serving the housemade pizzas, sandwiches, and one of the best burgers in town.
Give your wallet a workout at Getz's, a three-story outdoor clothing emporium. Check out the U.P. Supply Co for quirky Yooper souvenirs like original t-shirts, prints, mugs, and stickers to take home. While you're downtown, don't miss taking a photo of the old Ore Dock at the marina.
When it comes to outdoor adventures in Marquette, there's almost too many to choose from. From hiking, biking, paddling and climbing there's something for everyone. No trip to Marquette is complete without climbing to the top of Sugarloaf Mountain for a 180-degree view of Superior. If you're looking for something more challenging, try mountain biking on the Noquemenon Trail Network, or rent a couple of paddle boards, and explore the crystal clear water and rocky shoreline.
Once you're ready to wind down for the night, head back to town for a beer at one of Marquette's local breweries. Most of them partner with local food trucks so you can snag dinner while you're there.
With mild summer temps, incredible fall foliage, and one of the snowiest places in the United States, Marquette is a popular vacation destination year-round.
Mackinac Island, Michigan
By Nicole Sunderland of Eatlivetraveldrink
One of the most beautiful small towns in America is Mackinac Island, located in Michigan. This small island, that is about 8.2 miles around, is nestled between the upper and lower peninsulas and only accessible by ferry or plane.
What makes this island so charming is that no cars are allowed on the island, even for year round residents, and everything is done by horse and carriage. When you arrive on the island, you directly place on Main Street, where most of the shopping and lodging is, making it the perfect location for a girls' trip!
Some of the unmissable food on Mackinac Island is fudge, whitefish and afternoon tea at the Grand Hotel. The island is known for its abundance of fudge shops and you can walk into any of them and get free samples.
Some of the best things to do on the island are to rent a bike and ride the 8.2 mile outskirts of relatively flat land, catch a sunrise in an Adirondack chair on the lawn of Mission Point Resort and visit during the Lilac Festival.
The most famous hotel on the island is the Grand Hotel. It is so unique that the front porch is the longest in America, coming in at over 600 feet and after 5pm, everyone has to be dressed up!
Medicine Park, Oklahoma
By Stephanie Craig of Oklahoma Wonders
Medicine Park, nicknamed the 'Jewel of the Southwest' is a charming little town in southern Oklahoma. This was the state's first established resort town, and it is a popular travel destination for its colorful main street and its charming waterfall, which is one of the best waterfalls in Oklahoma.
If you want to spend some time outdoors exploring the town and beyond, you can enjoy a picnic by Bath Lake and strolling the bridge that overlooks it. There is also the nearby Wichita Mountain Wildlife Refuge, where you can hike or drive to see longhorn cattle and American bison (sometimes referred to as buffalo).
The town is near Lake Latownka, and there are six hiking trails here to enjoy if you want to spend more time outside. If you want to sample some delicious Oklahoma cuisine, check out the Old Plantation Restaurant which serves traditional local food like fried okra and chicken fried steak.
For breakfast, check out Mrs. Chadwick's Bakery and Coffee, which is both delicious and a great way to get in your morning cup of joe as well as some delicious pastries.
Most people who come to town will either camp or hook up an RV. If you want a more luxurious stay, The Plantation Inn is the most popular (and only) nice hotel in this small town. Built in the original 1916 Oklahoma Press Association's Clubhouse, the site was never used as a traditional plantation (though I do hope they change the name moving forward to remove even this tangential association).
Best Small Towns in the West
Telluride, Colorado
By Daria of The Discovery Nut
Nestled in the towering San Juan Mountains, Telluride is often called one of the best U.S. ski resorts. A former silver mining town, Telluride combines a unique Old West charm and a great outdoor scene with uncrowded ski slopes, incredible trails for mountain biking, and hiking.
The main drag of Telluride, Colorado Avenue is lined with buildings from the late 19th-to-early 20th century that had been constructed during the mining boom. But when mining stopped by the early 1970s, Telluride was on the brink of becoming another boom-and-bust mining town. That's when Joseph Zoline developed Telluride Ski Resort giving the town a new lifeline that changed its future.
Located in the box canyon, Telluride has no more than 2,500 residents and has been spared from mass development. Things are kept uniquely local here which made this place so appealing to people who have come to enjoy Telluride.
If you happen to visit Telluride during summer, make sure to take a hike to Bridal Veil Falls, the tallest waterfall in North America that plunges from the rugged wall of Mount Index into from 365 feet.
Up for a challenge? Hike up to Blue Lake nestled above 12,000 feet above the Bridal Veil Falls Basin. It's a strenuous hike that will test your stamina, but the views from above are well worth it!
In summer, Telluride hosts an array of film festivals ranging from yoga to movies, so whether you come here during summer, winter, or fall when the foliage turns golden in red, you will fall in love with this charming little town.
Bozeman, Montana
By Jen Ambrose and Ryan Victor of Passions and Places
A bustling college town, a rugged outdoors hotspot, a burgeoning tech hub – Bozeman, Montana, is a town that's truly beloved, and for lots of good reasons. It's the heart of Southwest Montana, located less than 90 minutes from both Yellowstone National Park and Big Sky Resort, one of the country's premier ski destinations.
Downtown Bozeman is the perfect area to simply stroll around, lined with shops, galleries, yoga studios, bars, and restaurants serving up all kinds of cuisines. Start the morning at Bagelworks and Treeline Coffee, dine at Red Tractor Pizza or Montana Ale Works, and make sure you save time to imbibe at one (or more!) of town's many craft breweries.
When you're not eating, drinking, or wandering around, there's plenty to keep you busy in Bozeman. Visit the nationally-acclaimed Museum of the Rockies and the quirky American Computer & Robotics Museum, catch a show at the Rialto, or hike the Galligator Trail that runs through town.
For such a small town, Bozeman has a ton of great accommodation options. In the heart of downtown, there's the ultra-modern Element Bozeman, one of the town's highest-rated hotels. Or for a truly unique experience, head a bit out of town to the Howlers' Inn, a B&B with a functioning wolf sanctuary. And if you're on a budget, you're in luck, because Treasure State Hostel is one of the only hostels in Montana.
St. George, Utah
By Nicole from American SW Obsessed
St. George, Utah is a charming small town located in southern Utah.  St George is surrounded by mountains and beautiful scenery you won't want to miss.  Its also located close to Zion National Park and two state parks – Snow Canyon and Sand Hollow.
St. George is a historic town known from its Pioneer days.  It is rich in history and you can visit the Pioneer Museum, the historic houses or my favorite, Pioneer Park.  Pioneer Park is located in the heart of St George and has some great hiking.  Pioneer Park is very family-friendly with easy hikes and areas to explore with picnic tables as well.  You can see some of the sandstone arches that the area is known for as well.
You can also visit St. George Temple which was built in 1877 and is a Latter-Day Saints Temple.  You could also visit the Bringham Young Winter House.  Brigham Young Winter House was once home to President Brigham Young from 1870 to 1877.   There are so many fun things to do in St George, Utah.
A great place for lunch is the Painted Pony Restaurant.  This is probably the most popular place to eat in St George and well worth the hype.  I had the classic Cobb Salad and it was done to perfection.  We stayed at the Staybridge Suites hotel which is conveniently located off I-15.  You could stay there for the night if you are planning to go to Zion National Park the next day.
Healdsburg, Sonoma, California
By Victoria from Bridges and Balloons
Stroll through the centre of Healdsburg, Sonoma and you'll find a picture-perfect plaza, complete with a pavilion, and lined with independent shops, restaurants and wine tasting rooms. Can you get much more charming than that? It channels Stars Hollow from the Gilmore Girls and even has a cute bookshop where you can play at being Rory Gilmore.
The little city in California's wine country is just an hour north of San Francisco, but feels a world away from the city, and is the perfect retreat for wine tasting, boutique shopping, farm-to-table dining, and simply relaxing in the beauty of the redwoods and wine valleys.
Healdsburg is Sonoma's premier foodie destination and favourites include Bravas, Barndiva and Valette. You also have 25 tasting rooms to choose from, including Banshee Wines, La Crema Tasting Room, and Ferrari-Carano Vineyards.
The best place to stay in town is the Camellia Inn, one of the most charming guesthouses you can imagine in a picturesque pink townhouse and with outstanding hospitality. There are also plenty of Sonoma Airbnbs to choose from, both in Healdsburg itself and the surrounding area. The Russian River area is a good option, filled with plenty of woodland cabins and with access to plenty of fun water-sports and hikes.
Carmel-by-the-Sea
By Dhara from Roadtripping California
Carmel-by-the-Sea is the very definition of charming: the quaint village, on the Central California Coast is known for its pretty cottages and romantic ambiance. The village of Carmel-by-the-Sea is just one square mile in area, but there is lots to see and do both in and around the village.
Stroll the streets of the village to take in the handsome Spanish architecture, and browse the many boutique stores and art galleries. Spend some time tasting wine, cheese, and olive oil in the tasting rooms scattered about the village. Tour the fairytale cottages built by Hugh Comstock.
Just three miles south of the village, Point Lobos State Reserve offers scenic walking trails and stunning coastal views. The Reserve is often described as California's prettiest state park. Also worth visiting is the Carmel Mission, a gorgeous structure with lush gardens. The mission was the second built in California by the Spanish missionaries.
Carmel Beach, a stunning sandy beach fringed by old Monterey cypresses, is the place to be when the sun sets. Bring a blanket and some wine and nibbles and relax for a bit in beautiful surroundings!
Carmel is known for its many fabulous restaurants. One of our favorites is Little Napoli, an authentic Italian eatery in the heart of the village. You will also enjoy Anton & Michel for California cuisine, and the delicious pastries at Patisserie Boissiere.
Stay at L'Auberge Carmel, a Relais & Châteaux property located in the village. The historic hotel is known for its beautiful architecture and elegantly furnished rooms with four-poster beds and antiques.
Solvang, California
By Alexander from Gourmand Trotter
Solvang is known as the Danish capital of America, and it's a charming old settler's town in California, north of Santa Barbara. It was founded in 1911 by Danes who came here from the midwest. Their legacy has been preserved and today, visitors can admire Danish architecture and foods. There are several bakeries and cafes where it's possible to get a taste of Denmark in America. There's even a replica of the Little Mermaid statue, which is one of the most famous monuments in Copenhagen.
Furthermore, there are various old windmills that are still intact. In 1991, a replica of the Rundetårn was finished as well. Visitors wanting to eat Danish food can sit down at one of the restaurants, serving Danish delicacies such as Pölse, which is a Danish red sausage.
It's a picturesque town with lovely architecture and cute houses. Moreover, one can also visit antique stores with furniture and various objects sold by relatives of the original settlers of Solvang. Furthermore, near the city, one can also visit Mission Santa Ines, which is one of the California missions.
Some of the best hotels in Solvang are Mirabelle Inn or Svendsfaard's Danish Lodge. But there are many hotels to choose from, ranging from luxury to budget alternatives.
Jacksonville, Oregon
By Sophie and Adam of We Dream of Travel
Dating back to the 1850s, Jacksonville is oozing with small town charm.  Once a thriving major city, known as Table Rock City during the peak of the Gold Rush era, its success was short lived.
Located in the Rogue River Valley at the foothills of the Siskyou Mountain, Jacksonville fell into abandon when a railroad was built bypassing the city in favour of nearby Medford in 1884.  The city lapsed into financial depression as the gold mining boom ceased and the city became frozen in time.
However, this ultimately ended up being the town's saviour.  Remaining basically untouched for decades, the entire town was designated a National Historic Landmark in 1962 as an intact example of a late 19th century Gold rush town.
Today, it is one of the most photogenic places in Southern Oregon filled with local, independent shops nestled amongst authentic historical buildings.  You will not find any chain stores here making it a truly unique destination.
Take time to just wander around the beautiful town or take a historical tour to discover more of Jacksonville's interesting history.
Explore Beekman House, built between 1870 and 1876.  The house was only ever lived in by the Beekman family and remains furnished with family artifacts, providing an excellent example of the Victorian-era lifestyle.
Visit Beekman Bank, where during the height of the gold rush era, approximately $40 million in gold passed through the counters of the bank.  This is the equivalent of around $1 billion today!
After exploring the town, relax and enjoy a coffee and a bite to eat at Goodbean.
Leavenworth, Washington
By Sarah of Discover the Pacific Northwest
Drive east from Seattle for about two hours and you will arrive in lovely Leavenworth, though you may think you've been transported to Germany. Leavenworth, Washington is a Bavarian-style town in the middle of the stunning Cascade mountains and is a popular year-round Pacific Northwest getaway.
Leavenworth is wonderfully walkable and the streets are lined with hotels, stores, and restaurants that look like they belong on a brochure for Bavaria rather than small-town USA.
The boutique shops are filled with unique clothing, crafts and decor sourced both locally and in Europe. If you've always wanted an authentic cuckoo clock or beer stein you will find it here. Many of the restaurants have German-inspired decor and menus featuring things like schnitzel and bratwurst and of course, you can also enjoy a pint or two of German Pilsner. If you prefer wine there are more than 20 tasting rooms downtown and several wineries within a 15-minute drive.
The charming town of Leavenworth is also a great base for outdoor activities. In the warm months, you can enjoy hiking, cycling, climbing, fishing, and river rafting. In the winter there's skiing, sledding, snowshoeing and ice-skating. Plus there are festivals happening all year starting with Apple Blossom and Maifest in the spring, farmer's markets and summer theater mid-year, Oktoberfest, and the Autumn Leaf Festival in the Fall and for the month of December, the whole town is aglow with the famous Christmas Lighting Festival.
Orcas Island, Washington
By Kay of The Awkward Traveller
Orcas Island is part of the San Juan archipelago off the coast of Washington State, and is the largest of the small island cluster. There is one ferry that frequents all of the islands, the San Juan Ferry, but it is only about an hour from the port to Orcas Island, making it a little more secluded than other popular getaways in the state.
A large majority of the island is dedicated to farming and agriculture, while the other is reserved for state parks and campgrounds. The charm of Orcas Island lies in its commitment to supporting small businesses and local residents.
The best place to stay on Orcas Island is Outlook Inn, a cozy woman-owned and operated boutique hotel that is so beautiful dozens of couples hold their weddings in the garden. It is also in the heart of the downtown area, Eastsound, and walking distance to mouth-watering bakeries like Brown Bear Bakery, cute shops and souvenir stands, and the local Farmer's Market on weekends.
However, one of the most notable things to do on Orcas Island is to go whale watching! If you visit during whale season (April-October), you are almost guaranteed to spot at least one Orcas if you go on a tour! For those interested in knowing more about Orcas and their relationship with the island, tour with Outer Island Excursions as many of their captains have a background in marine biology and sustainable eco-tourism. Whether you stay for a week or a weekend, Orcas Island is a small but mighty destination that will leave an impression!
Haleiwa on Oahu, Hawaii
By Marcie Cheung of Hawaii Travel with Kids
One of the cutest small towns in Hawaii is Haleiwa, on the North Shore of Oahu. It started off as a sugar plantation more than a hundred years ago. Today, it's most famous for being the surfing capital of the world and it attracts people from many different countries.
You'll know that you've reached Haleiwa when you see the iconic Haleiwa Sign, which features someone surfing a big wave. It's one of the top Instagrammable spots on the North Shore of Oahu.
There are so many cool things to do in Haleiwa, like go snorkeling, learn to surf, relax at the beach, go ziplining, and see Hawaiian Green Sea Turtles.
And the town itself is so quaint and charming. There are some delicious food trucks, shave ice spots, boutique shops, and trendy restaurants. Plus, you can walk across Rainbow Bridge, which is the main sight to see in Haleiwa town.
To get the real Hawaiian surfer experience, you'll want to do a vacation rental home near the beach.
Whether you are staying in Haleiwa or just passing through on a drive around Oahu, you'll definitely want to stop at the shrimp trucks. This is where you can get authentic Hawaiian garlic shrimp plate lunch and enjoy it on the side of the highway. The longer the line, the better the food!
Pin It for Later!