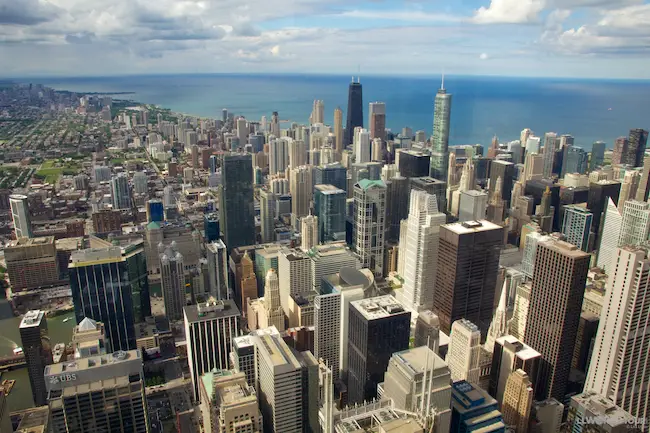 It's summer in Chicago and one of my favorite places to be in summertime. Everyone's out biking, walking, soaking up the sunny days and of course eating and drinking at all the great sidewalk cafes, back patios, and wonderful rooftop bars.
I covered my favorite Chicago outdoor dining spaces a couple years ago, but there are so many and new ones pop up every week, so here's my latest list of mostly neighborhood gems that I love.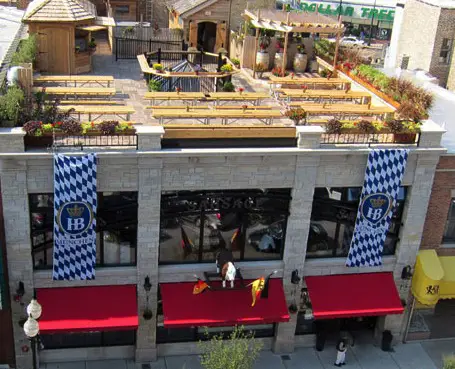 Sort of a neighborhood gem, this newer spot in Lincoln Square is one of my absolute favorites. Perhaps it's because it's a beer garden atop a wonderful European market. Or because I interviewed the friendly owners, the Luscz family, years ago at their original location for a TV segment, or it's just simply how beautifully designed the rooftop is — clad in lovely wood slats, benches, and flower boxes all around. Of course, the beer and various types of sausage are great too, but it's the atmosphere that wins it for me.
Wow. This place is like no other in Chicago. Located on the Northside in Lincoln Park, this is another newcomer from our friends at the ever-growing Lettuce Entertain You Restaurant group. There's a front patio, but the whole vibe is like you're outdoors. With whitewashed wood walls, gauzy white curtains, and a huge atrium in the middle open to clouds and sun, there is so much natural light in here, it truly feels like you are in Santa Monica. Plus the food (lots of veg items and fresh fish) and drinks are refreshing, light, and delicious. I especially love the ahi tuna tostadas and tastiest caramelized Brussels sprouts I've ever had! OH…and can't forget the bread plate-sized rich homemade sea salt, chocolate chip cookies…a must.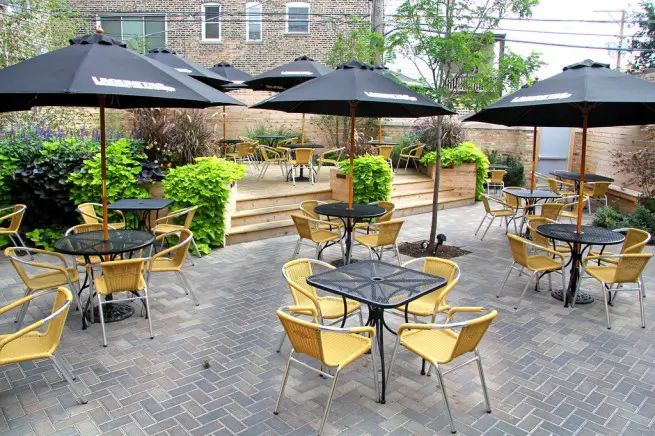 Another neighborhood find, this one in Andersonville, laid back and friendly Jerry's is known for its monstrous list of sandwiches. They even cut down the menu recently, but it's still a tome of hand-held choices. The inside space is big and open with a wood bar, but it's the back patio that wins my heart. Set on two levels with lots of planters and wood, I love the way they did it.
Just down the street from Jerry's is the newer Bongo Room (the original is in Wicker Park). I am in LOVE with this back patio. Every time I go, I swoon over the cozy feel, the natural-looking wood-work, and the vertical gardens on the slated walls. I want this in my own backyard. And of course you can't beat the decadent breakfasts like the white chocolate, caramel, and pretzel pancakes or the deconstructed lobster roll benedict. Yum.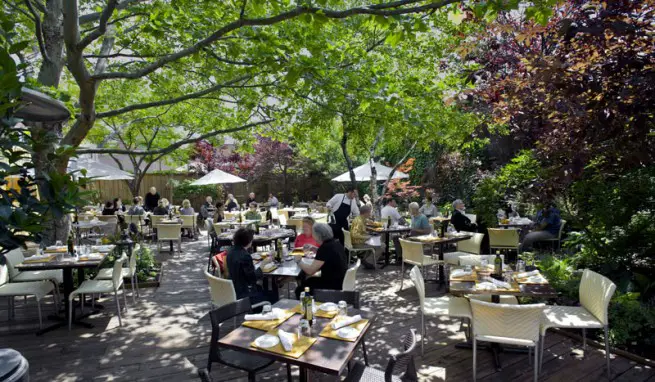 One of the nicest, most romantic back patios in the city is Piccolo Sogno. Hugged in by lush trees and twinkling lights, this is high on everyone's list! Plus, the food is some of the best Italian food in the city.
For a couple of trendier rooftop scenes check out J. Parker, the roof on top of Hotel Lincoln. It also feels like a Miami oasis with great views of Lincoln Park and the beach and Lake Michigan. Also new and trendy is IO Urban Roofscape, what is being called the largest indoor/outdoor rooftop lounge in the entire city with more than 10,000 square feet of space on the fourth floor of the brand new Godfrey Hotel. I also still like the views at ROOF on top of the Wit in the loop and the Vertigo Sky Lounge atop the Dana Hotel.
And for 'beachy' fun, it's always great to hit up old standby, Castaways Bar and Grill, at the North Avenue Beach boathouse. The food is okay bar food, but it's fun people watching above North Avenue beach and if you're lucky a great vantage point during the Air and Water show or Volleyball Tourneys. A more laid-back beach spot is up at the Dock at Montrose Beach.