[updated July 2021]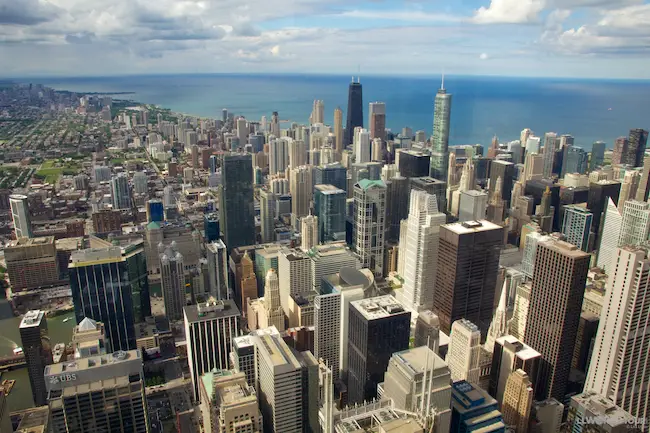 Chicago is one of my favorite places to be in summertime. Once the winter melts away, Chicagoans embrace the sunny days and love to sit out on an outdoor patio or rooftop with a beer and their pooch and just enjoy the warmth.
Everyone's out biking, walking, soaking up the sun and of course eating and drinking at all the great sidewalk cafes, back patios, and wonderful rooftop bars.
There are so many great places to eat in Chicago. And now there are now dozens and dozens of outdoor patios and rooftops. There are swanky spots downtown and more hidden gems up in the neighborhoods. There are so many new outdoor patios and roofs opening each year, it's hard to keep up!
Here's my list of all my favorite places for the best outdoor dining in Chicago  — from downtown hot spots to neighborhood gems.
Downtown Chicago Outdoor Patios and Rooftops
Cindy's Rooftop Bar
This place will truly impress your guests. Cindy's sits atop the awesomely-renovated Chicago Athletic Association Hotel. And its views can't be matched. You look out over Millennium and Grant Parks and then Lake Michigan in the background. I love how it gives you the full Chicago feel. Best to bring a group because Cindy's menu is meant to share and can be a bit pricey.
Cerise
I first discovered Cerise during Open House Chicago. The rooftop bar inside the Virgin Hotel is funky and hip and like so many of these rooftops has such great views of the city. Since it's right in the Loop near Wacker and Michigan it really has a great vantage point to see some of Chicago's coolest skyscrapers.
London House Chicago
One of the most popular rooftops downtown, you often need a reservation at the LH Rooftop. Located at the corner of Michigan and Wacker inside the newly renovated London Guarantee Building and now LondonHouse Chicago Hotel, this fantastic tri-level bar has sweeping views of the Chicago River and of Chicago's architectural gems around it. Don't miss a chance to see the private cupola space on the 23rd floor.
Raised Rooftop
Located inside the newly refurbished Renaissance Chicago Downtown Hotel, this comfortable rooftop has indoor and outdoor space with fire pits and a fun Mediterranean menu. It's hip, but to me feels more welcoming than some of the others.
 I/O Rooftop Lounge
Newer and very trendy is I/O Rooftop Lounge with its plush banquettes, fire pits, video screens and water elements. They hold claim to being the largest indoor/outdoor rooftop lounge in the entire city with 15,000 square feet of indoor and outdoor space on the fourth floor of the Godfrey Hotel.
The Roof at the Wit
Another hotel rooftop, the views at ROOF at the Wit are also incredible as it sits right on State Street in the heart of the Loop. High on the 27th floor, the more than 10-year old bar, was one of the earlier rooftops in Chicago. It was just completely revamped again and has a huge retractable roof and indoor/outdoor area.
The Chicago Riverwalk
Newly finished, the riverwalk is a lovely 2-mile path right in the heart of the city along the Chicago River. It's a great place for an after-work drink or dinner. Many bars and restaurants have set up shop here at river level including Beatnik on the River, City Winery, The Northman, O'Brien's, and Tiny Tapp.
Need more fun summer ideas? Check out my comprehensive post on a ton of outdoor activities in Chicago!
Athena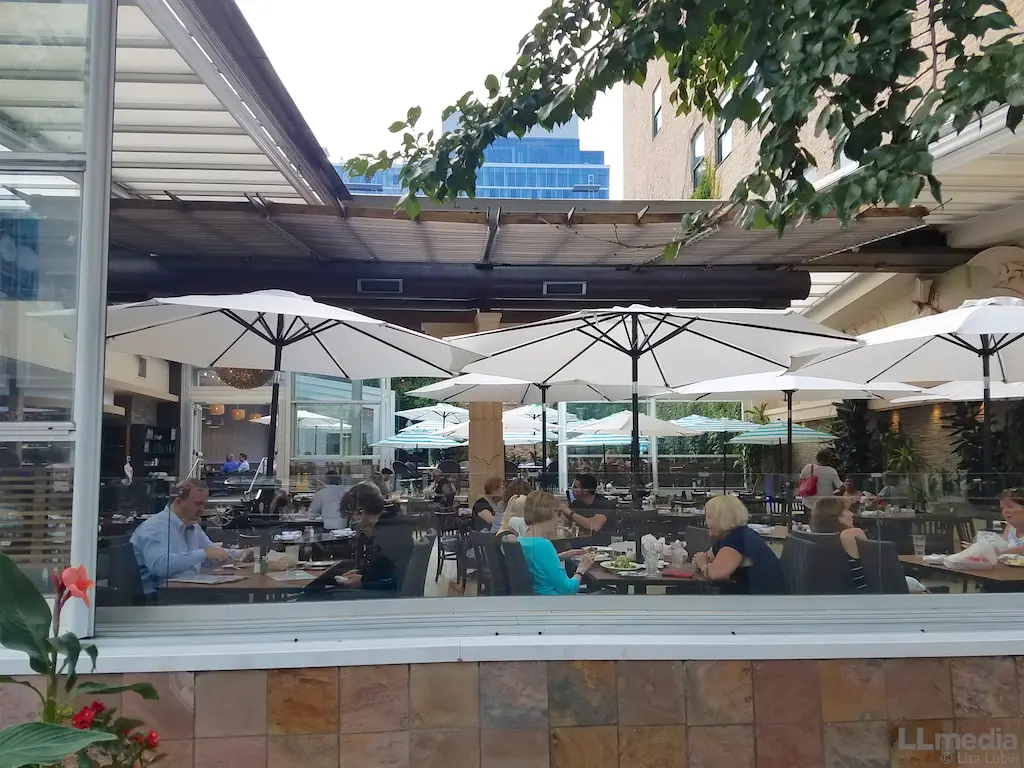 One of the cutest places in Greektown, Athena stands out because of its massive outdoor patio with a retractable roof. Come for the delicious saganaki, spanakopita, and taramasalata, but stay for the gorgeous outdoor space and sunny vibe.
Piccolo Sogno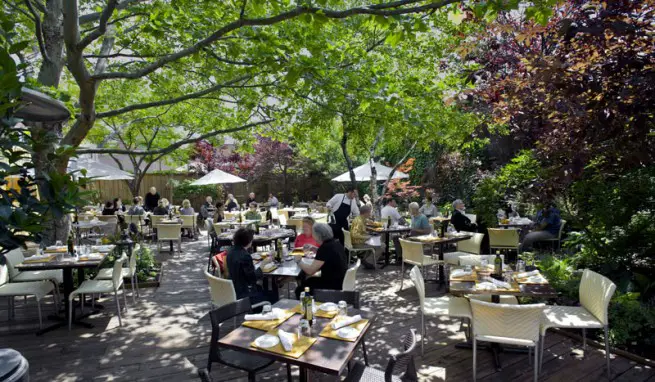 One of the nicest, most romantic back patios in the city is Piccolo Sogno. Hugged in by lush trees and twinkling lights, this is high on everyone's list! Plus, the food is some of the best Italian food in the city.
The Dawson
Hidden behind a fence at the busy intersection of Grand, Milwaukee, and Halsted, The Dawson is a sweet gem. The bi-level restaurant can get crowded and busy, but the leafy, outdoor oasis is a real pleaser with lots of greenery and twinkling lights under a grand pergola.
Tanta
Located on the second floor of this Peruvian restaurant, Tanta offers a nice outdoor space at which you can sip your Pisco Sour and nibble on delicious ceviches.
Aba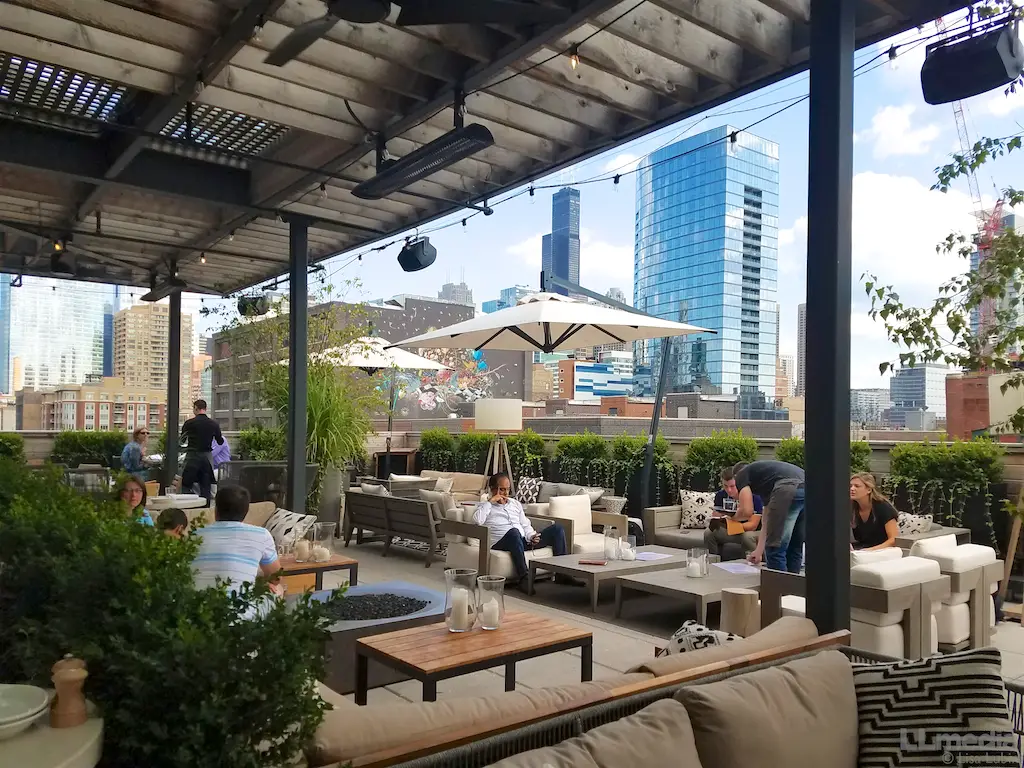 Located atop CJ Jacobsen's Aba Restaurant, the Fulton Market spot fills up daily for the chill outdoor vibe and wonderful mediterranean fare. The decor is dreamy with tons of potted plants and greenery. There are cushy couches and chairs sprinkled all around plus regular tables. Outside is first come first served, so get there early for some of the tasty cocktails and great dishes like spicy hummus, hamchi, and falafel.
Cabra
Another new hotspot in the Fulton Market district, Stephanie Izard's Cabra serves up Peruvian fare inside the Hoxton Hotel. Nibble on great ceviches in a swanky scene.
Want more restaurant recommendations? Check out my ultimate guide to my favorite restaurants in Chicago. 
Chicago Neighborhood Outdoor Patios and Rooftops
Homestead on the Roof
This large rooftop in West Town serves farm to table fare in a lovely green setting. I love the vibe here as its more of a lovely garden restaurant than a party rooftop bar. The 85-seat outdoor rooftop patio has a full view of a 3,000 square foot organic garden, two massive, vertical hanging gardens, and dozens of planter boxes full of fruits, veggies and herbs, and a fireplace. Homestead on the Roof is a romantic spot to come with a date or great place to bring family and friends!
Cabana Club
Sitting on top of Wicker Park's Robey Hotel, the Cabana Club is a swanky rooftop bar/restaurant with a mini dipping pool. The cool thing about this rooftop of course are the views. But that's because there simply aren't too many views from this vantage point in Wicker Park. So you can enjoy a refreshing cocktail while watching the Blue Line train go by and the skyline beyond.
Etta
This newer delicious hotspot comes from the same owners as Maple and Ash. Located in Wicker Park, Etta is known for its mediterranean-leaning menu with lots of tasty wood-fired options like pizza and the "bubbling shrimp." The large second floor terrace offers the same menu and warm breezes above North Avenue.
Big Star
Big Star is a perennial favorite thanks to its relaxed, huge patio, cheap and tasty tacos and large menu of beers and bourbon. It's always the perfect place to bring visiting friends for that chill Chicago neighborhood vibe. A second location is now open across from Wrigley Field on Clark Street, also with its own massive patio.
Royal Palms Shuffleboard Club
This Brooklyn sensation opened their second location in Chicago's Bucktown neighborhood. The Royal Palms Shuffleboard Club has ten shuffleboard courts inside plus another one on the rooftop which they call the "Lido Deck" because it feels like your are on a cruise ship. You can buy food downstairs at one of the rotating weekly food trucks and bring it up to the deck.
Castaways at North Avenue Beach
For 'beachy' fun, it's always great to hit up old standby, Castaways Bar and Grill, at the North Avenue Beach boathouse. The food is okay bar food, but it's fun people watching above North Avenue beach and if you're lucky a great vantage point during the Air and Water show or Volleyball Tourneys.
J. Parker
For a trendier rooftop scene check out J. Parker, the roof on top of Hotel Lincoln. It also feels like a Miami oasis with great views of Lincoln Park and the beach and Lake Michigan.
Summer House Santa Monica
This place is like no other in Chicago. Located on the Northside in Lincoln Park, Summer House Santa Monica comes from our friends at the ever-growing Lettuce Entertain You Restaurant group. There's a front patio, but the whole vibe is like you're outdoors.  With whitewashed wood walls, gauzy white curtains, and a huge atrium in the middle open to clouds and sun, there is so much natural light in here, it truly feels like  you are in Santa Monica. Plus the food (lots of veg items and fresh fish) and drinks are refreshing, light, and delicious. I especially love the ahi tuna tostadas  and tastiest caramelized Brussels sprouts I've ever had! OH…and can't forget the bread plate-sized homemade sea salt chocolate chip cookies…a must.
Bar Cocina
Just off the Wellington Brown Line stop, BarCocina bring a fun, outdoor vibe to West Lakeview. Grab a table or couch on the large patio in front of a fire pit, order some chips and guac and enjoy one of Chicago's balmy summer days.
Hotel Zachary
Anchoring a whole new Wrigleyville is the Hotel Zachary (named after the original architect of Wrigley Field,  Zachary Taylor Davis) which has a number of outdoor spaces and restaurants including Big Star, Mordecai, and the bar at Hotel Zachary. Of course, just across the street is not only Wrigley Field itself, but also the new Gallagher Way Park with events like free concerts, yoga, and a farmer's market.
Half Acre
Metropolitan Brewing Tap Room
This place feels like a real hidden gem. Tucked down Rockwell Avenue in the Avondale neighborhood, Metropolitan Brewing's Tap Room sits right on the banks of the North Branch of the Chicago River. They're currently building a massive outdoor patio right on the river, but in the meantime, you can get a beer, order food from the rotating delivery partners, and gaze at the green views out the massive floor to ceiling windows.
➙ Need a place to stay? Use my airbnb link for $15-25 off your first stay!
➙ Need an easy way to get around Chicago? Sign up for Uber or Lyft and get up to $6 in ride credits!
➙ Take a local tour in Chicago with Viator, offering unique city tours all over the world.

The Warbler
This newer spot in Lincoln Square (one of my favorite 'hoods in the city and near my home!) took over an old sports bar and transformed it into a bright and friendly neighborhood restaurant. The Warbler's trendy yet inviting and the side patio is the perfect spot for a drink and some nibbles of New American and veggie-focused fare.
Gene's Sausage Shop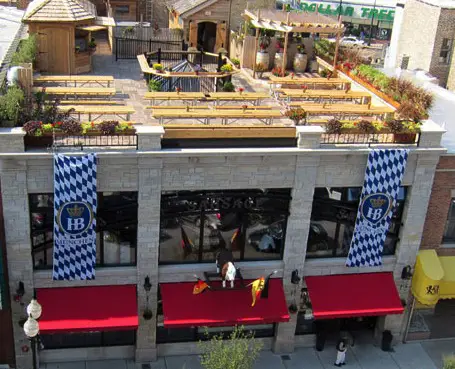 Sort of a neighborhood gem, Gene's Sausage Shop in Lincoln Square is one of my absolute favorites. Perhaps it's because it's a beer garden atop a wonderful European market. Or because I interviewed the friendly owners, the Luscz family, years ago at their original location for a TV segment, or it's just simply how beautifully designed the rooftop is — clad in lovely wood slats, benches, and flower boxes all around. Of course, the beer and various types of sausage and potato pancakes are great too, but it's the atmosphere that wins it for me.
Fiya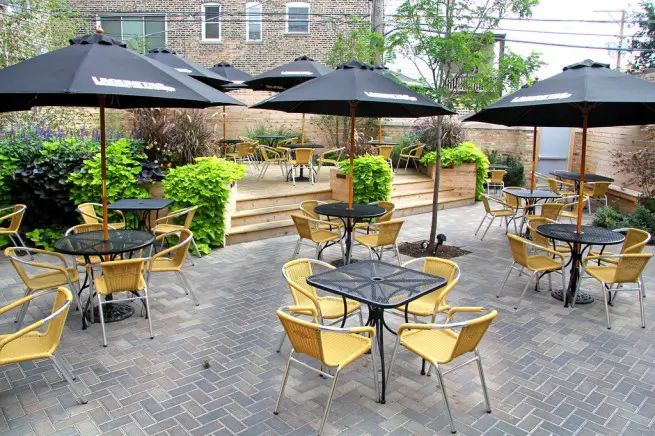 Another neighborhood find, this one in Andersonville, Fiya is a great Israeli-focused spot. The inside space is big and open with a wood bar, but it's the back patio that wins my heart. Set on two levels with lots of planters and wood, I love the way they did it.
Bongo Room
Just down the street from Jerry's is the newer Bongo Room (the original is in Wicker Park). I am in LOVE with this back patio. Every time I go, I swoon over the cozy feel, the natural-looking wood-work, and the vertical gardens on the slated walls. I want this in my own backyard. And of course you can't beat the decadent breakfasts like the white chocolate, caramel, and pretzel pancakes or the  deconstructed lobster roll benedict. Yum.
The Duck Inn
South of downtown in Bridgeport, The Duck Inn is a foodie's haven. The popular gastropub has the feel of a real neighborhood bar/restaurant, but with award-winning food and a tranquil and delightful back patio.
Docks at Montrose
A more laid-back beach spot is up at the Dock at Montrose Beach. It has a huge deck, live music, TV screens for big games, and a decent 'bar food' menu. Plus it sits right on the expansive Montrose Beach, so you can spend the whole day here.
Pin it!