Goan cuisine is spicy and flavorful with dishes of everything from meat to pork to seafood. Planning a trip to India? Read this guest post and learn what to eat in Goa.
Oh, Indian food! At first I hated it. Actually – I really hated it! Our first trip to India, and to Asia in fact, was a cycling trip across India. More than 5300 km (3293 mi) in a few months. And at first we really struggled to find something to eat as we weren't used to Indian food at all. Everything we tasted had a strong flavour, and everything was spicy. But after some time we got used to it. And after some more time we started to love it!
What to Eat in Goa
Goa, a trance and hippie capital, India's top beach destination and overall a very popular place among both local and foreign tourists, has a unique cuisine that reflects the Portuguese influence in the country.
Goan cuisine consists of spicy seafood and pork curries, grilled fish, spicy and flavorous pork sausage, and even beef dishes! Yes, you heard me right – beef! As Goa's predominantly Christian, and had been influenced by the Portuguese, eating meat is widespread in Goa.
Western food is widely available in Goa, too. In many restaurants in Goa you'll find steaks, pizzas, burgers, pasta and so on.
Let me introduce you to Goa food. Keep reading to learn what to eat in Goa. At the end of the article I have also included some Goa restaurant recommendations.
Goan Cuisine
Grilled Fish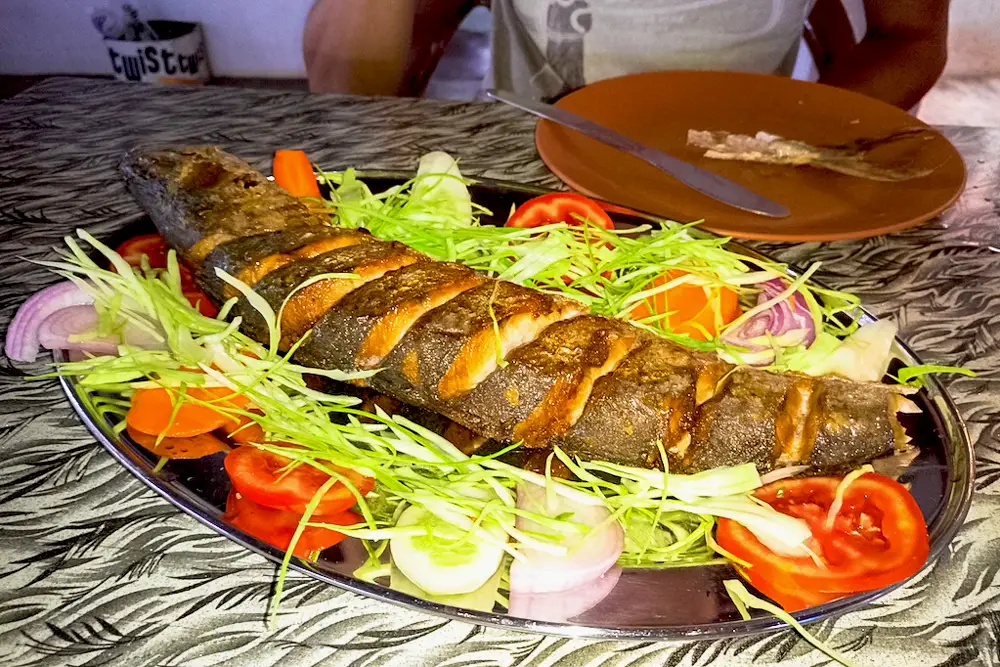 Goan cuisine is seafood based. Grilled fish is a typical dish in Goa. Kingfish is the most common fish. In restaurants you can also get pomfret, red snapper, shark, tuna, and mackerel. The grilled fish usually is served with fresh vegetables.
Even though fish is within hand's reach, it is quite expensive in Goa. Usually grilled fish in a restaurant costs around 500 – 1500 INR ($7-20 USD), and more. So, that's why I eat fish only when I want to treat myself.
If you are renting an apartment and have a kitchen and cooking utensils I recommend to buy fresh fish and seafood at a market and cook it in your apartment. Actually, no need to go to the market. In many places seafood is sold on the side of the road. It's fresh – just of the hook!
Seafood Dishes and Curries
Some of the most famous Indian seafood dishes are:
Goan prawn curry – spicy curry made with prawns, various spices and coconut milk.
Crab xec xec – crab in a spiced coconut gravy.
Shart ambot tik – Goan delicacy. Pieces of small shark fish in a hot and sour gravy.
Prawns vindaloo – prawns in a hot and spicy gravy, seasoned with vinegar and various spices. Vindaloo can also be made with chicken or pork.
Prawns xacuti – prawns in a spicy coconut gravy, made with various spices, including tamarind, nutmeg, and poppy seeds. Xacuti can be made with chicken and lamb.
Prawns balchow – spicy prawn pickle.
In restaurants in Goa, you can get grilled and fried seafood and seafood platters. Grilled prawns can be bought in almost any non-veg restaurant, and doesn't cost much – usually around 250-350 INR ($3-5 USD).
A very tasty starter is tandoori fish tikka. Marinated chunks of fish are grilled or cooked in a special oven – tandoor. Just like the tandoori chicken, it is served with green chutney and vegetables.
Tandoori lobster and other lobster dishes can be found in many restaurants in Goa. Some restaurants I've been to require their customers to order lobster dishes hours or even a day in advance.
Goan Pork and Beef
Unique Goan cuisine include dishes made of pork and beef. Those are a great delicacy in Goa.
Because of a meat eating Christian population, beef and pork are not banned in Goa and thus beef and pork dishes can be found in restaurants in Goa. Canned beef and pork meat can be bought in may supermarkets and shops in Goa.
Spicy Goan pork sausage (kind of chorizo) is very common and can be bought in markets and shops throughout Goa. Supermarkets sell canned Goan pork sausage with gravy, but in the markets and small shops you can buy fresh sausage. In Goan restaurants, you can get dishes made from Goan pork sausage, such as Goan pork sausage pulao.
I've already mentioned vindaloo – a hot and spicy curry, seasoned with vinegar and various spices. Not only it can be made with prawns but also with pork and beef!
Goan pork sorpotel is another popular Goan food, back then introduced to Goans by the Portuguese. It's a spicy curry made of pork and spicy masala paste.
Roast beef and beef tongue roast are two more popular Goan delicacies, eaten during various Goan celebrations.
Food from Other Regions and States of India
Of course, you can also buy any other Indian dish in Goa! There are plenty of pure veg restaurants, as well as Indian Muslim restaurants. In Goa, you can taste various North Indian and South Indian dishes.
If you are only visiting Goa and not going to other parts of India, definitely try foods from other parts of the country!
Here are some of my favorite Indian dishes you can find in Goa:
South Indian thali – a meal consisting of rice, Indian bread and selection of various dishes and curries, served on a platter.
Aloo gobi – a simple dish made with potatoes and cauliflower.
Dal – a staple Indian meal made with lentils, and served with rice and / or papad.
Chicken tikka masala – chunks of marinated chicken in spicy gravy, served with rice.
Dosa – a pancake-like Indian breakfast served with chutneys and curries. This dish originated in South India.
Palak paneer – a vegetarian dish that comes from Punjab. The dish is made with paneer (Indian fresh cheese) and spinach puree.
Tandoori chicken – a popular dish that comes from Northern India. Chicken meat is marinated in plain yoghurt and seasoned with tandoori spice mixture, then prepared in a clay oven – tandoor.
I recommend that you try Indian breads like chapati, papad, paratha, as well as different types of naan. My absolute favorite is garlic cheese naan. Also I really like paratha. It is often served with curries and sauces.
And when in India definitely try masala chai (spiced Indian tea with milk) and lassi (yoghurt-based drink)!
Snacks and Sweets
Visit local bakeries to taste various Indian and Goan snacks and pastries! Snacks and pastries are sold also in road stalls and small eateries.
Some of my favorite snacks and desserts:
Samosas – a snack which is similar to Portuguese chamuças. It is a fried pastry with savoury filling, such as lentils, potatoes, or chicken meat. Indian samosas often are spicy.
Goan beef croquettes – fried minced beef rolls, a common snack and appetizer among Catholics.
Curry, chicken and beef puffs – savory filling in a deep fried pastry shell.
Bebinca – a traditional Goan desert. It is a simple, layered pudding, made with coconut milk, flour, butter and eggs.
Fruits
Just like anywhere else in Asia fresh fruits are widely available in Goa. Note – many fruits are seasonal. This means – if it's not the season, the particular fruit won't be available, or it will be expensive because it may be imported.
Fruits are sold in roadside stalls, small shops, and some supermarkets. The price is not written down at the roadside stalls, so you might overpay. There are several government fruit and vegetable stores (Goa State Horticulture Corporation Ltd.) in Goa. The prices there are fixed and are written down.
Recommendations for Restaurants in Goa
There are a lot of places to eat in Goa. Here are my recommendations for the best restaurants in Goa.
Cheap Restaurants in Goa
Pescador, The Fern Beira Mar Resort, in Benaulim – a nice restaurant, great service but rather cheap prices – almost for the same price as on the beach. Western, Indian and Goan cuisine.
Sunset Restaurant, near Carmona beach – cheap grilled fish and seafood, compared to other beach restaurants.
Kinara Resaurant in Cavelossim – cheap and tasty food, friendly staff. Goan and Indian cuisine.
49-ers Restaurant and Bar in Colva – wide choice of dishes, including authentic dishes from other parts of India, for example – from Kashmir.
Fatima Bar and Restaurant in Agonda – wide choice of food. Western, Indian, Tibetan, Israeli, and Goan cuisine, seafood, as well as juices & smoothies.
Mandala Cafe in Agonda – Indian food, choice of breakfast, salads, shakes, juice, lassi, chai masala and other teas.
Little World in Palolem – cheap eats, Indian and Western food. They serve also delicious chai and lassi.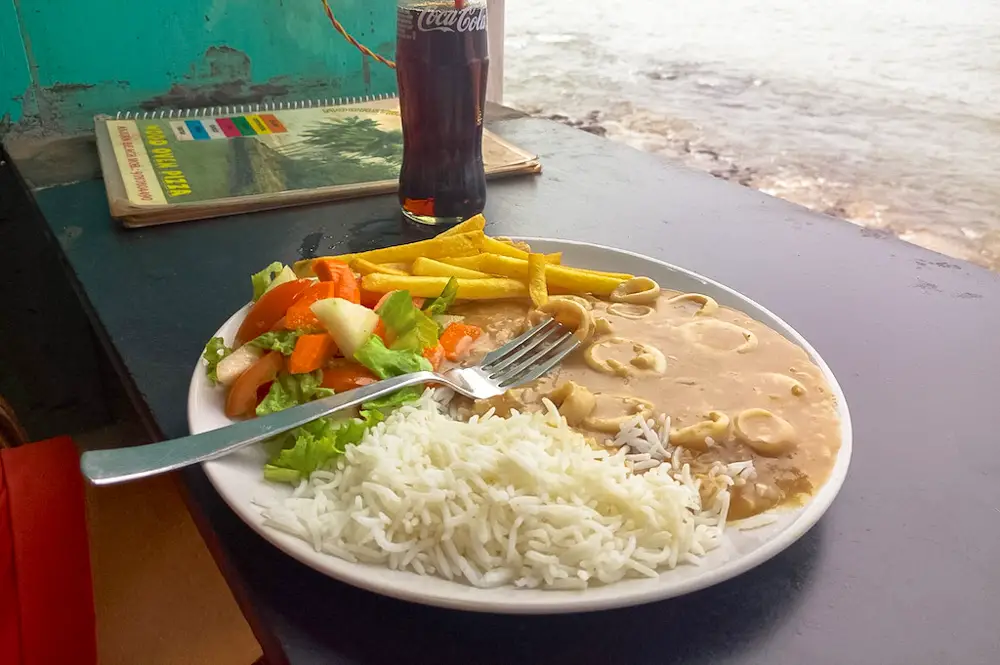 Mid-Range Restaurants in Goa
Ourem 88 in Palolem – Western cuisine and seafood dishes.
The Goan Hub in Anjuna – Seafood, Western and Indian cuisine, as well as various alcoholic drinks. Great food and reasonable prices.
Tin Tin Bar & Restaurant in Vagator – Western cuisine, such as homemade pizza, and burgers, seafood, and various alcoholic drinks.
Fine Dining Restaurants in Goa
Spice Traders in Vagator – Chinese, Malaysian, Japanese and Thai cuisine.
Wan Hao – The Marriot in Miramar, Panjim – delicious Chinese and Thai food, as well as seafood dishes.
DESBUE in Panjim – Elegant restaurant that serves European food.
Author bio: Una is a long term traveler and a travel blogger from Latvia sharing her travel stories and photography at WeAreFromLatvia.com. Together with her partner Kaspars she has been traveling extensively since 2012. You can follow her travels on Facebook and Instagram.