[updated May 2022]
What is the most famous food from different countries around the world?
In this collaborative guide, travel bloggers from all corners of the globe share their city's most popular food. There are so many different dishes and foods from around the world. And there are always certain foods that each city is famous for.
Most Popular Food From Different Countries
I recently posted about the most popular foods across the United States. Now here is a list of famous food from different countries around the world. Bon appetit!
London – Fish and Chips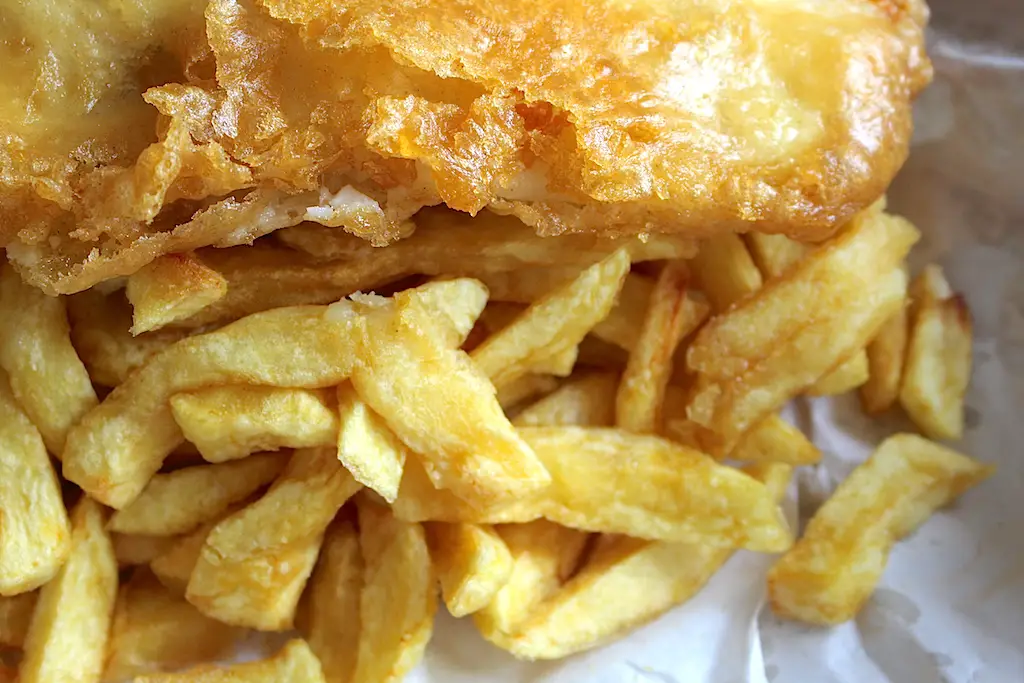 You can't get any more British than fish and chips. And although they're popular all over the British Isles, and are one of the most popular foods in the world, London is the place to get some of the finest examples of the art!
Brits have been eating fish and chips since the 17th century, when Sephardic Jews brought their recipe for fried fish to British shores. Simultaneously, strips of potato cooked in oil were becoming a popular snack. The two were added together, in a match made in heaven, and British cooking received its signature dish.
It's a meal which has been beloved ever since: the British Government even made sure that supplies of fish and chips didn't run low during two World Wars, as it was considered that it would be too detrimental to morale if it ran out.
The ideal fish and chips has moist fish cooked in a light batter, with chips which are slightly browned, but not too greasy. Coating the whole lot in salt and vinegar is traditional, though smothering it in ketchup or curry sauce is equally acceptable! If you're in London, visit the Golden Union Fish Bar in Soho for traditional fish and chips, expertly cooked. You won't be disappointed!
From That Anxious Traveler. Follow her on Twitter.
Paris – Crepes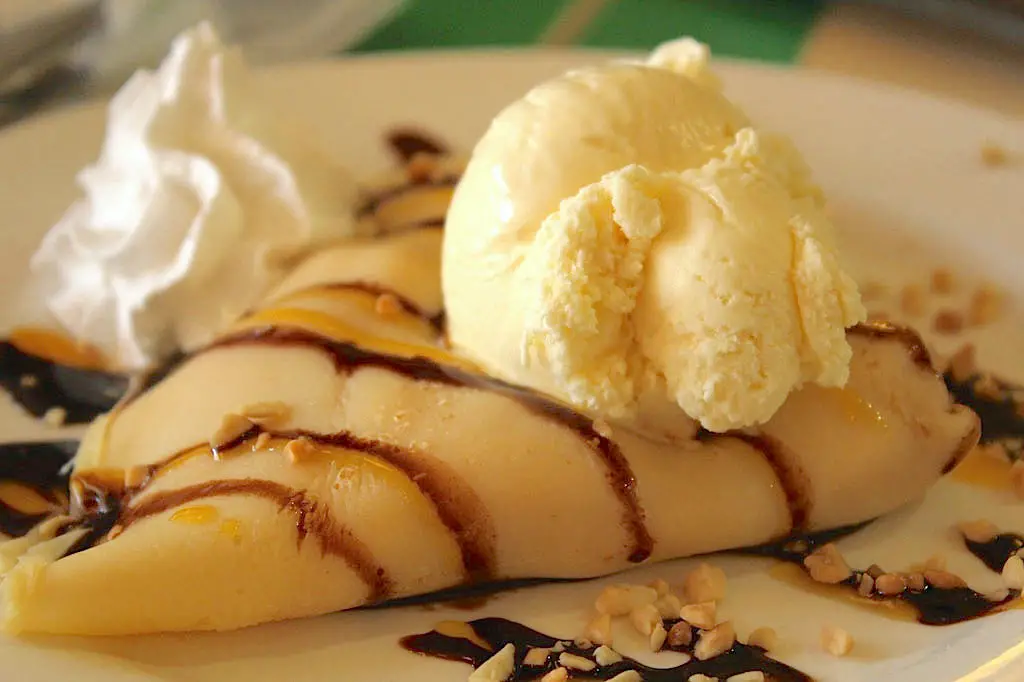 Crêpes (and galettes) are my favorite local food in Paris. Ok, crêpes are originally from Brittany, but Parisians adopted them many years ago! Crêpes are usually sweet, based on wheat flour and are usually eaten as a dessert with yummy things like ice cream, Nutella or crême chantilly.
Galettes, instead, are made with buckwheat flour and usually are eaten as a main stuffed with things like salad, cheese or ham. There are many good crêperies in Paris but my favorite is Paris – Breizh (177 Avenue Daumesnil/allée Paul Dukas, 75012 Paris). This spacious, contemporary restaurant serves up fantastic crêpes. On the 2nd of February, Paris (and all France) celebrates "crêpes day." It is one of my favorite food festivals in Paris. 
From Elisa at World in Paris. Follow her on Pinterest.
Dublin – Boxty
When I was a child growing up in Northern Ireland boxty was called fadge and we usually had them for breakfast on the weekends when it was time for what is known as a full Irish.
Boxty also goes by many regional names, including slims, fadge, potato cake, potato pancakes, farls, and tattie scones in Scotland, Boxty (bacstaí in Gaelic)  poundy or poundies. The Potato Farl is traditionally cut into a triangular shape before serving – hence the name as the word farl comes from the Gaelic 'fardel' meaning four parts.
Boxty is a traditional Irish food native to Co Leitrim and the North West of Ireland. Its origin dates back to before the famine times when it was so popular that it inspired folk rhymes:
There are three varieties of  Irish Boxty: Pan Boxty, Loaf Boxty and Boiled Boxty, each of them are named after the style of cooking. All are relatively simple flour, water, salt and grated or fresh mashed potato are combined into a sort of pancake round which is then fried in butter in a hot pan or griddle and served traditionally with breakfast.
The best place for boxty for me is the Boxty House in Dublin's Temple Bar district. They have a unique way with boxty serving in as boxty fried, boxty pancakes, boxty dumplings and pancakes. My personal favourite was the Boxty Fries I could eat them for ever.
From at Faith at XYU and beyond. Follower her on Facebook.  
Edinburgh – Haggis, Neeps & Tatties
When talking about food from different countries, many are quite unique. if there is one dish that is more Scottish than all the rest, one dish that you cannot find anywhere else in the world, it has to be Haggis, Neeps and Tatties. And no where celebrates this national dish better than our capital city of Edinburgh. The city is literally brimming with restaurants, cafes and pubs which all have this classic dish at the top of their menus.
Describing what haggis, neeps and tatties actually are doesn't make it sound like the most appealing dish; but we promise, it is delicious! Okay, here goes: Haggis is a sheep's stomach stuffed with a mix of suet, oatmeal and spicy seasoning. It tastes like a crumbly sausage and has a peppery flavour. Neeps is Scottish slang for turnip and tatties are potatoes. So effectively what you have is a dish of succulent, flavourful sausage, creamy mashed turnip and potatoes, and if you are lucky, it will be topped with a whiskey sauce. Could there be a more Scottish dish?
When visiting the city of Edinburgh there are a couple of places which do incredible versions of this must-try dish. The Dogs is an Edinburgh institution which celebrates Scottish food including Haggis, Neeps & Tatties. The great thing about this place is that they do half portions of the dish, which means you can have a small plate to try, rather than ordering a full main meal.
Another great option in Edinburgh is Arcade, which is a Haggis & Whiskey house in the most stunning of settings. Situated in the heart of the city on the prettiest of cobbled lanes, you're greeted with a roaring fireplace, fairy lights and the friendliest of staff. We promise this dish is much nicer than it sounds, and it's one that you definitely need to try when in Scotland and if you go to either of these restaurants in Edinburgh, you won't go wrong! Hence, if you want to experience the utmost of Scottish cuisine, make sure to book Scotland tours, and you will have an unforgettable trip full of mouthwatering dishes and breathtaking experiences.
From Megan & David Mullan at Half This World Away. Follow them on Facebook.
Wales – Welsh rarebit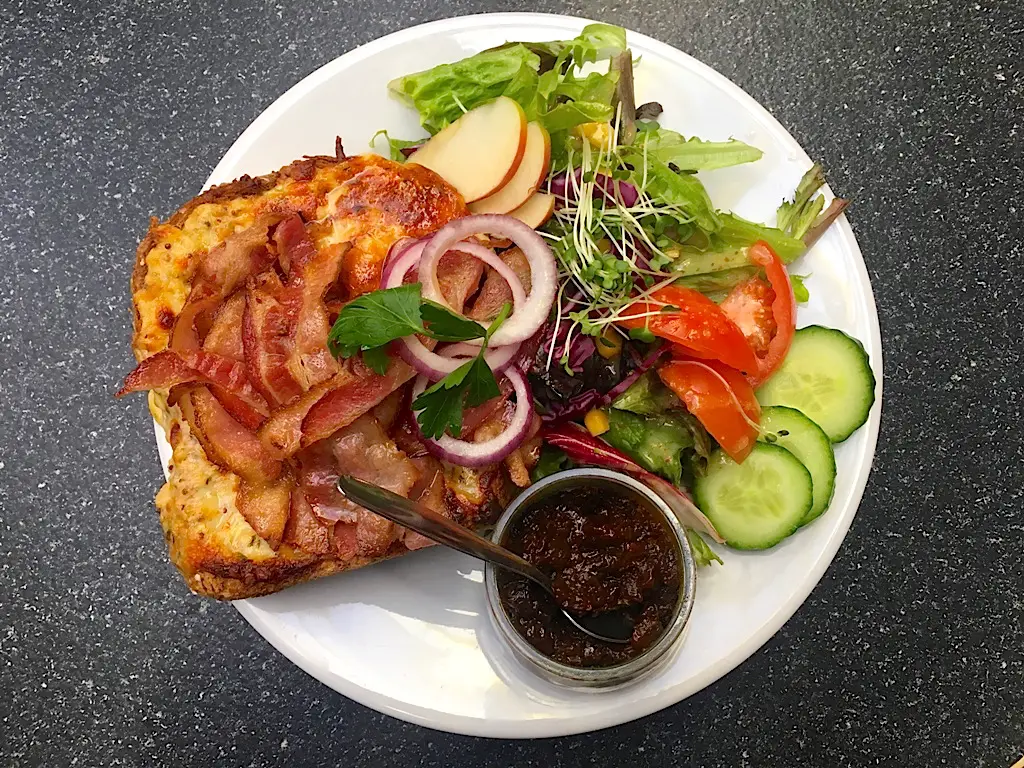 Often likened to classy cheese on toast (aka grilled cheese), a typical Welsh rarebit consists of hot buttered toast coated in a sauce of cheese, mustard, Worcestershire sauce and ale or beer, placed under a hot grill until golden brown and bubbling.
Popular throughout Wales, some versions of the dish include paprika, cayenne pepper, bacon and traditional Welsh laverbread (seaweed).
Otherwise known as Welsh rabbit, the dish's mysterious title is a subject of great interest. There are many explanations for its origin, although many see Welsh rabbit as a traditional working class dish, as families on a low income couldn't always afford to eat rabbit meat.
The best Welsh rarebit I've ever had is from Madame Fromage, a French cafe and deli based within Cardiff's Castle Arcade. The door-stop bread was so soft and fresh, and it was laden with cheese, wholegrain mustard and crispy bacon.
From Kacie at The Rare Welshbit. Follow her on Facebook.
Rome – Pizza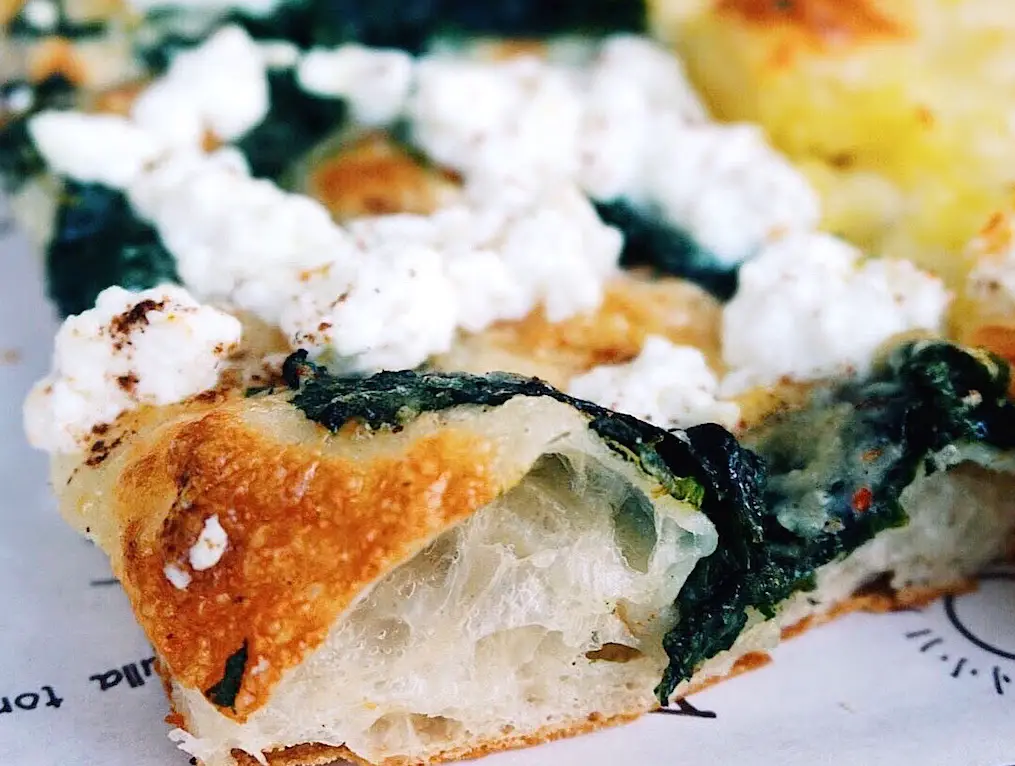 When it come to the most famous food of different countries, non might be more popular than pizza. There are so many good places to eat in Rome many of which serve amazing pizza.
Located just outside Vatican City near the Cipro Metro station, Bonci Pizzeria is a worldwide favorite, beloved by foodies across the globe including the late Anthony Bourdain.
Chef Gabriele Bonci serves up an inventive, ever-evolving menu of pizza al taglio, which is traditional Roman style pizza baked in rectangular trays and sold by weight (and by the slice). Bonci's daily menu changes throughout the day based on what local produce, meat and cheese are fresh and available.
However, they do maintain a few staple pizzas, one of which is my personal favorite, the potato and cheese pizza. It sounds a little boring, but let me assure you – it will blow your mind. It may be simple, but it's the perfect combination of flavors and textures, and I always go to Bonci to get a slice as many days as I can when I'm in Rome!
(LL Tip: Bonci opened his very first location outside of Italy, in Chicago. We now have two in Chicago)
From Sierra at Passport Voyager. Follow her on Instagram.
Berlin – Currywurst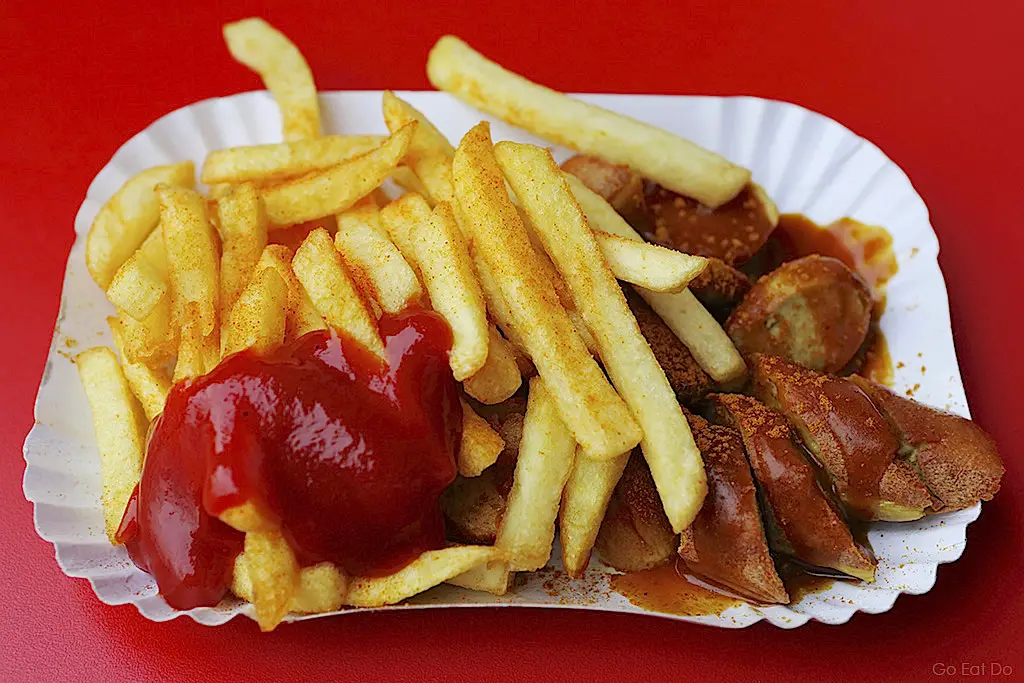 The currywurst, meaning 'curry sausage', is by far the most popular food in Berlin, Germany. Kiosks across the city sell currywurst. Head to the Kreuzberg district and you'll find the popular Curry 36 on Mehringdamm.
What is currywurst? It's made from grilled sausages which are sliced then smeared with sauce and dusted with curry powder. The most popular accompaniment to the dish is, unsurprisingly, fries – ask for 'Currywurst mit Pommes' if you want to try this classic Berlin fast food.
To find out more about the origins of the currywurst you could visit the Deutsches Currywurst Museum on Schuetzenstrasse. You'll also be able to tuck into one of the sausages there.
Eating currywurst from a kiosk is a classic Berlin experience and something all non-vegetarians should try while in the German capital.
From Stuart of Go Eat Do. Follow him on Facebook.
Madrid – Churros
In Spain, food traditions run deep and food is taken very seriously. If you're a foodie, Spain and Madrid should definitely be on your bucket list! One of the must-try foods in Madrid are churros, which are basically fried dough twisted into a thin oval shape. They contain only flour, water, and salt, and are served with a cup of thick, rich chocolate to dip them in. They're one of the few foods served as a street food in Spain, though for the full experience, visit a chocolatería.
The most famous location for eating churros in Madrid is without a doubt Chocolatería San Ginés, which is open 24/7, 365 days a year! It has been open since 1894 and maintains its beautiful historic interior. If you prefer a less crowded location, tucked up a side street nearby San Ginés is Los Artesanos 1902, which has been around since (you guessed it) 1902. Here you can sit and watch them make the churros fresh right behind the counter. For the lactose-intolerant and vegans, their dark chocolate is deliciously dairy-free.
From Sam at Alternative Travelers. Follow them on Instagram.
Lisbon – Pastel de Nata
The Portuguese have had a lasting effect on the culinary world. Portugal and Lisbon are known for some famous foods.
They gave tempura to the Japanese, and introduced the English to tea. Their greatest gift to the world, however, has to be the creation of the pastel de nata.
The pastel de nata, if you haven't already tried one, is a sweet made from puff pastry and egg custard. The recipe originates from Lisbon, but you can find them in just about every pastelaria in Portugal.
Pastéis de Belém near Jerónimos Monastery is the pastelaria that's most famous for making these delicacies, but it's definitely not the only place to try. In recent years, a number of new pastelarias like Manteigaria and Aloma have sprung up and many Lisboetas consider them to be better than the original. Are they? There's only one way to find out, and that's to work your way through all of them and decide for yourself.
From James at Portugalist. Follow him on Pinterest.
Copenhagen – Smørrebrød
One thing you simply cannot miss when visiting Copenhagen is the famous Danish smørrebrød. In principle, smørrebrød literally translates to "butter bread" and is simply an open-faced sandwich. However, it is also an integral part of Danish culture as it dates back to the 19th century when it was the main meal of Danish farmers.
Today they are eaten for breakfast, lunch, or dinner across the country. Traditionally, smørrebrød consists of a slice of dark rye bread, topped with meats or fish and accompanied by various condiments. In fact, the toppings are usually so generous, it is almost impossible to make out the bread underneath. You can order them in all Danish restaurants or even in some supermarkets. Copenhageners, however, pick up their smørrebrød from Rita's Smørrebrød in Nørrebro.
From Nomad Epicurians. Follow them on Facebook.
Moscow – Pelmeni
As a Russian native, I remember eating pelmeni when I was a child – my grandmother used to make homemade pelmeni with beef – the most traditional filling. Russian pelmeni (or momos as they are called in some Asian countries) are a kind of a dumpling  with a meat filling (usually beef, sometimes pork or lamb) inside a dough ball. The traditional way of cooking pelmeni is boiling in salt water.
They are usually served with sour cream, butter, and chopped herbs. Nowadays, in big Russian cities like Moscow and St. Petersburg, pelmeni have become a kind of fast food with several mono cuisine restaurants offering this traditional dish. The best places to eat pelmeni in Moscow are restaurants Lepim i Varim and Pel'meni, both in the city center. There is a sweet variety of pelmeni called vareniki – the same principle, dough with filling inside, though the filling is something sweet like cottage cheese or berries.
From Campbell & Alya at Stingy Nomads.Follow them on Instagram.  
Tbilisi, Georgia – Khinkali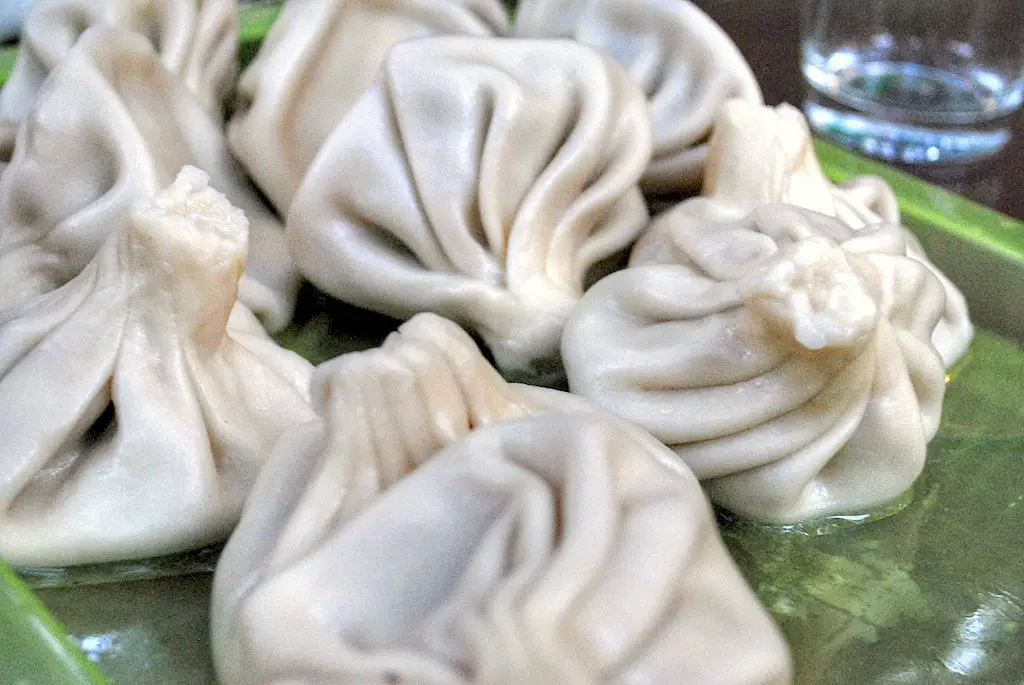 Khinkali, the national dish of Georgia, is the number one food every local introduces to their foreign friends visiting the country. It is a meat dumpling, similar to Dim Sum but with a completely different shape, texture, size, and preparation method.
Uncooked minced meat mixture of beef and pork is wrapped in a dough and put in a large pot to boil. This way the meat produces a small amount of broth inside. Khinkali is also eaten in a special way. You take it with both your hands, take a small bite, blow the air inside to make the meat and broth a bit cooler, then you suck the juice out and then continue eating the dumpling. The trick is to not spill a single drop of the broth on your plate! The twisted top of the dough is called kuchi in Georgian, meaning the stomach, and is usually not eaten so everyone can count who ate the most. If you are not a meat or pork eater, there are vegetarian options too, made with mushrooms, potatoes, and cheese.
From Baia at Red Fedora Diary. Follow her on Instagram.
Tokyo – Sushi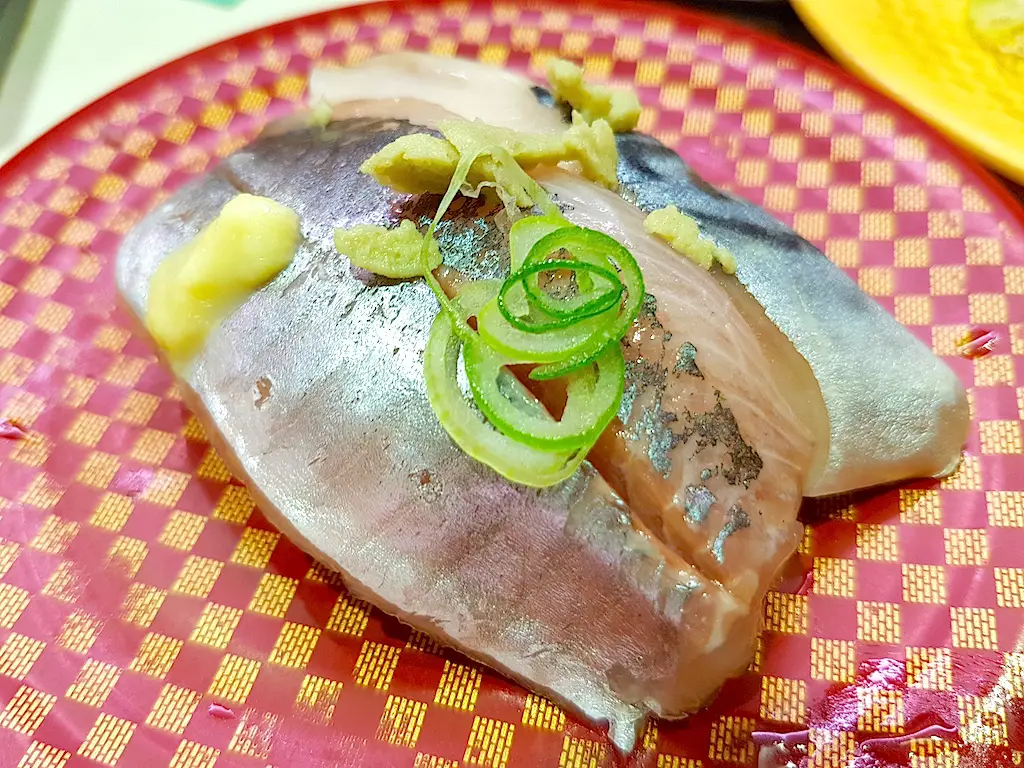 Sushi is also one of the most popular foods in the world. Tokyo is considered the world's sushi capital, and it's definitely a must to try when you visit Tokyo, or Japan for that matter. The Tsukiji market is the largest fish market in the world, and every morning people come here to buy the best fish of the day.
In Tokyo, you can have all kinds of sushi that ranges in quality and price. With that said, it's hard to find bad sushi in Tokyo, but since it's something the Japanese people pride themselves on, there are lots of high-end sushi places.
Also, it used to be only for the royals and rich people. But in recent times, sushi was also made available for regular people. That's where the many conveyor belt sushi restaurants come into the picture. My favorite is Genki Sushi, a fast-food sushi chain that's very popular in Japan. You can get two pieces of fresh sushi at Genki Sushi for 100 Yen, and it's delicious. Otherwise, I can recommend you try sushi directly at the Tsukiji market.
From Alex at the Swedish Nomad. Follow him on Instagram.
Hong Kong – Pineapple Bun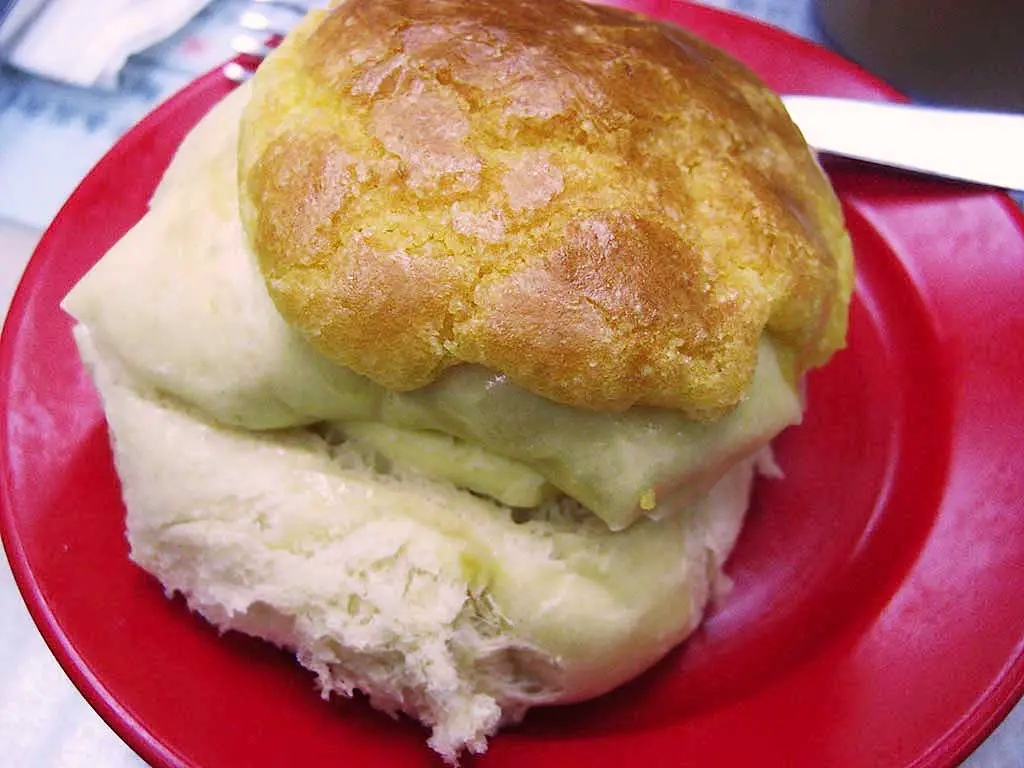 The pineapple bun with butter (菠蘿油) is one of the most common local Hong Kong eats at cha chaan tengs (or Hong Kong style cafes). The cha chaan teng culture and its offerings came about from British colonization of Hong Kong and is a perfect blend of east meets west.
The pineapple bun got its name because the crumbly top resembles the outside of a pineapple. The combination of the warm sweet baked bun with its soft crumbles and the slightly melted, salted butter is a match made in heaven. The delicious pineapple bun with butter goes perfectly with other cafe offerings like the Hong Kong style milk tea or the iced lemon tea. They are found at many cha chaan tengs throughout the city, but Kam Fung Restaurant and Kam Wah Cafe are two of the best.
From The Adventures of Panda Bear. Follow on Instagram.
Singapore – Chilli Crab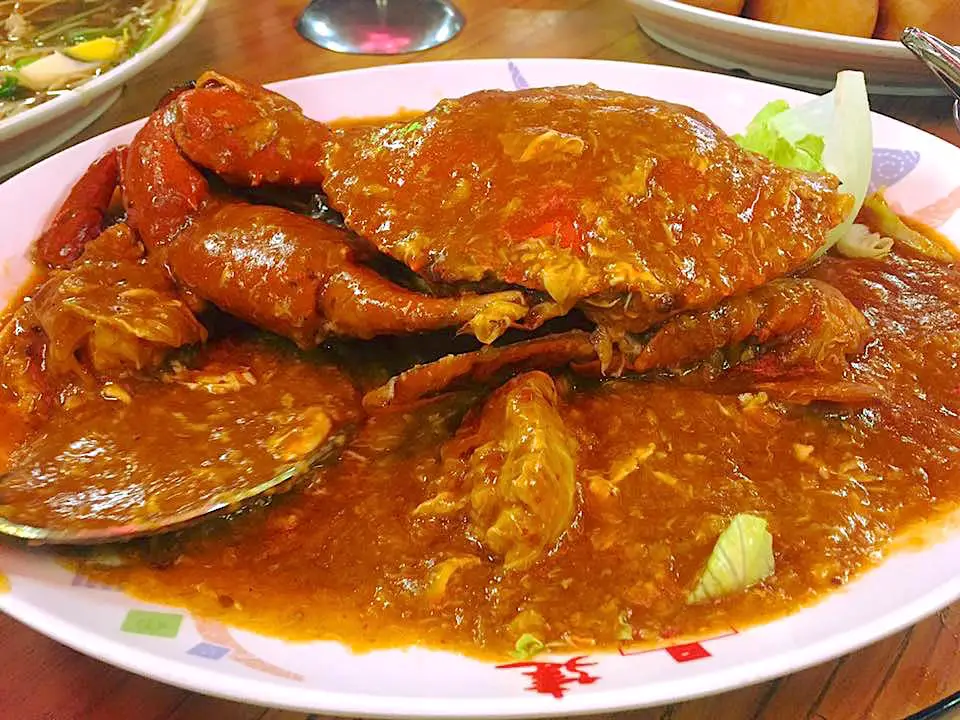 Many Singaporeans can trace their ancestry to China, India, and the other parts of the Malay archipelago, so it's no surprise that the country's cuisine is a fusion of these cultures. While some dishes share similarities with those in neighbouring Malaysia and Indonesia, chilli crab is a Singapore original. Many seafood restaurants (like Palm Beach, where it originated) and even some hawker stalls have it on the menu. It is such an iconic dish that there are places that serve chilli crab pasta and even chilli crab ice-cream, but they're just not the same.
Tip: Some establishments charge seafood by weight (including the shell) rather than a flat price, but the rate should be listed anyway. If you don't see one, walk away.
When your order arrives, don't be surprised to see an entire mud crab sitting in thick red gravy with its shell intact. Breaking it down is the fun part, though most restaurants will provide nutcrackers, gloves and bibs. The tangy and fiery gravy is the perfect foil for the crab's sweet flesh. After you've picked the crustacean clean, you can mop up the leftover gravy with mantou buns. It would be a sin to let something so delicious go to waste.
From Nicholas of Rambling Feet. Follow him on Instagram.
Beijing Chinese Egg Crepe – Jianbing (煎饼)
A Beijing street food specialty, jianbing is the perfect way to start any morning (or afternoon) in Beijing. Expect to find jianbing stalls all around the city, with locals frying them up on round grills like the one pictured above.
Watching the process of creating jianbing is almost as good as actually biting into one. First, your cook will pour a doughy batter (made of wheat and mungbean paste) on the grill, and spread it around using a flat stick. He'll crack a few eggs into the mix and let the crepe grill until it's all ready.
You'll then have the choice of a few fun ingredients like cilantro and scallions, fried wonton to give it a bit of a crunch, and both savory and spicy sauces. If you don't want an ingredient, just say so! Everything is right in front of you, so it's easy to order without speaking Chinese.
Overall, jianbing egg crepes make a great filling breakfast or feel free to split one with someone as a late afternoon snack. At only roughly $1 USD a pop, why not grab one as you're wandering around town!
From Richelle at Adventures Around Asia. Follow her on Instagram. 
Seoul, South Korea – Tteokbokki 
Koreans like their food spicy. And fiery tteokbokki – the most common street food – is no exception.
In its simplest form, this street snack is comprised of stir-fried rice cakes coated with a blazingly hot, slightly sweet chill sauce. There might be an egg or some odeng (fish cakes) thrown in for good measure, and varying levels of sauce. It's popular now to eat tteokbokki in a very soupy sauce.
These days, there are as many variations of tteokbokki (떡볶이) as there are subway stations in Seoul. And just as many places to get your fix. For a cheap version, visit a street cart. If you get really desperate, you can make it at home using packaged versions from the grocery store. My favourite variation by far is found in any number of "premium tteokbokki" restaurants, where the rice cakes are cooked at your table and mixed with cheese, deep-fried squid, dumplings, veggies, seafood or any other combination of your choosing.
I recommend that visitors to Seoul try tteokbokki at Mukshidonna (먹쉬돈나). It's delicious, slightly less spicy and super affordable. Go to their Samcheongdong location for the most atmosphere.
From Travel Stained. Follow on Facebook.
Bangkok – Somtam (Papaya Salad)
Somtam is more commonly known as Papaya Salad. This dish is based on an unripe green papaya which is shredded into matchstick like pieces. The papaya is then mixed with a whole lot of tasty condiments with a wooden mortar and pestle. Somtam is either eaten on its own, with sticky rice, or with a spicy meat salad on the side.
Somtam originates from the north-eastern region of Thailand called Isan. With so many Isan migrants in Bangkok, this has become a staple Thai food of the big city. It is common to find somtam available at street vendors and food markets right across the city. One of my favourite places to get somtam in Bangkok is from the street vendors in the suburb of Onnut. If you're concerned your stomach can't handle street food, then opt for the open-air food market called W-District, in Prakanong, it s a huge hit with Bangkok's expats.
The basic somtam is mixed with fish sauce, sugar, chili and served with a bit of raw cabbage. However, this dish can be made even more interesting with raw fermented fish, rice paddy crab, salted duck eggs, or all of the above.
Then there's the king of somtam, the huge share plate version in the photo above. This is enough somtam to go around for four or five people! This is definitely a local favourite, and a dish you must try when visiting Bangkok.
From Josh at The Lost Passport. Follow him on Facebook.
Kuala Lampur – Nasi Lemak
Kuala Lumpur is a foodie destination with so many delicious Malaysian dishes you have to try, however Nasi Lemak tops the ranks as the unofficial national dish of Kuala Lumpur…and Malaysia really. You can't visit Kuala Lumpur and not at least have tried this dish.
Malaysians take their Nasi Lemak very seriously. I mean extremely seriously…like some will even drive more than an hour just to queue up for another hour to get the best nasi lemak in town. The truth is, Nasi Lemak is so easily found especially around breakfast and lunchtime. Even if your hotel offers a breakfast buffet, more than likely you will find Nasi Lemak.
The star of the Nasi Lemak is the coconut rice, which has been lovingly cooked so that it is nice and fluffy. It's served with a side of meat, usually either a fried chicken (my favorite!) or a nice curry. The next star on this dish is the sambal, which is a cooked chilli sauce usually created with a tomato base. And finally, it's decorated with condiments including an egg (either boiled or fried), peanuts, anchovies, and cucumber.
At first glance it might just seem like a mixed rice dish, simple to make…but that's wrong. Nasi Lemak is actually quite complex to cook and easy to get it wrong. So if you have a chance to try this famous dish, my absolute favorite place to eat nasi lemak in Kuala Lumpur is at Village Park Restaurant – but be prepared to wait in line to get a table because this place is always buzzing.
From Soraya at Hello Raya. Follow her on Instagram.
Chengdu, China – Hot Pot
I was born and raised in Chengdu, the capital of Sichuan province in China. The most popular way to host social gatherings in Chengdu is definitely sitting around a table and eating spicy hot pot. Sichuan is notorious for its spicy food. The red chilies floating around in hot oil looks intimidating for some, but those who have tried it know the flavours are absolutely addicting. All sorts of ingredients are cooked in the broth like sliced meats, vegetables and fried tofu. You can concoct your own dipping sauce but the classic combo consists of sesame oil, oyster sauce, coriander, and garlic. I am drooling just thinking about Chengdu hot pot! Every since moving away from China, I have struggled to find an authentic Sichuan hot pot. No one does it like Chengdu!
If you are in the city, make sure to visit Shujingxiang Hot Pot (蜀九香火锅酒楼)  or Huangcheng Laoma Hot Pot (皇城老妈火锅)  for an epic and spicy gastronomic experience.
From Viola Wang at the Blessing Bucket. Follow her on Instagram. 
Melbourne – Freakshakes
Freakshakes may have been born in Canberra, Australia, but in Melbourne we took them to a whole other level. Melbourne's café culture is next to none. We have the highest number of cafes and restaurants per number of people than any other city in the world. So it only stands to reason that the kids and those of us who are big kids have something else to drink other than coffee and tea.
Enter freakshakes.
For the uninitiated, a Freakshake is no ordinary milkshake. The milkshake merely forms a base, for what is not a drink, but an entire a meal. That's right, the milkshake is topped with every imaginable topping you could desire. Cake, candy, Nutella, donuts, waffles, even chicken. It is the ultimate Instagrammable meal. Just try not to think of the calories while you are snapping away at all that awesomeness.
From Explore With Erin. Follow her on Facebook.
Mexico City – Tacos
I spent several months living and working in Mexico City, and fell in love with the culture, people and the food!  Tacos are the most famous Mexican food, and arguably the most delicious!  You'll find street food taco stands all over the city, as well as little hole in the wall restaurants and large chains all selling this incredibly delicious food.  Tacos here are made from soft wheat tortillas, topped with your choice of juicy meat, and a variety of salsas, raw onion, cilantro and lime juice.  Tacos al pastor (Shepard style tacos) are the most popular food in Mexico City. They are made from pork meat which is grilled shawarma or döner kebab-style rotating on a huge spit.  Tacos al pastor are often topped with a slice of pineapple, and if cheese is added the tacos become 'gringas'.  Any way you have them, there is no denying how tasty they are!  Try tacos at any street food stand and you won't be disappointed, just pick one which is busy with locals and you can't go wrong!  If you prefer to try your tacos in a restaurant, head to El Tizoncito, a restaurant chain which claims to have invented the taco al pastor.  Whether that is true or not is debatable, but they are sublime!
From Claire at Tales of a Backpacker. Follow her on Facebook.
Buenos Aires – Choripan  
Like Brangelina (may they RIP) and Kimye, all great couples have an equally great nickname. Choripan (chorizo + bread, or pan) is no different. It's the perfect marriage of crispy on the outside, juicy on the inside chorizo butterfly cut and sandwiched in a crusty bread roll.  Slather on spoonfuls of chimichurri (a red sauce made from a blend of herbs and spices) and salsa criolla (a blend of tomato, bell pepper, onion, and vinegar) and you're good to go.
Buenos Aires as a whole hasn't embraced street food. You won't find many locals eating on the go in the various neighborhoods in Buenos Aires. However, choripan has seemed to fight the current. The best places to try this local staple are on the streets and in the parks. There are stands throughout the Bosques de Palermo parks or along the Costanera, the coastline boardwalk on the River Plate. These were legitimate food trucks before food trucks were a thing. Young hipsters try to remix the original with gourmet toppings and bread, but it always results in an outcry. Live like a true local and order your choripan in the park, and enjoy the one true Buenos Aires street food.
From Erin at Sol Salute. Follow her on Facebook.
Medellín, Colombia – Bandeja Paisa
A bandeja paisa is all that is good about Colombia. 'Paisa' is a familiar term for a person living in the northeastern regions including Antioquia, whose capital is Medellín. The 'bandeja paisa' has unofficially become a national dish for all of Colombia. When ordering, come hungry because this platter-size serving has a lot: a bowl or side of saucy fríjoles (red beans), arroz (white rice), carne molida (ground meat), chicharrón (deep fried pork rinds), huevo frito (a fried egg), plátano maduro (sweet plantain), chorizo, arepa (corn tortilla), hogao (stewed tomato sauce), morcilla (black pudding sausage), aguacate (avocado) and límon (a lime wedge).  There are variations with a patacón (savory plantain chip) or carne asada (steak) but all else remains the same.
From Margarita at Downshifting Pro. Follow her on Instagram.
San Salvador – Pupusa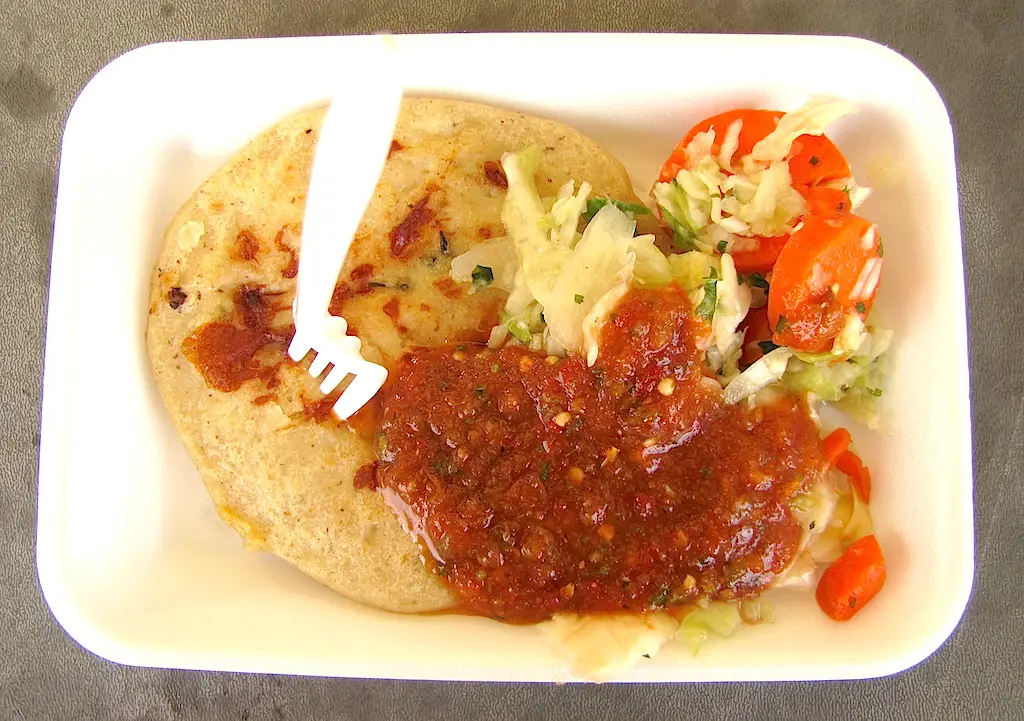 San Salvador, the capital of El Salvador (in Central America), has a plethora of mouth-watering, finger-licking dishes. This fact can be attributed to a traditional cuisine resulting from the mix of ingredients (and techniques) from the indigenous Pipil group and the Spaniards who populated the area after the 1500s.
The pupusa, a stuffed, thick tortilla, is the country's gastronomy ambassador.  We cannot talk about El Salvador without mentioning the pupusa.  In some way, they have become synonyms.Traditionally, pupusas are stuffed with cheese, beans, chicharron (finely chopped pork meat) or loroco, a fragrant flower bud.  Or, you can order a "revuelta" which will include the first three ingredients mentioned.  The dish is served with "curtido" (pickled cabbage, onions and carrots) and a watery tomato sauce.
Pupusas made with rice flour are a specialty of the town of Olocuilta (12 miles from San Salvador).  Some say the flavor of these is superior to the ones made with corn. Modern interpretations use shrimp, squash, spinach and other ingredients as stuffing.
Even though it is easy to find pupusas in Salvador, locals seem to love places such as Pupuseria La Ceiba, Tipicos Margoth, and Boomwalos.  If you want to keep exploring, you will find plenty of pupuserias in Antiguo Cuscatlan and Planes de Renderos.
Just remember, a good pupusa is made to order and served piping hot!
From Ruth at Tanama Tales. Follow her on Pinterest.
Cairo, Egypt – Molokheyah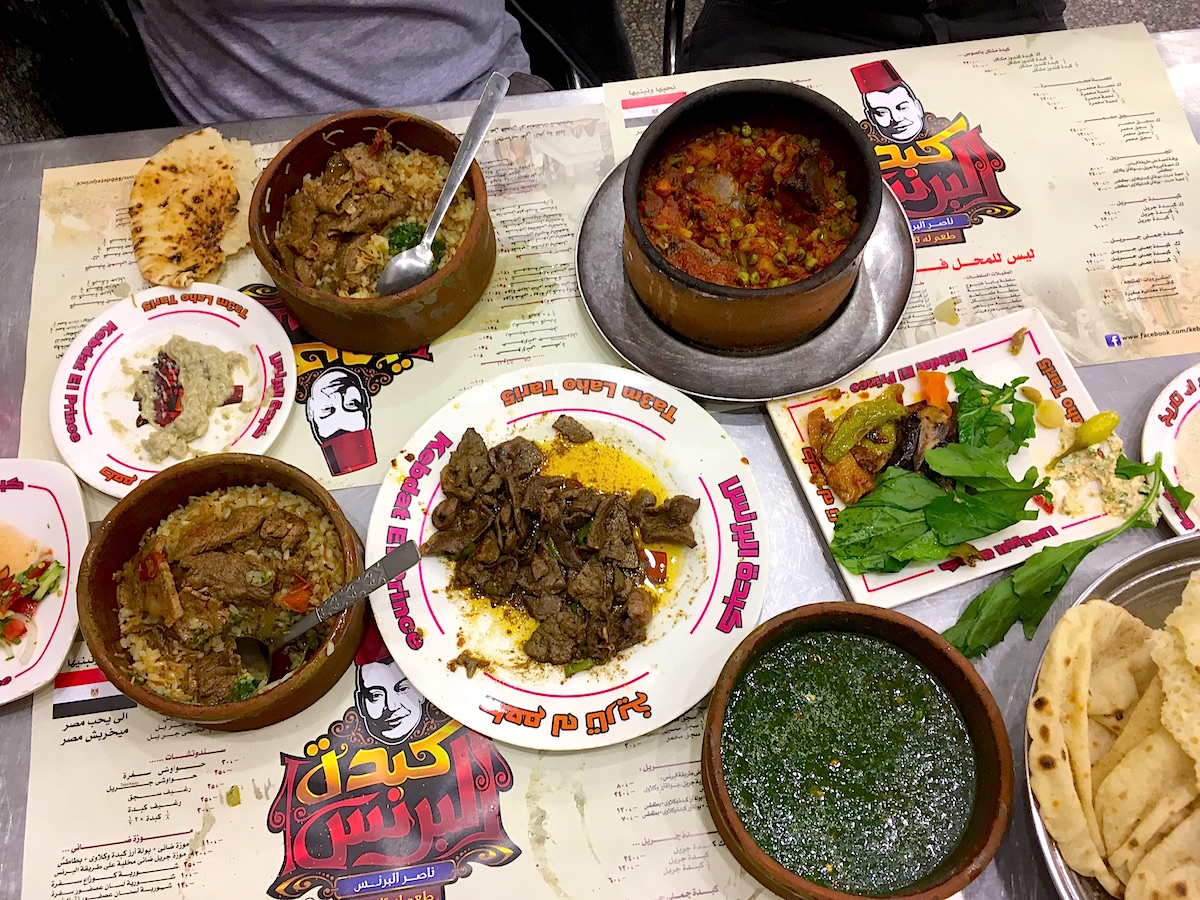 Molokheyah a signature Egyptian dish, dating back to the Pharos. It is usually served for lunch, over white rice, or as a dip for pita bread. It is made from the chopped leaves of the jute mallow plant cooked on low heat in beef or chicken broth (or sometimes pigeon or duck broth). A margarine-fried mix of minced garlic, coriander, & dill is added to this stew. The secret to good molokheyah lies in that gasp the cook makes when adding this mix to molokheyah. Legend says that Molokheya was named Mouloukeya -meaning Royalty- when Egypt was a Kingdom, and the less-privileged weren't allowed to eat it.  So every time they cooked it and feared to be caught, the cook would make a gasp out of fear, since then it has become a tradition.
Molokheya is the type of food you'll either fall in love with at first bite, or absolutely hate it for its "slimy" texture.
While Molokheyah is best-cooked by mum or grandma, the best place to eat it in Cairo is Kebdet Elprince, served in a big bowl.  I bet you won't leave before drinking it straight from the bowl.
From Passainte at Why Not Egypt. Follow her on Facebook.
Tel Aviv – Hummus
One of the unmissable things to do in Tel Aviv is to eat hummus. This is a traditional dish of the Middle East  and it can be found in Israel, Palestine, Jordan, Lebanon and more. It's made of mashed chickpeas, olive oil, garlic, tahini and little else. It's most often accompanied by freshly baked pita bread, and chopped tomatoes, onions and olives. As it traditionally is a breakfast kind of food, the places that serve the best hummus in Tel Aviv are only open until 2:00 pm.
Contrary to what most people outside of the Middle East think, hummus isn't served cold: it's the kind of dish that has to be prepared and eaten right away, as the taste changes within hours of preparation.
The best place to eat hummus in Tel Aviv is Abu Hassan, located in Jaffa. There are two places: a really small one near Jaffa port, and a larger one, with tables, on Ha-Dolfin street. The latter is a really easy-going place, where it is not uncommon to sit with someone you haven't met before!
From Claudia at My Adventures Across The World. Follow her on Instagram.
Delhi – Dahi Bhalla 
Delhi is known for its love of street food. Street vendors are there in every nook and on every corner of Delhi serving mouth-watering snacks.
Be it the famous gol-gappe, Tikki chat, chole bathurey or paranthe from Paranthe walli galli in Old Delhi, the food will not disappoint. What is authentic in the long list of street food is the Dahi-Bhalla, which I haven't found anywhere else in other parts of India. Bhalla is nothing but a fried green bean paste served with sweetened curd aka Dahi in Hindi. Flavors of black/red peppers and shaunth – a tamarind sauce are used to garnish the dish.
It is usually found at every other street vendor but the best ones I ever had are from Natraj Dahi Bhalla shop in Chandni Chowk, a shop dating back before India's independence which serves some of the best snacks. It's a small shop with enormous crowds which speaks to its legacy. Bear with the crowds to savor the best dahi bhalla from Delhi.
From The Wandering Core. Follow on Facebook.
Montreal – Poutine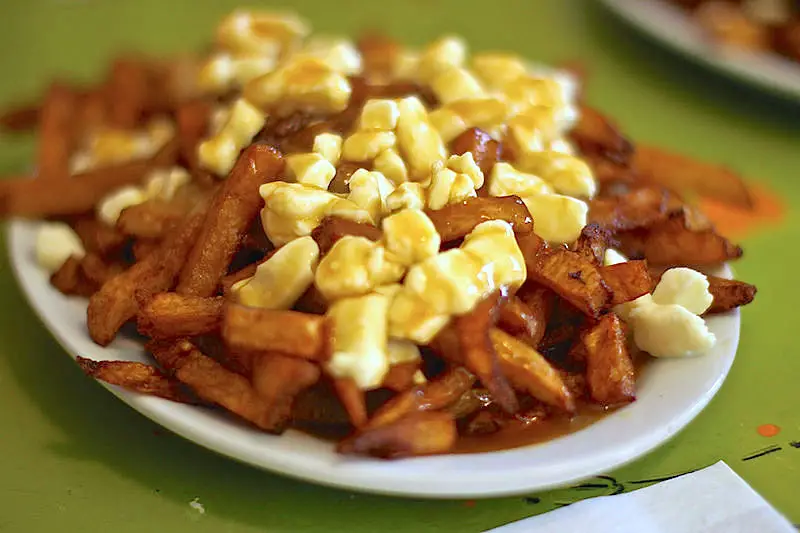 Poutine was born in Quebec in the 1950s and consists of French fries and cheese curds topped with a brown gravy. Today you can try variations of this dish around the world, but this quintessential Canadian food remains a source of Québécois pride. No matter what variations are available you won't be disappointed with the traditional style of French fries and cheese curds topped with brown gravy.
Whether you choose a traditional poutine from Quebec fast food chain La Belle Province or upscale poutine with foie gras from chef Martin Picard of Au Pied de Cochon, there is a poutine for every budget. Also, don't worry about needing to go out of your way to find a good poutine. Literally every fast food restaurant in Quebec has poutine on the menu and during warmer months there are food trucks at most festivals and tourist sites.
If you are planning a trip to Quebec to check out a festival you'll have plenty of opportunities to try a poutine. You could always plan a trip to check out one of the Quebec Poutine Festivals.
From Paige at Piece of Pie. Follow her on Facebook.
Pin It!